As the organizers of the annual Old Bill's Fun Run, the Community Foundation of Jackson Hole had to be creative in this very atypical year to continue the 24-year-old fundraising tradition.
Amid the confounding coronavirus pandemic the foundation first reconfigured the race, in hopes that COVID-19 risks would diminish and they would be able to hold a modified run with runners more spread out. That hasn't happened. So the foundation pivoted and figured out a new, virtual race format, along with creative events for "Countdown Week" this week in the lead-up to Saturday's run.
Race day itself is also very 2020: Essentially, it's the Zoom meeting of fundraising 5-kilometer runs. Woe to the late sleepers; at 10 a.m. sharp, when Old Bill's Fun Run would normally start, people are asked to step outside and make noise by banging pots and pans or cowbells.
Then the Old wBill's folks are asking people to run, walk, bike or hike their own 5K — they have a list of more than 10 suggested routes listed on their website — and document their run, walk, hike or bike with photos and videos.
And, as much as the Old Bill's organizers and their local nonprofit partners and beneficiaries have had to go above and beyond to reinvent the long-standing community tradition, they hope that donors go above and beyond in their generosity during this year's giving season, which lasts through Sept. 18.
Old Bill's over the years has raised more than $173 million to support local nonprofits and their efforts "feeding the hungry, supporting the sick and elderly, teaching kids to read, protecting wildlife, building affordable housing," among other endeavors, according to the foundation's website. Last year, the fundraiser brought in $14,381,191.
Foundation President Laurie Andrews said this year, perhaps more than any previous year, all donations are much-needed and coveted. She said nonprofits have had resources drained because of the fallout from COVID-19 or haven't been able to replenish needed resources due to the lockdown.
Fortunately, Andrews said, the sense she's gotten is that the community is eager to step up for each other during this trying time.
"I think there is heightened interest because we have seen neighbors taking care of neighbors and I think they really want to show up for each other," Andrews said. "People have been able to get food when they've needed it, and they've been able to get medical care, protective gear and masks, and so I do think that people have been like, 'How do I give back?' and 'How do I say thank you?'
"And Old Bill's is the perfect way to say, 'Hey, these nonprofits were there for me, and continue to be, and I want to be there for them.'"
In turn, those nonprofits really need a hand while managing unpredictable and unprecedented pressures.
"They've been asked to do things, you know, Herculean efforts ... and that wasn't in anyone's budget," Andrews said. "No one was budgeting for this [pandemic]."
Foundation Director of Marketing and Communications Anne Bradley said the foundation hasn't been the only one to think differently in addressing the challenges overcome this year to hold Old Bill's. For instance, while in past years nonprofits would set up booths around Town Square, giving away free swag and holding various activities to highlight their missions, this year they are holding their own activities to allow for social distancing. Each of the nonprofits has specified days for its event.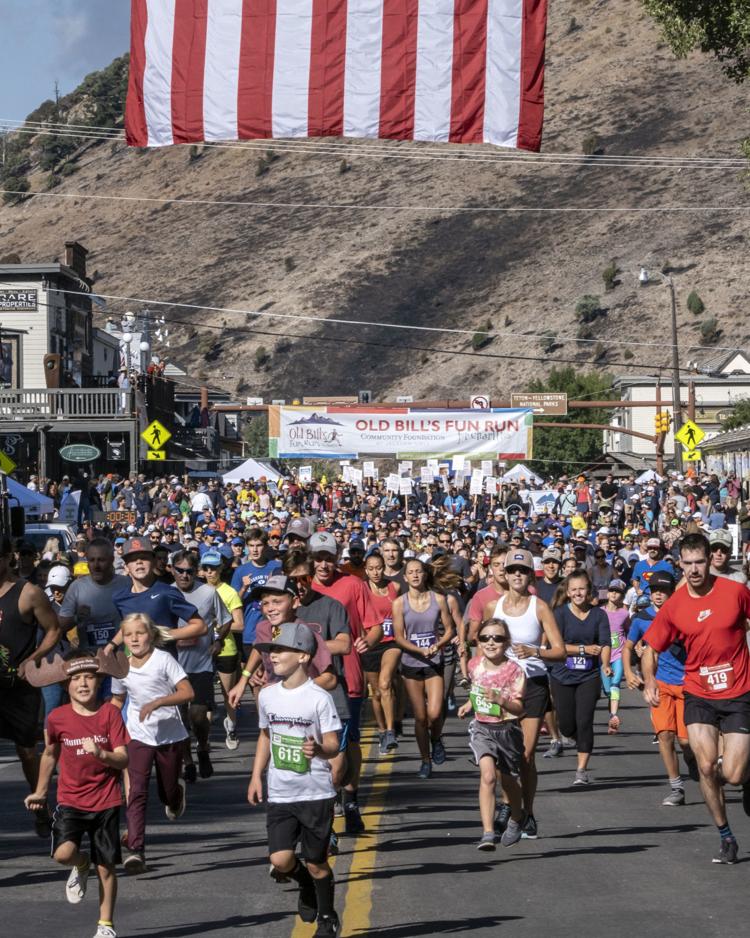 Tuesday was the day "Sports/Recreation" and "Arts/Culture" nonprofits held a socially distanced parade of sorts beginning at the Center for the Arts. Wednesday is "Health and Human Services"; Thursday will be "Education and Civic"; and Friday will be "Conservation, Environment and Animals."
"What's really amazing that I'm seeing is that all the nonprofits that we're working with are really rising to the occasion to get creative and come up with different ways to highlight their missions independently," Bradley said. "So much more than in prior years, we're seeing nonprofits really do more self-promotion and even more outreach than they usually do.
"Folks are really thinking outside of the box with how they raise awareness of their missions and their connections to Old Bill's."
As runners chart their own course on race day Saturday, the Community Foundation still hopes people will come together for a collective celebration, albeit a virtual one.
People are asked to submit their photos and videos either via social media, with the hashtag #oldbills2020 and @cfjacksonhole on Facebook and Instagram, or by email to Bradley at abradley@cfjacksonhole.org. The Community Foundation will compile the photos and videos into one video it intends to release within 24 to 48 hours of Saturday's run, leading into the final week of the giving season, which Andrews said is typically the biggest week of fundraising.
How has fundraising gone to this point, compared to past years?
"So far, so good," Andrews said. "The great news, and something I think is really important for donors to know, is that the co-challengers pool has really come through, and our co-challenger pool is stronger than ever.
"I think some people worried about that — and the co-challengers make up the [matching gifts] — and they are in," she said. "I can tell you with full confidence that we've got the match, and we're ready to support our nonprofits."
Andrews shrugged off any notion that this year's run, though an odd format, will be anything less than a success.
"It's an unusual year. But we'll do it, together, we'll figure it out," she said with a laugh.