In the world of competitive high school robotics, what happens outside the arena is equally as important as what happens under the lights.
For the RoboBroncs of Jackson Hole High School, that means inspiring the next generation of builders through programs like FIRST Lego League, which brought over 100 Jackson Hole Middle School students together last November for a competition focused on real-world transportation challenges. It also means sharing resources and expertise with students on the Wind River Reservation.
That kind of outreach won RoboBroncs the Chairman's Award at this year's Colorado regional FIRST, the largest robotics competition in the nation, and earned them a spot at this week's international championship in Houston. To livestream the competition, which kicks off Thursday, visit Twitch.tv/firstinspires_roebling.
Recognized as the organization's "most prestigious award," Chairman's honors the team that best represents a model for other teams to emulate and best embodies the mission of FIRST, engendering "respect and honor for science and technology, as well as encouraging more of today's youth to become science and technology leaders."
It's a mantle the RoboBroncs have worked diligently to earn over the years. But that's not to say they aren't also stoked for a bit of robot domination.
On the international stage, Jacksonites will stack up against robot royalty from California and Israel.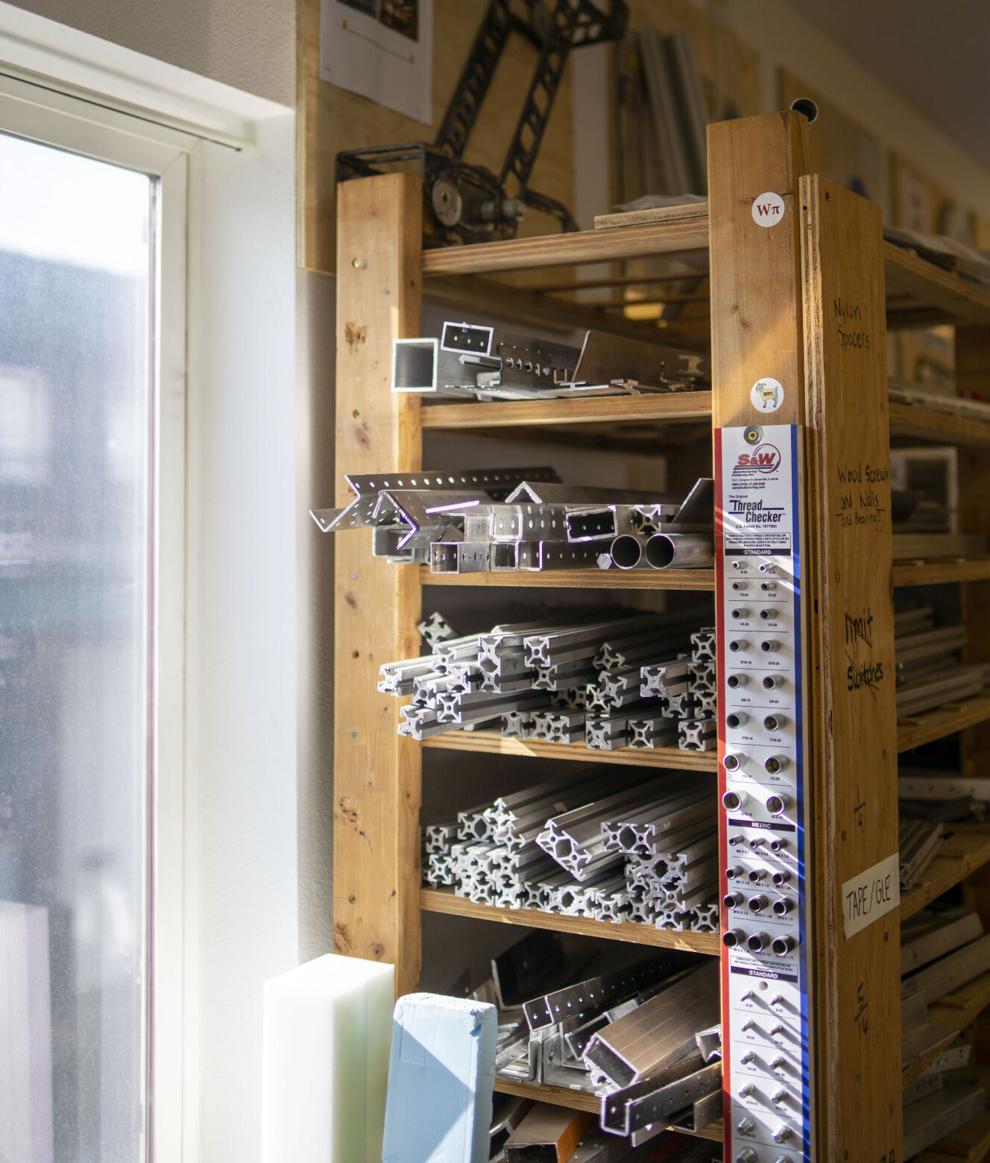 "We actually went to an offseason competition earlier this year that they were at, in California, and … our pit ended up being right next to theirs," said Stella Vickland Davis, the club's co-president. "All of us were just like so starstruck the entire time."
"It's really exciting to see those teams that really push the limit of what robotics can be."
Houston will also be a chance to reconnect with familiar teams they've forged a relationship with, like Coconuts 2486, of northern Arizona, which does similar outreach to Native American reservations.
"We're super excited to see them," Stella said.
She described Houston's George R. Brown Convention Center, which boasts a 31,000-square-foot ballroom and an amphitheater for a crowd of 3,600, as "two or three city blocks blocked off for robot nerds."
"They also have this great thing called the Innovation Fair," senior Walter Duquette said. "There's essentially like 30, 40 colleges there, all with their people ready trying to recruit you. And then there's probably another 30 companies, you know, Boeing, FedEx, NASA, all with their head representatives trying to get you interested in their company."
For young engineers the chance to chat with NASA isn't exactly a hard sell.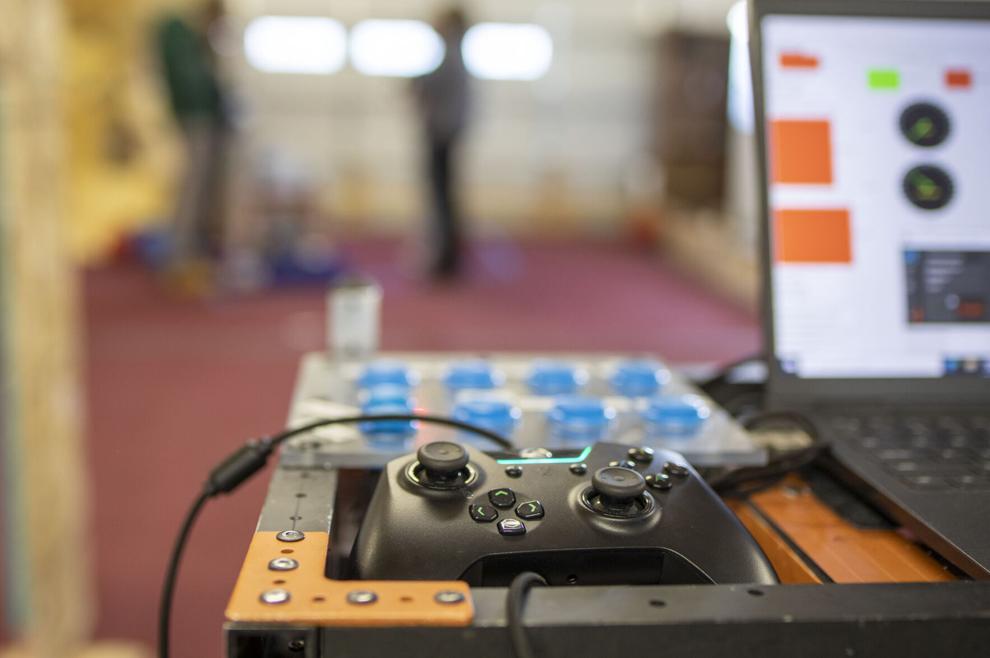 "I'm really excited to go," Walter said, "just because there's the best teams in the world. There's these teams that you watch them run and it's just mystifying."
In 2018 the RoboBroncs not only qualified for the FIRST Championship, they took home fifth place with their robot Kirby. The team has technically qualified for worlds the past two years too, but FIRST didn't host competitions because of the COVID-19 pandemic.
Stella describes that period as "really rough."
"We lost a lot of mentors, we lost members, we actually lost an entire business team, so we didn't have anyone to work on the awards," she said. "We had to redefine what our club was."
That forced identity crisis was one of the reasons the RoboBroncs poured so much attention into outreach. Through the disruption they successfully got LEGO robotics into third grade classrooms across the district and garnered donations for Wind River youth.
Still, for the team's graduating seniors this year's comp is their long-awaited Super Bowl.
"It's going be three worlds in one for our senior class," said Stella's co-president, Brynne Hobart.
Before the students shipped off for Texas, they gave the News&Guide a tour of their new headquarters in a warehouse complex south of town.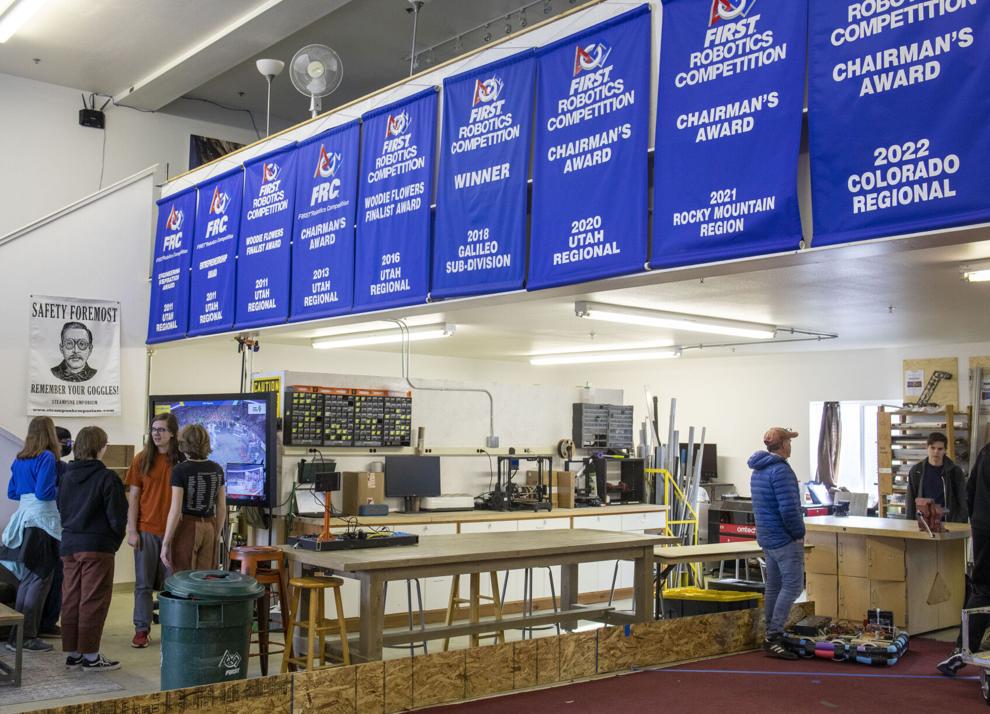 The new space — backed by the Wonder Institute, a Jackson nonprofit founded by Veronica and Gary Silberberg — has a casual loft hangout and a big flatscreen TV to watch playback of past performances. The team has a great video of this year's robot slipping off the monkey bars and crashing in spectacular fashion, a clip that still makes the team gasp.
The team also has a set of practice rungs on its 1/4 scale practice field. Having a dedicated space means students don't waste time setting up the course each time. Previously in the high school cafeteria, the team got quite good at the choreography of setup and takedown, but that cut into already limited time to work on the robot.
There's also space in the workshop for specialized equipment like a metal lathe, which Stella described as "a very dangerous machine" that requires adult supervision.
Up in the computer bay, Walter tricked the place out with a record player and a locker full of snacks. Some nights he can even see the sunset over the valley.
"One time we were CADing and, I'm not kidding you, the sky was on fire. Like everything was red."
Revolutionized build process
During the pandemic, downtime turned to motivation for Walter, who taught himself CADing, aka computer-aided design, from YouTube tutorials and CADathon competitions.
The team is already reaping the benefits: Because adult mentors for RoboBroncs use CAD for their own engineering work, they are able to offer more specific advice and implement solutions that weren't previously possible.
The team's co-presidents taught themselves computer-led machining. The CNC machines, short for computer numerical control, allow for more precise cutting, fewer prototypes and greater efficiency.
Mastery of the tool gave the girls a transferable skill for all manner of engineering tasks they may tackle in the future, but it wasn't without trial and error: "There were definitely a lot of broken bits along the way," Brynne admits.
Brynne and Stella didn't originally introduce themselves as club presidents, but it's clear from their candor why they've come to lead the team.
"Robotics is actually the club where I learned to be the most social," Stella explained. "We always joke about us being nerds and everything, but it's actually been where I got rid of all my stage fright."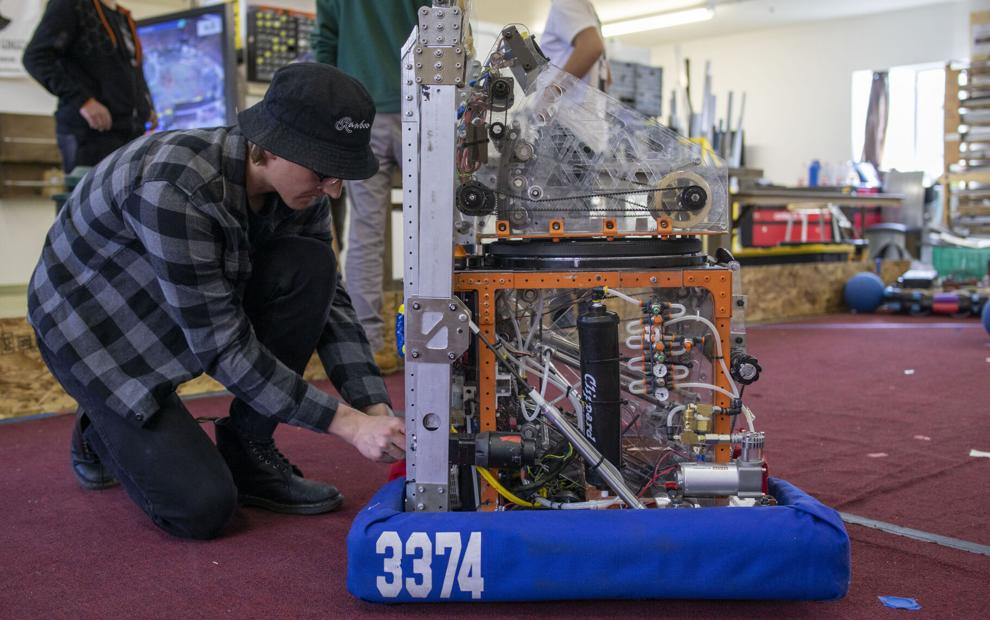 Both girls talk with expertise of the process behind the build, and they're equally enamored with the team building going on behind the scenes. Unlike some robotics programs that fiercely delineate business and construction teams, the RoboBroncs have worked to blend cultures so that members share ownership of every aspect of the competition.
That said, they still defer to programming lead Ben Blount to dive into the specifics of his computer wizardry.
"There were a lot of challenges," Ben said. Range shooting, for instance, which is difficult for even human basketball players, was quite difficult to teach a robot.
"It took so many iterations and data," but when the first unassisted shot finally went in, he said, "it was pretty sick."
"It was really satisfying to be able to see, like, the hours of work that went into that all pay off."
Those are the kinds of moments, late into an evening practice, that bond a team together.
Many of the seniors have been with RoboBroncs all four years, and they plan to return as mentors when they can fit it into their college schedules. "We always joke about becoming super seniors just so we can stay," Stella said.