Tuesday was the sort of day where skiers at Jackson Hole Mountain Resort had to decide between steep, deep, or both.
"It's just so much fun," Brandon Leis, 27, told the News&Guide while waiting in a short line for the Marmot chair, snow caked in his hair. "It's just a good, good, good powder day."
There were rumblings Monday night of a storm in the Tetons — the last cell of the storm system that moved through this weekend, dropping 18 inches at Jackson Hole Mountain Resort's Rendezvous Bowl plot and slightly less (13 inches) at the lower elevation Raymer plot. The Bridger Teton Avalanche Center forecast for dense snowfall overnight Monday: 10 inches, with roughly an inch of moisture.
Mountain Weather meteorologist Jim Woodmencey described the recent weather as part of a "ridge-trough pattern," and said it's what Jackson Hole's been experiencing for the past few weeks. A series of moderate storms in the Pacific Ocean have intermittently been kicking up areas of low pressure, which flow east over the western United States and drop snow in the mountains with periods of high pressure in between. The low pressure troughs have been coming in across the Pacific Northwest, occasionally dropping down into California, Utah and Colorado. But Jackson Hole has been lucky so far.
"We've been solidly in the zone benefitting from every one of those," Woodmencey said.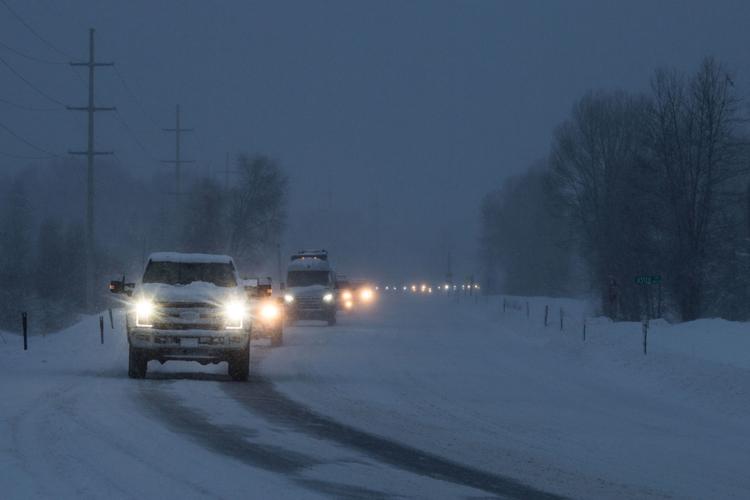 Cars filled the Village Road before dawn Tuesday, drivers and passengers looking for the Tetons' latest soft, white treat.
Lines for the resort's base area lifts were more than full by 9 a.m., with the line for the Bridger Gondola wrapping most of the way downhill. The Sweetwater Gondola and Teewinot and Apres Vous lift lines were likewise mobbed, as hundreds of mostly masked people waited for the upper mountain to open. As the resort's ski patrol bombed overhead, emotions were mixed.
Despite the forecast, it was not snowing on the base area.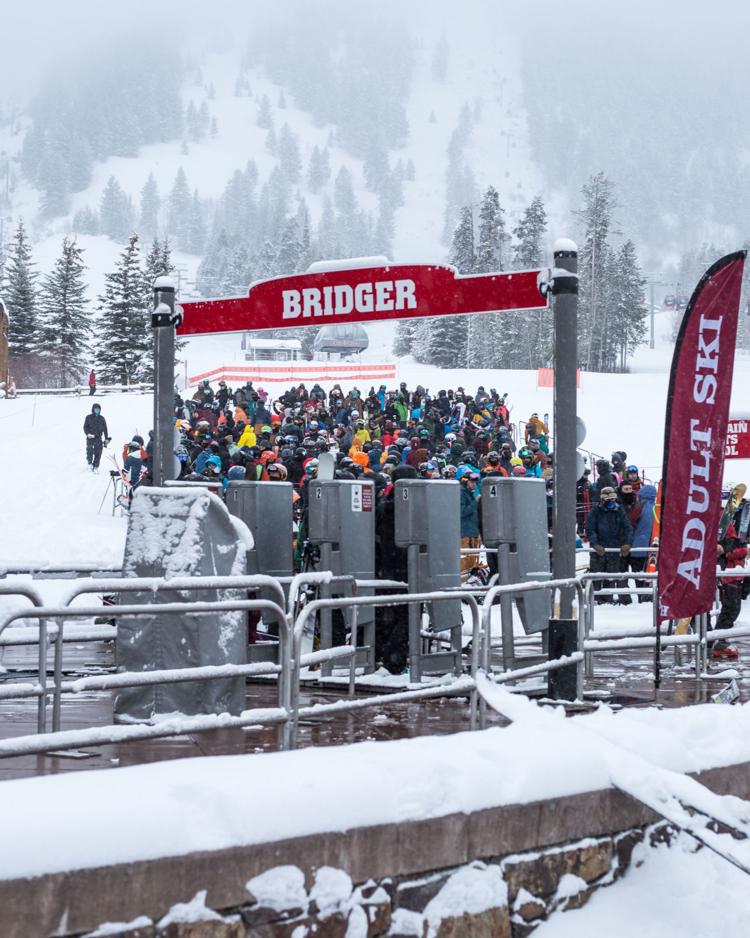 Peter Climek, 22, was standing in the Bridger line and one day into his first-ever visit to Jackson Hole.
"The stoke is real," Climek said. "Happy to be out here."
Further down, Sloane Gordon, 21, Alec Slater, 25, and Megan McClintock, 29, who all work in Jackson Hole, thought the Monday storm might have been weaker than predicted.
"It'll be a little less than expected," Gordon said. "But yeah, the storm as a whole — it was nice."
When Bridger started accepting passengers at 9:25 a.m., the trio whooped along with the rest of the crowd, which quickly began jostling towards the gondola.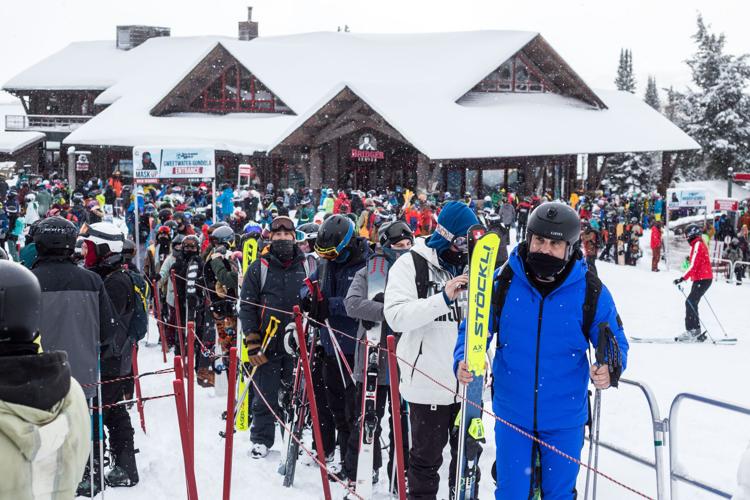 "Now the hype is on," McClintock said.
And the hype was real. The good, white fluffy stuff was falling fast at upper elevations. It was soft, quick and forgiving and only got better higher on the mountain, though it's hard to say how much snow actually fell. The Bridger Teton reported 4 inches at the Raymer plot and 6 in Rendezvous Bowl in its a.m. report. But it snowed at least until noon at upper elevations and, by 5 p.m., the Bridger Teton Avalanche Center's website reported between 8 and 9 inches higher on the mountain.
There was plenty of avalanche gear to be seen, but at least one group decided to avoid stepping out into the backcountry. Standing at the top of the Marmot lift, Ryley Dizino, 27, and Jazzy Hoffer, 26, who live in Jackson Hole, said they'd stayed in bounds because of the "high" avalanche danger — and were happy to have done so.
"The stoke is high," Hoffer said.
Dizino elaborated: "The stoke is high, the lines are long. Take what you can get."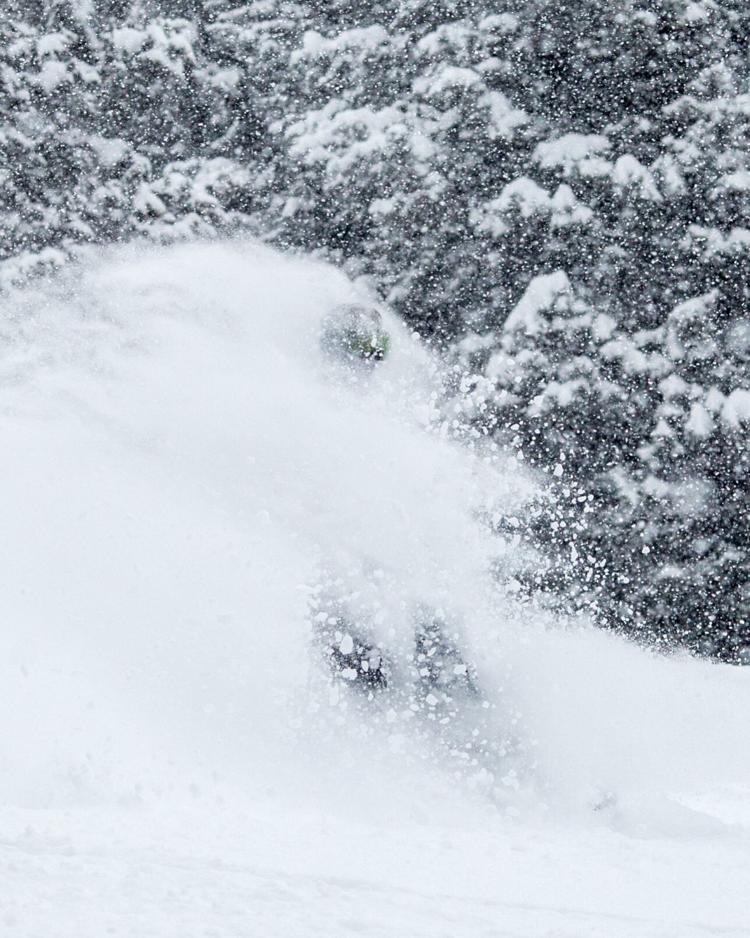 It took this reporter 35 minutes to get up Teewinot and Apres Vous in the morning, though lines on other lower mountain lifts eased off. Thunder and Sublette stayed jammed, and there seemed to be a long wait on Bridger all day. It was one of those days where skiers like your correspondent had to decide between going high to make a descent through the Hobacks (the steep and deep option) or sticking to lower elevation lifts like Teton and Marmot to get as many delicious turns as possible through boot-deep powder.
The News&Guide's party chose the latter — and it was still deep enough to drag out some whoops and few tasteful platitudes.
Walking to the car, Amy King, 27, said it was a day she "felt like a skier."
"You can finally stop thinking," King said, describing her last top to bottom lap. "Gravity is having its way with me, and I'm having my way with gravity in this mutual dance."
In reflection, she called that some "hippie nonsense."