Some are veterans, others just call themselves "kick-ass civilians."
Last week nine of them joined Team Rubicon's chainsaw crew of sawyers, adding a new tool to their disaster relief tool belt.
Fueled by Dunford donuts and inspired by seasoned vets, the motley collection of "greyshirt" volunteers learned how to assemble, sharpen and wield chainsaws for fire mitigation projects across the country. Many of them had joined Team Rubicon to aid in Jackson Hole's vaccination effort last winter, forming a community and realizing their potential in the process.
"I love the structure of it," Sean Brennan said. "It's clearly not their first rodeo."
Brennan is a retired Stanford physicist who moved to the valley and became a ski instructor at Jackson Hole Mountain Resort. When he joined the greyshirts' vaccination effort, local octogenarians were navigating a scary new routine, Brennan said.
He was impressed by Team Rubicon's level of organization and committed himself to becoming more involved with their team. Last week he put his name in the ring with other volunteers hoping to respond to a mudslide in Haines, Alaska.
Mike Norris joined Team Rubicon after more than 25 years in law enforcement, mostly as a fish and game warden in California.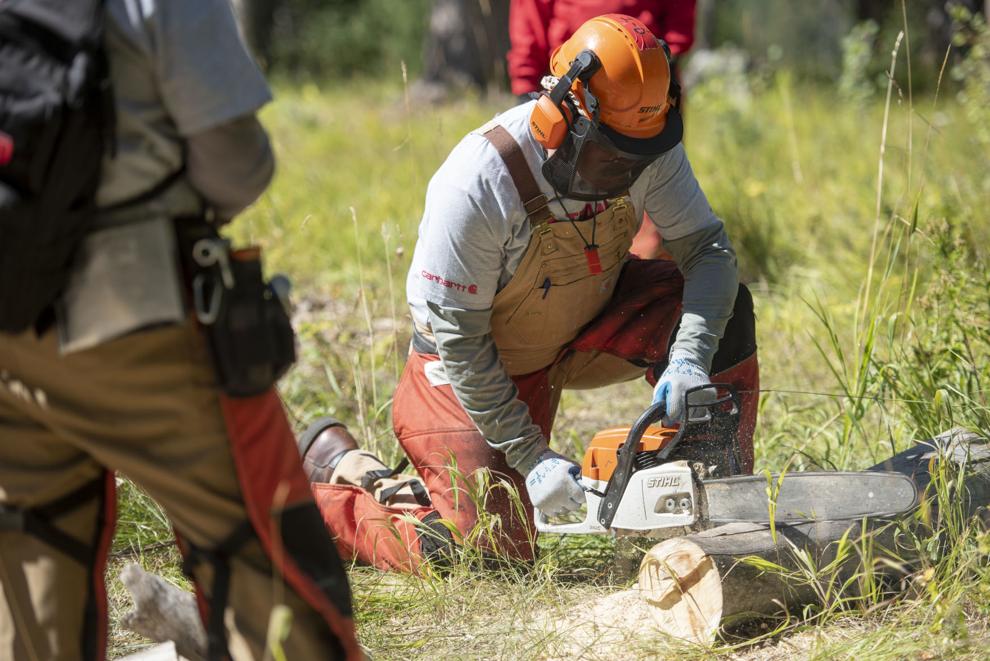 During that tenure he worked "border to border and 75 miles off-shore," but with distrust in police forces rising across the country, Norris figured it was time to pivot.
As a greyshirt Norris has already helped with Jackson's vaccine roll-out, and he's eager to deploy across the country with what he called "Red Cross on steroids."
Specifically, the "get in there, get dirty and get it done," approach, coupled with Team Rubicon's level of organization and expertise, resonated with the former warden.
As did the team's origin story: Back in 2010, Marines Jake Wood and William McNulty crossed the point of no return — in this case the Artibonite River between the Dominican Republic and Haiti — to deliver crucial medical supplies to victims of the 7.0 Port-au-Prince earthquake.
Now bolstered by extra disaster relief skills, Norris looks forward to carrying out that same mission on future deployments.
On Saturday morning the volunteers tried their hand at "limb and buck," a technique for clearing downed trees once they've been felled.
Some wiggled the saw, nicknamed "Amber," and ended up burning the wood. Others pushed too hard and nearly toppled over when the blade broke through. All of them reliably forgot to turn on the safety and earned a scolding from instructor Jack Hughes.
Along the way he taught them valuable signs to look for, like the size of the chips flying off the saw and the oil point for proper blade lubrication.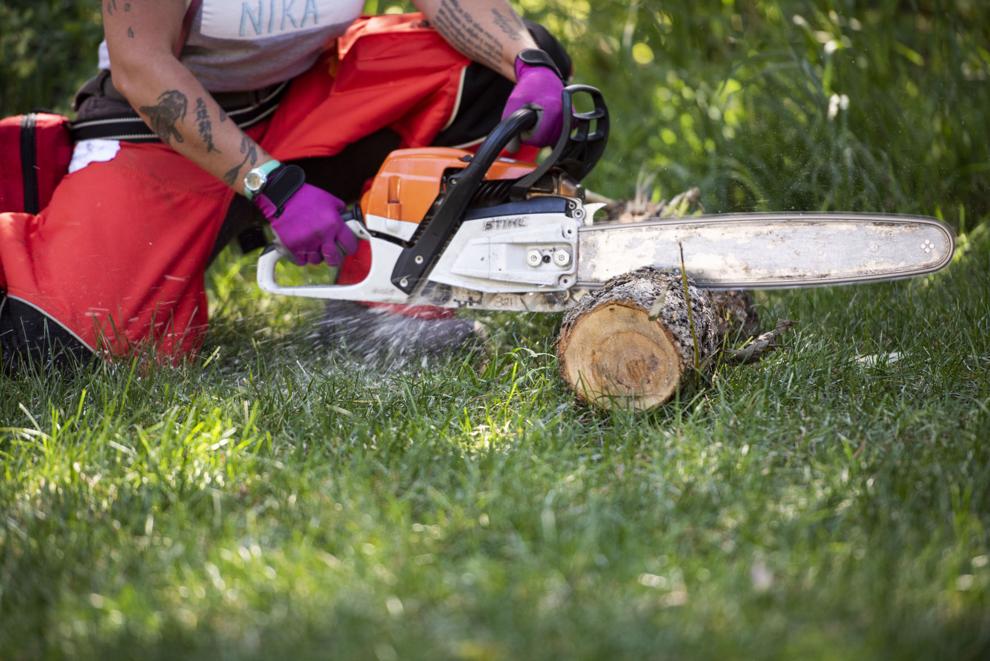 Hughes, a Denver resident, is in his fourth year with Team Rubicon.
As he strapped up his fire chaps the former Marine and ski patrol volunteer described the Team Rubicon approach:
"We try to standardize across the country, so I can link up with a sawyer in Texas, and we can just go: I know exactly how he's going to cut."
In 2019, Hughes helped save seven homes from a Glen Haven fire. Another operation had him cleaning up a blaze in Bondurant. Mostly the ops are a blur, Hughes said, but the preparation and teaching techniques are clear.
Before everyone fired up their chainsaws they would yell "eyes and ears," a reminder to don personal protective equipment, then a vivacious "hot saw!" to give folks a heads-up.
For the beginners this proclamation was met with a triumphant cheer from the group; pull-cording a cold engine is no easy feat.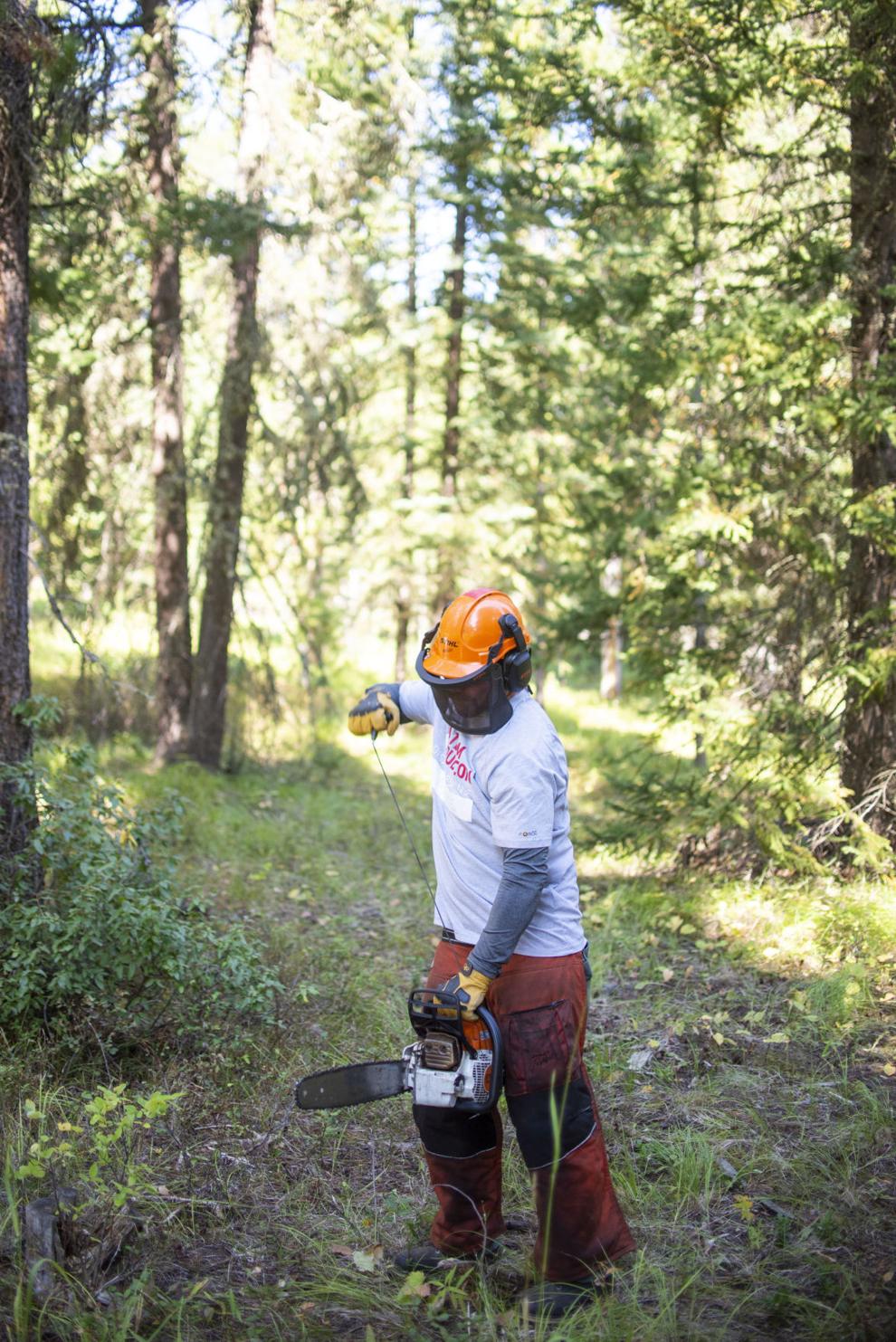 The group was also rallied by team leader Melinda Lee, who's become something of a local celebrity. Now an epidemiologist for the Teton County Health Department, Lee coordinated last year's vaccination efforts and earned Team Rubicon's Greyshirt of the Year honor in the process. For more on her story, see this week's Valley Close-Up.
Also of News&Guide Close-Up fame was Ernie Rodriguez, who cased this week's training to offer additional wisdom. Compared with the sunny grass fields this crew was training in, Rodriguez recalled earning his own Sawyer 1 certification on the edge of a snowstorm before chopping nail-ridden trees.
"I was cutting into this one tree when my blade hit a dog chain. It had been picked up by the wind and embedded in the tree," he said.
When you're responding to a disaster situation you never know what sort of situations your saw blade will encounter.
Rodriguez has volunteered in Lake Charles, Louisiana, Texas and Alabama. Come Labor Day he will deploy to New Orleans to respond to Hurricane Ida, which made landfall Sunday.
"Wherever they need me is where I'll go," he said.