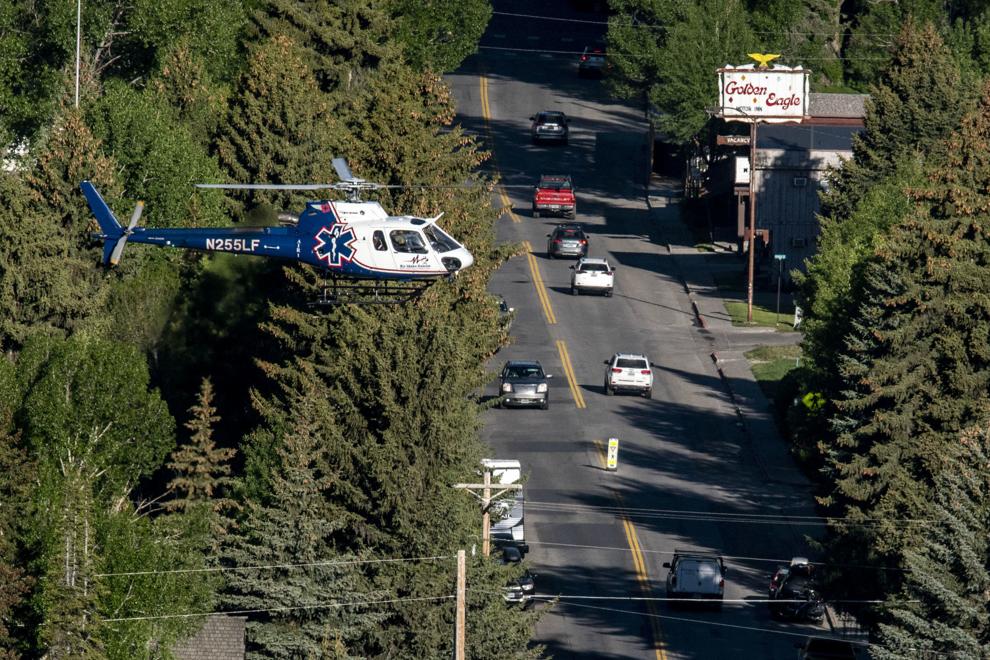 Twin sisters struggled to breathe when they were born prematurely at St. John's Medical Center during the summer of 2017.
After days without improvement, doctors decided the babies needed to leave the valley, quickly and safely, for advanced neonatal intensive care in Idaho Falls. Only one infant could be transported at a time. So Summer and Emma Bressler, just days old and three weeks early, took back-to-back air ambulance flights.
Precious minutes ticked by as one twin went, and then the other. Both survived.
Medical crisis averted, Eric and Stacy Bressler's stress had only begun. The couple's insurance company eventually covered one twin's transport but concluded the other wasn't medically necessary, so it wouldn't pay the bill.
Air ambulances can mean the difference between life and death or between suffering irreversible organ damage and walking away relatively unscathed. Patients can find themselves stuck in the middle between insurance companies and air ambulance operators. Combined with little transparency and regulation around an industry increasingly owned by private hedge fund companies, that means patients and their loved ones have little say and no way to anticipate their costs. Some are hit with an $80,000 bill and insurance covers the entire amount. Others find themselves fighting insurance and air ambulance operators over unpaid bills exceeding $10,000.
"My recollection when I first got to Jackson Hole in 2000 is that a transport to Idaho Falls was in the $10,000 to $14,000 range," said Dr. Jeffrey Greenbaum, an emergency room physician. "Currently, it's in the $30,000 to $50,000 range. I think that's probably a bigger increase than what inflation should account for."
Greenbaum often sees patients stuck with expensive air ambulance bills.
"Then you get to be alive and bankrupt, versus dead and financially solvent," he said. "It happens all over the country. It's really rotten."
Who pays depends on a maddening list of variables.
If a patient's injuries or condition exceeds what St. John's can handle, doctors like Greenbaum start calling air ambulances.
In 2018 hospital patients took about 200 air ambulance flights, about half plane and half helicopter. About 110 transports were recorded from the emergency department alone for cases like heart attacks and strokes, with an additional 20 called for obstetrics patients like the Bresslers, plus about 70 from the primary and intensive care units.
Several helicopters and airplanes are available in the region. Greenbaum said they all do a similar job and one isn't superior to another.
"If we determine that somebody needs a flight, we start calling based upon proximity," Greenbaum said. "Essentially, we're going down a list."
If the bird is ready in Driggs, Idaho, great. That is the quickest option — back and forth from Driggs to St. John's to Eastern Idaho Regional Medical Center takes about an hour or less — and cheaper for the patient.
"That's the best-case scenario," Greenbaum said.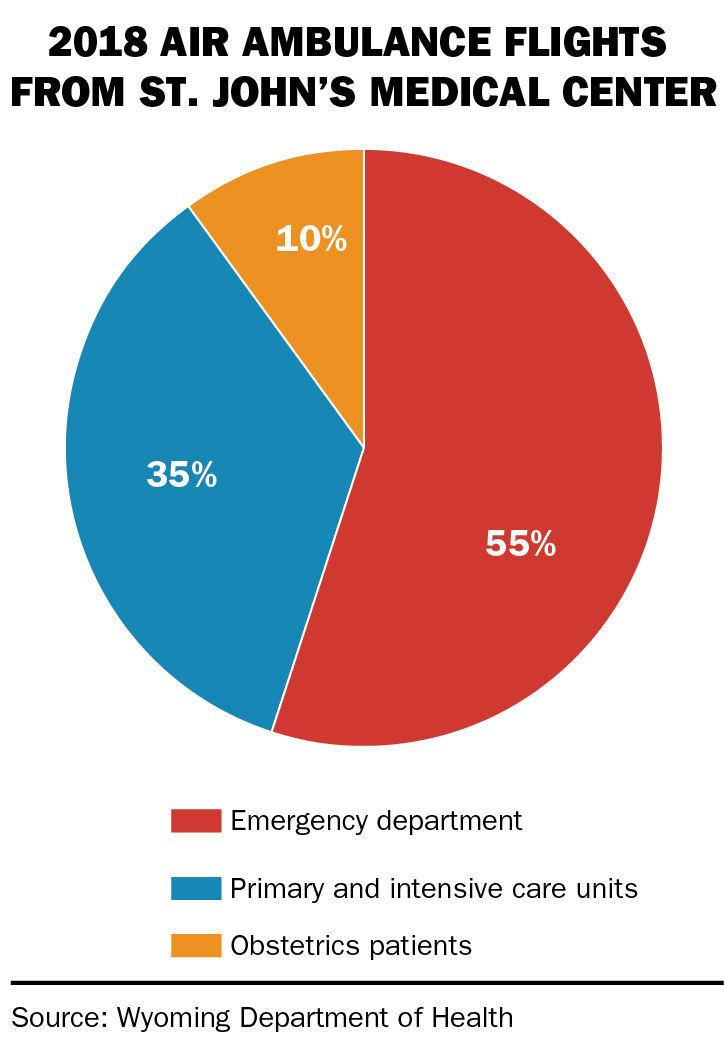 But is the aircraft already in use? Is it down for maintenance? Is the pilot well rested per Federal Aviation Administration standards? Is the weather clear?
Greenbaum will next try aircraft based in Rexburg, Idaho, or Rock Springs and go from there. In some cases, patients might need to be packaged at the hospital and then transferred to the airport when a plane is deemed the best option.
In rare instances air ambulance helicopters will make what's called "scene runs" and land directly on the highway or at Teton Village, skipping the hospital completely. First responders, rescuers, physicians and law enforcement make that determination.
Although the scenario that is described time and time again is a helicopter swooping from the sky to the side of a bad highway wreck, what people envision is actually not the norm in Wyoming. Department of Health data shows that most air ambulance trips are hospital-to-hospital transfers. In a recent year only 8.5%, or 342 flights out of 4,046 total, are a 911 scene response.
Is it medically necessary?
Doctors decide that a transport is "medically necessary." But that can be challenged. Greenbaum called it a "weaselly way for insurance companies and flight services to get the patient to pay out of pocket" and said if he sends a patient to another facility, it's always necessary from his point of view.
That puts hospitals and insurers at odds.
"Typically, the insurance company disputes that with you all day long," said Dr. Paul Beaupre, CEO of St. John's Medical Center. "So it's their version of that versus the medical professionals."
Blue Cross Blue Shield of Wyoming spokeswoman Wendy Curran said "insurance companies generally base their coverage on medically necessary services," and air transport is no different.
"We will pay for something if your doctor or your hospital shows us that this is a medically necessary service," she said. "It's a utilization control used to keep out unnecessary costs for care that is not medically needed. The same standard applies for air transport."
While Greenbaum said he never calls a plane or helicopter unless it's necessary, Curran countered that insurers need more information to agree.
"When you get into Wyoming that gets to be a little more difficult," she said. "It's an area that creates a lot of confusion about what are the alternatives to flying when you live in a large rural state. We've tried to make sure when we work with air ambulance companies and hospitals that they are giving us as much detail about the flight as they can — weather conditions, road conditions, construction — to say, 'This is the right alternative.' We don't have as much luck getting that information as we'd like, and that adds to the confusion."
When ambulance transport is medically feasible, Greenbaum said, that's his preference. Battalion Chief Mike Moyer of Jackson Hole Fire/EMS said hospital-to-hospital ground transfer numbers have increased over the past few years — from 19 in 2010 to 88 in 2018, with a spike of 91 in 2016. The bulk of those transports go to Eastern Idaho Regional Medical Center, or EIRMC.
"If they don't have to fly it's a significant savings to the patient costwise," he said.
But Moyer said a ground ambulance to Salt Lake City, 13 hours roundtrip, has a "significant impact on our service to transfer patients." In 2018 that happened seven times.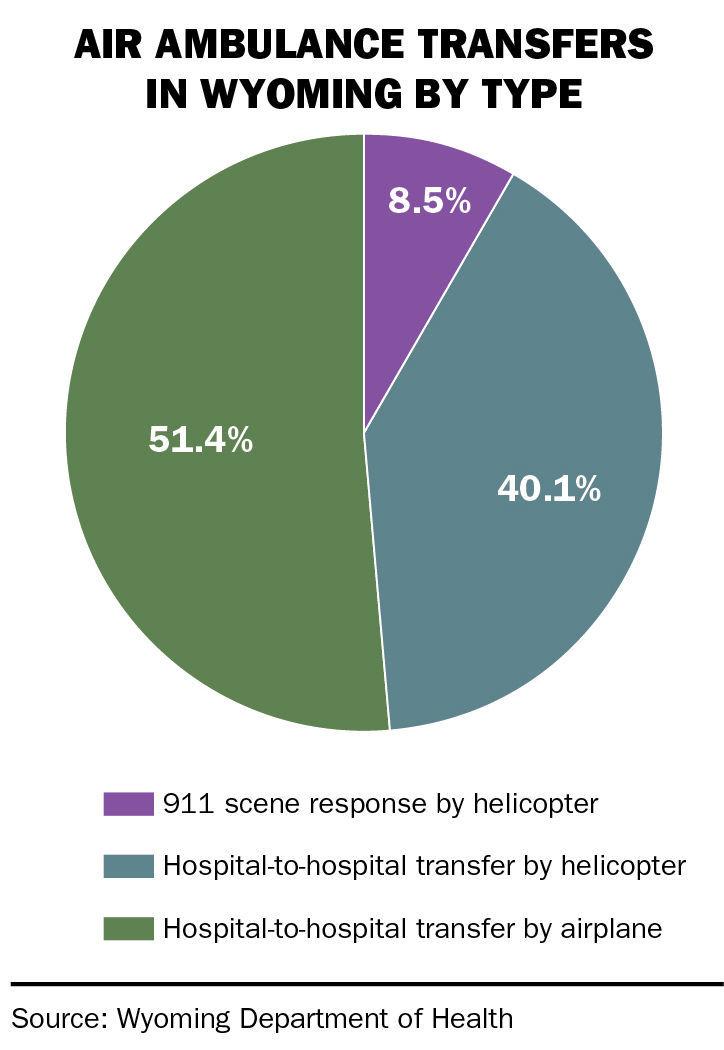 "It takes a crew out of service for other 911 calls and so forth," Moyer said. "It drops our staffing down in the valley."
Greenbaum said if ground transport is safe, he will consider it as an option.
"And when EMS has resources to do that, it is certainly our preference," he said. "We don't want to put anybody's bill up. We don't want to freak people out by putting them in a helicopter. But sometimes it's just not reasonable to go via ground. It takes too long, and there's too many unknowns."
Having been an emergency medicine practitioner for decades, Greenbaum said he's "very, very sensitive" to the hardships patients may face after taking a pricey ride.
"We know how hard it is on patients to get big bills," he said. "But we're also stuck in the position where, if you have a medical necessity, it's very difficult for me to say, 'Well, God, you know, I guess you could get in a car, but then again, you might not ever make it.' How can I justify that?"
The "rotten" scenario Greenbaum describes has hit several Teton County employees in the past decade.
Human Resources Manager Julianne Fries has seen her workers face financial challenges and stress when they require air ambulance service. She's seen four or five claims over her tenure of nine years.
"It's really a hardship on the employee," she said. "The problem is that costs are exorbitant, and they don't have a choice."
As a self-insured entity the county is in a unique position. Instead of paying an insurance company for medical claims, the county covers the claims itself (at 250% of Medicare rates) and uses a third-party administrator to process claims on its behalf.
When air ambulance charges pop up, that isn't a problem just for the patient or for the county.
"That means the taxpayers are paying the bill," Fries said.
Allegiance is Teton County's third-party administrator and Cigna acts as its network. But no companies that fly in Wyoming are in network with Cigna. Cigna's public relations senior advisor Mark Slitt blamed air ambulance providers, saying the companies "expressed a desire to remain 'out of network.'
"Unfortunately, this strategy has kept prices high for our customers," Slitt said. "We would very much like to negotiate contracts with air ambulance providers so that our customers could avoid surprise bills and have the peace of mind that comes from having predictable and reasonable in-network rates."
The county once hired Sentinel Air Medical Alliance, a company that advocates for "safe, high quality, reasonably priced air ambulance services" to conduct an outside review of an October 2015 claim for a flight to Idaho Falls. Sentinel's independent analysis found that Air Methods charged 327 percent above the Medicare rate and 343 percent above the cost of providing the service.
Jeff Frazier, a partner at Sentinel, said his company is used to reviewing claims from around the region. He's concluded that "money drives these things and not necessarily patient care."
Back in Jackson, Fries said county employees get threats from collection services.
"For the employee it's a burden, and it's scary," Fries said.
The county is disputing a billing issue with Rocky Mountain Holdings, which double-billed miles and billed for a helicopter when an airplane was used. Fries said that based on actual air miles and what's allowable under Medicare, the charges should be just over $20,000 — not $67,500.
A 2017 U.S. Government Accountability Office report found that the median prices providers charged for helicopter air ambulance transport service doubled between 2010 and 2014, from about $15,000 to $30,000 per transport.
The report states that Air Methods, the largest air ambulance provider, increased the average price per transport 283% over the past decade, from $13,000 in 2007 to $49,800 in 2016. In contrast, the Consumer Price Index inflation for that same time period was 15.75%.
"The presence of private equity in the air ambulance industry indicates that investors see profit opportunities in the industry," the government report reads.
Industry organizations say if there were no profit motive, innovation wouldn't occur.
Documents filed with the U.S. Securities and Exchange Commission show that the CEO of Air Methods' total compensation package was $4.1 million in 2016 and that the company recorded $97.9 million in net income in 2016.
Many companies are no longer publicly held and are shielded from filing periodic reports. Air Methods was acquired by a private equity firm for approximately $2.5 billion in 2017. Air Medical Group Holdings was purchased in 2015 for $2 billion by another firm.
Air ambulance industry representatives say their prices are less about profit and reflect how costly it is to operate the service and how little they are paid to do so. Costs are high and relatively fixed, and the only way to increase revenue is to increase the number of transports — difficult in a rural state with a relatively static, if not declining, population — or increase its prices charged.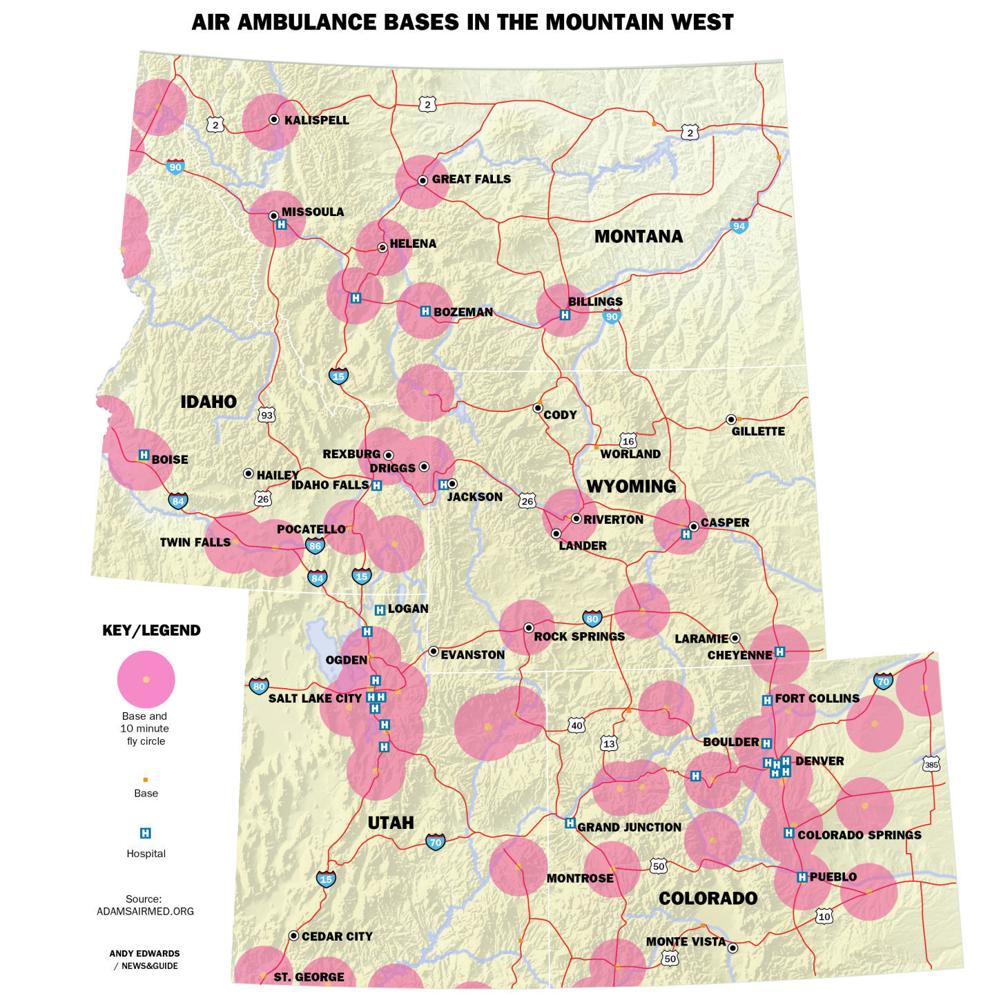 Bases, like those scattered around the Intermountain West, are staffed 24 hours a day, 365 days a year.
"In order to provide lifesaving care our programs have to be ready to respond to you, your family members, or anyone, 24 hours a day," said Rich Sherlock, the president and CEO of the Association of Air Medical Services.
The industry organization, shortened to AAMS, represents more than 600 bases and ground locations across the country.
Sherlock said it costs over $3 million a year to run a base, "because what goes into it is the readiness." In addition to staff salary and benefits, he rattled off a long list of expenses: training and continuing education, advanced aircraft, gallons of jet fuel burned every minute, operational control centers to process flight requests and all the equipment.
"You can't take a generic helicopter and make it an air medical helicopter," Sherlock said. "A heli these days for use in the air medical services is somewhere around $4 million, and then that has to be modified to the tune of another $1 million to transport patients."
Sentinel's Frazier disputes some of those claims. He pointed to a New York newspaper story in which a company claimed its helicopter was worth $5 million, but an aircraft valuation by VRef, like the Kelley Blue Book for aircraft values, showed it was only $2.9 million new and had a market value of $1.6 million.
Frazier also said that the total cost to operate a base is about $200,000 a month, or $2.4 million a year, including crew salaries and benefits as well as training, and that his cost data has been validated within 3% in court.
The ambulances are full of both medical professionals and supplies. For example, Guardian's medical crew consists of a flight nurse, a flight paramedic and a pilot.
The ship is full of ventilators, 12-lead ECGs and other advanced monitors, defibrillators, IV medication pumps, a variety of medications to manage critical care patients and, on aircraft originating from Gillette, an intra-aortic balloon pump.
Air ambulance aircraft follow Federal Aviation Administration safety requirements.
"We want every medical helicopter to be the safest possible working environment," Sherlock said. "Not just for the patients in need but every nurse, every paramedic, every pilot that climbs onboard and calls it their office every day."
That means following rest guidelines and having almost all pilots wear night vision goggles when appropriate, something the FAA hasn't mandated.
There's no way to know the actual costs. The News&Guide asked AAMS, Guardian Flight, the Wyoming Department of Health and the Wyoming Department of Insurance for such information, with limited success.
The University of Utah's AirMed did not follow through on requests for an interview about its operations. Guardian declined to answer questions about the cost to operate a flight, how prices are determined, what an average price is and how it's composed, as did the industry organization it referred the News&Guide to.
Sherlock, of the Association of Air Medical Services, referred questions back to individual providers but said his organization was "working on a solution to try and provide more transparency in the industry" through legislative means.
"We are actually trying to increase visibility across the industry by mandating industry cost reporting and starting into quality of care reporting," Sherlock said.
Tom Glause, who was interviewed when he was Wyoming's insurance commissioner, said his department received pricing information from Blue Cross Blue Shield, but he said it wasn't a public document and he couldn't share it.
The 2017 government report identified lack of transparent data as a problem. Should numbers be made available, the Department of Health and Human Services has reported there is no national comprehensive help database of ambulance service costs to fully understand how the amounts line up.
The report recommends the secretary of transportation take four major actions to "increase transparency and obtain information to better inform decisions on whether to investigate potentially unfair or deceptive practices in the air ambulance industry."
Frazier agreed there needs to be more transparency.
"There needs to be a market in place, but the last thing these guys want is to participate in a market," Frazier said. "They typically perform their business by the element of surprise. That's their business strategy."
Neighboring Montana might offer a glimpse of how widely charges swing.
Staffers at the Office of the Montana State Auditor, Commissioner of Securities and Insurance compiled a spreadsheet during air ambulance hearings in 2016 that detailed fixed- and rotor-wing transport liftoff charges and mileage charges in the state.
Liftoff charges for planes and helicopters ranged from $9,916.80 to $22,998.64, and mileage charges varied between $29.95 to $275.
Montana's insurance communications director, Kyle Schmauch, said, "No current employee has seen this spreadsheet before" when provided a copy, and the information is "likely now obsolete, partially due to statutory changes that have occurred since then."
The office doesn't have updated data and said some of the providers in question had since gone in-network with additional insurance providers. The numbers still provide a look at what Montana air ambulance providers, not identified by name in the spreadsheet, charged in recent years.
Who's fault is it that patients are being stuck with unpredictable, expensive bills? The answer depends on who you ask.
Air ambulance providers point to the costs of running a base (roughly $3 million a year), staffed with highly trained medical professionals.
They also blame Medicare, a federal program for people who are 65 or older and certain younger people with disabilities, and Medicaid, a joint federal and state program for people with limited income and resources. The root of the issue, air ambulance providers say, is that Medicare and Medicaid rates do not match the costs for their services and need to be adjusted.
"Medicare's rates haven't been adjusted, other than less than an inflationary rate, since they were put in in 2002," Sherlock said, "while all the other costs with regard to the industry have really soared well in excess of that."
A consultant's study prepared for his organization found that industry expansion — triple the number of bases over the past 20 years resulting in 15% more Americans within a 15- to 20-minute response area in the process — has increased overhead costs.
Sherlock pointed to the CMS fee schedule as being fractional and said the average cost of a flight is $10,200 — almost double a Medicare payment ($5,900) and roughly triple what Medicaid pays on average ($3,500).
Frazier said Sentinel recommends a reimbursement of between $14,000 and $16,000 per transport — something, he said, would provide the operator with a 100% gross margin — but said raising Medicare reimbursements any higher "would be like throwing gasoline on a fire" and wouldn't keep companies from charging private insurers more, too.
Like the fairy tale "Goldilocks and the Three Bears," it's a balancing act to find a price that's just right and doesn't keep companies from flying at all.
Between Medicaid, Medicare and uninsured patients who pay an average of $450, Sherlock said seven of every 10 patients pay "significantly less than the cost of services."
"That affects pricing," he said. "And so we're trying to eliminate that. If we can get Medicare's rates adjusted and you end up getting 65% or close to 70% of the patients paying at the cost of providing the services based on actual cost data, then you eliminate the need for balanced billing."
Balance billing is the difference between prices charged by providers and payments by insurance. When air ambulance providers are out of a patient's insurance network and haven't agreed on an amount the provider will accept as payment in full, the patient is at risk of being billed for the difference.
A 2019 United States Government Accountability Office report found that about 69% of 20,700 transports nationwide in 2017 were out of network. A 2017 report from the same office stated that there is a lack of national data on balance billing but that some states are attempting to collect more information from patients.
Meanwhile, insurance companies say patient costs could be reduced if more providers were in network with them.
"Balance billing is such a problem," Curran said. "We try to get people in network as often as we can."
Most Blue Cross policies cover emergency air ambulance services when it's deemed medically necessary.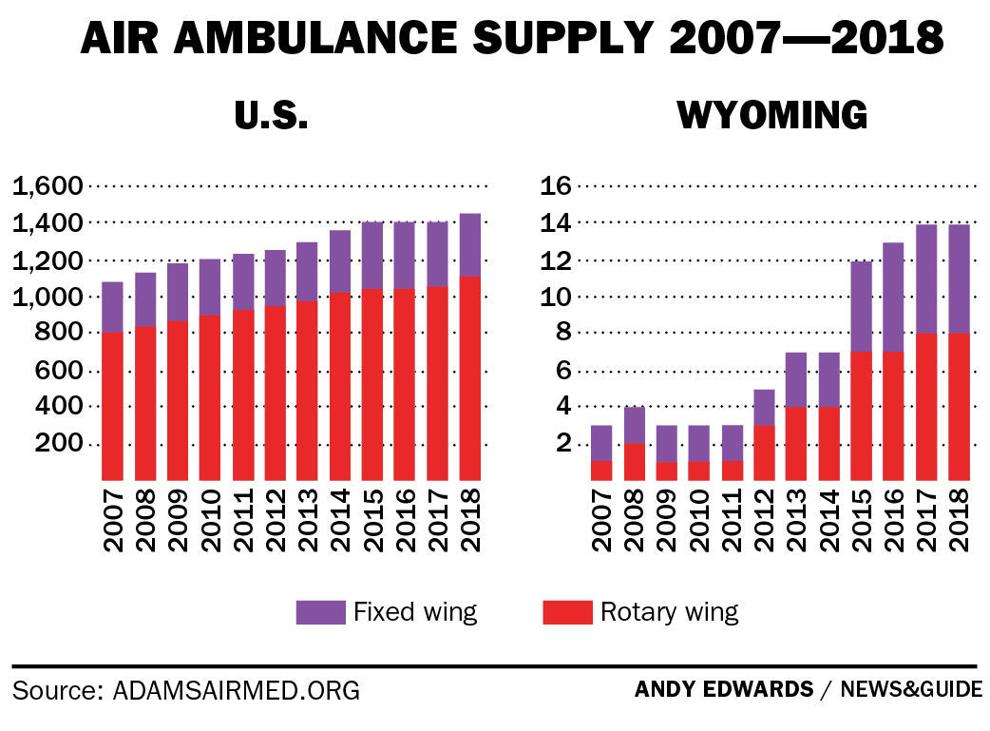 "It is one of the essential health benefits that are required to be offered under the Affordable Care Act," Curran said. "Long before that provision was in effect, our policies tended to cover that."
The insurance company has a single statewide fee reimbursement schedule for both takeoff and mileage charges for providers in network. Curran declined to share that information, saying it is proprietary.
Sources said at least one private insurer in the state reimburses in the $20,000 to $30,000 range. For comparison, the state insurance plan pays $36,000.
But Curran said getting air ambulance companies to enter into a network agreement has been "difficult over the past few years." During some of 2016 and 2017, she said, none were in network at all.
"Of course that's very problematic because it's that network protection, then you won't balance bill the patient," Curran said. "That leads to all those stories you hear nationally."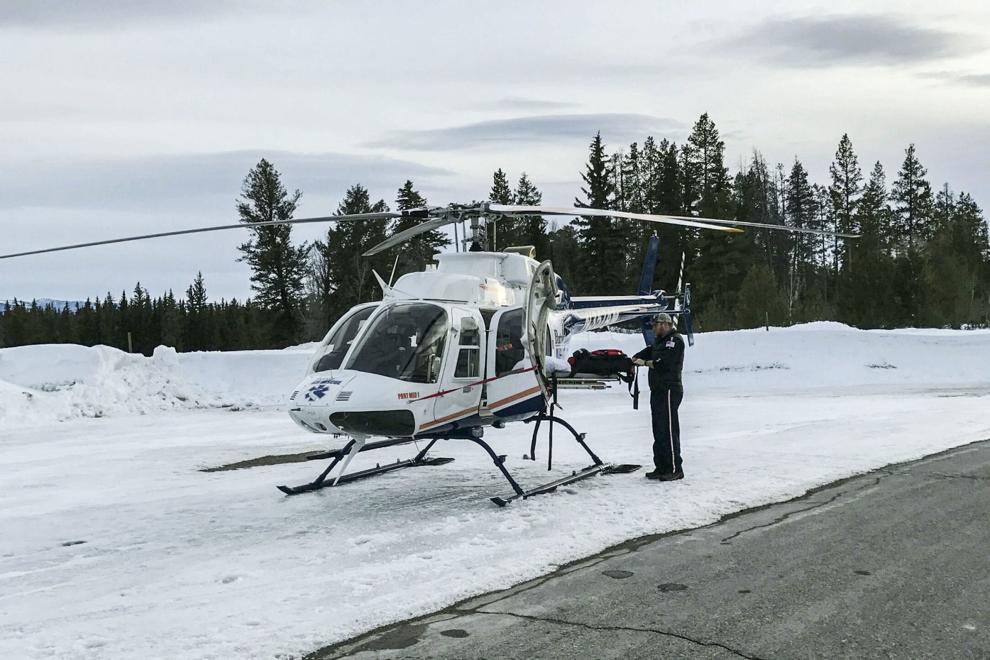 Sherlock disputes that at an industrywide level. He said in-network negotiations went up by 30 percent last year for providers under his umbrella.
"There's no one in our industry that wants a patient to receive a bill they can't pay or they didn't expect," he said.
"I don't understand what insurance is for if they won't pay for emergency medical services ordered by a medical provider. They need to step up and do the right thing. We're willing to negotiate where we have a level playing field, and we want patients taken out of the process."
In 2018 patients filed a dozen complaints with the Wyoming Department of Insurance, which regulates about 15% of the market.
"It is an issue in Wyoming that is of paramount concern," Insurance Commissioner Glause said.
Complaints fell largely into two categories: A flight wasn't deemed medically necessary and was denied by insurance, or the company was out of network with the patient's insurance. But compared with the statewide buzz, Glause said not many file complaints.
That's largely in part due to the state's inability to act, thanks to the Federal Airline Deregulation Act (see part 2 for more) which says airline carrier prices, routes and services can't be regulated. Despite not being commercial airlines, air ambulance companies have tied themselves into the act, a strategy that has held up in court.
"A lot of times our inquiries are much higher," Glause said. "But when we explain to them the consequences of the Federal Airline Deregulation Act, then they choose not to file a complaint. I would say it's significantly higher than the number of complaints that are formalized."
Complaints include a 65-mile flight from Laramie to Fort Collins, Colorado, for $50,000, a 350-mile flight from Gillette to Aurora, Colorado, for $105,000 and a 117-mile flight from Rawlins to Casper for $72,000. Glause said there's a substantial difference between average rates companies may provide to his department versus the numbers they see.
In the least populous state in the nation, a dozen complaints matter. The department receives about 250 complaints total in a year.
"In a small state like Wyoming it's more significant than it sounds," Glause said.
After raising her concerns with the hospital and legislators, Teton County's Fries feels like she has "hit a wall" trying to advocate for more transparency and patient-first practices within the air ambulance industry.
"Who can help solve the problem?" Fries asked. "It's a community issue, it's a state issue. But you're going up against the big dog. I'm at a loss of where to go."
For now that leaves families like the Bresslers, with twins who needed help and only one flight covered, in the lurch.
Two years later the Bresslers are locked in litigation with the state of Wyoming, which employed Eric Bressler at the time and provided his self-funded insurance, and Cigna, the third-party insurance administrator. The lawsuit is bogged down as lawyers squabble over timing and wording nuances.
During a hearing in district court July 17, lawyer Ewa Dawson argued the family hadn't properly exhausted the appeal process before moving to civil litigation and asked Judge Timothy Day to dismiss the case.
One of the Bresslers' attorneys, Rob Stepans, disagreed. He pointed out discrepancies between the state's legal argument and what's written in the couple's insurance policy that set up competing instructions — needing to wait 60 days to proceed with litigation but also act within 30 to continue with the appeal process — that put his clients "in a bind they couldn't possibly get out of."
Court documents say the family resorted to taking out personal loans to pay for the flight. While their bills aren't publicly available, an average Air Methods flight is just under $50,000.
Judge Day's decision is pending. But while the wheels of justice slowly turn for the Bresslers, visitors and locals alike — like earlier this month, when a man fell 1,200 feet down rock and ice near Paintbrush Divide and when three people were killed and two were injured in a head-on collision — still require planes and helicopters to access life-saving medical care.
Part two: Solutions and patient stories. How a neighboring community coped with a lack of regional services, what local businesses are doing for employees and how Western states are attempting to bring patient costs under control. Read it here.