With the delta variant driving up infections in a tourist-saturated Jackson Hole, and school set to start in a few weeks, community health leaders are putting their heads together to keep the populace safe.
St. John's Health COVID-19 Response Director Paul Beaupre said Monday that health officials will bring back community updates to address fears and "get everybody back on the same page."
"We've learned a lot about how to treat this," he said, emphasizing the efficacy of vaccines and mask-wearing. "[But] we're seeming to forget that the enemy is the virus, and we're starting to get mad at each other."
Beaupre hopes having a community update will alleviate concerns. Although the date and logistics are still being decided, the update will feature Beaupre, Dr. Travis Riddell and Teton County Health Department Director Jodie Pond.
"I think there's a lot of fear right now, and with fear comes anger," Beaupre said.
"You can see it already," he added, referring to violent outbursts at school board meetings in Tennessee and Florida, where residents threatened health officials following votes to mandate masks in schools.
Teton County School District No. 1 Board of Trustees have chosen to wait until Aug. 25 to decide about mandating masks.
On Friday, Dr. Riddell wrote to the superintendent, Gillian Chapman, strongly advising a universal mandate in public schools.
Beaupre said Monday that he supports the same precaution.
"Start the year with masks," he said. "Because it has such a trickle-down effect. If we open schools and they close down right away, we lose workforces not just in health care, we lose workforces through all of the community."
St. John's staff are already close to being overwhelmed. On a recent Saturday, Urgent Care administered 59 rapid COVID-19 tests in a single day, with a 30% positivity rate.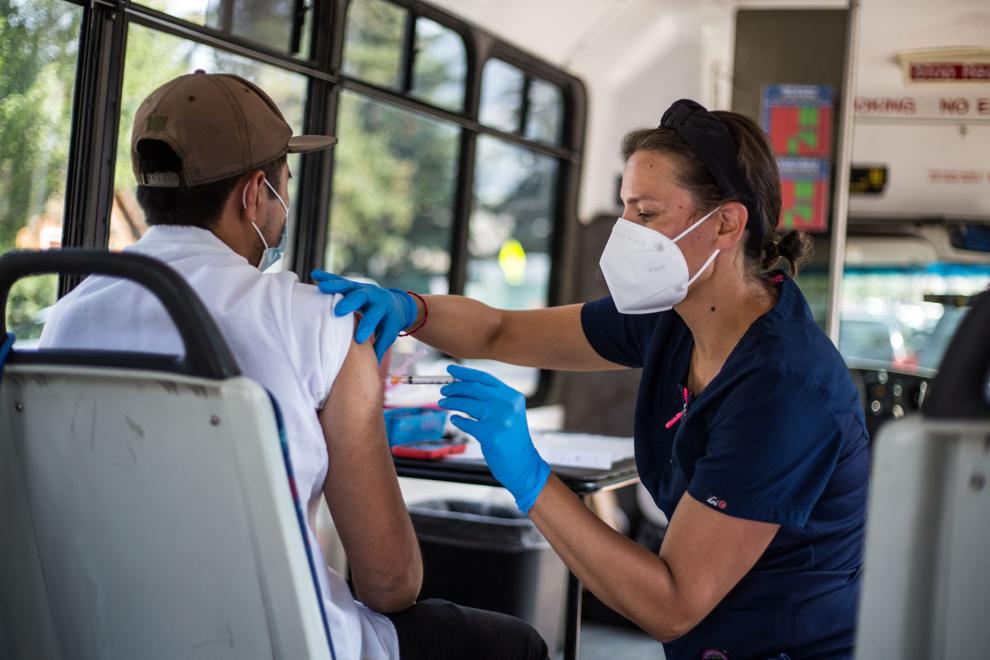 The medical center is seeing 150 patients daily, up from an average of 100, and a record for the hospital, said Chief Communications Officer Karen Connelly.
"We're back to having all hands on deck for those of us that have some role in managing this and planning and preventing," Connelly said.
Beaupre remains optimistic because he expects cases to decline when summer tourism abates.
"Although we're seeing an increase, much of that can be explained by tourism and unvaccinated from outlying counties," he said.
On Tuesday, Teton County had 125 active cases while Wyoming had 2,223, according to the Wyoming Department of Health. The Health Department also reported another 16 deaths, though none in Teton County, tied to COVID. The deaths occurred between May and August, bringing the state's total to 809 since the pandemic started.
The Jackson hospital, meanwhile, isn't waiting for a godsend. The St. John's COVID-19 response team began meeting regularly in late July, and extra high-flow oxygen therapy units were ordered from Salt Lake City to account for an increase in hospitalizations.
State Health Officer Dr. Alexia Harrist recommended Tuesday that people with moderately to severely compromised immune systems receive an additional dose of the Pfizer or Moderna COVID-19 vaccines. St. John's Health is prepared to give those additional vaccines to immunocompromised residents. Booster shots for the general public could come in the next couple of months, Beaupre said.
Beaupre said he recently called Gov. Mark Gordon to expedite the process for offering booster shots. While the state is backing additional shots, Gordon announced Monday that his office would not mandate masks or vaccines.
Beaupre said he hopes the upcoming community update is a "one and done," but he's also painfully aware COVID-19 will continue to be with us.
"The disease is never going away," Beaupre said. "It's going to be with us. But how are we going to get in a place where it's much more like the flu, and we're not talking about COVID incessantly? It's going to come, I believe, through combination of vaccinated people and people who have been exposed and survived."