Most young people in Jackson live with roommates, and several at that. That can make social distancing hard, if not impossible.
A 24-year-old man who wanted to be kept anonymous told the News&Guide he realized Saturday morning that he had a fever, a potential symptom of COVID-19. On his way to visit friends in Salt Lake City, he decided to turn around and do what public health officials are urging — stay home. After lying low the rest of the day, he tried to call the coronavirus hotline at St. John's Health but missed the hours — it operates only until 5 p.m. on weekends. When Sunday morning rolled around, he still had a fever and had developed a cough. So he called the hotline again.
First he talked to a nurse, who said she'd connect him with Urgent Care and call him back. After not hearing back for a few hours — the line is seeing high use, an average of 180 calls a day — he called Urgent Care directly. A nurse there explained how to use Zoom, an app for telehealth. The man also called his father, a practicing physician elsewhere in the country. By that point his fever was going down. The nurse decided he should just monitor his symptoms at home and isolate himself in the small three-bedroom house he shares with three roommates.
"I just want to be really safe about it," he said. "I think the biggest thing that kind of sucks about this is I've made my roommates really anxious. It's tough. I feel bad about that. Our house is small enough that it's pretty difficult to have enough space from each other here."
He doesn't have anywhere to eat in his room, so he's eating at a table that's in a shared space. All the roommates share a single bathroom.
"I've been pretty much nonstop sanitizing everything after I use spaces, but I understand they're still pretty worried about it," he said.
Though many sick people, like the unnamed man who spoke with the News&Guide, have asked providers for tests, the number that have been processed remains low.
As of Tuesday afternoon, 95 people had been tested for the coronavirus at the Wyoming Public Health Laboratory in Cheyenne. As of 9 that night, 15 Wyoming residents had tested positive for the coronavirus, including eight in Fremont County, all of which were traced to a resident at Showboat Retirement Center in Lander, the Casper Star-Tribune reported.
The Wyoming Department of Health has also received nine test results from private commercial labs in the state, all negative for the coronavirus. Dr. Alexia Harrist, a state health official, told a press conference Monday that the Centers for Disease Control and Prevention is no longer requiring states to confirm results with its lab in Atlanta, meaning all positive test results will now immediately be counted toward the state's total.
Until recently the state lab had been able to process just 10 tests a day, but Harrist said the lab's daily capacity had increased to 20 to 50 tests, "depending on how many shifts we need to run."
"We'll look at how to increase that further as testing becomes more efficient," she said.
With more than 100 tests in some stage of processing, it's hoped increased capability will help the state eliminate its test backlog. Health Department spokeswoman Kim Deti said in an email that not all 100 of the tests were currently at the state lab. Instead some were awaiting results, while others had been registered by hospitals around the state but not sent to the lab yet.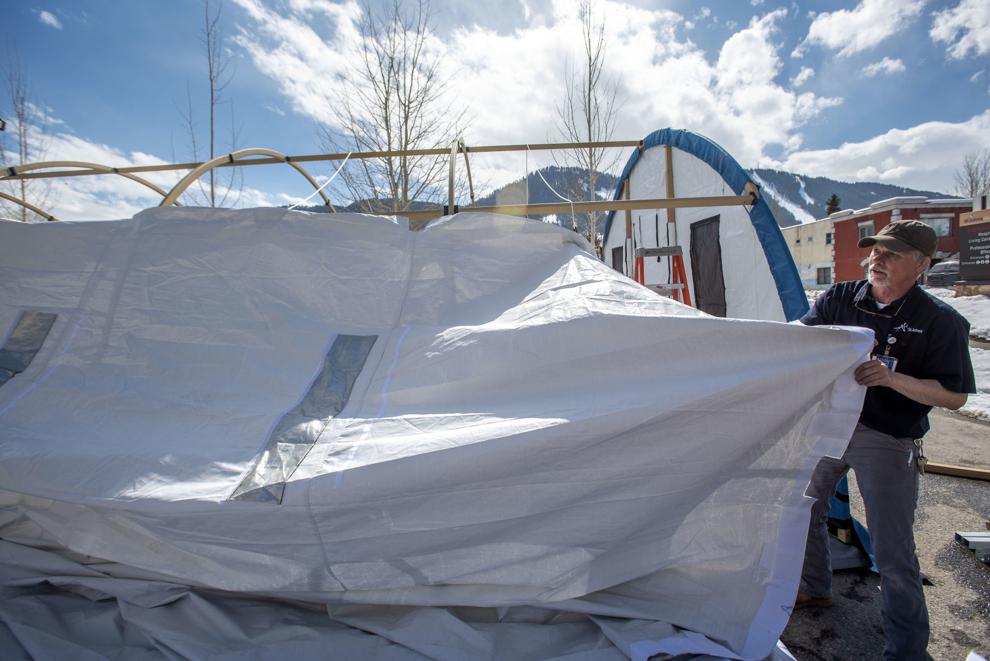 St. John's is using state and private labs to process tests. As of 4:30 p.m. Tuesday it had sent out 41 tests. CEO Dr. Paul Beaupre said that while there aren't yet good testing mechanisms in place, he hopes to have a drive-thru testing center like those in Colorado and Washington at some point.
"We're a couple weeks out yet before we have good reliable tests on site," he said.
Preparing for an overload
Harrist told the press conference she was not sure how many hospital beds would be available if the outbreak spreads. The state's pandemic flu plan calls for more than 2,100 to be ready across the state.
Part of officials' desire to "flatten the curve" is to limit the burden on individual hospitals. If a large number of patients need intensive medical care at the same time, they could overwhelm small, rural hospitals with only a few intensive care unit beds and ventilators, a machine that breathes air in and out of patients' lungs when they are unable to do so themselves.
"I can tell you this is something that has been on our mind," Gov. Mark Gordon said.
President Donald Trump told governors in a conference call Monday they should seek out resources themselves and not wait for federal help.
Chief medical officers in other small gateway communities near national parks, like Moab, Utah, are begging visitors to cancel trip plans and not use wanting time off or the ability to work remotely as an excuse to travel. Asymptomatic people can spread the virus, with the potential of rapidly overloading small medical centers.
St. John's Health fits in the category of hospitals that have limited ability to handle a large influx of coronavirus patients. Beaupre told elected officials last week the hospital had the ability to care for "eight to 10 end-stage lung disease patients" of the kind who could be caused by COVID-19.
That's because the hospital has 10 ventilators on hand.
"If this thing really gets ugly, that won't be enough," Beaupre said. "We know that. We're trying to do everything possible."
During the press conference Harrist said some reserve resources exist for hospitals that are stretched thin during an extended outbreak. The Strategic National Stockpile is a cache of medical supplies that hospitals can draw from if their stores of things like N-95 masks or other personal protective equipment run low.
She hoped use of the national stockpile won't be necessary, but public shortages of protective equipment such as N-95 masks have sent jitters through some communities. Two men broke into the Memorial Hospital of Converse County on Friday, according to the Casper Star-Tribune's Seth Klamann, stealing medical supplies, including masks.
St. John's is taking steps to ensure its supplies stay safe, chief communication officer Karen Connelly said. The hospital has a good supply as it stands, and it has moved masks away from doors and areas where people might take as many as they wanted.
"Some of our supplies that are more critical are in more secure places and are monitored," Connelly said. "The uncertainty about what the demand may be and national shortages have us keeping a really close eye on things."
State laws also provide hospitals the option to ask other facilities around the state, or in neighboring states, to help if their beds are full in an emergency. The health care task force Gordon's office will run is meant to coordinate the state health department, local agencies and hospitals so that if the outbreak spreads such measures can be put into effect.
"In any situation we're going to see a surge of patients that is going to stress the health care system," Harrist said. "We develop plans for surge management."
St. John's is working to expand its capacity and keep the hospital campus safe for other healthcare needs.
A negative-pressure triage tent was erected this week for in-person evaluations. Conducting medical evaluations outside the hospital could keep a sick patient from spreading the virus within the building and infecting patients and staff. The tent, which will be operated by emergency department staff, is geared toward community members who might be struggling with virtual measures in place so far and are directed to come in after a phone evaluation.
In addition to seeing steady use of the hotline, telehealth visits are ramping up, with the hotline producing 25 to 35 telehealth appointments each day.
The hospital is also ramping up telehealth training for nonemployed physicians like pediatricians and obstetricians who don't have access to enough protective gear to communicate with patients in the event a case is confirmed and their offices close as a result. An array of site-specific operations is changing, too.
Keeping St. John's healthy
All clinical staff undergo temperature checks at the beginning of their shifts. All employees eligible for remote work aren't coming to the hospital to reduce the number of people there and to help with social distancing. Volunteer programs are suspended and patient visitors are being limited. The cafe, often used by the broader community, switched Monday to grab-and-go only.
"We are also putting in place further restrictions on our own campus so that people who need to be here for other services can feel like this is a safe place to be," Connelly said.