A seemingly contradictory fact is true in Teton County: While you were more likely to be diagnosed with COVID-19 than in most parts of the country, your chance of dying from the disease was far lower.
That's despite Teton County having far more cases per capita than both the state and nation, with more than 15% of locals having tested positive compared with about 9.5% testing positive across the country.
The reasons behind Teton County's dramatically lower death rate are not clear, but resort communities around the West have seen similar trends.
"We probably have a healthier population," Teton District Health Officer Dr. Travis Riddell said. "We certainly have a lot of active folks here, probably a lower chance of having those diseases that are associated with a higher risk of serious illness."
There are two ways to look at the death rate from COVID-19 (or any disease): the case-fatality rate and population-level rate. Case fatality rate is the percentage of people who contract the disease and die as a result.
As of Tuesday, Teton County's case fatality rate was 0.25%, about a fifth of Wyoming's (1.24%) and only a seventh of the nation's (1.81%), according to data compiled by The New York Times from local and state health departments. Case-fatality rates have been touted as a measure of the pandemic's severity, but the numbers can be skewed.
"That, at least in part, is probably lower in Teton County because we're testing a lot more," Riddell said of the lower number.
When he last checked, Riddell found Teton County had performed about 2.5 tests per capita, while the state was just over one per person. Those extra tests, done through contact tracing and surveillance programs, have caught asymptomatic and presymptomatic cases early, limiting transmission, severe cases and deaths.
"It also means that those people are aware they have this potentially deadly disease at an earlier stage, and they're not ignoring it like you might be tempted to do if you think you just have a cold," Riddell said. "That means hopefully you're getting that care sooner, which makes that care more effective."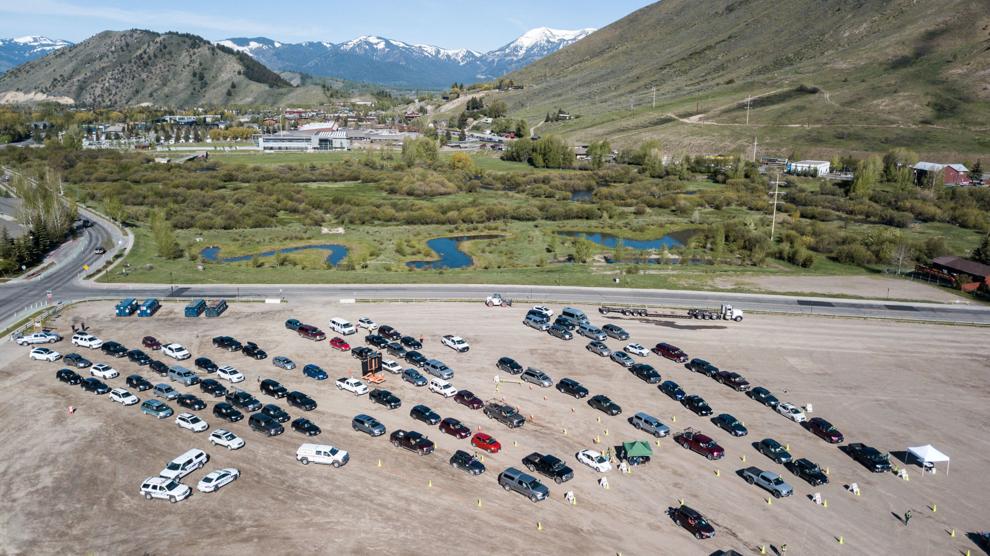 They also increased the number of confirmed cases, pushing the case fatality rate lower.
Because the case-fatality rate is dependent on the number of infections a community catches, it's a tricky metric to use as a comparison. The second method of looking at the death rate — as a proportion of the population — is more reliable.
Population-level death rate shows the number of people who died from a disease, regardless of how many cases were found. In Teton County that rate is 0.04%, a third of Wyoming's 0.12% and a quarter of the nation's 0.17%.
While the numbers may seem low, the United States' 0.17% rate has resulted in nearly 550,000 deaths since the pandemic started, a rate of 168 deaths per 100,000 people. That's about a third of the 0.48% death rate estimated for the Spanish flu pandemic, even with lockdowns, other public health measures and advanced hospital care. Had COVID-19's death rate equaled the 1918 flu, at least 1.6 million Americans would have died.
Globally, most countries did better than the United States at avoiding COVID-19 deaths. A Johns Hopkins University tracker shows that the country has the 13th-highest per capita death rate in the world from the disease.
A few European countries saw even more deaths per capita than the U.S., including Italy and the United Kingdom, but in general other developed nations did not. Germany, for instance, had 92 COVID-19 deaths per 100,000 people, just 0.09% of its population. Japan had just 7 deaths per 100,00 people, or 0.007% of its total population.
On a more local level, Jackson Hole is tracking trends also seen by its ski town rivals.
Pitkin County, Colorado, where Aspen is, and Blaine County, Idaho, (Sun Valley) saw death rates well below average, 0.02% and 0.07%, respectively. The community health hypothesis could explain the low rate in resort towns, though wealth also likely plays a factor, since higher socioeconomic status is generally associated with better health outcomes.
"To fully understand the reasons behind the differences in mortality rates in Wyoming and the nation, a full epidemiologic analysis will be needed," State Health Officer Dr. Alexia Harrist said in an email. "We don't yet have that available."
Each year the Wyoming Department of Health publishes numbers on the leading causes of death in the state. COVID-19, which didn't kill a single person in the state until mid-April, was the third-leading cause of death, with 528 fatalities, after heart disease and cancer. The average age of a COVID-19 death was 75, three years older than the average age of death in 2020.
Wyoming's population-level fatality rate was lower than the nation's, and although Harrist and her staff haven't yet been able to parse all the data, she has a theory as to why.
"One potential reason is that Wyoming was able to avoid a large surge in cases until fall 2020," she wrote. "This delay gave us time to be better prepared for the surge when it did come."
Take New York, for instance, which saw an initial surge of illness and death early in the pandemic. Its population-level case rate was nearly identical to Wyoming's, so a resident there had the same relative chance of contracting COVID-19. However, its population-level fatality rate over the course of the pandemic is 0.26%, more than twice Wyoming's rate and 6.5 times that of Teton County.
With more time to develop personal protective equipment, testing capacity and treatment plans, Harrist said, Wyoming was able to ward off some of the mortality that other states saw.
One factor that led to disparities in the county-level death rate were nursing homes. As of March 18, state Health Department spokeswoman Kim Deti reported that 38% of Wyoming's deaths have been in such facilities.
Teton County has the St. John's Health Living Center and, for the majority of the pandemic, Legacy Lodge assisted living, which saw no deaths in either facility. Fremont County, however, reported a high number of nursing home deaths and saw a comparatively high population-level death rate, 0.21%, well above the 0.04% in Teton County.
Though it's too early to draw firm conclusions about why Teton County escaped the brunt of the pandemic with fewer deaths, the overall health theory might hold water.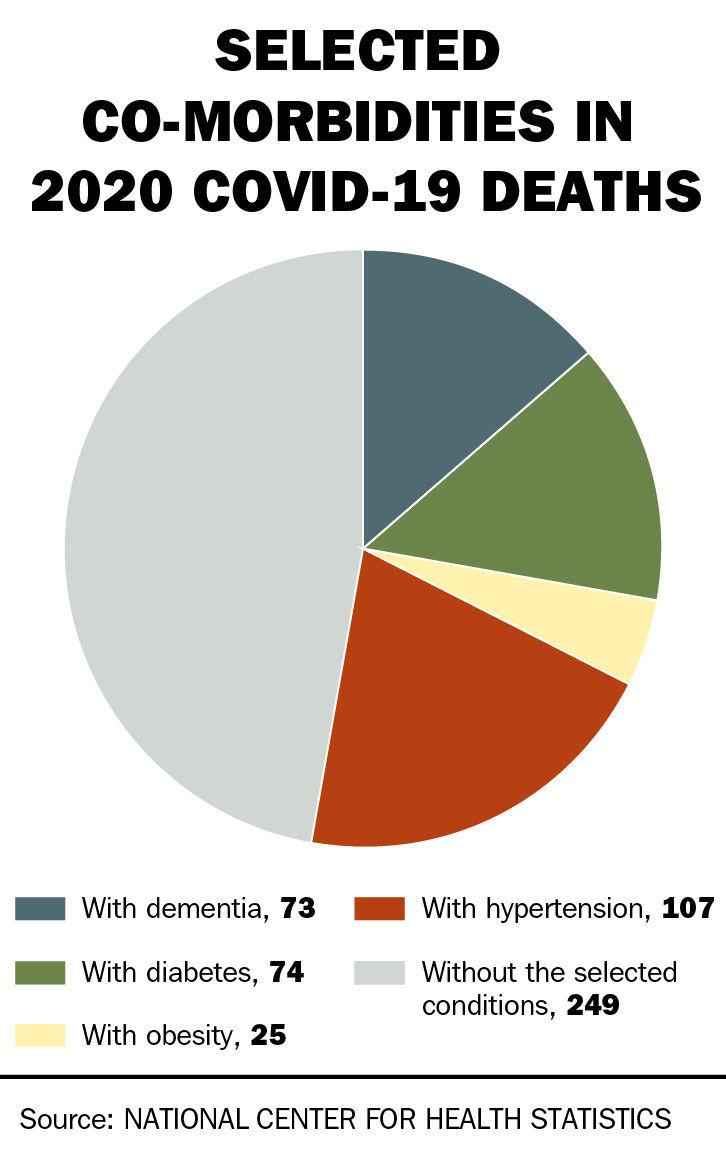 Wyoming as a whole saw a similar percentage of COVID-19 deaths complicated by co-morbidities like hypertensive disease, diabetes and dementia as the country did as a whole, according to data from the National Center for Health Statistics. The Wyoming Department of Health reported that 70% of COVID-19 deaths had at least one co-morbidity. In 27% of the cases it couldn't be determined, and in just 3% of cases COVID-19 was the cause of death without other conditions.
For an area like Teton County, where people are drawn in by the chance for recreational activities, it could be that diseases like hypertension and diabetes, which a healthy lifestyle can prevent, are less common.
However, Riddell believes it only tells part of the story. Public health responses to a pandemic like COVID-19 are multilayered and go beyond just testing and treating for the disease.
Aggressive testing and contact tracing caught cases early, helping initiate care quickly and identifying people in need of resources like food assistance, housing help and unemployment insurance.
"I think health has something to do with it," he said. "But I would certainly like to think that everything that we've done [to fight the pandemic] has something to do with that as well."
"One potential reason is that Wyoming was able to avoid a large surge in cases until fall 2020." — Dr. Alexia Harrist state health officer