GALLERY: People protest business closures, stay-at-home order
People gathered Monday afternoon on the Town Square to eat lunch and discuss re-opening Jackson's economy amid widespread business closures due to the coronavirus pandemic.
Ryan Dorgan joined the staff as a photographer in 2016. He previously worked for newspapers in Casper, Vermont and his home state of Indiana.
As featured on
Handgun strapped to his hip, Bob Culver denied that the 15 or so people railing against clos…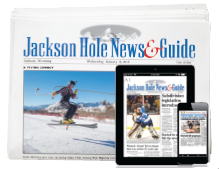 News&Guide's COVID-19 coverage provided free to the community
With the support of existing subscribers, web stories during this public health danger are free to all readers with a goal of supporting the maximal flow of current information that's verified and edited for publication. In times like these, journalism is crucial to its community. The News&Guide relies on its subscribers and advertisers to underwrite its news mission. Please support our mission: subscribe today.