After a few days of seeing his shelves quickly depleted by food-hoarding shoppers, Hungry Jack's General Store manager Steve Fralin slung a sign on his Wilson shop's entrance door.
The business was fantastic — daily revenues running about sixfold the average — but people are being inconsiderate of each other, and Fralin figured they could use a reminder to stop.
"I put a sign out asking people to please be neighborly and think about others before they try to take it all," he said. "It kind of worked."
Still, Hungry Jack's and Jackson's larger grocers are grappling with an unprecedented run on their products, from toilet paper to chicken. In response, some are hiring new employees, changing store hours and designating times when elderly clients and others who are most vulnerable to the coronavirus have exclusive access. Grocery store owners and managers are also adjusting to new realities on the wholesale supply chain: Some products, like hand sanitizer, are simply no longer available, and most product orders are now only partially fulfilled.
"My produce is completely wiped out," Fralin said Tuesday. "Canned goods are hit hard. I'm pretty much out of beans, soup, frozen veggies, frozen entrees.
"The last three days have been very busy for us," he said. "We're talking eclipse numbers."
Toilet paper, to the wonder of many, has been at the top of shoppers' lists. Hungry Jacks now keeps its TP stock in a back warehouse and limits customers to one package per family.
At Jackson Whole Grocer, owner Jeff Rice agrees that there is an unprecedented level of buying taking place.
"Chicken has been a big one, lot of people stocking up on chicken," Rice said, adding that one gentleman bought a whole cart full of chicken.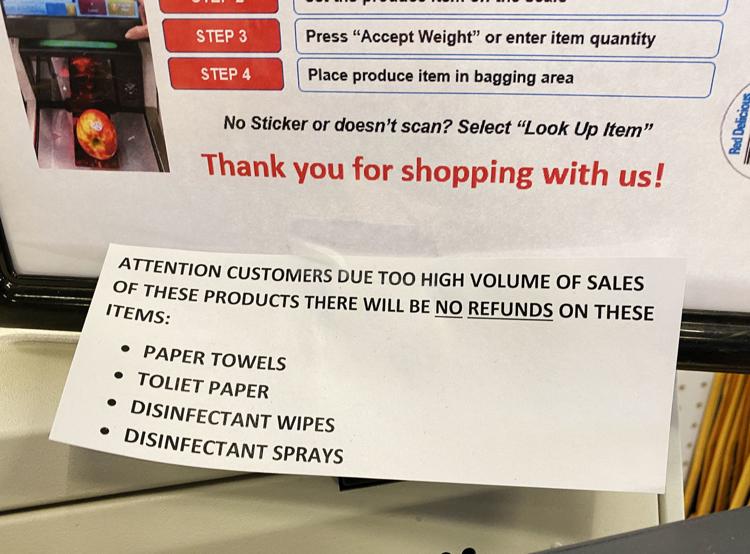 Rice has heard of some "seemingly irrational" customer behavior — like shoppers who don't want cashiers handling their food — but his clientele have generally been well behaved.
"Of course, people are stressed and anxious, and some of that comes through now and then," Rice said. "Overall, people are being really good and appreciate how hard everybody is working here to keep the wheels on the bus."
The hoarding, he said, needs to stop before the market will return to normalcy. In the meantime, Whole Grocer's product orders are being only partially fulfilled.
"Some inventory has been completely depleted all the way up the supply chain," Rice said. "Wholesalers are incredibly swamped as well."
"At the consumer end, when the panic buying can settle down, then the supply chain can stabilize," he said, "but with the erratic buying it's really difficult for that to happen."
Jackson Hole's two corporate grocery stores — Smith's and Albertsons — have also been thoroughly picked over, judging by long lines, full parking lots and half-empty shelves. Smith's has curtailed hours so that the big-box store now shutters at 10 p.m. It's not opening until 8 a.m. for the general public, though the 7-to-8-a.m. hour on Mondays, Wednesdays and Fridays is now dedicated solely to senior citizen shoppers.
That's a step that other grocers in the community and nationwide are emulating. Jackson Whole Grocer is designating the 7-to-8-a.m. hour Thursdays for the elderly and most COVID-19 vulnerable residents, and Hungry Jack's is assembling orders for seniors if they're called in ahead of time.
Slammed by frantic pantry stuffers, Smith's is also immediately hiring. The Kroger-owned grocery store isn't granting interviews with the media, but its corporate office said in a press release that employees are working "relentlessly" at restocking shelves and "extra deep cleaning" to reduce the risk of spreading the coronavirus.
"We recognize all of our associates are showing up for our customers and communities when they need us most, with open stores and open-hearted hospitality," Smith's spokeswoman Aubriana Martindale said in a statement. "To help alleviate the increased workload, we are hiring immediately to make sure we have the food and supplies our customers need in a clean, orderly store environment."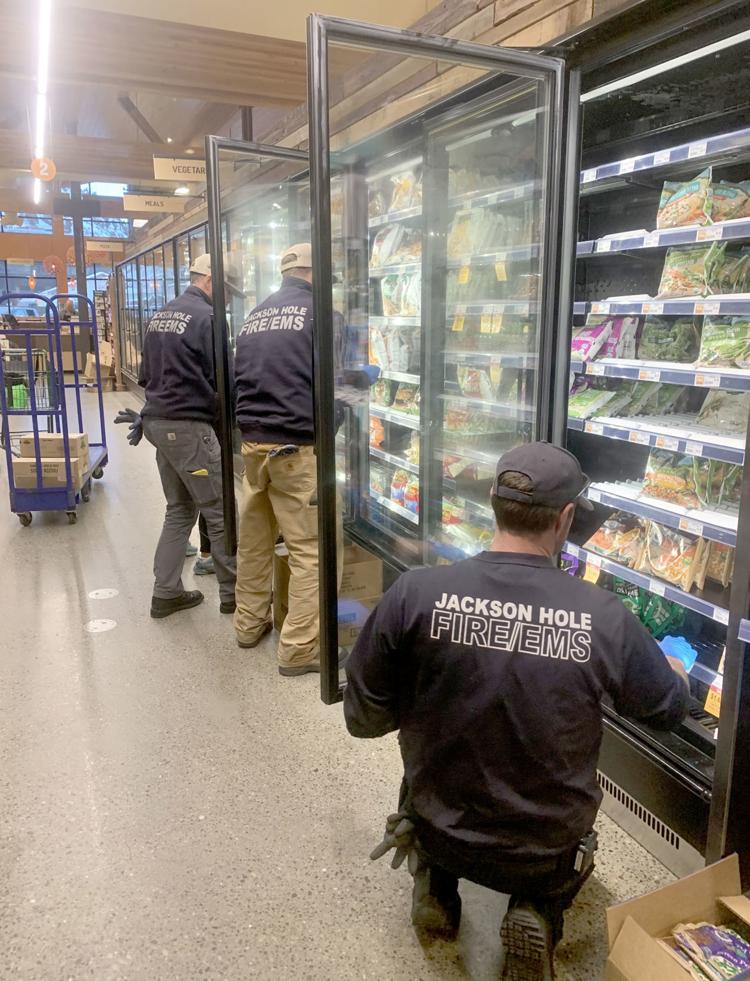 Whole Grocer's Rice said his current staff has been able to handle the workload, but he has had some unsolicited assistance. On Monday six or seven volunteer firefighters from Firehouse 7 up Adams Canyon donated their evening to help out with restocking — a taxing feat in the coronavirus era.
"It was very cool," Rice said. "They just wanted to do some community service."
Compared with the mad runs on grocery stores in more densely populated parts of the country, it's not that bad here, some Jackson Hole tourists remind the locals. New York City resident Emily Reycroft, who arrived in the valley on Saturday, said it was a grocery shopping bloodbath back home: Bread, soup and other essentials had been wiped out entirely and there were two-hour waits in line.
"New York was crazy," Reycroft said. "We ambled into Albertsons like la-di-da. There was still food. We waited in line for like 10 minutes."
The New Yorker walked out of Albertsons and drove off to her condo in Teton Village with enough food to feed her family of four for a couple of weeks.
That kind of business has buoyed local grocers, but, coming from tourists, it's also been a cause for concern. Hungry Jack's manager Fralin said he's unnerved by the volume of out-of-state plates that continue to roll into his parking lot.
"It really kind of scares me," Fralin said. "Why are they still here?"
Local or not, he lends them the same advice: Be mindful of your fellow grocery shoppers.
"If you don't need the last can of beans," Fralin said, "don't take the last can of beans."