In times of need, people step up however they can, whether that be by delivering meals, sending positive messages to others or simply by going to work and stocking shelves at the grocery store.
Others, aided by modern technology, make medical supplies.
A contingent of Jackson residents who happen to have 3D printers have commenced to make face shields for frontline health care workers at St. John's Health. As global supply lines for medical equipment have dried up, the hospital is getting creative.
"We've reached out to a couple of companies with 3D printers," Director of Supply Chain Phillip Fox said. "And there are people in the community making them."
If those people have a leader, it's Teton County Democratic Rep. Mike Yin, who is collecting the 3D printed pieces and ordering the parts he can. But the actual printers are spread across Jackson, with the machines perpetually spinning together plastic filament.
"The printer just goes all day long," Sara Kirkpatrick said. "I hit print, then do it again."
Kirkpatrick is a computer science teacher at several of the Teton County elementary schools, so she has access to a 3D printer through work. For those who have never seen one in action, a 3D printer takes a digital design file and builds the product by extruding small bits of plastic into layers. It waits for one layer to dry, then adds them one at a time until the product is complete.
As an elementary school computer science teacher, Kirkpatrick took her printer home for work, at first. Her students had projects they needed printed, so she took the materials home to finish them. But once those were done, she felt the technology could be of more use.
"I saw on Twitter that a girl I followed was printing N-95 masks," she said. "Then I started searching and saw people were doing shields."
Kirkpatrick connected with Yin, the liaison with St. John's for the project. The armada of printers is making the headpieces, Kirkpatrick said, and Yin is ordering the actual face shields that attach to them. They hope to make 500.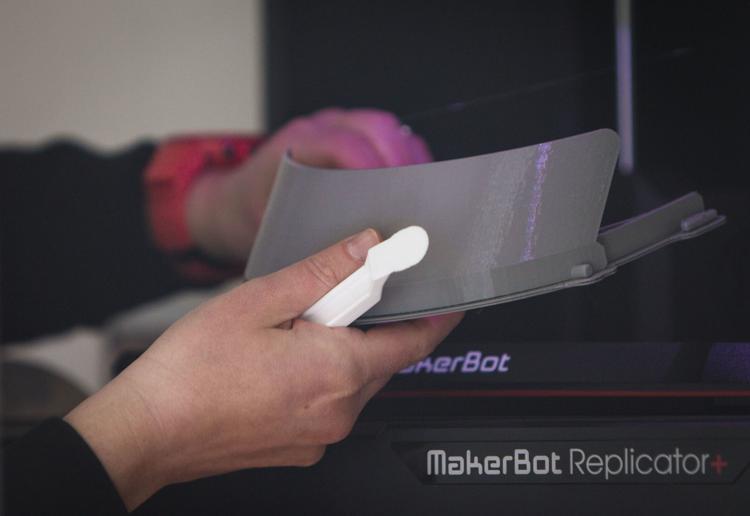 In health care terms, the face shields don't replace things like N-95 masks, St. John's spokeswoman Karen Connelly said, but they guard valuable protective equipment like the masks and keep aerosolized droplets that could contain the virus away from health care workers' faces.
One of Kirkpatrick's compatriots, Jackson Hole High School Fab Lab teacher Sammie Smith, sees the face shield drive as a way to give back to the hospital in a time of need. Not everyone has a 3D printer, but Smith has two she uses in her classroom, and she felt she could use them to show her gratitude to the hospital.
Back before the coronavirus swept across the world, hospital workers had come to present to her students, volunteering to give them a glimpse into life in health care.
"I see it as a pay it forward, pay it back thing," Smith said. "They have allowed me to have my students experience their world, so it made total sense to contribute."
Kirkpatrick echoed Smith's sentiments, joining the untold number of people who have found ways to help their communities in times of crisis.
"This is a really scary time," she said. "You can either sit here and feel helpless or be a part of the solution."