A blue object has appeared in the Cody Lot in Teton Village.
It's not a monolith, don't worry. It's a kiosk staffed by workers in full-body plastic suits, masks and gloves. They work for Curative, the company that provides the saliva tests for local surveillance testing and contact tracing efforts, and the kiosk is one of two new local testing locations.
Curative has contracted with the Wyoming Department of Health to cover the costs of the kiosks.
"We've been really grateful for the state, and their assistance in helping Teton County increase its COVID-19 testing capacity," public health response coordinator Rachael Wheeler said.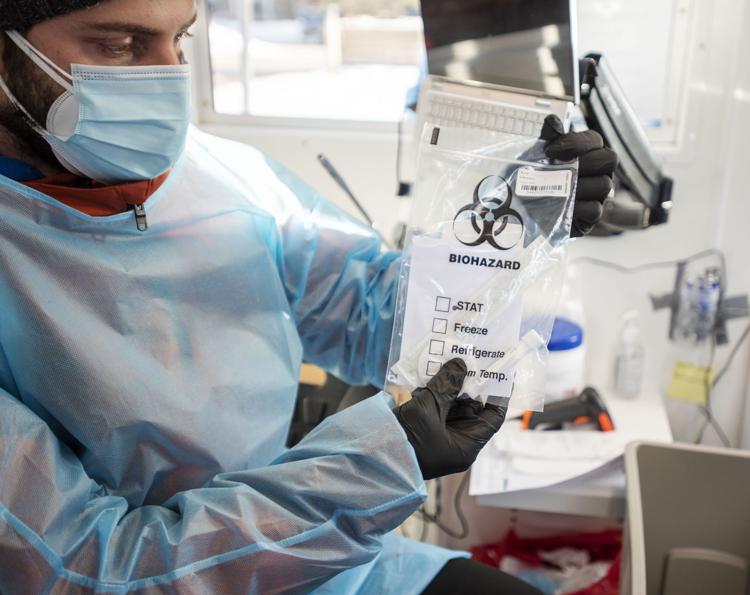 The Teton Village kiosk is open from 8 a.m. to 3 p.m. Monday to Friday. The second kiosk, at the corner of Deloney Avenue and Willow Street in Jackson, is slated to open next week. Once both are up and running, they will be able to process 1,200 tests each week combined.
Until now the Health Department has worked with St. John's Health to run Curative testing at the hospital's testing center in the Kmart Plaza. This will be the last week that tests will be available at that center, Wheeler said, and then all operations will move to the kiosks. Though CARES Act funds generally are allocated only until Dec. 31, the Health Department has an agreement with the state to fund the kiosks through spring.
As inviting as the kiosks may seem, they are not open for walk-ins. Testing is still done by appointment, and the Health Department will provide a link to sign up for a test to anyone who qualifies for a Curative test through surveillance testing or contact tracing.
Not all people who were close contacts will be contacted by the Health Department. Contact tracers are prioritizing contacts who work in sectors like health care, and the current volume of cases makes it impossible for them to follow up with everyone.
Instead, people who test positive are given an email to provide to the close contacts they can think of, which includes the link to sign up for testing.
To go along with the testing kiosks, the Health Department is rolling out its winter Shred the Spread campaign, which focuses on the things people can do to stop viral transmission, rather than the things they can't.
Much of the advice might sound familiar: wash your hands, wear a two-layer mask, social distance and stay home when you're sick. With one of its slogans — "Adventure doesn't have to end" — the campaign stresses people can still safely get out and enjoy recreational opportunities if they follow Centers for Disease Control and Prevention guidelines.
The Shred the Spread campaign will include an array of visual elements like stickers and masks, and videos from local "influencers," a press release said. It will have its own separate website, ShredTheSpreadJH.com, that will link to coronavirus information, marketing materials to support the campaign and other resources.
As the campaign gains steam, you might see more of the advice the Health Department has wrapped up into its slogans, one of which is decidedly wintry.