In a drastic move by health officials to limit the spread of COVID-19, today marks the start of a two-week forced closure for many businesses deemed nonessential in Teton County.
Teton County Public Health Officer Travis Riddell issued the sweeping emergency health order to close scores of businesses, from theaters and bars to coffee shops and gyms. Restaurants will be allowed to remain open for takeout and delivery orders but will be closed for dine-in service.
"This is the biggest decision I've made in my professional career," Riddell said. "I hope there's no bigger decision that follows this."
The widespread closure comes in the form of Public Health Order #20-2, a document signed Tuesday afternoon by State Health Officer Alexia Harrist. Though it technically went into effect at midnight, Riddell said it would not be enforced until 5 p.m. today, giving businesses a chance to scale back operations.
The order — modeled after one that Park City, Utah, approved once officials discovered coronavirus spreading there — will remain in effect until March 31, assuming health officials deem it safe to repeal it at that point. Riddell said the decision will depend on whether other communities around the country follow suit with their own closures, thereby reducing the risk of virus transmission for all.
"The next two weeks is everybody's focus right now," he said. "We're hoping that if this is a national thing we can kind of suppress it."
All types of businesses not named in the health order — including grocery stores, hotels, gas stations, doctors' offices, hardware stores, big box stores and other retailers — can remain open. 
To continue takeout and delivery service, restaurants must follow a set of strict rules. For pickup orders, employees will bring the food to the curb and hand it to the customer through their car window. Officials encourage online payments, like Venmo, Squarecash and Apple Pay, rather than cash and credit cards.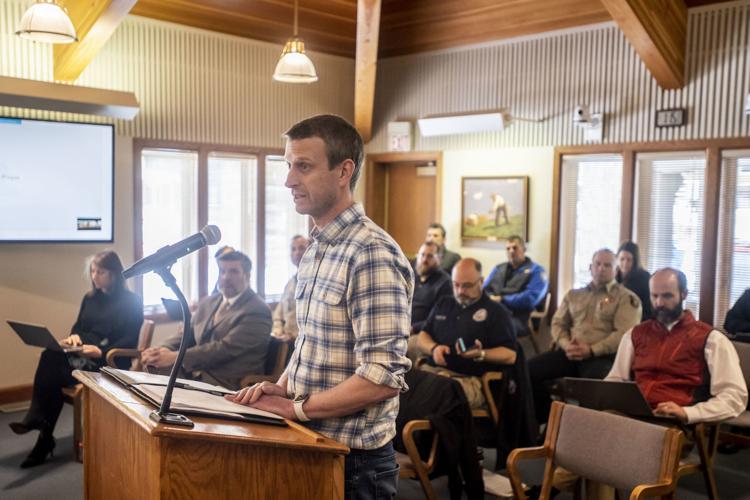 And, of course, Teton County Deputy Attorney Keith Gingery said, employees will have to follow sanitation protocol. Those with symptoms of illness must be sent home.
"That's probably the most important one," Gingery said, "because all these measures make no sense if the person making the food is sick."
The health order is in line with recommendations from federal authorities, including President Donald Trump's Coronavirus Task Force, which released guidelines Monday cautioning against gatherings of more than 10 people.
Health experts have steadily raised the bar for social distancing measures in recent days, in a desperate attempt to slow the rate of transmission. Though no cases of COVID-19 have been reported in Teton County, Riddell said the community's ability to handle its inevitable arrival hinges on stringent measures such as the order, and another that prohibits gatherings of over 50 people.
"I don't think that anyone believes that COVID-19 is not coming to our community," Riddell said. "Our purpose with all of these measures is to flatten that curve, and to have it arrive in our community in such a way that it doesn't overwhelm our health care system."
The restrictions are sure to cause tremendous hardship for the many workers who will likely be laid off, and for business owners who must cope with at least 14 days of little to no revenue.
Chris Hansen, co-owner of Pizzeria Caldera, said he understands the need for the business closure. He had already begun to transition to curbside and delivery service only, and he personally has the savings to weather a lengthy closure. Still, his employees may not, and they face reduced shifts.
"It's going to crush us," Hansen said. "It's going to crush everybody — this whole community, this whole damn world."
Jackson Hole Chamber of Commerce President Anna Olson said her organization is doing what it can to "support the return to normal," from contacting federal representatives about business relief (see page 15) to calling each chamber member in coming days to hear their concerns.
"It is the right thing for our community," she said of the order. "However, understanding that, we know it's causing extreme duress for our members."
At Cowboy Coffee, co-owner Pete MacIlwaine said the closure has been "the talk of the cafe," long before it was official. He's exploring the ideas of food delivery, and curbside service and other ways to "help keep our doors open and keep our staff employed." (For the purposes of the health order, coffee shops that serve food are treated the same as restaurants.)
"Our employees seem to be a little nervous about, if we are forced to shut our doors, what the next step is," he said. "It's just unknown territory right now. We're kind of taking it by the hour."
It remains to be seen how demand for restaurant food will hold up, as many people will hole up at home, some business owners noted. Already, Hansen said, most of his customers are "residual visitors" who haven't yet left town.
"But we are prepared and staying open for whatever local business we can," he said, "until either it's just not viable or we get shut down by ordinance."
Wes Gardner, owner of Teton Toys, will not be affected by the health order. But in a sign of the anxiety and confusion surrounding the growing pandemic, before he realized he was exempt, Gardner was distraught at the prospect of losing business for an indefinite period of time.
"I've got over a dozen employees, and my family and their families, all depending on me to pay their bills," he said. "When you shut off my ability to generate revenue, you make it almost impossible for me to cover my obligations."
Some business owners felt fortunate the virus struck just as they were already easing into the offseason, a commercial lull in April and May that they're accustomed to. But, Olson noted, "this is completely different."
As the government response shifts day by day and hour by hour, it's also difficult to say whether the closure will truly run its course in just two weeks. Above all, Olson said, it will be critical for businesses to be in a position to resume as the valley's tourism ramps up again in the warmer months.
"The big picture is to ensure that we can protect summer as much as possible," Olson said, "and that remains one of our goals for sure."
The order went into effect after two days of back-and-forth negotiations between government officials at the county and state level. It was unclear at first whether the state would condone Riddell's approach, or preempt it.
During a press conference Monday afternoon Dr. Harrist, the state health officer, said, "we support the measures that Teton County is taking." At the same time, though, Gov. Mark Gordon said he was reluctant to deprive workers of their livelihood and encouraged businesses to find "creative ways to maintain services." He announced the creation of five coronavirus task forces to craft a response to the pandemic.
"I think it's very important that we remember that waitresses have to earn a living, that our waiters have to earn a living, that our teachers need to be paid, that our bankers and others need to continue their services," the governor said.
"It is important," Gordon said, "that we begin to think about how we re-emerge into a more stable state of affairs, one in a world where we understand business processes must work, people have to go to work, kids must be educated and life must go on."
Before the decision became final Tuesday afternoon, the Town Council was prepared to pass its own emergency ordinance to close businesses and gathering spaces, and Mayor Pete Muldoon signaled that local elected officials are willing to take further action if public safety demands it.
"More measures will likely be needed," Muldoon said, "and we stand ready to make those tough decisions."
Besides the business closure, Riddell, the Teton County public health official, also received state approval for a ban on gatherings of more than 50 people. That health order doesn't apply to businesses, including grocery stores, or to the airport and hospital.
The town and county also passed emergency declarations Monday. Gingery, the Teton County deputy attorney, said those declarations would not change any "policies or rules at this point." It primarily allows Emergency Management Coordinator Rich Ochs to, as Gingery said, "start his processes."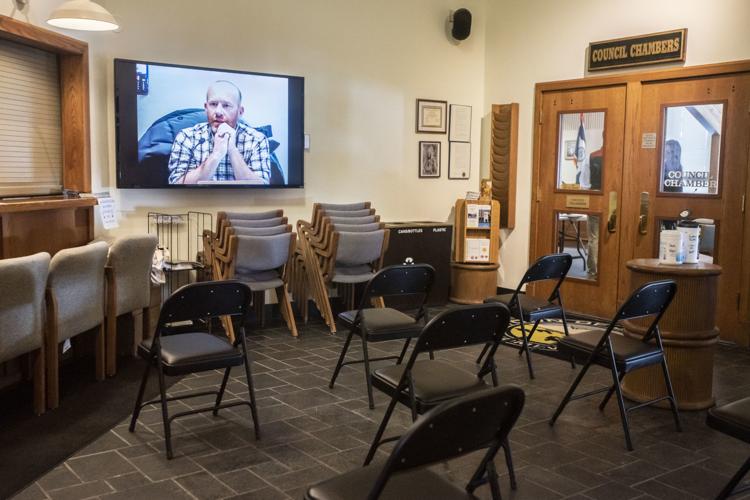 "It's just giving notice to the public that we consider this an emergency," Gingery said. "It alerts the public to take this seriously."
The emergency declaration follows a chain of similar decrees at the national and state level. President Trump declared a national state of emergency March 13, and Gov. Gordon did the same for Wyoming later that day.
In justifying the current health orders and potential future ones, Mayor Muldoon cited Anthony Fauci, the director of the National Institute of Allergy and Infectious Diseases: "If it looks like you're overreacting, you're probably doing the right thing."
"We do recognize that this emergency health order from the county and the state will result in financial distress for many in our community," the mayor said during a Jackson Town Council meeting Tuesday. "Sadly, in the wealthiest county in America, many people still live one paycheck from eviction, and only have food money until the next paycheck. We must help them."
Olson, the chamber president, said she believes people will find ways to contribute to the establishments they frequented before the coronavirus crisis.
"I have great faith in our community supporting our local businesses," she said.
Appealing to the Jackson Hole community's "unparalleled" generosity, Muldoon called on landlords to lower rent, on the well-heeled to donate to the Community Foundation (see Page 3), and on those with spare resources like toilet paper and food to share with those in need.
"Now is our hour to shine," he said. "Let kindness and love of our neighbors be our guiding light during these difficult times."