Business is slow this year for the Tyrolean Lodge, a 50-year-old hotel in Aspen, Colorado.
But manager Jim Morrison can't say why, exactly.
"Of course our business is down," he told the News&Guide. "It's just too difficult to say how much is purely affidavit driven, COVID driven, or snow driven. It's pretty evident that people are willing to risk traveling in COVID environments, even at a high risk level."
Why hotels in the Roaring Fork Valley are seeing so much less traffic than those in resort towns like Jackson Hole is a central question in an ongoing debate in Pitkin County. Health officials there have reacted to the COVID-19 pandemic in two ways that health officials in Teton County have not: by requiring visitors to fill out a form confirming they've tested negative before arriving in Aspen and shutting down indoor dining when cases peaked in early January.
Both are interventions that Jackson Hole officials have considered. But with a different regulatory structure, and the challenge of getting such measures passed in Wyoming, Teton District Health Officer Travis Riddell has taken another tack.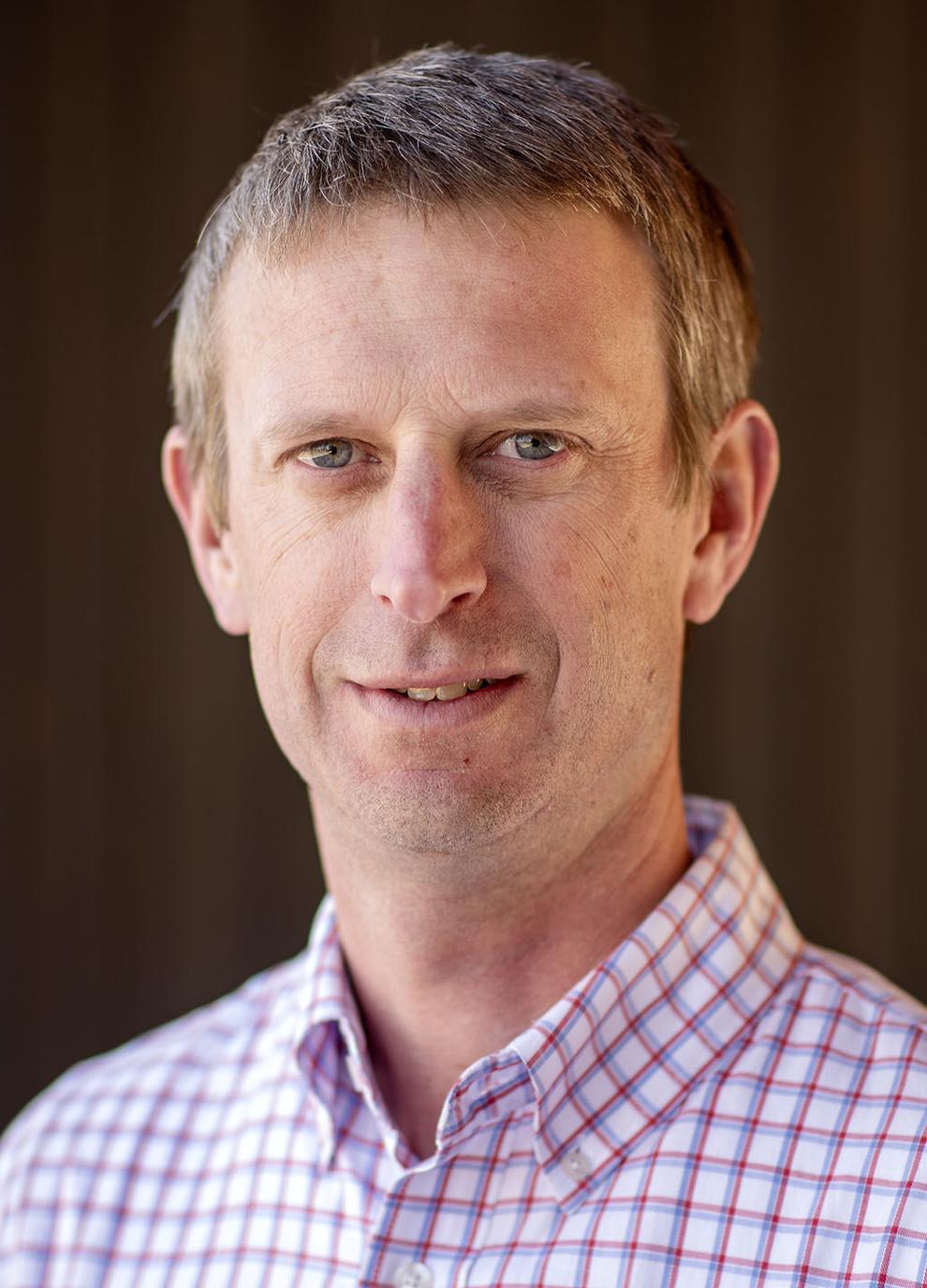 As the official with the authority to promulgate health orders in Jackson Hole, Riddell has, at times, placed a curfew on bars and restaurants. But he and other officials have largely urged personal responsibility, operating through recommendations and orders imploring Teton County residents and visitors to gather only with their households when cases surged.
In contrast, Pitkin County health officials have more latitude to institute pandemic-related restrictions that have had, on paper at least, a bit more teeth.
But they've also led to resistance, including a lawsuit from restaurateurs.
After initially supporting the so-called Traveler Affidavit program for its role in educating visitors before they arrived, the Aspen Chamber Resort Association has since begun to question it.
"We've seen such a negative impact in occupancy," said Eliza Voss, the Aspen chamber's vice president of destination marketing, putting part of the blame on the affidavit's testing requirements and part on how it compounded with indoor dining closures. "Many other mountain resort destinations are having fairly decent winters and even in some cases winters exceeding pre-COVID occupancy rates."
The Pitkin County Board of Health changed the program last week, according to The Aspen Times. It dropped "affidavit" from the name as well as the requirement for visitors to be tested before arriving.
But Greg Poschman, a Pitkin County commissioner and board of health member, told the News&Guide he thought the affidavit had been effective before it was changed. About 70,000 people had filled out the form.
"It's just another tool in our quiver that we're thinking is making a difference," he said.
Teton, Pitkin Counties diverge
Riddell said he's spoken with State Health Officer Alexia Harrist about a traveler affidavit program and indoor dining closures.
But different regulatory structures in Wyoming and Colorado have played a role in keeping those restrictions from going into force locally.
In Jackson Hole the Teton County Board of County Commissioners appoints a board of health, which appoints a health officer like Riddell who is in turn recognized by the commission. But Riddell's authority is checked by Harrist and Attorney General Bridget Hill. Harrist's signature is required to make a local health order the law, and Hill's office reviews the restrictions Riddell proposes.
Both officials have been slow to get on board with measures that could hamper business — especially those stricter than what's in place elsewhere in the state.
"We can certainly be more strict than the state here," Poschman said.
In Pitkin County two authorities can pass health orders: the public health director and the county board of health, which consists of representatives from the two incorporated municipalities in Pitkin County, one member of the county commission, and four county commission-appointed experts.
In the beginning of the pandemic the public health director issued health orders. But as things have progressed, the board of health has taken over that responsibility.
Aspen's health orders have also passed without state dissent.
"We've always been allowed to be more restrictive than the state, and we have not had to check in with the state or get approval," Pitkin County Manager Jon Peacock told the News&Guide. "We've had a lot of ability to act locally."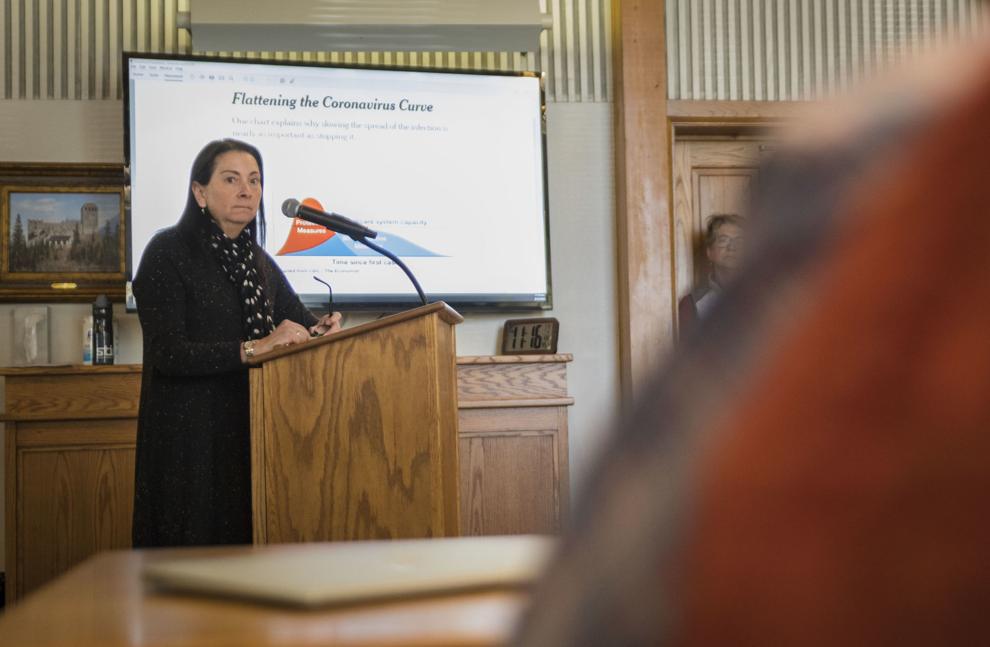 Teton County Director of Health Jodie Pond said the states' different regulatory environments are part of why each county has acted differently.
"This whole time people have been going, 'Oh, Travis, do something about this,'" Pond said. "The reality is that it's much more complicated because of the structure and how our state statutes work versus other places."
She pointed to a Feb. 1 newsletter written by Town Councilor Jonathan Schechter, who explored both the politics and regulatory intricacies of passing health orders in Wyoming. Schechter described Republican Gov. Mark Gordon, who appoints Harrist and Hall, as "inherently political" and influenced heavily by the politics of the Wyoming Republican Party and state — a party and populace he views as "hands-down the most libertarian in the nation."
"There's an inherent bias toward personal freedoms over government intervention," Schechter wrote.
The town councilor argued that the Wyoming Constitution sides with "business and individual rights over government powers" and that Hill's interpretation of the constitution is narrow.
And that, combined with the lack of concrete data about where the virus is spreading, Schechter wrote, leaves Riddell in a bit of a pinch when he requests the state's approval: "convincing an inherently skeptical attorney general and a politically vulnerable governor that whatever order Teton County wants is both legal and needed."
Now Republicans in the Wyoming Legislature are proposing changes to that regulatory environment.
One bill, Senate File 95, sponsored by Sen. Anthony Bouchard, R-Laramie and Goshen Counties, would see a direct, statewide election of the state health officer.
Another, Senate File 80, sponsored by Sen. Troy McKeown, R-Campbell County, appears to be the lead bill aiming to change how health orders are approved. Among other things it would require the Wyoming Legislature to ratify statewide health orders and local governing bodies like county commissions and town councils to sign off on local health rulemaking.
The Wyoming Department of Health has told the News&Guide that local support for local health orders and variances from state orders is a factor it considers when weighing whether to approve them. But Teton County Commissioner Greg Epstein has worried that having commissioners vote on recommendations — like one asking people to gather only in their households — risks politicizing health decisions.
Elsewhere in the state, county commissions have removed health officers for failing to back pushes to loosen health restrictions. And, more recently, Uinta County passed a resolution against health orders and in favor of individual decision making. The local health officer told the Uinta County Herald the symbolic measure could make a public health official's job more difficult.
Aspen's original affidavit program went into place in early December, right before ski season started.
In Jackson officials have not promoted testing for visitors before arriving. Instead they've given travelers access to Wyoming's free Vault tests, aiming to make return trips to states with more onerous quarantine restrictions and the like easier.
Anna Olson, president and CEO of the Jackson Hole Chamber of Commerce, has promoted that program. Asked why officials have been advocating for testing visitors ahead of their return trip instead of before their arrival, Olson said the goal was to increase testing awareness.
"None of these individually were a panacea for guaranteed no virus," she said. "But putting it together was how we were hopefully going to reduce risk."
By the end of January, occupancy in Aspen was down roughly 50%. Jackson Hole has been projecting lower-than-usual bookings — but not as low as Aspen. (See a related story about Jackson hotel bookings and occupancy on page 12C.)
Voss of the Aspen chamber put part of the blame on the first-generation affidavit while others blamed the indoor dining closure, and a bad snow year in the Roaring Fork Valley. But Voss felt the affidavit and indoor dining closures could have had a compounding effect.
 "If you're staying at a rental home you can go to a grocery store and get food," she said. "But it's a completely different experience to be staying in a hotel and not have the opportunity to dine out."
Voss said officials' failure to enforce the affidavit testing program's requirements — violators could have received a $5,000 fine for failing to comply — was off-putting for guests who complied and showed up to find nobody was checking. She also felt the requirements created a "barrier to entry" for tourists trying to decide whether to visit Aspen or another resort community like Jackson Hole.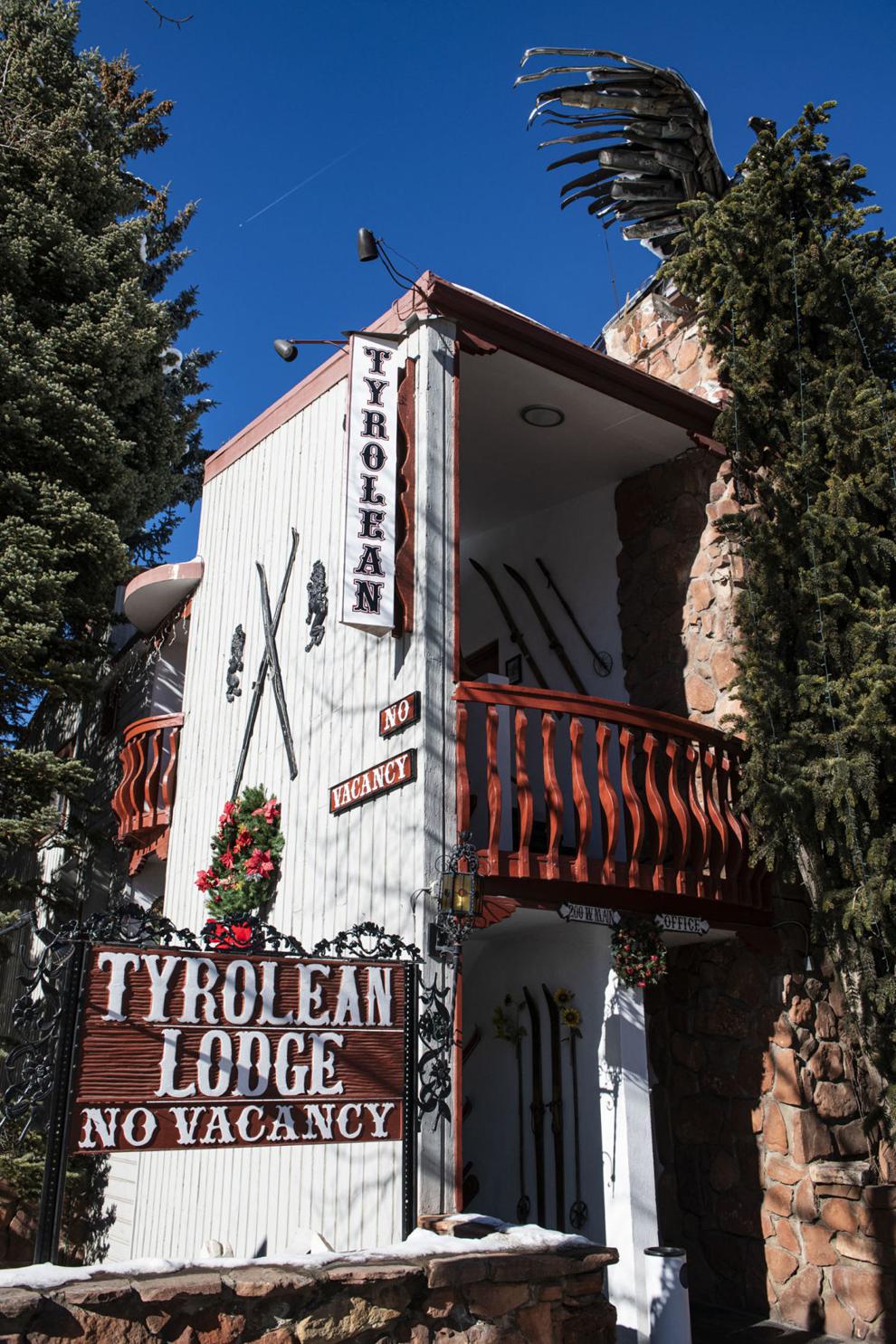 But Poschman, the Pitkin County commissioner, viewed the lack of enforcement more positively when he spoke with the News&Guide before the program was changed.
"We're not trying to punish people," he said. "We're trying to get people to sober up when it comes to the seriousness of the virus and do the right thing — get tested before they come."
Adam Malmgren, owner of Aspen restaurant Mi Chola, felt the affidavit was "a really good step."
"The fact that they have to provide a negative test is definitely going to deter people who are knowingly positive or unknowingly positive," he said.
But Voss and Morrison of the Tyrolean said the program has had unintended consequences.
Tourists who booked rooms have then cancelled after receiving emails about the testing requirements.
Morrison interprets such cancellations as people saying: "'OK, I'm not going to comply, or I cannot comply.'
"It does have an impact on the business," he said. "We have seen our cancellations increase."
Poschman acknowledged criticism he's heard from hoteliers who said would-be guests have cancelled trips due to the affidavit's requirements. But he also saw a silver lining.
"Boy, as a citizen who has to rub shoulders with them I'm thinking 'That's fine with me,'" he said in mid-February. "If they can't go through the trouble to get a test before they come to our community, maybe they should just come another time."
Morrison generally supported the altered affidavit program.
"We of course want [tourists] to come but we also want them to be safe and keep our community safe," Morrison said. "So I think it is a good program in that regard."
Indoor dining closure challenged
Aspen's indoor dining closure came as COVID-19 rose dramatically in Pitkin County in early January, around the same time Teton County saw a similar spike. The increasing caseload led both areas to go into the "red" risk level. But what that means in both counties is different.
Pitkin County and, more generally, Colorado adhere to a system called a "COVID-19 dial" for moving between risk levels. The metrics have changed since January, but now, for example, if a county is seeing more than 500 cases per 100,000 people over a seven-day period, it's pushed into the "red" or "severe risk" level. If it sees between 300 and 500 cases per 100,000 people over the same time, it's pushed into the "orange" or "high risk" level.
But when Pitkin County went "red" in late December, the board of health exercised its authority to keep from closing indoor dining for another few weeks, aiming to keep restaurants open for the busy holiday season. That effectively kept restaurants under "orange" level restrictions, officials said, while the rest of the county went into the "red."
But after cases kept climbing, the board took it a step further and shut restaurants.
Teton County, by contrast, has not promulgated a metric-driven system saying when certain restrictions will be imposed or lifted.
So, in January, Riddell again went through an iterative process with local and state officials before winning approval for tighter restrictions for Teton County. Those included requiring bars and restaurants to close between 10 p.m. and 5 a.m. Gatherings were capped at 10 people or 25% of capacity for indoor events and 50% of capacity or 250 people for outdoor ones, as long as social distancing and other measures were followed. Again leaning on individual responsibility, Riddell also issued a recommendation, which does not require state approval and is not legally enforceable, for people to gather only with their household.
Part of the doctor's calculus involved the state. But he was also thinking about the economics of closures.
"It seems to potentially have less of an economic impact on a sector of the economy that's already been hit hard to try to put the onus on individuals not to get together rather than try to pinpoint one specific business sector," Riddell said.
Even without an order, some Teton County restaurants have, at times, voluntarily switched to take-out only or closed as employees have been quarantined.
During the latest surge, Pitkin County health officials took a stricter approach.
"What ended up happening of course is there was the big spike," Poschman said, referring to the post-holiday wave of COVID-19 cases. "So we met again and decided … 'We've got to shut this down.' So we put the restaurants back on takeout only and delivery only."
He said that was the most "painful" decision he's ever made.
Malmgren, the owner of Aspen's Mi Chola, said the indoor dining shutdown was "brutal" for his business, especially after shutting down last March.
"In a ski town we don't have many months out of the year to make our money," Malmgren said. "This was our prime money-making time."
A new group, the Pitkin County Restaurant Alliance, sprang up to challenge the order. It filed a lawsuit against the county that said closing indoor dining would require businesses to lay off employees and dispose of perishable goods, among other things.
The alliance said the county board of health made the decision without adequate data and charged that it was out of line with Gov. Jared Polis' decision to bring a number of counties down into lower risk levels with fewer restrictions. But, according to The Aspen Times, the county's interim public health director Jordan Sibella said many of those counties had already seen indoor dining closures.
The suit was eventually dropped when restaurants were allowed to reopen in February.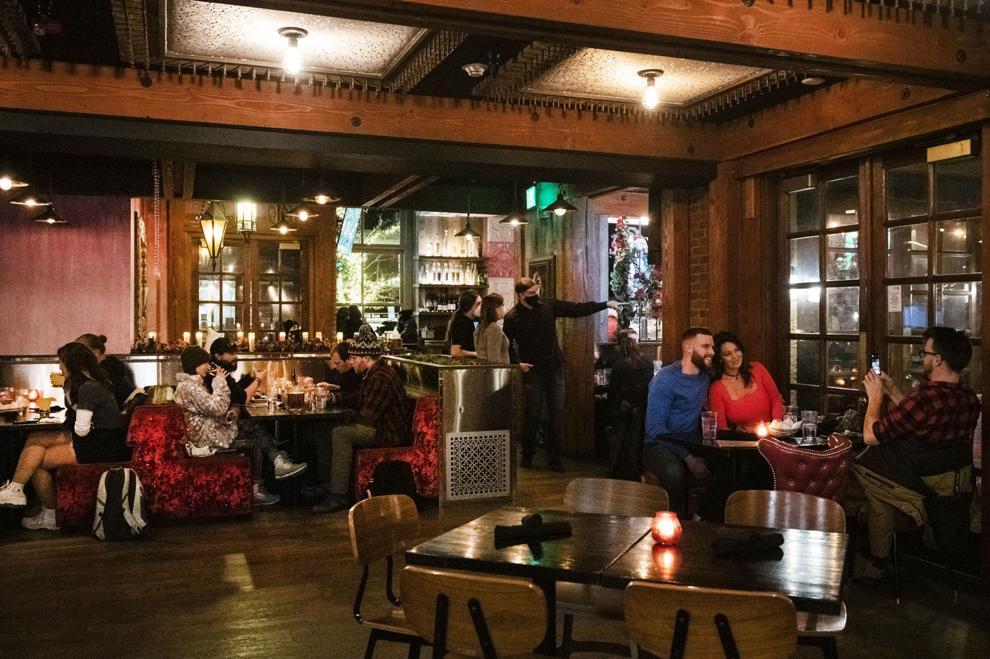 Malmgren said he was able to avoid laying people off and considered that a "win."
But he said the second closure was "back breaking." He'd applied for grants and was awarded the first and second round of Paycheck Protection Program, or PPP, loans. But without that, Malmgren said he'd be gone.
"I'd have lost my life savings," he said.
Mi Chola took it to the streets during the closure. And people showed up, keeping his workers working and business running.
Both Teton and Pitkin County peaked when their seven-day average of new daily cases reached 47, according to The New York Times coronavirus data tracking project. But the Aspen area peaked about eight days before Jackson Hole.
Case counts in both places began to drop shortly after, and it was hard for Pitkin and Teton county health officials to pinpoint the indoor dining closure's effect in reducing cases.
Pitkin County Epidemiologist Josh Vance said in mid-February that he was "still assessing" how the indoor dining closure affected Aspen's decline in cases, while Kurt Dahl, the county's environmental health manager, said the scope of the policy's effect was difficult to determine.
"I'm sure that it played a role," Dahl said. "How much I think is the piece that it's hard to say."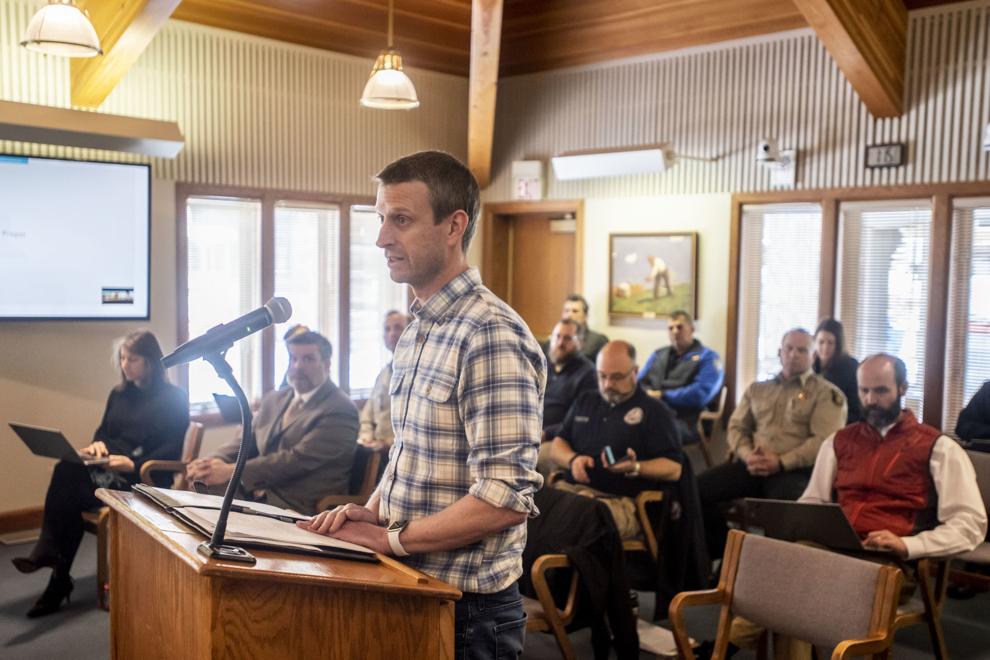 Riddell and Pond, who have both been closely watching the situation in Aspen, had a similar take.
"It is so difficult to assess the relationship between any single intervention and the epidemic," Riddell said. "They put these interventions in place and their numbers went down. We did not put those interventions in place. We did other things, our numbers went down. I don't know that anyone has any real compelling evidence for any one specific intervention."
Vance felt that the Traveler Affidavit program was "pretty effective," though he wasn't able to point to concrete data backing up that sentiment. Instead the Pitkin County epidemiologist described the affidavit as an educational tool.
Its intent, he said, was both to "prevent anyone who had active COVID infection from arriving here" and to get visitors to "think about their choices and their behavior in a different way."
He felt having roughly 70,000 people fill out the form was a win.
"Most people are aware that they need to have that completed before traveling here," Vance said. "So that changes the behavior and sort of psychology around their decision making."
Voluntary tourist testing possible here
Riddell and Pond are mulling some sort of voluntary traveler testing program. Under that model the Health Department could set up a website and promote it to visitors; hotels could choose whether they wanted to require visitors to fill out the affidavit and be tested before arriving.
That would be more in line with the direction Aspen is now going, according to The Aspen Times. Pitkin County no longer requires visitors to be tested but is asking them to fill out a "pledge" confirming they understand coronavirus rules in the southeastern Roaring Fork Valley. People who violate those restrictions could still be subject to a $5,000 fine.
Olson of the Jackson Hole Chamber told the News&Guide she couldn't say whether she would support or oppose a voluntary visitor testing program, having not had the conversation with health officials.
Pitkin County has a population of 17,767 and has seen 2,031 COVID cases, versus Teton's population of 23,464 with 3,359 cases. For now cases are trending in the right direction in both areas, and Teton County's tighter restrictions have been lifted.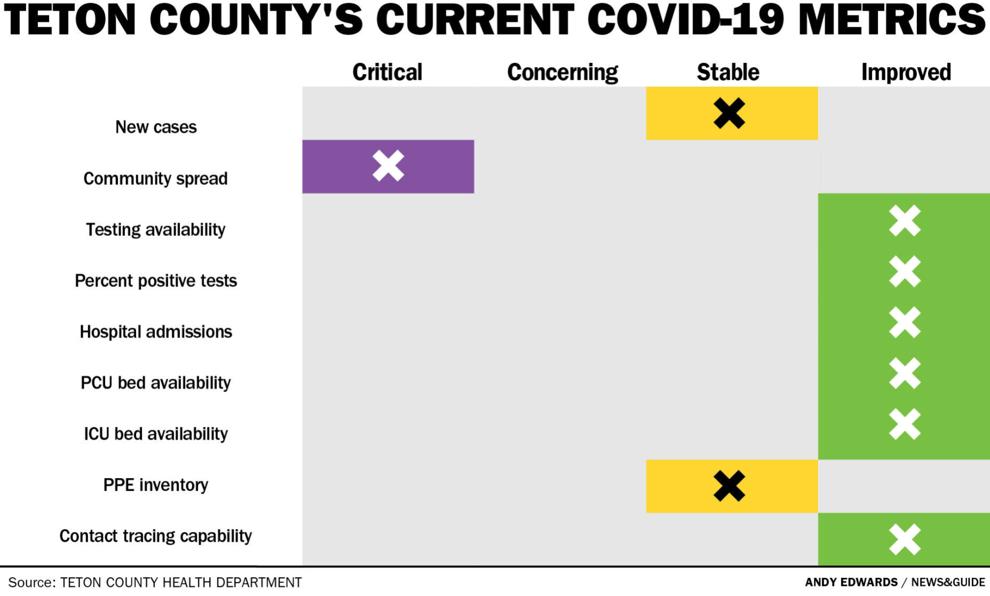 The rolling seven-day average of new daily cases dropped to 3.9 here Monday. That's roughly 10 times below the peak in January. Yet "community spread" — infections with unknown sources — remains at "critical," the highest risk level. All other numbers have improved, according to the Teton County Department of Health.
Infections have dropped in the Aspen area as well, though community spread remains an issue there too. About 46% of new cases identified in Pitkin County in the past two weeks have had an unknown source of transmission. In Teton County 45% of new cases have been attributed to community spread.
Reflecting on how the two resort communities responded to the last surge, Pond said she thinks both reached the same result — with a different approach.
"I think we got the same effect by asking people to only gather in their households, as opposed to closing indoor dining," she said.
Between vaccine roll out, natural immunity and the gathering-heavy holiday season being in the rear view mirror, Pond has been feeling positive about Jackson Hole's situation. So has Riddell.
Rattling off a list of positive statistics at a recent community update, Riddell took his time detailing the downward trend in new cases.
"I'm going to kind of treat them like a new car off the lot," Riddell said, "and take them around the block real slow and show them off a little bit for everyone here."
This article was updated to clarify some of the Aspen Resort Chamber Association's positions in regards to the affidavit and indoor dining closures. — Eds.