Josh Hirschman is waking up every morning to a flurry of texts from Local and Trio employees sick or exposed to COVID-19.
The general manager described what's become "an on-call never-ending job" to secure tests and replacements for staff hit by the latest surge.
"My main goal with staffing for this winter season was to put us in a position where we would be overstaffed every shift ... where I can be down three or four people a shift and still have a successful shift and be fine.
"But this is pushing us to that brink," he said. "You can't build any more of a buffer into the schedule."
Over at Teton Pines that buffer evaporated overnight when a staff member tested positive for COVID-19 after close contact with unvaccinated coworkers, General Manager Mike Kitchen told the News&Guide. The club canceled New Year's Eve service in response and announced a temporary closure to "reset."
"We had some Christmas parties through the holidays, and members that came up after the fact that said, 'Hey, I feel really bad about this, but my daughter flew into town and found out that she had [COVID], and we were on there for dinner. And so, you know, we exposed your staff,'" Kitchen recalled.
All Teton Pines staff are being asked to get tested before the reopening, which could be later this week.
So far, Hirschman's restaurants have remained open regular hours, but finding a "Goldilocks zone" for staffing is "very, very difficult right now," he said.
A sudden run on Curative rapid tests didn't help.
Appointments are currently booked through Saturday, and health officials are asking people to use other testing options for travel and general surveillance to preserve supply for people with symptoms.
But it's difficult to take days off waiting for results from one of the other non-rapid options like Vault's take-homes and Curative's booth at Teton County Library.
Hirschman worries quarantines and even those short-term missed shifts could financially jeopardize workers already struggling to live in Jackson.
"It is affecting people's income without a doubt," he said.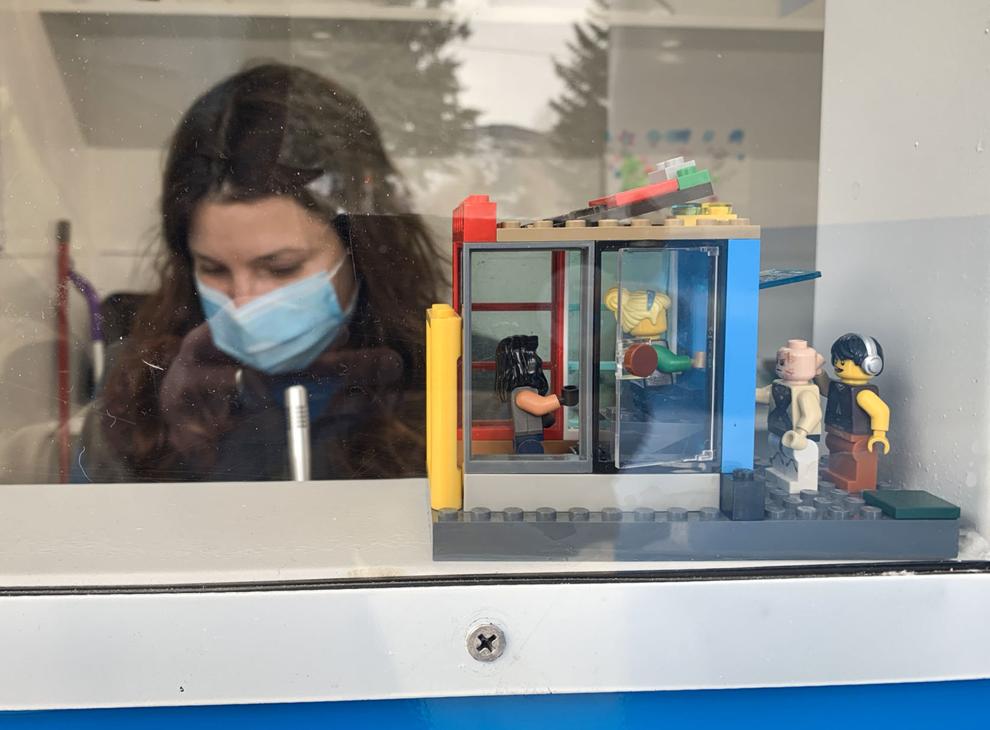 Even before Teton County's mask mandate expired this weekend, businesses were scrambling to stay open during a 400% surge in COVID cases, presumably much of it the latest omicron variant. Contact tracers for the public health department were able to call only 30 people a day, while over 150 were infected, said Public Health Response Coordinator Rachael Wheeler.
The Teton County Health Department is now referring some cases to a separate tracing company contracted by the state health department, Wheeler said.
At the valley's largest employer, Jackson Hole Mountain Resort, Chief Administrative Officer Ty Hoath is personally doing contact tracing to keep staff on the slopes.
Ski patrol is dealing with absences of up to 10% every day, Hoath said, though, for the time being, the company is still able to maintain operations at that level.
Health and elected officials are closely watching St. John's Health to see if this new surge in infections leads to another surge in hospitalizations. So far that doesn't appear to be the case.
And if morbidity remains low, Teton District Health Officer Dr. Travis Riddell isn't keen to impose another mask mandate.
Public schools began the new year with a new mask-optional policy and an estimated 585 student absences on Monday, according to Communications Director Charlotte Reynolds.
That's out of 2,826 total enrolled students. There were also 48 staff absences on Monday, 12 COVID-related.
Reynolds said it's not unusual to have absences after an extended break, especially given the travel delays occurring throughout the country and other illnesses that are circulating in the community.
Only 54 of the student absences were confirmed to be COVID-related, but other parents told the News&Guide they kept their children home because of the new masking policy.
Heather Reed said she didn't feel safe sending her middle school son and elementary school daughter back to less-protected classrooms during this surge.
"We don't really have a good game plan at this point," she said.
Reed's 13-year-old son is still not eligible for a booster and she worries about him going to school with untested children who traveled during the nation's highly infectious omicron surge.
A close friend told Reed she decided to homeschool the remainder of the year because the district dropped its mask requirement. But Reed also recognized many people can't make that choice, including teachers. She was able to start her kids at home this year only because she works remotely.
Reed said stricter testing would help her feel safer sending them in.
Teton County School District No. 1 recently adopted a test-to-stay program created by the Centers for Disease Control and Prevention and adapted by the Wyoming Health Department.
But, somewhat confusingly, the district hasn't explained that program to families, or listed it on the updated Smart Start Plan.
"We will share the details with those affected as it comes up rather than sharing details districtwide," Reynolds said.
Residents who spoke with the News&Guide said a lack of clear, consistent messaging from health, school and elected officials is making this surge more uncertain.
"[I'm] honestly looking for a little more guidance from the electeds in terms of how to proceed," said Kitchen, the GM at Teton Pines. "I feel like they kind of dropped this in our laps when they rescinded the mask order and said, 'Hey, go for it.'"
He and Hirschman were quick to thank Ashley Cassat at the Health Department for her availability and guidance. Cassat said several businesses have her on speed dial to help them react quickly to quarantine and other COVID changes.
Lou Hochheiser, the former St. John's CEO and current board chair for the Senior Center of Jackson Hole, is calling for a task force of experts to streamline communication, similar to the community updates hospital and public health staff provided last year.
The most recent update in September gave people an opportunity to hear directly from Riddell, Public Health Director Jodie Pond, and St. John's COVID response advisor Dr. Paul Beaupre, who implored people to get vaccinated.
In recent interviews with the News&Guide, Beaupre said he hoped the omicron surge in Jackson would be quick and mild. But on Monday he said: "What's happening in our community is not at all minor. ... It's really disruptive to a lot of people's lives.
"The good news," he added, "is that it seems to be behaving like we hoped it would, meaning it's not turning a lot of people into hospitalized people."
Riddell, for his part, seems to understand people's unease. He wrote a Guest Shot this week explaining some of his own decision making and told the News&Guide that a degree of nihilism, though he advises against it, is "understandable given the mixed signals out there."
Those signals — record cases at the same time as rolled-back rules — are a source of mounting anxiety for frontline workers in schools and hospitals, restaurants and resorts.
"It is scary," Hirschman said, "being out in such an open environment where you have contact with so many people traveling from so many different locations."
Like other managers in Jackson, he pledged to do right by staff, limiting reservations and "slowing things down" if necessary.
Hirschman asked for understanding and empathy from the community during this disruptive, unstable time.
This article has been updated to remove a specific and incorrect reference to a COVID-19 infection at Teton Pines to protect individual privacy. — Ed.