After three weeks of legal and political wrangling, masks are now required in Teton County as active COVID-19 case counts hit record levels and some businesses choose to close again.
"The mask order — thank you very much, I'm grateful for that," Teton County Director of Health Jodie Pond told county commissioners during their regular Tuesday meeting. "Hopefully we can start to see something change, But people really need to change their behaviors."
The number of active coronavirus cases in Teton County reached 62 Tuesday afternoon, down four from Monday, almost double the 34 reported on Friday and 16 more than were ever reported in April at the virus's spring peak. Pond said 108 people were under quarantine.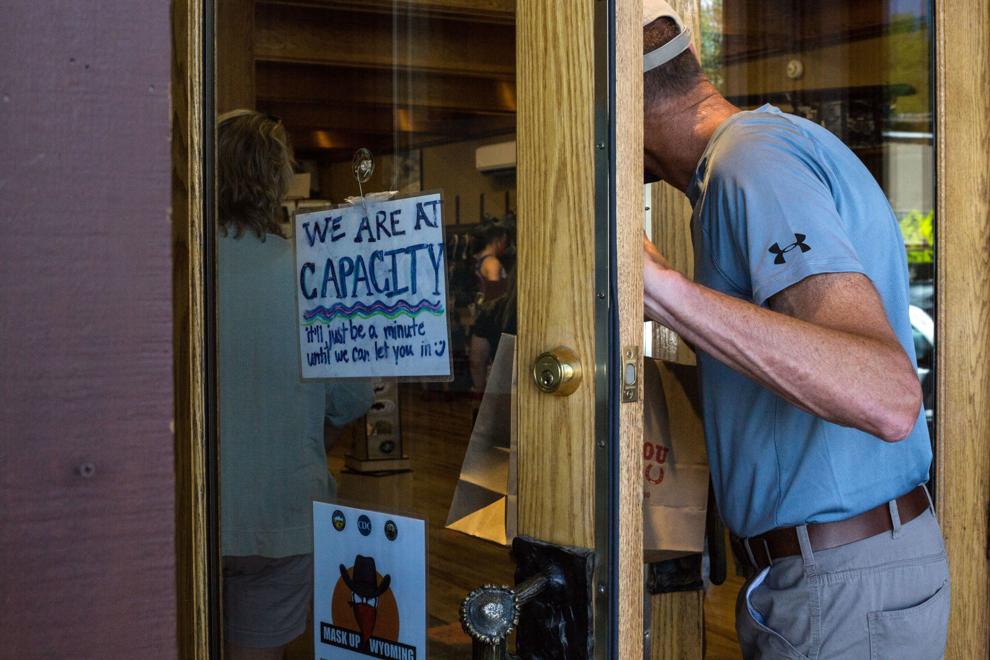 The spike comes as tourism in the valley reaches a steady crest. Lines of cars are snaking along Highway 22 and into the national parks as they usually do in the summer, and hotels are serving an almost normal slate of guests, outperforming projections and running above or just below 95% occupancy over a few weekends in July.
Other businesses are also busy. While some shops and restaurants have closed or scaled back services because of COVID-19 cases among employees or concern about future cases, others said the summer's going well money-wise and, in some cases, really well.
"It's been insane, to be honest with you," said David Erickson, who manages Westside Wine and Spirits, the liquor store that shares a space with the Aspens Market on the West Bank.
"Business has gone up exponentially with restaurants and bars being primarily closed," Erickson said. "We're happy to have the money, but it's worrisome for me as a manager just about my staff and people in the market because we're exposed to a lot of people every day."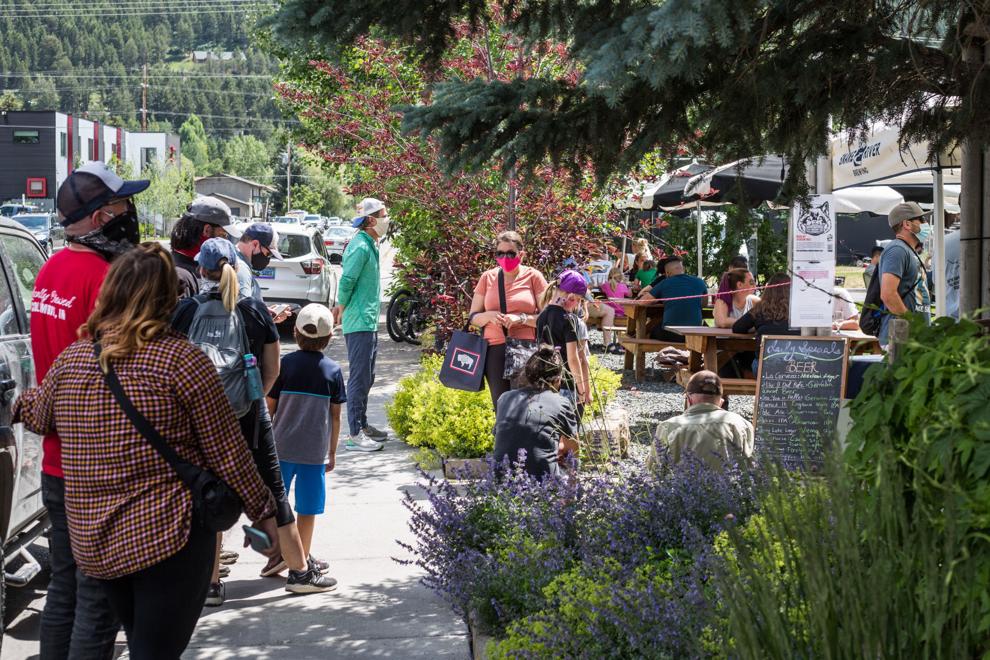 Pond rattled off a litany of statistics Tuesday to illustrate the county's COVID-19 conundrum.
The "concerning number," she said, is the rate of lab-confirmed cases per hundred thousand people, a metric used to compare different areas' infection rates. That number rose to 810 Tuesday afternoon, the third highest in the state after Fremont and Uinta counties.
She also pointed to community spread, which is an issue in 42.65% percent of Teton County cases, and a climbing testing positivity rate, which has reached 5.26% in the past two weeks, higher than the county's cumulative positivity rate of 2.59%. World Health Organization guidelines say communities should keep positivity rates below 5%.
"We're in a much worse place than we ever were in April," Pond said.
She said the influx of visitors is adding to the county health department's contact tracing workload.
"It's a mix of locals and people coming here that are infected, or have been notified they were a contact of somebody back home, and then they get tested here and they're positive," Pond said. "So there is just a lot going on and we are just keeping our head above water."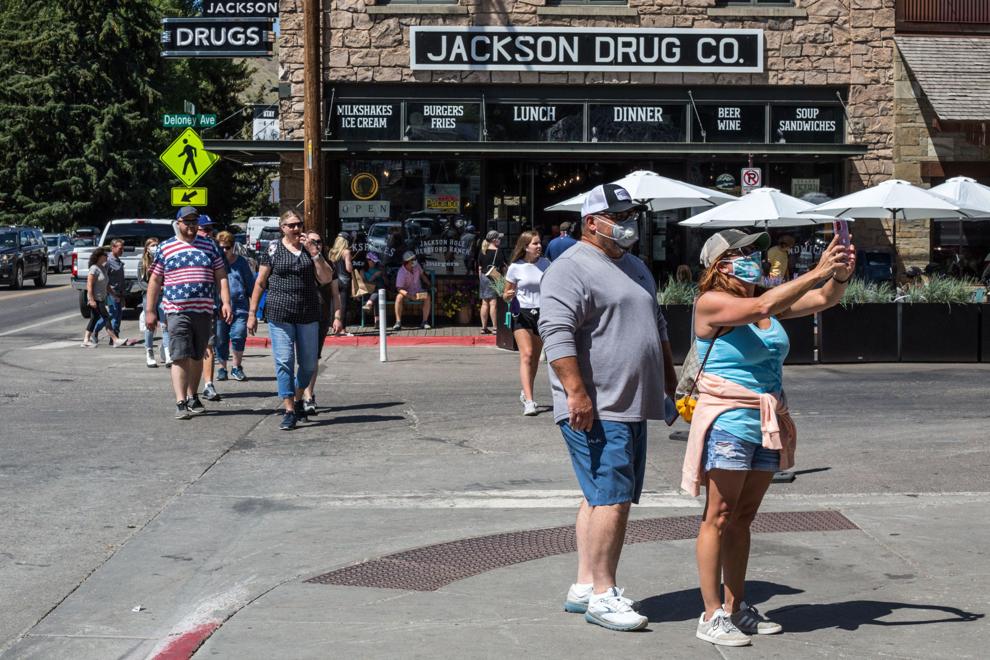 The mask order is a tool local health officials have sought for weeks to quell the virus's spread.
Teton District Health Officer Travis Riddell requested the order from the state before the Fourth of July weekend, asking the Jackson Town Council and Teton County Board of County Commissioners to vote on resolutions supporting his ask.
The Jackson Town Council did so June 29, following with an enforceable emergency ordinance July 3 after the state did not approve Riddell's proposed order before the holiday weekend. The Teton Village Association, which Riddell did not ask for support from, followed the town's suit with a resolution July 10. The County Commission was the last body to throw its hat in the ring, voting unanimously in support of Riddell's request Monday, about three weeks after he first made it.
The order, in the meantime, had gone through three back-and-forths between county and state lawyers, a legal game Riddell had wanted to avoid.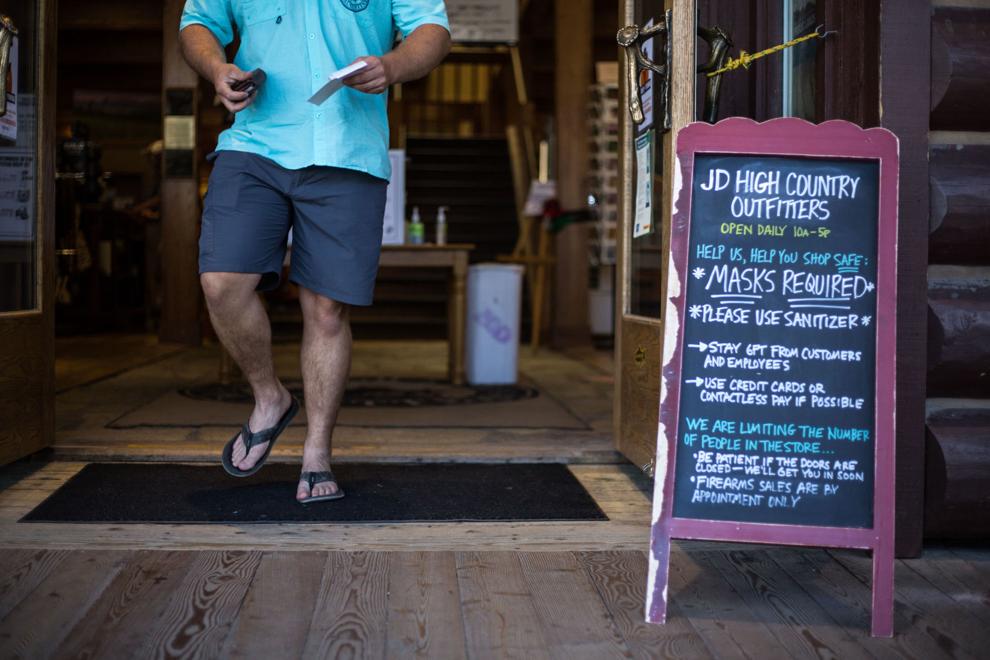 "My hope had been that I had sort of paved the way for this to be a more streamlined process," he said.
The commission does not have the same authority to pass enforceable orders as the town. That authority instead lies in Riddell, who is appointed by the elected board but answers to State Health Officer Dr. Alexia Harrist. Her signature was required to make the mask order law, and she provided it shortly after the county's vote.
Harrist told the News&Guide in a July 8 press conference that "local support" was one of the factors she would consider in approving a local order.
"My focus, of course, is public health, and that's what I need to focus on is making sure that the actions are necessary and appropriate," she said then. "But certainly support from the community is likely to make it a more successful intervention, whatever the intervention is, so it's definitely a factor that we consider."
Asked whether she thought the county's delay in voting on the resolution could have held up the order, County Commission Chair Natalia D. Macker said, "that's a question for the state."
The News&Guide's attempts Tuesday to reach the Wyoming Department of Health for an answer on that question were unsuccessful.
"I think all of us are trying to be respectful of the statutory authority and how it's delineated," Macker said in a follow-up call. "This is new territory for all of us and continues to be."
Businesses on the West Bank and in other, more rural parts of the county newly fall under the mask rules. Town businesses have had similar requirements for more than two weeks.
West Bank workers and walkers who spoke with the News&Guide on Monday welcomed the rule. Many businesses on that side of the valley have required face coverings inside for weeks, and workers said people have generally been compliant, with cases of people refusing to wear masks, despite their politicization, relatively few and far between.
"It probably went from four weeks ago, probably about a 50-50 with masks, and now it's 99%," said Andrew Case, who was working at the cash register at Westside Wine and Spirits. "The ones who forget it or whatever are happy to grab one and wear it for three minutes."
Allee Cooper, who manages Basecamp, the store and eatery at the base of Teton Pass, said it was about the same for her, though she has seen some resistance.
"You get a lot of pushback sometimes, which is annoying, but we just say, 'If you don't want to wear one you've got to go,'" Cooper said.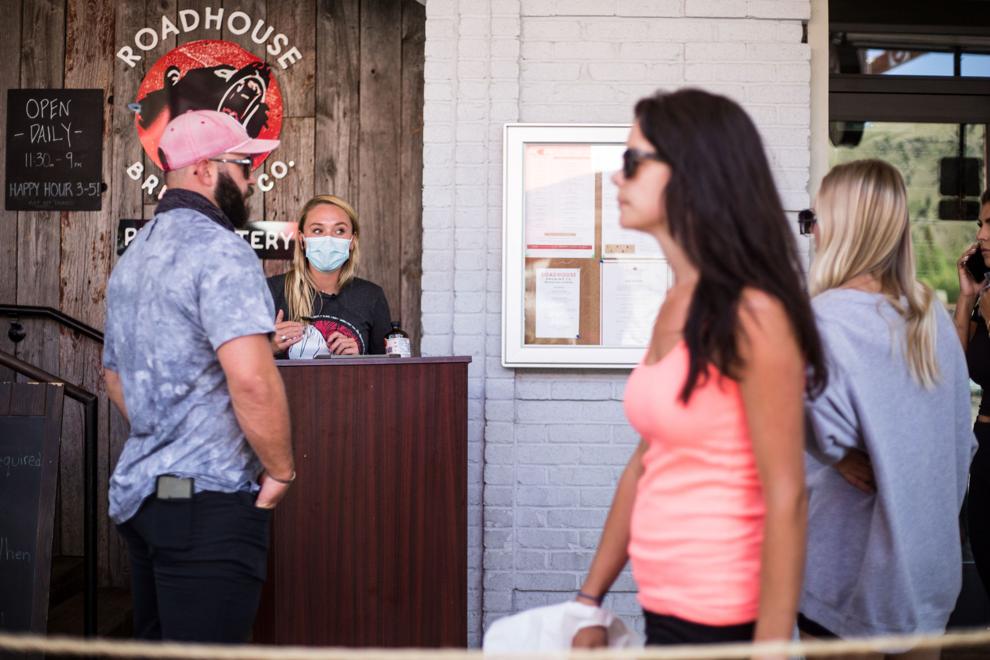 Case and Cooper said having a mask order in place would help in those situations.
"This takes the onus off of the business owners," Case said.
Employees can now say, "'Look, we're just going by the laws,'" he added, "rather than 'This is our idea and this is why our idea is right,' cuz you're not gonna win."
One Town Square business owner who has operated under the town's ordinance for the past few weeks vouched for the order's overall effectiveness. Wyoming Outfitters owner Jeff Roush said more customers are wearing masks when they come in, and fewer seem upset by the idea.
"We had a fair amount of resistance initially," Roush said. "Once the town passed the town ordinance, I'd have to say, for the most part, that went away."
Erickson, West Side's manager, was still concerned about his employees.
"I'm happier that we're all wearing masks and I'm glad that we made that decision, but it's not an end all, be all," he said. I still worry daily."
Up at Jackson Hole Mountain Resort, a family from Tampa, Florida, had mixed views.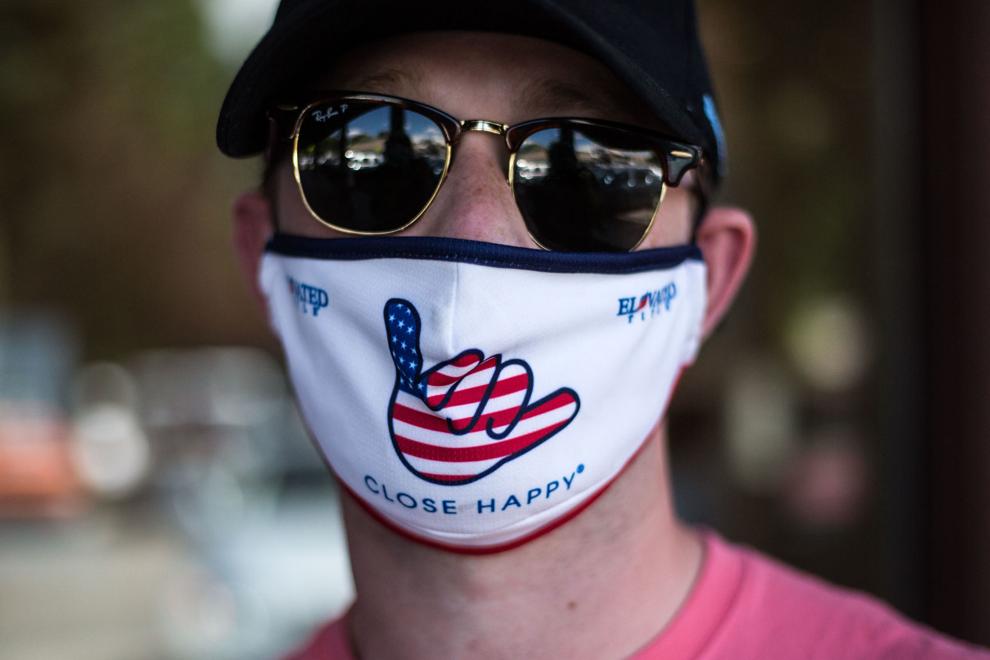 "I go back and forth on it," Ally Prince said. "If you own a business it's nice to offer people the protection, but then I think also, if you go out and you're going to participate in the outside world you're taking the risk of possibly getting COVID."
Her husband, Travis, said the family was still happy to "play ball" to avoid another shutdown.
"We've got our masks with us, and when we go into a business we put the mask on," he said. "If that's what makes people comfortable and in the town they live in and, you know, we want to be here, we're happy to oblige."
Emily Brienzo, a local who works at The Bird (although that restaurant and many others have gone to takeout service only as the COVID-19 wave ripples through), was sipping a sloshie outside Basecamp.
"I think it's great," she said. "There's too many people coming from every which direction. They're driving, they're hitting, like, every state. It's like, dude, if that's what keeps our little county safe, this is what we got to do. Cases are going up, man. Very much in favor."
As written, Riddell's edict expires July 31, but he has the ability to extend it with Harrist's approval. He intentionally aligned it with the expiration dates on existing state health orders to smooth the extension, something that seems inevitable given the state of the pandemic.
"Obviously we'll determine that on a day-to-day basis," he said. "But I think it's likely we'll be looking for extensions moving forward."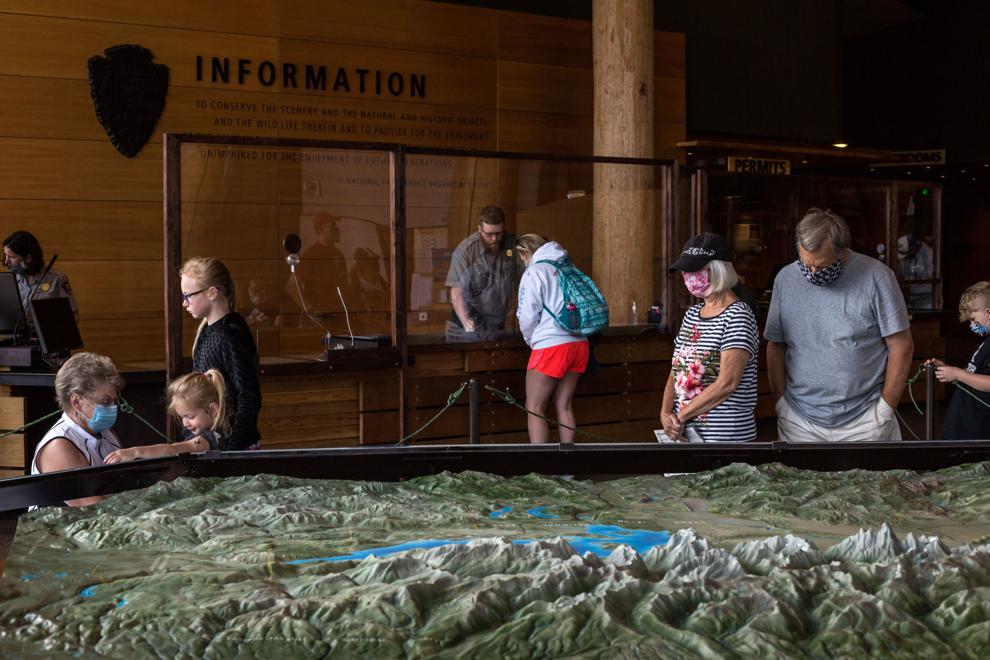 It could take two weeks to gauge whether the mask order is successful, and even then its impact could be difficult to ascertain. The virus's incubation period can be 14 days, so people who were infected Monday (the last day without the order) could conceivably start feeling sick two weeks after that.
Even after those 14 days, though, it may be tough to quantify the order's effectiveness. With increased tourism and commerce and reduced social distancing, too many factors are at play to isolate the mask order's significance.
"It's not like we have a control group," Riddell said.
In the face of rampant viral spread, public health officials don't have all that many options. Mandating masks is the best thing Riddell said he could do without shutdowns like the ones seen in April. He doesn't see face coverings as a panacea, only an important tool.
The next step left to health officials inflicts "real economic pain" on people, Riddell said, because it involves limiting the movement of people and closing businesses. That can be effective, but it carries high economic and social costs.
Even with the mask order in place, Riddell hopes residents and tourists can keep Teton County from needing to take that next step. Social distancing had a remarkable impact on viral spread during the spring, and it will likely play an important role in quelling this uptick, too.
"This doesn't change the fact that it's really an individual person's job to participate in our community to do what they can as individuals to prevent the spread of this virus," Riddell said.