Starting June 1, Jackson Whole Grocer will require customers to wear face coverings in the store.
Grocery store workers already routinely wear masks. But at the start of the month, the store's new policy will be: "Anyone entering the building must cover nose and mouth with mask, bandana, Buff or scarf."
The start date aligns with an expected shipment of masks so the store can hand them out free to customers who do not bring their own, said Lacey Davidson, the store's director of marketing.
The face covering requirement is for "the health and safety of our employees and their families as tourist season opens up this summer," Davidson said. The new policy is in line with current recommendations from the Centers for Disease Control and Prevention to use face coverings in indoor spaces such as grocery stores.
In a letter to customers this week, store owner Jeff Rice writes: "This has been an unprecedented time of change and uncertainty for us all, and Jackson Whole Grocer remains committed to doing everything we can to provide a safe and comfortable shopping experience for our guests and employees."
The requirement does not apply to children under the age of 2 or individuals unable to wear a face covering due to a medical condition. Online shoppers picking up groceries curbside also are not required to wear masks but are asked to remain in their cars.
The store has also reopened its indoor cafe and patio, with the tables spaced out to comply with social distancing guidelines. A newly hired cafe host will escort diners to freshly sanitized tables, and will hand out utensils and condiments. In line with local health orders, groups must be limited to six people, unless they're all from the same household.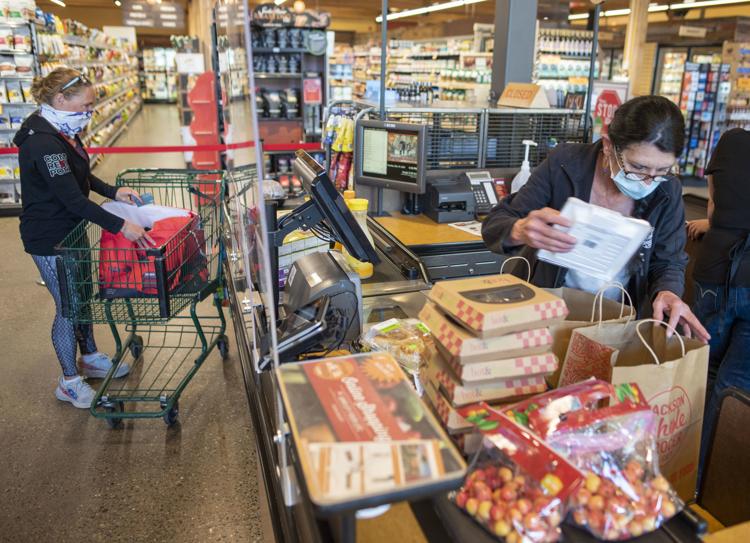 "The cafe has been strategically rearranged to promote extra social distancing so there will be less chance of people being too close together, like they are in aisles throughout the store," Davidson said in an email. "Guests are still expected to wear face coverings when entering the store to access the cafe."
The store updated and reiterated all of its coronavirus-related health and safety policies this week. Other policies have shoppers bagging their own groceries if they bring their own bags, following directional signs on the floor to maintain social distancing and limiting the number of household members shopping at one time.
Jackson Whole Grocer cleans hourly — especially at high-frequency touch points like checkstands and keypads — and wipes down shopping carts after every use. For staff, the store policy is to check temperatures at the beginning of a shift and to remind workers to wash hands, practice social distancing and stay home if feeling ill.