Todd Smith started to have doubts.
Would he actually know someone who contracted COVID-19? People across the country have likely asked themselves that, especially because many communities are seeing infection rates around 1% or 2%, even six months into the coronavirus outbreak.
Smith might not have been "lax" about taking precautions, he said, but he still questioned whether he would meet a patient. That's in part because he lives in rural Bondurant, a town where the U.S. Census counts fewer than 100 residents.
Then Smith, who was chief of the Jackson Police Department, got sick, as did the rest of his family.
"I don't feel like me. I don't have all my energy," he said in an August interview, several weeks after being diagnosed.
The COVID-19 experience for Smith, who recently retired as police chief, and his family ran the gamut. One of his sons had a mild case, while he and his other son had severe reactions that necessitated intensive medical support.
His experience with COVID-19 solidified his feelings on an issue that has become one of the moment's defining political fights — masks.
"Wear your mask," he said. "It's the only thing we can do."
Smith's feelings reflect those of a majority of Americans. A Pew Research Center survey done over the summer found that 65% of all Americans wore a mask "all or most of the time," but 16% said they "hardly ever or never" wore one.
Like other social issues, masks have become a fault line along which ideological camps have staked a claim.
"I've expressed my disappointment that the topic of masks has become politicized," Teton District Health Officer Dr. Travis Riddell said at the June 26 community update. "One effect of that is a tendency on both sides for people to hew towards extreme views.
"On one extreme, masks are a violation of civil liberty. They're unconstitutional. They're a mortal threat to our basic freedom. On the other extreme, masks are a salvation, without which we're sure to all perish."
Roughly six months into the pandemic, it is possible to begin assessing whether mask mandates actually have an effect on local coronavirus outbreaks. At the start of the pandemic, most information on masks that was specific to the coronavirus came in the form of models, like the well-known one from the Hong Kong Institute of Technology. It said that if 80% of people in a community wore masks, transmission would slow considerably.
The models haven't always jibed with the available evidence on masks. A literature review published in the May issue of Emerging Infectious Diseases looked at 14 studies that included data on the effectiveness of face masks on limiting the spread of influenza-like illnesses, finding little effect.
"There is limited evidence for their effectiveness in preventing influenza virus transmission either when worn by the infected person for source control or when worn by uninfected persons to reduce exposure," the review said. "Our systematic review found no significant effect of face masks on transmission of laboratory-confirmed influenza."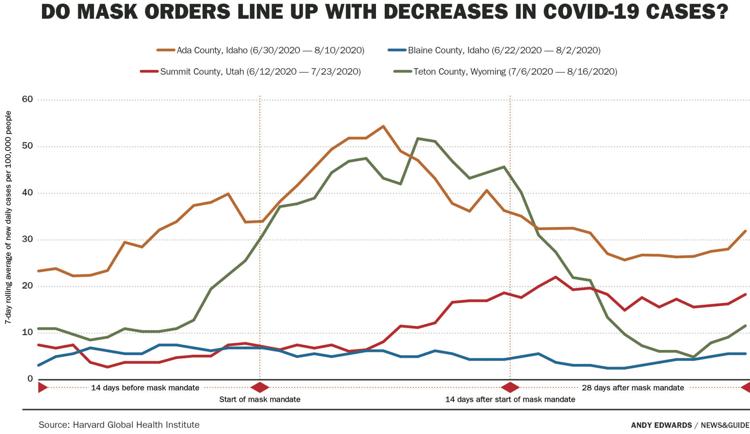 But the review noted that most of the studies were small and may have had problems with mask-wearing compliance that could have affected their outcome. COVID-19 is an influenza-like illness, but it is not the flu, so it may behave differently, and its global ubiquity offers a chance for a wider study.
Public health officials such as Riddell are quick to point out that because mask orders are happening in the real world and not a laboratory, drawing concrete conclusions could prove difficult.
"It's hard to know, when you look at population-level interventions and population-level results," Riddell said. "There's just so much room for bias and confounding to come into those types of studies."
To fully understand the extent of a mask order, Riddell said, you would need to conduct high-level statistical analysis that would compare many locales. For counties, that doesn't yet exist, but a pair of University of Iowa researchers did analyze data from 15 states and the District of Columbia, which all instated early mask orders.
The researchers found that after controlling for other factors, mask orders correlated with a two percentage point drop in the average daily growth rate of COVID-19 cases after 21 days, accounting for up to 19% of the impact from all measures combined. They also determined the benefits didn't stop after three weeks.
"The estimates suggest that the effectiveness of and benefits from these mandates increase over time," the study said.
Health officials call face covering orders an important part of a "layered approach," rather than a one-size-fits-all solution. They have used several tools in concert during the pandemic, including stay-at-home mandates, contact tracing and self-isolation orders for sick people.
"We had a lot of things happening at the same time. So that's why I can't say, 'Well, for sure it was the mask order,'" Teton County Director of Health Jodie Pond said. "But mask orders work. Nationally, do you see it working? Yes, we see that all the time."
An argument against mask orders that some public commenters have brought up to elected officials is compliance. Opponents argue that people simply won't listen, even with the threat of a fine.
In Teton County, officials don't have a system for gauging compliance.
However, David Schuld, the Salt Lake County mayor's advisor on COVID-19 response and recovery, said officials there have done studies on compliance, sending observers to count mask wearers in a variety of locations. What they've found is that compliance is high, with one study in mid-August finding nearly 97% of people were wearing masks.
At the beginning of the pandemic, stay-at-home orders, including one in Teton County, contributed to a successful "flattening of the curve," the now-ubiquitous public health phrase that refers to the shape of a case rate graph. Locally, the strict measures instated over the spring, coupled with minimal tourism, lowered cases to zero for several weeks, but full lockdown wasn't a sustainable solution.
The economic fallout forced officials to jump into the layered approach to salvage some semblance of a normal summer, a crucial time for most businesses in Teton County. Riddell's July order required people to wear face coverings in public businesses, though he has to seek state approval to renew it monthly, sometimes more often.
At the same time, the Teton County Health Department rolled out a variety of contact tracing and testing programs to track and limit viral spread. Several months in officials might not be able to pin a drop in cases directly on requiring masks, but regional data shows that places with mask orders have seen infections decline.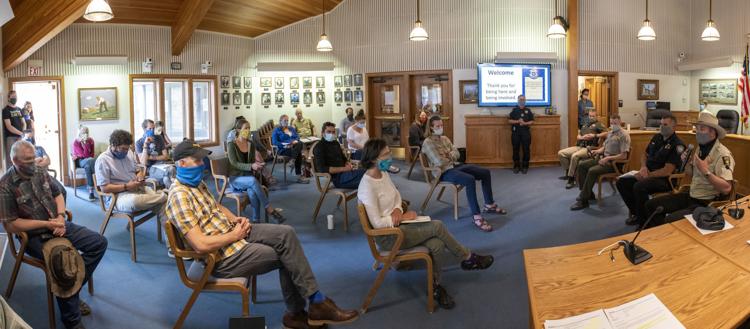 Take Utah's Salt Lake County. It enacted a mask order June 27, when it had 236 cases of COVID-19. Like Teton County it had flattened its curve toward the end of May before people started moving around more and cases increased again.
On July 9 cases spiked in Salt Lake County at 409 before the start of a downward trend that has continued since then, though the county has seen a small spike in recent days.
"There is definitely a correlation between the use of face coverings and the reduction of cases in Salt Lake County," Schuld said.
At the beginning of the summer, Salt Lake and Summit counties were seeing some of the fastest growth in COVID-19 cases in Utah. They both instated mask orders around the same time, and their case rate graphs show a similar trend.
For the two weeks following Salt Lake County's order, cases continued to increase. Schuld attributes that to the incubation period of COVID-19, which can live in the body for up to 14 days before a person starts to show symptoms.
Following that 14-day incubation period, "we started our descent back to where we're at today," he said.
Teton County shows a similar trend. Riddell first requested a mask order June 30, but a lengthy editing and revising process pushed the start date to July 21. During that three-week span, Teton County's seven-day average of new cases rose from 2.5 per day to 9.6.
That growth continued in the two weeks following approval, peaking at a seven-day average of 11.7 new cases per day on July 29 before beginning a precipitous decline. The new case rate has plateaued, hovering between two and four each day.
Based on the experience of counties that had enacted such orders earlier, Pond said that was to be expected.
"That's what we watched all over as we promoted getting a mask order," she said. "We were watching these other communities that were doing it, and we had sort of the ability to see what was happening there."
One place that provided the blueprint was Blaine County, Idaho. The area was hit hard in the pandemic's early days, with one of the highest per-capita case rates in the country. In early July the county enacted a mask order, but it was in a different situation than Teton or Salt Lake counties: Its case rate had stayed low after the initial decline in the spring.
With new daily case counts already in the single digits, the county's mask order has instead correlated with continued low prevalence, rather than a decline. As with other places, it's hard to pinpoint how much of that trend is due to masks, especially because more residents have been infected than in other places, likely giving them some level of short-term immunity.
School openings, continued mobilization of the workforce and other factors will continue to put pressure on public health officials as they respond to the pandemic, as will "pandemic fatigue," the ennui people feel as restrictions persist. However, officials continue to believe mask orders play a vital role in keeping the virus at bay while they wait for a widely available vaccine or treatment.
Salt Lake County has extended its mandate to Dec. 31. After several rounds of renewing it each month, as Teton County officials have to do, Salt Lake officials worked with the state to leave it in place for the rest of the year, citing its success.
"We know that COVID is not going away in the next month," said Schuld, the mayor's advisor. "For the time being, face coverings work, and we need to just continue to support that."
For Todd Smith and his family, the effects of COVID-19 are not going away either. His son who had the severe case has seen lingering symptoms that go far beyond respiratory effects commonly associated with the disease.
Smith said his son — someone who "has no underlying medical conditions and is 27 and goes to the gym every day" — got in his truck one day and couldn't get it in gear, likely the effects of intracranial swelling. He was affected by vertigo and couldn't concentrate for weeks afterward.
The entire experience solidified Smith's view that people should do anything they can to protect themselves and others. Otherwise, he said, "you might be like my son ... and wondering if your life will be changed forever."
— Emily Mieure contributed to this report.