Teton County has the highest per capita rate of lab-confirmed COVID-19 patients in Wyoming.
Per capita rates are calculated by number of cases per 100,000 people. According to the U.S. Census Bureau, Teton County has 23,265 people, so its 44 cases translate to a per capita rate of 189.1 cases for every 100,000 residents. Though that's the highest in Wyoming, Westchester County, New York, near New York City, had 1,528 cases per 100,000 people.
As of Tuesday afternoon, Teton had the second-highest number of cases among counties statewide. Yet, Teton County has just the ninth-highest county population.
At the same time, Teton County has instated some of the earliest and strictest physical distancing measures in Wyoming.
In some ways, the high numbers and strict response go hand in glove.
"It's something we anticipated," Teton District Health Officer Travis Riddell said. "That's one of the reasons we have the restrictions, we thought we would be at risk for higher numbers of cases."
Having the highest per capita rate is a distinction most would want to avoid, but it is difficult to say what it means for Teton County. Any data that is used is flawed because widespread testing is unavailable. Without a sense of the real number of cases, that number doesn't mean as much.
"It's hard to know the relationship between confirmed cases and real cases," Riddell said.
Flawed data hasn't stopped scientists from around the country from modeling the future of the outbreak. One model from the Institute for Health Metrics and Evaluation at the University of Washington has seen a good deal of news coverage in the past week for its state-by-state breakdown.
On Tuesday, the model put Wyoming's peak at April 29, with a top daily death count of 6 people and around 119 deaths in total. It says 52 intensive care unit beds will be needed statewide, with only 44 beds counted right now. Hospitals continue to adapt beds in other units to ICU-level care, so that may not be the real number of such beds available.
It also puts the number of invasive ventilators needed at 44, though it does say up to 120 could be needed. The model predicts total hospital bed capacity across the state (1,069) should well outstrip need (256 beds).
Those numbers are good, right?
"There are many different models, but there are many things we don't know," said Mark Cullen, a Stanford University epidemiologist. "I try not to be obsessed with one model over the other."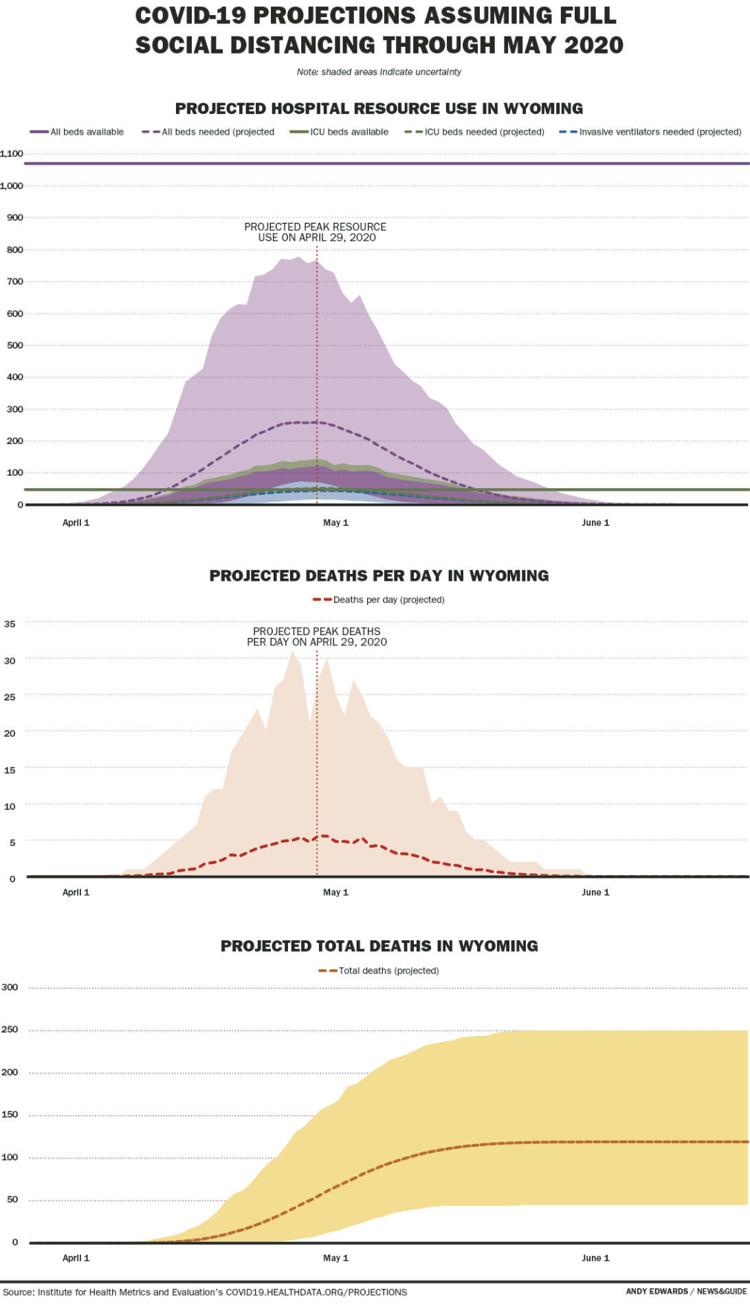 At the beginning of March, hundreds of skiers descended on Ketchum, Idaho, at the base of Sun Valley Resort for the 47th annual Black Summit of the National Brotherhood of Skiers. The town welcomed the African-American skiing organization with open arms for a week of parties.
Within a week, The New Yorker reported, 20 of the skiers had come down with COVID-19. Within two weeks, Blaine County, Idaho, which includes Ketchum, Sun Valley and Hailey, was under a shelter-in-place order because cases were increasing so rapidly. Within a month, Blaine County had the highest per capita rate of COVID-19 in the country, 1,923.3 out of every 100,000 people, more than 10 times Teton County's rate.
Another resort community, Colorado's Summit County, home to Breckenridge, saw visitors import the virus. The Aspen Times reported that Colorado's first confirmed case of the virus was traced to a California man who had traveled to Italy then come through the Denver airport on his way to Frisco, Colorado.
As an outdoor recreation and tourism destination, Teton County is akin to both those places. While Summit County sits close to the metropolitan area of Denver, Teton and Blaine counties are more remote. Geographic isolation and lower populations typically translate into lower incidence rates of infectious diseases.
However, Teton and Blaine counties both boast thriving tourism economies and high numbers of second-home owners, which are likely things that helped drive the numbers up in both places.
"In the Tetons and other areas that historically have lots of visitors, you're going to have more cases," Cullen said.
Cullen admitted he didn't know the particulars of Teton County's visitation numbers or social distancing measures, and was instead speaking in epidemiological generalities. But someone with more intimate knowledge of the coronavirus outbreak in Jackson concurred.
"It doesn't surprise me that we have the highest rate. Think about what attracts people to Wyoming, and we have it all," St. John's Health CEO Dr. Paul Beaupre said. "We've always had an exquisite target on our back for having a higher incidence for COVID."
Knowing the similarities, it might seem Teton County is on pace to become a hotspot like Blaine County. But because of the flawed data available, it can be difficult to know. Cullen said a good number to watch is the doubling rate in lab-confirmed incidences, because a faster doubling rate indicates a steeper curve.
As of Tuesday, the doubling rate in Blaine County was 4.5 days, though at the height of the outbreak there it was 2 days. In Teton County, it was 6 days.
Looking strictly at the doubling rate, Teton County's curve looks to be flatter than Blaine County's, but other than using models like the one from the Institute for Health Metrics and Evaluation, it's nearly impossible to say where that puts Jackson on the curve.
"I think it's fair to say we're likely to be behind the rest of the country," Riddell said. "We're still on the upslope."
Dr. David Wheeler, the president of the Wyoming Medical Society, stepped up to the microphone at a press conference March 30 with Gov. Mark Gordon and said something that most Wyomingites likely met with applause, at least internally.
"It's something on the order of three to six weeks, when you start to hit the most numbers of new cases per day," he said. "That's around the first week of May."
At the time, the Institute for Health Metrics and Evaluation model said roughly the same thing, though it revises its projections daily based on social distancing measures, so it has moved the peak to April 29. If those projections hold true, Wyomingites have about three weeks left until the peak of the curve.
Though researchers at the Wyoming Department of Health are aware of several projections as to when the peak might occur, they aren't ready to buy into any particular one because each model has to make assumptions on rate of spread and other factors that may not match reality.
"As we proceed, we will be looking at things like case numbers and hospital impacts," spokeswoman Kim Deti said in an email. "At this point, we are refraining from speculation."
That peak has been held up as an epidemiological milestone, but it is far from the end of the outbreak. Its significance is that it will comprise the most pressure on health care systems.
As social distancing measures have taken hold in Wyoming, models have revised down the number of ICU beds that are estimated to be needed. On March 31, that number in the Institute for Health Metrics and Evaluation model was 66 beds. On Tuesday, it was 52, still above capacity, but closer.
That model also says the need for hospital beds related to the outbreak will approach zero at the end of May, which could be one indicator the state could relax physical distancing measures. It shows a smooth decline once Wyoming passes the peak, but reality is likely to be a bit different.
"They are not symmetric bell-shaped curves," Riddell said. "It will be a long tail to the curve with spikes up and down."
Riddell pointed to Asian countries like China, South Korea and Japan, which have seen spikes in cases as they have eased social distancing restrictions and ramped up economic production. Those may be inevitable, but a few measures the United States doesn't have in place yet could help ease that transition.
Because a lack of testing has in part led to the uncertainty about the outbreak, Riddell would like to see the ability to test any symptomatic person before social distancing measures are lifted entirely, and he wants the ability to do in-depth epidemiological investigations of confirmed cases to track known contacts.
Even without the ability to know exactly where Teton County is on the curve, signs from around the country are promising. Blaine County's curve seems to be flattening, with a longer doubling time as proof, and social distancing in hotspots like Seattle appears to be making a difference.
So even if it's too early to say for certain when the peak will come, hope is on the horizon, according to Cullen, the Stanford epidemiologist.
"We think we have dramatically bent the shape of the original curve," he said.