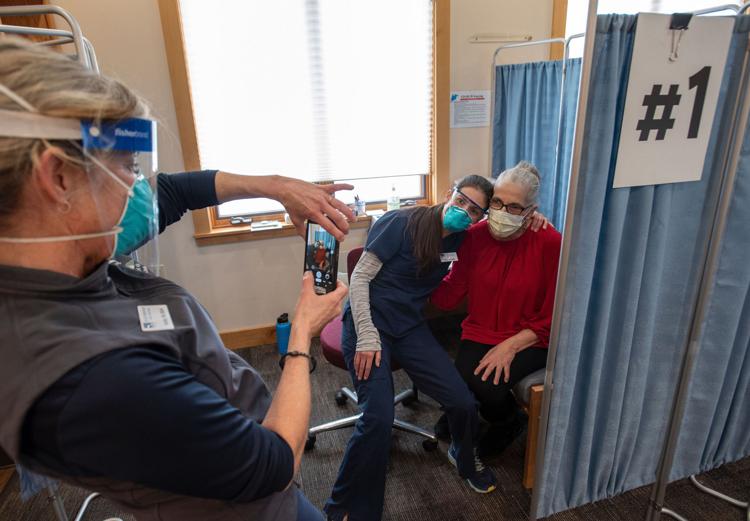 Snow pelted volunteers Tuesday morning as they directed parking outside Teton County Health Department. First responders came in past the volunteers from Team Rubicon, went inside for their COVID-19 vaccines, then waited for 15 minutes in their cars to monitor themselves for adverse reactions.
The Health Department's vaccine clinic is the second to open in Teton County, after St. John's Health started administering the Pfizer-BioNTech vaccine last week in a wing of its professional office building.
"Ours isn't as fancy as St. John's," public health coordinator Rachael Wheeler said, smiling, alluding to the fact the hospital has a room for the 15-minute waiting period.
No matter the venue, the mood was jubilant at both vaccine clinics that have started immunizations for the first round of priority groups. Health care workers and emergency responders across the community have begun the process of gaining immunity to a disease that has killed more 300,000 Americans in the past nine months and nearly 400 Wyomingites.
Teton County received a box of 975 doses from Pfizer, but it appears the hospital and Health Department will be able to vaccinate about 1,200 people. The drug company said each vial would include five doses. By following the company's directions health care workers can draw up to seven doses from each one, though six are pretty much guaranteed. The Food and Drug Administration and Wyoming Department of Health have approved using the extra doses, which could extend the scarce supply by almost 40%.
"You're never going to know if you'll get that seventh dose," said Jhala French, a public health nurse who is spearheading the vaccination process at the Health Department.
Extra doses mean more people in the priority groups will start the vaccination process this month. Pfizer's vaccine requires two shots, so they will need to return for a booster sometime in early January.
Based on guidance from the Centers for Disease Control and Prevention Advisory Committee on Immunization Practices, the state Health Department laid out 17 priority populations in the 1a group. Direct care health workers and emergency responders were the first priority groups.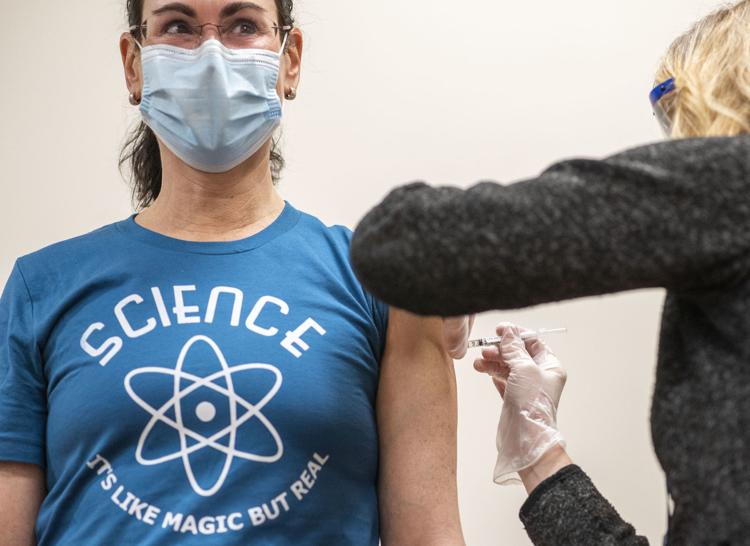 Following them will be other health care workers and long-term care facility residents, then groups like school nurses, administrative public health officials and ski patrollers.
"We're going to start those groups Monday and Tuesday," Wheeler said.
The hospital has averaged about 115 vaccinations per day, with roughly 580 done as of Tuesday. The Health Department is running its clinic for three days this week, with capacity of up to 105 each day.
Though many who contract COVID-19 have mild cases, some with no symptoms at all, it can cause long-term complications that doctors and scientists do not understand very well. They have not been able to determine which patients have a severe case, so interacting with COVID-19 patients carries some worry about that uncertainty.
"There's a lot of anxiety for the patient, and then there's a lot of anxiety for the health care workers," nurse Julia Brady said Dec. 16 after receiving her vaccine. "The idea of bringing it home to our families is scary."
Brady works in the hospital's labor and delivery department, and she said she was excited for the prospect of treating expectant mothers without worry about the virus. Like other St. John's employees who were vaccinated, she was "excited and grateful" for the opportunity.
National surveys have found that up to 50% of Americans are wary of the COVID-19 vaccines for a variety of reasons, ranging from mistrust of vaccines in general to nervousness about the short timeframe for their creation and approval. St. John's Health CEO Dr. Paul Beaupre said the majority of his employees expressed interest in vaccination, bucking the national trend.
Sitting in the observation room Dec. 16, Jill Walsh, the hospital's manager of surgical services, said most people in her department planned on being vaccinated. Because of that she saw "hope for the future."
"I can't believe people don't want to; it's just so exciting," she said. "This is the future. It's going to be okay."
She and other priority group members have not had to pay for their vaccines, nor will anyone else for quite a while. Through Operation Warp Speed the federal government has purchased tens of millions of doses from Pfizer and Moderna, enough to cover a broad swath of the people who say they want to be vaccinated.
Still, it will be a slow trickle. Teton County should receive the booster shot for everyone in the first wave by the end of the year, Wheeler said, but it likely won't get enough to start any new vaccinations until January.
Federal guidance, which shapes state priority lists, continues to change regarding which groups will fall into the 1b and 1c categories. Wheeler said the county Health Department fields questions from community members who want to know when they will be up.
Given the interest, she understands why people are calling. Due to the slow production and distribution, it may take months until all interested people have access to the vaccines, so she asked residents to have patience.
When that time arrives, she said, "we'll be shouting it from the rooftops."