St. John's Health has a few different tools to find out in a matter of minutes whether or not someone has COVID-19. But the tests and test cartridges — required to run those machines — remain scarce.
Still, the rapid testing instruments have helped the hospital restart elective procedures, about a month after the hospital suspended the surgeries that serve community members and keep its finances solvent.
A newly formed committee decides which patients qualify for a surgery during the coronavirus pandemic. About 40 people have been given the green light in the last few weeks.
"We test them the day before their procedure and then they quarantine," St. John's lab director Matt Lenz said. "We can test same day for emergency procedures. But we have to keep an eye on our supply of testing kits so we don't run out and have to shut it completely down."
Emails obtained through a records request highlight the tough decisions state health officials are having to make when it comes to deciding which hospitals should get new rapid testing instruments provided by the federal government. Those decisions are made more complicated by limited supplies that have hospitals like St. John's Health piecing together various approaches to overcome shortages.
St. John's Health relies on three companies — Biofire, Cepheid and Abbott — for testing supplies to perform a rapid test, which will either detect SARS-CoV-2, the virus that causes the disease COVID-19, or test for other respiratory illnesses to help rule out COVID-19.
Those specific molecular tests have received emergency use authorization from the U.S. Food and Drug Administration.
But St. John's said the Cepheid cartridges have been few and far between.
"They are controlled with how they release it and who they release it to," Lenz said.
In April Wyoming received 15 of Abbott Lab's ID NOW instruments, the newest rapid test machine to make headlines.
"The Wyoming Department of Health in consultation with the Wyoming Medical Society, the Wyoming Hospital Association and the governor's COVID-19 healthcare task force determined the locations for distribution of the Abbott Testing Machines," Dirk J. Dijkstal, section chief of health readiness and response for the state health department told Teton County Director of Health Jodie Pond in an email in mid-April.
The emails, obtained by the News&Guide using the Wyoming Public Records Act, explained why certain counties received the machines and others did not.
Teton County didn't get one at first, until Pond stepped in.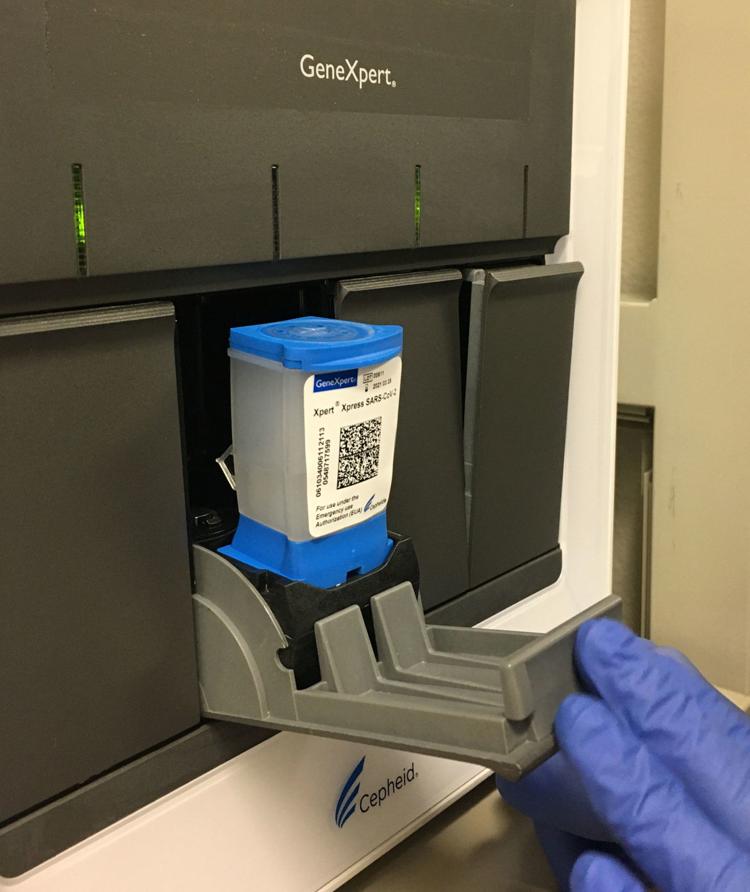 According to the emails, the first hospitals to receive the machines were Campbell County, West Park Hospital/Cody Regional Health, Powell Valley Healthcare, Memorial Hospital of Carbon County, South Lincoln Medical Center, Memorial Hospital of Sweetwater County, Weston County Health, SageWest Healthcare of Lander and Riverton, Cheyenne Regional Medical Center, Hot Springs Memorial Hospital and Crook County Medical Services District.
When Pond asked about the rationale used to determine where the Abbott instruments went, Dijkstal responded, "the healthcare task force prioritized hospitals that would not be receiving other types of rapid tests."
Pond said the state was under the impression that Teton County was in good shape when it came to Cepheid test kits, but those have run dry at St. John's Health.
Pond pointed to Teton County's high rate of positive cases as an argument for getting an Abbott machine here.
"Just as testing materials have been prioritized nationwide to go to the most hard hit areas, the state of Wyoming should use the number of cases and the rate per 100,000 population as criteria to distribute scarce resources in determining where to send these resources," Pond said in a reply email to the state. "Teton County has the highest rate per 100,000 population."
Further illustrating how state officials are being put in a position of having to ration supplies, Dijkstal explained in an email that the task force also "prioritized the population base which may have access to the hospital."
But Pond questioned the initial distribution, citing population and current caseloads.
In her email response, she wrote: "Weston County Health and Crook County Medical Service District are 45 miles apart. The population of Weston County is 6,927 people. The population of Crook County is 7,584 people. Weston County has 0 lab confirmed COVID-19 cases. Crook County has 4 lab confirmed COVID-19 cases. Crook County has tested 19 people. Weston County has tested 77 people. Does this level of testing warrant two testing machines in these two counties? It appears the two counties could share one machine."
Finally, Dijkstal said training was considered when deciding where to place machines.
"Due to the training necessary for these machines and the limited availability of access to this training the members of the healthcare task force believed it was best to prioritize sending machines to locations where these machines were already located and where the least barrier due to training would be experienced," his email stated.
Pond said training would not be an issue in Teton County.
"It has been established the Abbott ID NOW platform is not difficult to learn how to use," Pond wrote. "As verified by Abbott's marketing materials and discussion with the lab director at St. John's Health the lab director assured the Teton County Health Department that if they were able to get an Abbott ID NOW machine they have the technical expertise to run COVID-19 tests on it. The lab tried to order a machine last week and were told they are not available."
Pond said Teton County's need for the Abbott instrument was great and initial miscommunication resulted in St. John's Health not getting one.
"They were under the impression we could get unlimited Cepheid supplies," Pond said.
But new Cepheid cartridges aren't being sent, Pond said, and the local lab can't order them. Teton County can only get them if Cepheid calls and offers.
"There was a lot of back and forth [with the state]," Pond said. It was about the state "understanding the context of just because we had those other machines didn't mean we got supplies for them."
After a lot of phone calls and emails, the state sent an Abbott ID NOW instrument to St. John's Health. Pond received notice April 21 that the machine would be flown to Teton County that week.
"They heard me loud and clear," Pond said.
The state ended up getting a few more Abbott machines than expected.
"We received 15 of those testing platforms from the federal government and distributed 14 of those across the state," State Health Officer Dr. Alexia Harrist said at one of Gov. Mark Gordon's press briefings last week.
"We kept one in our Wyoming public health laboratory for use as well," Harrist said.
Harrist said Wyoming is receiving limited test supplies from the federal government, every week or every two weeks, and forwarding those on to hospitals.
For now, Pond said there seems to be a better chance of receiving cartridges from Abbott than from Cepheid. Rapid tests are particularly vital for hospitalized patients.
"If you put someone in the ICU you want to be able to rule out COVID-19," Pond said. "They have the machine that can test for rapid flu and other upper respiratory illnesses. If those are both negative you want to do a COVID-19 test."
Knowing quickly whether or not a patient has COVID allows the hospital to conserve personal protective equipment. Not knowing means burning through more PPE, she said.
Lenz said lab technicians are still validating the Abbott ID Now instrument — a process meant to ensure the machine is functioning properly. The instrument arrived with 24 tests and a lot of those have been used in the validation process, Lenz said. But 24 more tests were delivered last week.
"Our in-house patients in long term care, we are reserving in-house testing for them and for staff," Lenz said. "The reason we are setting it up that way is because of the supply chain."
Others can still get a COVID-19 test, but their sample will be sent to labs, usually with results in a few days.
"Our external patients that are not needing to be held in the hospital or have a surgery performed or be put on a ventilator, we are sending those off to ARUP (a nonprofit lab at the University of Utah) or the state lab," Lenz said.
Kimberly LaFleur, a senior public affairs manager for Abbott, said the company has shipped 1.4 million ID Now tests to all 50 states.
"The majority of these tests have been sent to outbreak hotspots, and we've asked that customers prioritize frontline healthcare workers and first responders," LaFleur said. "We are currently manufacturing 50,000 tests per day and plan to increase ID NOW manufacturing capacity to 2 million tests a month by June."
The Abbott Rapid ID NOW instrument has been under scrutiny in the national press, which has raised concerns about false negatives and unsafe cartridges. LaFleur countered that the test has met FDA testing criteria.
"Clinical evaluation data generated 95% confidence interval ranges of 83.9% to 100% for positive samples and 88.7% to 100% for negative samples," she said. "This is consistent with other COVID-19 molecular tests to have received FDA EUA."
Lenz said he's less concerned about false negatives and thinks incomplete nasal samples are the issue.
"There are so many different tests out on the market right now," Lenz said. "I don't think there are false negatives. There might be a bad collection, which is when you don't get the swab deep enough."
The nasal test is uncomfortable, so the patient might wiggle around or retreat from the tester, Lenz said.
"The other potential is the viral load isn't present in large enough quantities," Lenz said. "If there is a virus on that swab these instruments are very good at telling you that it's there."
John Kren, COO and CFO of St. John's Heath, said the hospital is keeping a close eye on how many tests and test cartridges they have on hand. And the elective procedures committee is taking a slow approach to reinstating those.
"We are turning on the spigot very slowly so we don't open up the floodgates," Kren said. "We have to preserve the kits for those who come through the emergency department. Patient safety is top priority."