Teton County Search and Rescue will hold a team meeting virtually tomorrow, marking a first in the organization's history.
It's one of a few ways rescuers are abiding by physical distancing recommendations in the face of a global pandemic. But last week, when the team was called to Taylor Mountain after an avalanche killed a local snowboarder, most COVID-19 pandemic precautions had to be tossed aside.
"Our most hasty responses are avalanches, because if someone is buried the clock is ticking," Search and Rescue Chief Advisor Cody Lockhart said. "So we responded the same way we would have regardless. I mean we didn't load up a pickup with a ton of people, but you cannot physically distance during a probe line or in the helicopter."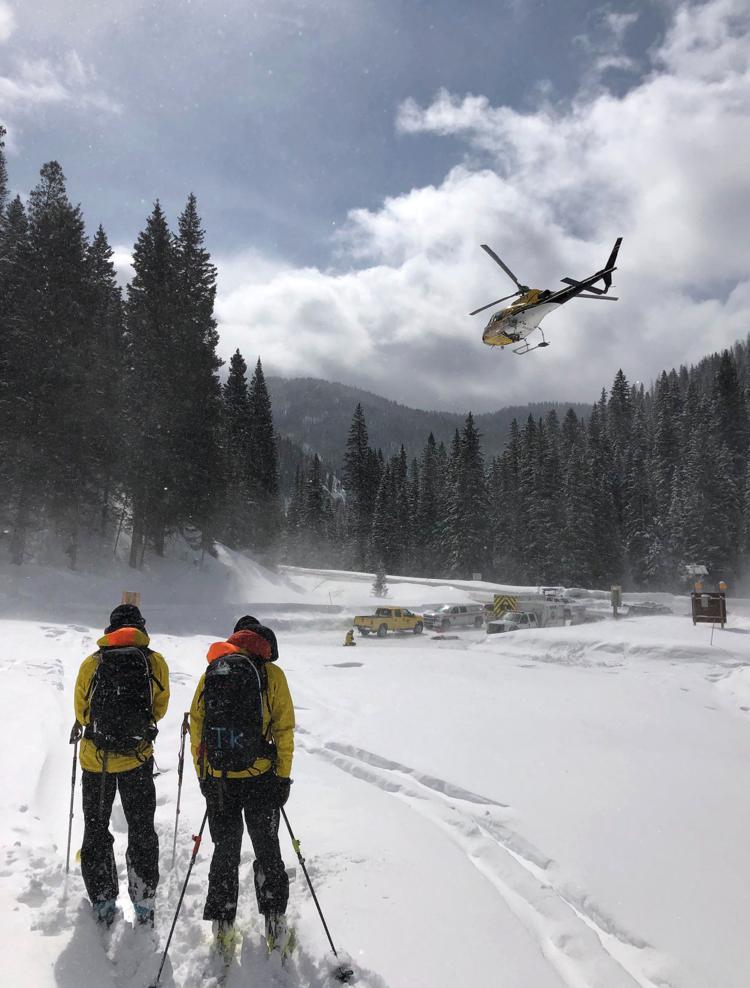 Almost the entire Teton County Search and Rescue team responded to the avalanche to search for 28-year-old Trace Carrillo, who was buried in the slide April 1 during his descent of Taylor's south face.
Rescue volunteers hiked up and down the mountain, probing avalanche debris for hours. The snowboarder wasn't found until the next morning after the weather cleared a bit and a helicopter could be used to drop explosives on the slope above the search area to reduce the risk of another avalanche.
Carrillo was wearing a beacon, but it wasn't turned on, Search and Rescue's Cody Lockhart confirmed.
"In my decade plus of avalanche rescues I can't think of another rescue where we responded and they didn't have a beacon turned on," Lockhart said. "This is really unusual."
It's even more unusual that a similar scenario unfolded two days later when longtime snowmobiler Rob Kincaid died in an avalanche in the Palisades area in Idaho. Officials won't speculate on why neither of the experienced backcountry travelers' transceivers were operational (in Kincaid's case, it wasn't clear if the beacon hadn't been turned on or if the batteries had died). But rescuers deemed the back-to-back beacon failures "crazy" and unfortunate.
Both men suffocated under the snow, according to the coroners in Teton County and Bonneville County, Idaho.
Bonneville County sheriff's Sgt. Bryan Lovell said it should serve as a reminder to those seeking refuge in the backcountry during the COVID-19 pandemic — or any time.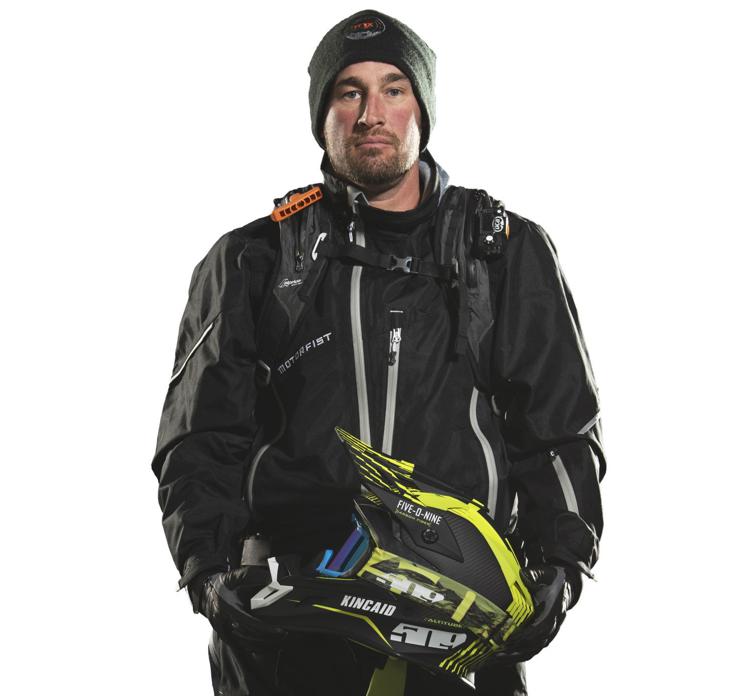 "Anything that's electronic has a chance of failure," Lovell said. "It could be due to human error or a mechanical one. Even [for] the most experienced and trained people and the ones who seem most aware, it's a reminder that you can try to do everything right and still something can happen."
Kincaid, a staple of the region's snowmobile scene, was buried in an avalanche Friday afternoon in the Austin Canyon area, about 5 miles from the highway north of Palisades Reservoir.
Kincaid was an advocate for backcountry safety.
"Rob was an ambassador for Backcountry Zero," Lockhart said. "He was a leader in that whole message for the snowmobiling community. If everyone in this community remembers these two they are going to remember to do beacon checks the rest of their lives."
The dozens of volunteers involved in the two recovery missions must now cope with the stress that comes after a fatal call-out.
On top of that they're being asked to monitor their physical health to avoid the spread of the coronavirus.
Search and Rescue has postponed most training and is taking some lessons online, except short haul, which is considered vital.
While physical distancing wasn't possible during the search for Carrillo, Lockhart said if a volunteer shows any symptoms they're being asked to stay home.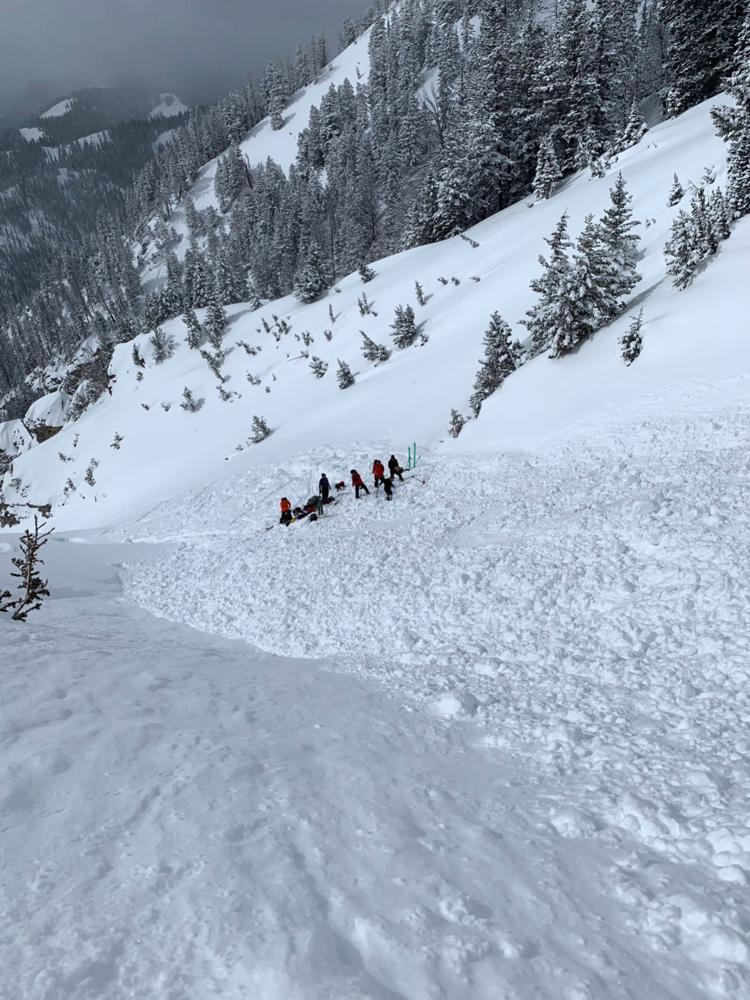 "We haven't had widespread sickness on the team," Lockhart said. "It is certainly something we worry about but luckily it hasn't happened. It's a scary scenario."
Only one team member is self-quarantined and not currently responding to rescue calls, Lockhart said.
"We want to abide by these standards when we can, but when there is a rescue we aren't going to be able to follow all the guidelines," he said. "We are also trying to be leaders in the community, and we want to set a good example."
Lockhart said making good decisions in the backcountry is always encouraged and Teton County Search and Rescue is in no way telling people to avoid the mountains.
"I think people getting into the mountains right now is a good way to protect [their] mental and physical sanity and strength," he said. "There are some people who are not being supportive of people going in the backcountry. But people should be going out and protecting their mind, body and soul during this.
"Our stance is accidents happen and people make mistakes. But our job is to help those in need regardless of the circumstances without judgment and with compassion. We are more than willing to help."
A group of roughly 10 snowmobilers exploring the Palisades on Friday followed one of the most accomplished riders in the world, Rob Kincaid.