It's official: COVID-19 has put an end to spring resort skiing, a hard line to schralp for those who traveled to Jackson Hole to chase powder in the Tetons.
Salt Lake City resident Spencer Lauder was one of those people.
He was bummed Sunday, sitting at the base of the Bridger Gondola. At that point Jackson Hole Mountain Resort had only announced its closure for the day. An unseasonably strong spring snowstorm had just dumped close to 2 feet of powder across the Tetons.
"We were supposed to ski until Tuesday, but we're probably going to head home here soon," Lauder said. "I can't imagine we'll stay longer, because they'll probably keep it closed for the foreseeable future. We just heard today, sure, but I don't see why they'd open it tomorrow.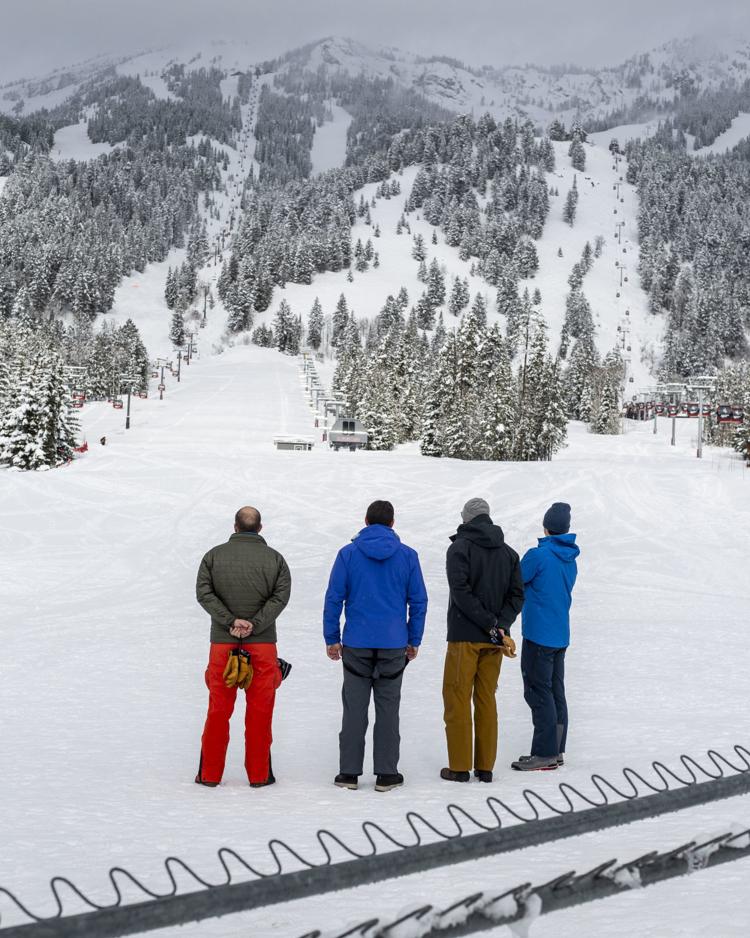 "What makes tomorrow any different?"
It wasn't. Hours later the resort announced via a post on its JH Insider app that it would close for the rest of the season. It confirmed that later with an emailed press release.
"It is with great spirit for the love of skiing and riding in the mountains that JHMR thanks you for a safe and memorable season," the resort wrote. "JHMR looks forward to welcoming you back soon."
In closing, Jackson Hole Mountain Resort joined Grand Targhee Resort, Snow King Mountain Resort and scores of other ski areas nationwide in calling it quits.
Behemoths like Vail Resorts and Alterra Mountain Company announced they were shutting down operations, effective Sunday. Jackson's northern neighbor, Big Sky Resort, followed on Sunday morning, declaring that day the last for the foreseeable future.
Some companies left the door open to reopening. Big Sky said it would "evaluate reopening at a later date," and Vail said it was closed until March 22 to "reassess" the rest of the season.
The Jackson Hole-area resorts bid the season adieu. That was perhaps a response to the strength of the valley's action against COVID-19, which today has forced a number of local businesses to shut their doors. By press time Tuesday the virus had been reported in Teton County, Idaho, but not its Wyoming counterpart.
"It's definitely hard coming up on spring break travel, where we typically do see an influx of business," Grand Targhee Marketing Manager Jennie White said, but "the reason for shutting down outweighs the financial gain."
Lacking adequate testing — and, consequently, an understanding of how widespread the virus is locally — health officials have stressed the need for social distancing to slow the spread of COVID-19. If allowed to run its course without such a curb, the worry is that the disease could overwhelm health care systems in Teton County, as well as nationwide. That would hamper the response and could lead to a larger-than-predicted number of deaths, as seen in Italy.
Jackson Hole and Grand Targhee resorts were originally set to close around the weekend of April 12. Snow King was slated to close March 22, in conjunction with the 44th Annual World Championship Hill Climb, which was canceled as well (see Sports section for more on impacts to sporting events).
Now, the resorts are faced with providing for employees originally planning to work for an additional few weeks and issuing refunds to guests.
Targhee said it was working on a "departure package" for employees impacted by the shutdown. The resort began allowing uphill travel today, but warned that there is no ski patrol on duty.
Jackson Hole Mountain Resort will offer affected employees two weeks of scheduled pay and benefit protection, like allowing workers to continue to stay in employee housing. Spokeswoman Anna Cole said the "details are being ironed out," but that remains the plan.
GALLERY: JHMR closed due to high avy danger, COVID-19 concerns
Operations were shut down Sunday morning at Jackson Hole Mountain Resort. Officials cited high avalanche danger, dangerous road conditions and concerns over the COVID-19 virus for the closure.
Snow King General Manager Ryan Stanley said the Town Hill hasn't "come to any definitive conclusion" about how to handle employees who are no longer needed.
"We're ending just a week earlier than planned, so it's not a vast change to most folks," he said.
On the guest front, Targhee will operate lodging and some restaurants until today for those staying there, as well as the airport and local shuttles. Jackson Hole will work with guests and pass holders to offer refunds and credits. Snow King has — or will, in the coming days — refund some advance purchases, like tickets to the Hill Climb.
Cole asked that people stop skinning up Jackson Hole Mountain Resort. Essential staff are still working on the mountain.
"It's a safety concern for skiers and staff," she said.
Stanley said uphill travel is still a go at Snow King, but he asked people to be safe around the groomers and employees moving around the mountain. 
"We are not currently planning to [shut down uphill] unless someone else, some authority, deems that it's unsafe to go ski outside," he said. "People can get out there and use it."
That's exactly what people did Sunday after the larger resort closed.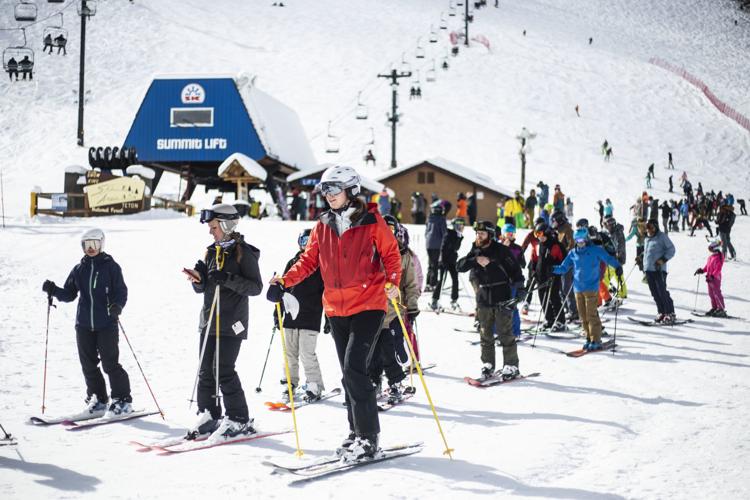 New Jersey visitors Alex Fernandez, 29, and Zach Solomon, 19, were sitting at a picnic table at the town hill waiting for friends Sunday afternoon. Disappointed the larger resort had shut down, especially on a powder day, they had migrated to the King looking for some vertical. While Solomon had aggressively cleaned his seats and tray tables with Clorox wipes during his flights to Jackson, Fernandez didn't seem too fazed by the virus.
"It's like listen, 'We're already all here, all together. We're all hanging out at the bars at the end of the day,'" Fernandez said. "You know, it's unfortunate but it is what it is."
Three days later those bars have now been forced to shut down too.
The promise of big mountain terrain drew C.J. Kelleher, of Westminster, Massachusetts to Jackson Hole Mountain Resort.
"I've been dreaming of skiing it, since I was probably like 5, been looking at the trail map, memorizing it since I can remember," Kelleher said, after getting turned away from the gondola line Sunday morning. "We just got an AirBnB, spent a boatload of money to be on resort and have the best week of our lives."
As he departed before carving a single turn, he said, he felt "a little heartbroken for sure."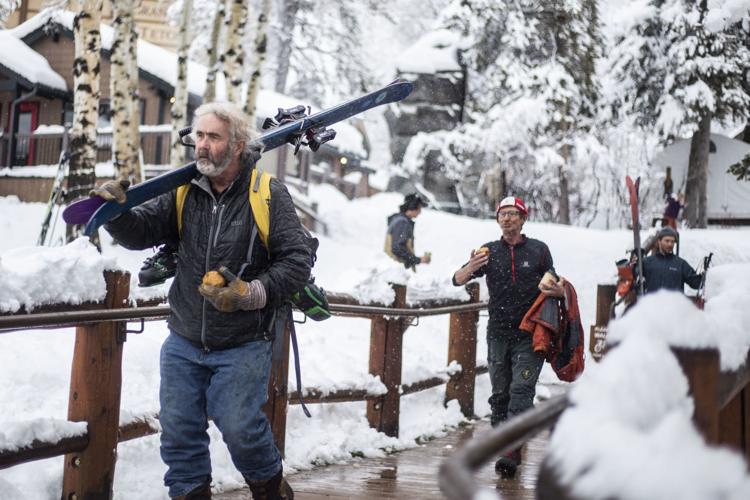 — Ryan Dorgan and Rebecca Huntington contributed to this story.
— This story has been updated to reflect that Grand Targhee began allowing uphill travel today.