UPDATE, 10:30 a.m. Thursday: Governor Mark Gordon's roll back of statewide health orders will stand in Teton County.
Teton District Health Officer Travis Riddell confirmed an update posted to the health department's website, which read: "Teton County will not request variances to any of these orders."
Riddell said that was "correct, for now."
That means, come Friday, restaurants will be able to open for dine-in services, gyms will be able to hold classes, movie theaters will be able to open and churches will be able to hold services. All can be done with modifications to allow for social distancing and, in general, keep gatherings to under 25 people.
If nothing changes, the state's orders will be in place until May 31.
ORIGINAL: With Wyoming's national parks set to reopen Monday, Gov. Mark Gordon has begun rolling back statewide health orders regulating how businesses can operate during the COVID-19 pandemic.
"I'm pleased to announce that, given our health metrics, we were able to further ease the restrictions that were put into place last month." Gordon said during a press conference Wednesday.
The state's COVID-19 dashboard showed stabilization in five of six categories. The one outlier, the change in the number of new cases over time, was dubbed "concerning."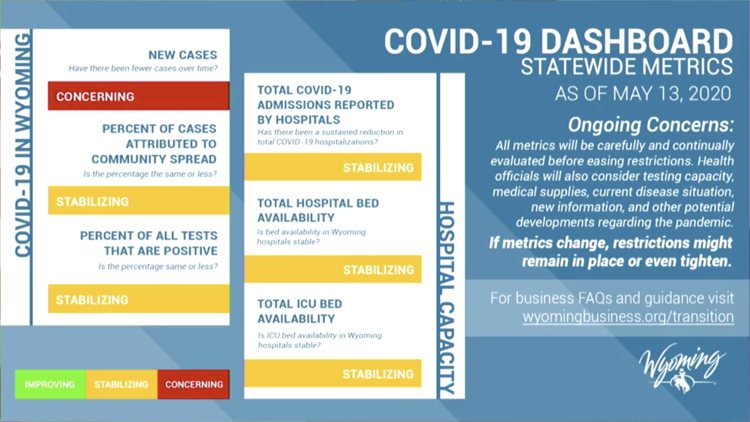 Earlier in the pandemic Teton County fought for a stricter stay-at-home order than the state, and the county recently, requested a variance to keep some business closed longer than the state. Officials aren't sure how they'll act this time.
"Over the next two days I will evaluate the new state orders, consider our current disease metrics, and make a determination about the need for any variances," Teton District Health Officer Travis Riddell wrote in an email.
State Health Officer Alexia Harrist suggested during Wednesday's conference that she may not be as amenable to variances this time around.
There should "not be an expectation that countywide variances that are significantly different from each new order will be reasonable at this point," she said.
The modifications to the statewide health orders — the only enforceable orders on the books — allow a wide swath of changes to how businesses may operate and how people may gather.
Starting Friday, the new guidelines will generally require 6 feet of distance between people from different households and allow up to 25 people to gather. The rules will continue through May 31.
Restaurants can now offer indoor and outdoor dining service so long as they follow specific guidelines like keeping tables 6 feet apart, increasing sanitation measures and requiring staff to wear face coverings.
Movie theaters and performance venues — concert halls, theaters and the like — will be allowed to reopen, keeping 6 feet of distance between groups at all times.
Gyms, child care centers, hair and nail salons and others businesses that have already been allowed to reopen now have new sets of rules. Gyms, for example, will be able to open locker rooms and offer group classes for up to 25 people as long as distance can be maintained between participants.
Funeral homes and faith-based organizations like churches will be able to exceed the 25-person limit as long as certain protocols are maintained.
The governor said he was anxious about the changes.
"We are loosening substantially many of the requirements we have in place," he said. "We're doing that in a way that we believe is safe. And yet, I stand before you today knowing that our citizens are at greater risk today, because of what we're talking about with [Yellowstone National Park] than they were. That's not easy."