The horseradish gave it away.
For a couple of days Jen Fox thought she had a cold. She had the sniffles; she was a bit tired. Then her senses of taste and smell disappeared.
Her favorite snack is cheese and crackers, often with a slathered-on layer of horseradish. She went to the fridge to gather the necessary supplies. A jar of horseradish lasts a long time, and she wanted to make sure it was still good.
Opening the jar, she cleaned the underside of the lid and gave the container a whiff.
Nothing. No sharp, aromatic snap against her nostrils.
Deeper into the jar she stuck her nose, but still nothing. Her olfactory organ seemed disconnected from her brain so she tried one last thing.
"I stuck the knife in there and took the whole thing out of it and put it in my mouth and was like, 'I have COVID,'" she said. "You can't do that with horseradish."
Most epidemiologists wouldn't call the horseradish test legitimate, but Fox followed up the culinary check with an actual PCR test. It confirmed what she had already deduced — she was sick with COVID-19.
The most surprising part, to her, was that she is fully vaccinated against SARS-CoV-2. Fox is one of the still rare but increasingly talked about "breakthrough cases," the term for when someone vaccinated against a disease comes down with it.
Breakthrough cases have received national attention, especially instances like a two-week period in Provincetown, Massachusetts, when 74% of roughly 500 COVID-19 cases were in vaccinated people. However, barring a few outliers, they make up 5% or less of cases in most studies and counts around the country.
Health officials say vaccines don't completely prevent disease in every case. Still, they are designed to stave off hospitalizations and death in the vast majority of patients, which they are so far doing. A Kaiser Family Foundation study found the rate of hospitalization or death among breakthrough cases to be "effectively zero."
"It's not a complete shield from any infection," Teton County Director of Health Jodie Pond said.
COVID-19 vaccines confer strong levels of protection, particularly the messenger RNA shots from Pfizer and Moderna. Pfizer's jab has shown 92% effectiveness in real-world studies, according to The New England Journal of Medicine.
Similarly, the measles, mumps and rubella vaccine that most people receive as children offers 78% protection against mumps after one dose and 93% effectiveness against measles. Those numbers are 88% and 97% after a second dose.
In contrast, the Centers for Disease Control and Prevention says the annual flu vaccine averages between 40% and 60% effectiveness.
"It's not unexpected," Teton District Health Officer Dr. Travis Riddell said of breakthrough cases. "No vaccine is perfect."
Fox isn't sure where she picked up the coronavirus.
She doesn't consider herself "over the top" in her precautions: She has been hanging out with friends — mostly outside — and eating at restaurants. But she has started wearing her mask indoors in recent weeks because of the rise in the delta variant.
Still, she could have picked it up from the grocery store or another business she went into. More than three in five cases in the past two weeks have been community spread, or ones like Fox's that have no known origin.
Without genomic testing, which would happen at the Wyoming Public Health Laboratory, it's impossible to know if Fox contracted the delta variant. The CDC has found that more than 80% of recent cases are from delta, so it's likely, and Fox's cold-like symptoms track with recent reports about the strain.
Knowing she might have the more-transmissible delta variant, she thought about the people around her.
"My biggest concern is not giving it to anybody else," she said.
When she talked with the News&Guide on Friday she was in the second half of her isolation period, which ended Tuesday. Because her son had been around her during her shedding phase he was quarantined at his dad's house, though he didn't test positive.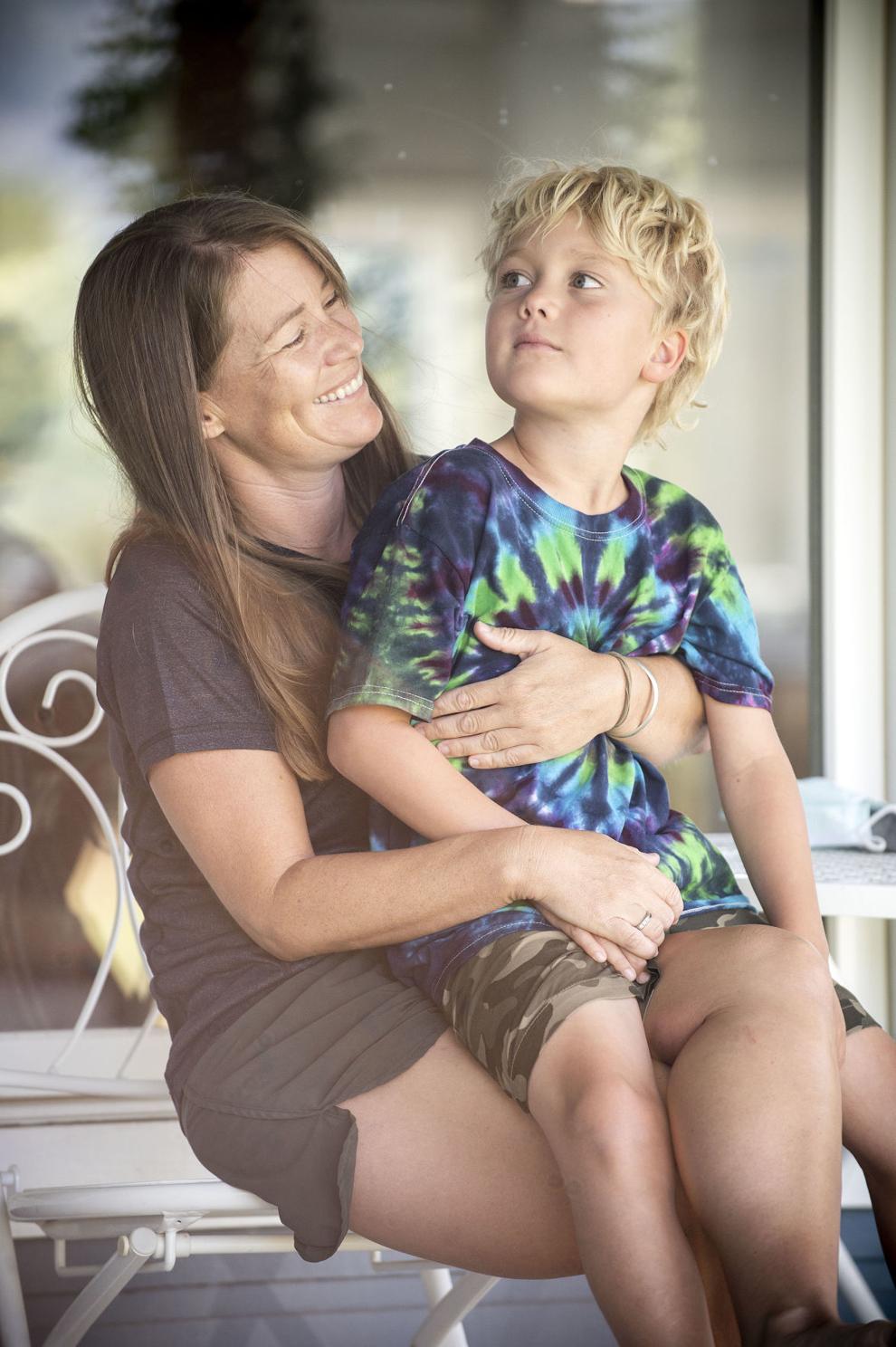 Despite the existence of breakthrough cases like Fox's, the vast majority of coronavirus infections are still in unvaccinated people. The Wyoming Department of Health studied more than 5,000 cases between May and July, finding that 95% of them were in unvaccinated people. During that same period, 94% of hospitalizations were in unvaccinated people.
Health Department spokeswoman Kim Deti said that 380 total breakthrough cases have been reported in Wyoming since Jan. 1.
Scientific American reported that on a national level, as of Aug. 2, 97% of hospitalized COVID-19 patients were unvaccinated. That means a small number of hospitalizations were in vaccinated people, but health officials say more information is needed to draw any conclusions.
"You have to look a little bit closer and say 'OK, was this an older person so they may not have gotten a good immune response from the vaccine?'" Pond said. "Did they have an underlying health condition, which also would have put them at risk?"
Since COVID-19 is still a new disease, especially with the variants, scientists don't yet know what puts people more at risk for being breakthrough cases. Vaccines are often less effective in older or immunocompromised people because they cannot mount the same immune response after the jab.
One study of 11,500 Israeli health care workers found lower levels of "neutralizing antibodies," those that block the disease from latching onto cells, in breakthrough cases. But that study looked mostly at healthy people, which limits its applicability, and didn't state a level of the antibodies that would confer better protection.
Fox will likely never know where she contracted COVID-19 or why she was a breakthrough case, but going on a week at home alone, she was feeling better.
"I'm convalescing now," she said Friday. "It feels like the point where it would either turn into a sinus infection or it's just going to go away in a couple days."
A 'frustrating' experience
When coronavirus vaccines became widely available, life quickly went back to normal. National politicians and health experts said vaccinated people could go maskless, and people jumped at the opportunity.
Being a breakthrough case goes against the prevailing feeling that the pandemic has receded.
"I can imagine if you are one of those people and you're vaccinated, it is extremely frustrating to find yourself in a situation where you're sick and/or isolated," Riddell said.
Fox took it in stride. She has a side deck where friends have dropped off food and supplies, some staying to chat for a while but keeping a physical distance. The Health Department offered lots of support during contact tracing, she said, including providing information on food assistance or delivery because isolated people are not supposed to go to the store.
Public health guidance is shifting as information comes out about breakthrough cases. Though the question of whether infected, vaccinated people are contagious is "not settled science," as Riddell put it, some recent data suggests they are.
A March study in Nature showed vaccinated people might have a lower viral load, but a preprint study from China that has not yet been peer-reviewed showed that with the delta variant vaccinated and unvaccinated people carry the same level of virus, suggesting contagiousness.
That is leading officials in some places to reimpose mask mandates, though Riddell said it is a bigger lift to ask people who have chosen to protect themselves with vaccines to also protect those who have not done so. In Wyoming, which has no public health orders in place, that leaves the decisions to individuals.
Fox has returned to wearing a mask and outdoor activities, for the most part, but she's a staunch advocate that everyone should get a vaccine as the best way to protect themselves and the community.
Speaking from experience, she said the vaccine also gave her peace of mind when she found out she had COVID-19 that it would likely be a mild case.
"If I had been told a year ago before I was vaccinated, that I had COVID," she said, "I would have been up in the night wondering if I was going to die and what was going to happen to my son."
This story has been updated to say that Provincetown is in Massachusetts. Sorry, Rhode Island, for the mistake. — Ed.