In March 76 people at a wedding in northern Jordan contracted COVID-19. Public health officials believe the bride's father brought the virus with him from Spain.
In May a person with the coronavirus in Washington state went to choir practice. Within a week 52 people in that choir had come down with the disease.
Both were what public health officials have deemed "superspreader events," which result in disproportionate numbers of infections. Often stemming from one person, the "index case," the events seem unique to SARS-CoV-2 as compared with other common infectious diseases.
Over Memorial Day weekend a superspreader event hit Evanston when someone visited one of its bars that was reopening. That night of partying sent a wave of infections through Uinta County, propelling the outbreak into a community that had to that point been spared from high numbers of cases. Who the index case was isn't unclear, nor do Uinta County health officials know if the person was aware of being sick.
"We have seen that things can change quickly in a county that doesn't seem to have any impact," said Kim Proffit, nurse manager at Uinta County Public Health.
Unlike influenza the coronavirus spreads somewhat unpredictably. According to The New York Times the seasonal flu has a RO value (pronounced "R-naught") of roughly 1.3. The R0 value refers to how many people a sick person will infect if no antiviral measures are taken, so if 1,000 people had that flu, they would infect roughly 1,300 people.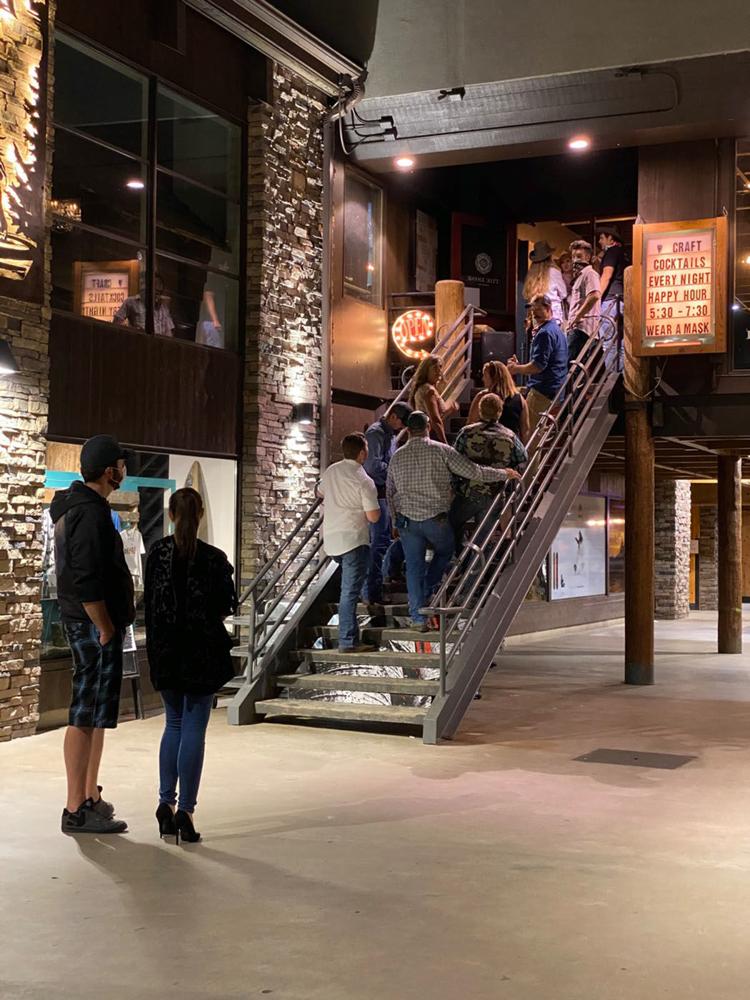 Estimates of the R0 of SARS-CoV-2 are between 2 and 2.5, but that doesn't tell the whole story. A new study in preprint at medRxiv found that 10% to 20% of coronavirus patients may be responsible for 80% of the spread, meaning some people may not infect anyone else, while others can sicken dozens of people. The researchers did not determine why this is the case.
"This pattern is not evident for influenza, which has more homogeneous individual transmissions numbers," the study reads. "Differing shedding kinetics between the two viruses might explain this distinction; SARS-CoV-2 is often present intermittently in the upper airways for many weeks, while influenza is rarely shed for more than a week."
Even though viral particles may be present for weeks, the study found most people are at "peak shedding" of the virus for sometimes less than a day, and many infected people may only shed enough virus to infect others for a couple of days. Knowing that, superspreader events may be a function of someone being in the wrong place at the right time.
People are often most infectious, the study says, when they are presymptomatic, so someone shedding high levels of the virus may not know it. If they go to an indoor environment where aerosolized viral particles travel well, like a bar, a large number of people could be infected.
Not only do superspreader events affect the people present, they can create a ripple effect. In Uinta County the three weeks following the Memorial Day weekend event saw caseload increases of 38, 50 and 30 people who were out at the bars and took the virus home. The county had just 10 cases before that, with none active at that time.
"I truly had some fear of like, 'I don't think we'll get people contacted quick enough. They're just coming out of the woodwork,'" Proffit said. "It just felt like it was going to get out of our control."
Luckily, contact tracing helped Uinta County stem the tide. Teton County health officials are relieved there hasn't been a local superspreader event.
They did worry a mid-July evening at Moe's Original BBQ could turn into one, public health coordinator Rachael Wheeler said. An infectious patron was at the restaurant for roughly an hour one night, and they couldn't determine who that person's contacts were because of a lack of social distancing.
Because contact tracers couldn't conduct their normal investigations, the Health Department took the extraordinary step of issuing a blanket self-isolation request for anyone who had been at Moe's for part of that night. Though the request wasn't legally binding, the hope was enough people would see it and comply.
There isn't a way to definitively say the request worked, but a bevy of coronavirus cases hasn't been linked to the event, and it increased people's awareness. The St. John's Health hotline saw its two highest days of call volume following the request's publication, and the Health Department heard from patrons who were at Moe's that night.
"We did get some individuals calling and saying, 'I got the message; I am going to quarantine,'" Wheeler said.
Just because that night at Moe's didn't become a superspreader event doesn't mean the risk isn't still here. The countywide mask order is meant to help keep viral transmission lower, as are the state health orders that dictate social distancing at restaurants and other measures.
One last tool the Health Department hopes will help keep spread from spiraling out of control is the recommendation from Teton District Health Officer Dr. Travis Riddell that bars and restaurants close at 10 p.m. The nonbinding request aims to keep bars from filling up with people and creating an event like the one seen Memorial Day weekend in Uinta County.
Not only does the recommendation aim to keep crowds in establishments at manageable numbers so contact tracers have an easier time when someone tests positive, it anticipates when people will be worse at social distancing.
"We've found, you know, when people mix alcohol with COVID, you kind of forget," Wheeler said. "And you aren't able to keep your distance, and there's more crowding."