It was just a normal day for Jeff Leger.
The morning of Jan. 18 the skier known as "Dr. Huckinstuff" dropped into Corbet's Couloir, a run he often skis when it is open. After a record-breaking start to January, he found good snow.
"It was in really great shape," he said.
With Corbet's notched early in the day, he turned his sights to another big line, one that sees far fewer skiers. Just downhill of Corbet's is S&S Couloir, and if you think Leger's first run has a tough entrance, S&S makes it look tame.
The chute first skied by Charlie Sands and John Simms in the 1960s requires a big drop no matter where you start. The traditional entrance is a tight landing with a double fall line, requiring the skier to execute a quick turn to reach the belly of the chute. Leger's intended line was to the right of that, but it still required what most would call a sizeable drop.
He checked in with ski patrol, as is required, and told patrollers his plan. Leger said he has skied the route "probably hundreds of times," and he felt like the new snow would have covered the rocks. Alone, he headed to the top of the couloir.
"From the top I have a spot where I can toss in snowballs and get a feel for what the snow looks like. I was running on prior knowledge," he said. "The testing came back super positive. I felt 100 percent that I was going to be in good shape."
He dropped, but in an accident that shook the Jackson Hole ski community, Leger suffered several broken bones and found himself taking an air ambulance flight to Salt Lake City.
"I landed exactly where I wanted to," he said. "I either misjudged the total snow depth or how much had recently slid out of there."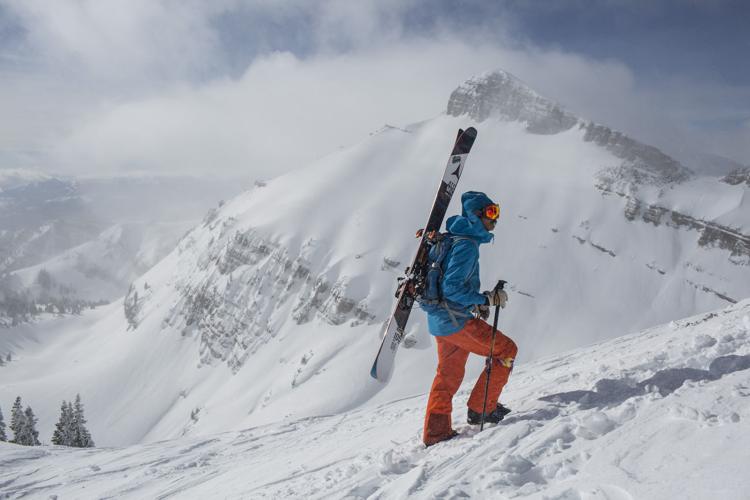 No matter what some social media commenters have said since the accident about his decision-making, Leger considers himself a pretty cautious skier. To him, skiing Corbet's or S&S isn't a radical choice, but the result of a lifetime spent skiing Jackson Hole Mountain Resort's biggest lines.
"People could look at some of the stuff I do and conclude that I'm a loose cannon, but I don't consider myself to be one," Leger said. "I'm pretty calculated: That's how I got to be 45 without having this kind of injury before."
The pocket where Leger dropped, he said, is usually skiable after that much snow. The resort has received 301 inches of snowfall this winter and has an 86-inch base on the upper mountain. However, the snowpacks in steep chutes often look different than on the surrounding slopes.
Slopes steeper than 45 degrees often shed snow in small sluffs or soft-slab avalanches when mellower ones hold onto it. Chutes also direct wind in odd patterns, which can decrease the snowpack at the base of the cliffs.
Leger doesn't know why the snowpack was thinner than he anticipated, but when he landed he hit a rock that was just beneath the snow and didn't show up in any of his tests from the top or scoping from the bottom. The impact broke his femur, pelvis, hip and seven ribs, and compressed the T3 vertebrae in his upper back.
"I did get a little bounce. That wedged me against the wall," he said. "I made a few attempts to yell at people in Tensleep Bowl, but they didn't hear me."
Leger fished his cellphone from his backpack and called ski patrol. Peter Linn was the first to arrive on scene, skiing high out of Corbet's and then bootpacking up to Leger.
He helped take Leger's skis off, then chopped out a ledge so patrollers could put the skier onto a backboard they lowered from the top of S&S. Once they lowered him into Tensleep, they put Leger in a traditional ski patrol toboggan they rigged and lowered to where a patroller could take it down.
"It was a big operation," resort spokeswoman Anna Cole said.
Patrollers transported Leger to the clinic in Teton Village, then he was taken to St. John's Health. When providers there determined his injuries needed a bigger hospital, he was put on a plane to Salt Lake City.
"I have to state how incredible ski patrol was," Leger said. "A massive thanks goes to those guys and girls."
Part of the allure of Jackson Hole Mountain Resort — and one of the reasons Leger has stuck around all these years — is the challenging in-bounds terrain. Some of the resort's big-mountain lines may be closed at times, but they are fair game when open.
Because S&S Couloir is such a high-consequence line, the resort treats it differently.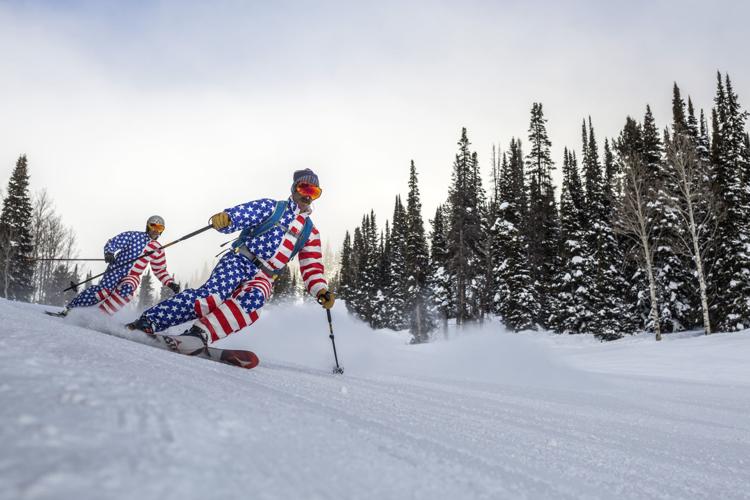 "We require people to sign a liability waiver with our dispatcher before allowing them to ski S&S," Cole said in an email. "We typically don't consider allowing access unless Corbet's is also open."
Because S&S is a closed area the waiver protects the resort and gives patrollers a chance to impart the consequences should something go wrong. Other ski resorts have similar high-consequence slopes, and they have several options for keeping skiers safe. Grand Targhee Resort permanently closes the cliff zone on the north face of Peaked Mountain, a hike-to area that features Targhee's most committing terrain.
Big Sky Resort in Montana has a high-profile chute called the Big Couloir that rivals Corbet's and S&S. To descend the route in view of Big Sky's tram off the summit of Lone Peak, skiers must check in with ski patrol and have a beacon and partner. Those same rules apply to other zones at Big Sky with similar terrain.
Big Sky Public Relations Manager Stacie Mesuda said requiring having a partner is a safety measure to ensure injured skiers will have someone who knows what happened to them. The resort also expects skiers to follow basic protocol for skiing high-alpine terrain, including skiing one at a time.
Following Leger's crash, Cole said Jackson Hole Mountain Resort wasn't considering changes to its policy.
"We're fine with the way the protocol works now," she said. "This is why we have the protocol for S&S, so that ski patrol knows who is in the run, because it is high consequence."
Dr. Huckinstuff is something of a legend in the Jackson community. Leger has been dropping cliffs and skiing powder in Jackson longer than many lifties have been alive. He also produces the resort's well-loved morning snow report.
Staring at an intense recovery that will leave him wheelchair-bound for at least a couple of months and require long hours of physical therapy, most wouldn't fault him for hanging up the ski boots. Or at least taking it a bit easier.
Leger isn't that kind of person. He possesses an intense optimism and a drive to continue living his life exactly how he wants to.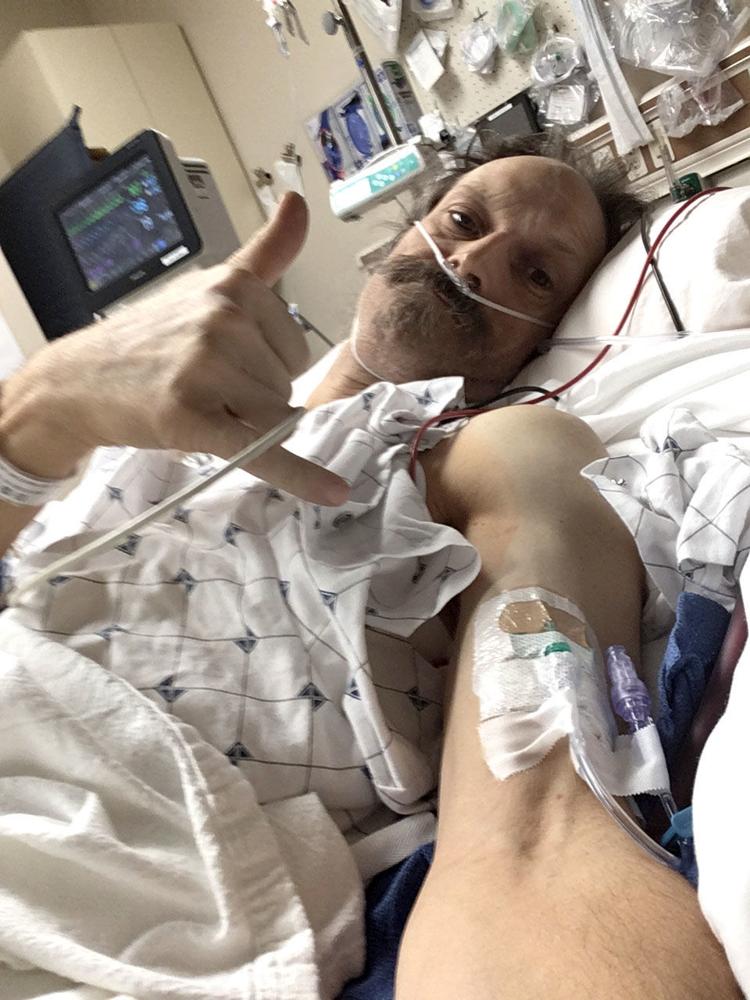 "My goal is to come back to 100% or better," he said. "I want to use this as motivation and heal up and come back stronger."
That will be difficult. Leger had two surgeries in Salt Lake City, one to repair his broken femur, pelvis and hip, and another to strap plates to his broken ribs so they heal. Even though he is a self-professed "pretty slick guy," he can't do much more than wheel himself around the first floor of his house. In light of that he will focus on art projects and practice "my snow reports in my down time."
His wife, Seana, and daughter, Lucy, will be his caregivers for the next few months. He came home from the hospital Monday, and they have a big task looking after him. Through the first week and a half of his recovery, he said, they have been very supportive.
"It's rough, but they're both doing really well," he said. "Seana's been nursing me."
Leger's heard about some grumbling, particularly on social media, that his decision to drop into S&S wasn't responsible or safe, but he sees the risk as part of skiing. He stands behind the choice, given the recent weather and his vast experience with the line.
"Nobody bats a thousand," he said. "When you go into these activities you have to assume the risk. If you're not OK with that, you shouldn't be playing the game."
Considering the outpouring of support he and his family have received since the crash, a majority of Jacksonites agree, at least those in the outdoor community. A GoFundMe was set up to help cover some of his bills. Even though he has insurance, he said, there are already things it isn't covering, and the bills will keep coming.
The campaign set up by his brother Chris had a goal of $25,000, but by Tuesday evening it had raised $46,421. At this point Leger hasn't started tracking his expenses. He is instead focusing on resting and recovering, but the support buoyed him through his week of surgeries.
"It's really overwhelming to know that people care. I never would have imagined the amount of support," he said. "The community understands the drive to do this stuff. You can see that in the fact that they rally together and help."
Though his recovery will be long, the over 500 donors and countless other people who have offered support want one simple thing: To see Dr. Huckinstuff back on his skis.