The first collaborative assessment of mental health and substance use in Jackson Hole is finally complete, drafted by FSG consultants Miya Cain, Allison Kaika and Abigail Ridgway, a Jackson local.
The report summarizes a year of research, which included interviews with community leaders, workshops with a 19-organization steering committee, and a survey of more than 1,000 Jacksonites who described their experiences coping with the pandemic and other hardships in one of the country's most economically disparate counties.
While the analysis is partial and imperfect (see cover story), it also serves as the first time Teton County has taken a detailed look at some of its most significant health risk factors. The county's tri-annual Community Health Needs Assessment routinely recognizes mental health as a top concern, but it hasn't been able to examine root causes or offer a comprehensive picture of solutions. This new analysis sought to do both.
Jacksonites are stressed out
Nearly half of surveyed residents considered leaving Jackson Hole in the past year due to housing instability, lack of stable employment or insufficient income to cover expenses. When friends and established community members do move away, those who remain feel isolated and insecure. Paired with economic factors in the valley, the lack of a social net can push vulnerable community members to the brink.
Specifically, Latinx, LGBTQ+ and low-income populations experience lower levels of trust and connectedness to the community. Young adults who moved to the valley also experienced difficulty breaking into the social fabric, with 74% reporting loneliness and 77% reporting four or more poor mental health days in the past month.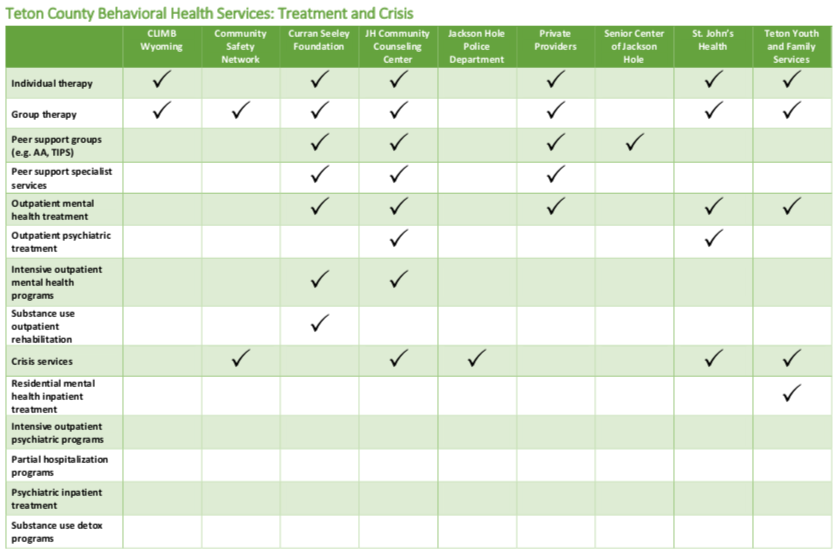 "While there were some things that were uniquely helpful about being in Teton County during the pandemic, such as access to the outdoors, there were also many ways in which the pandemic was especially challenging for the mental well-being of those living and working in Teton County," the report states.
"In particular, soaring land and housing prices displaced many people and created new forms of economic insecurity and hardship. Community members saw neighbors and friends leave, and many others questioned whether they could, in fact, continue to call the valley home. At the same time, many new people struggled to integrate into the community during the isolation of the pandemic, especially remote workers who comprise the 'Zoom boom.' "
Across the board, Jacksonites listed housing and work as the largest stressors. Given the summer's tourism rush and housing crisis, those factors aren't surprising. What's concerning to providers is how that stress manifests.
The survey showed a high level of excessive drinking in Teton County (44%) compared to the national average (27%). In particular, men, young adults (18–39), and mid- to high-income individuals are drinking the most. One in every two men in Teton County, regardless of race or ethnicity, reported drinking excessively.
Drinking can also exacerbate abuse. Of the 1,114 people surveyed, 14% reported having been hit, slapped, pushed, kicked or hurt by an intimate partner in the past year. The Community Safety Network expects that the percentage would be larger for emotional abuse, which often precedes physical abuse, though the survey didn't specifically ask about emotional abuse.
Violence was more prevalent in populations that bear the brunt of social and economic stressors, the survey found, with the 30% of very low-income residents and 21% of Latinx residents reporting intimate partner violence.
Providers try to meet the need
Teton County has a mental health provider to resident ratio of 1 to 200, far outperforming Wyoming and U.S. averages. Those specialists — 83% of whom are accepting new patients — are trained to treat trauma, abuse, post-traumatic stress disorder and women's issues, as well as sexual abuse, substance use disorders and parenting support.
That said, immigrant and other marginalized community members have more difficulty accessing care. Only 17% of providers speak Spanish, and only 3% identify as Latinx. Just 10% of providers offer services on the weekends, making it difficult to access care outside of work hours.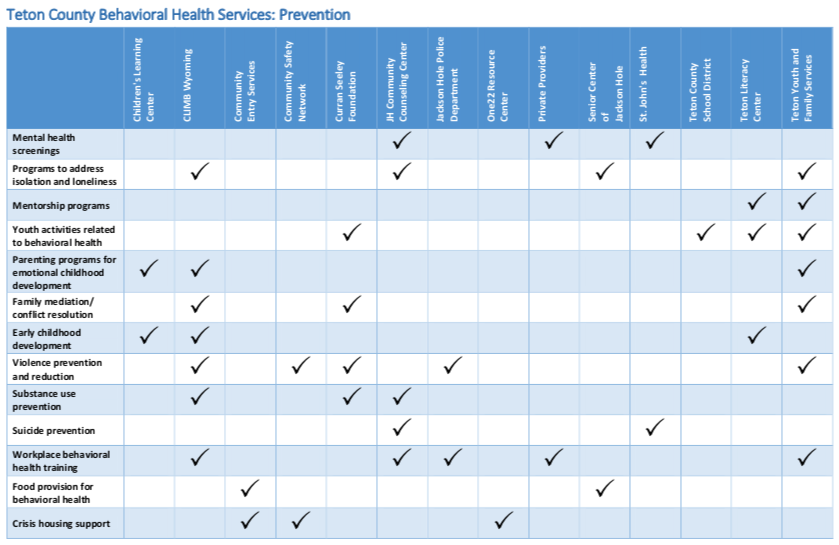 "Vista Counseling is bilingual and represents [the community] well, but they are chipping away at a mountain. We need culturally and linguistically appropriate training available to providers," Elizabeth Cheroutes of Jackson Hole Therapy said in the report.
For most of the community, cost is the largest barrier. Over half (58%) of the Latinx community and 54% of people with very low incomes have no insurance to cover their behavioral health treatment, the report states. Of the 950 people who received free counseling though the Mental Health JH pilot program, 44% did not have insurance.
High deductibles and co-pays mean even those with insurance might not be fully covered. The majority of Teton County providers do not accept Medicare or Medicaid.
There are providers, like the Counseling Center, which provide low- and no-cost services, but the survey found that plenty of folks are still unaware of available resources. Charts like those published in the survey and attached to the online version of this story might help people understand and navigate the landscape of options in Jackson — though providers caution those offerings fluctuate. Employers can also help by ensuring employees are aware of all programs and benefits available to them.
Counselors and therapists — like other healthcare workers — are struggling to meet demand while also dealing with their own mental health struggles. Half of all providers reported their mental health worsened during the pandemic, with the average worker experiencing seven poor mental health days each month. Staffing shortages, which force existing employees to pick up extra shifts and additional responsibilities, exacerbate the problem.
On the crisis end of the spectrum, staff are struggling to respond to elevated concerns. Title 25 intakes — a person who is detained to prevent harm to themselves or others due to behavioral health challenges — nearly doubled in the first half of 2021. Children as young as 9 are suffering from suicidal ideation, the report states.
Nearly all Jackson police and sheriff's employees were certified in crisis intervention as of Oct. 2020, and they call the Counseling Center to coordinate crisis calls. If the funding and staffing landscape was better in Jackson, mental health practitioners could mobilize as first responders (alongside law enforcement officials) to manage and mitigate behavioral health crises, reducing the need to take a person to the hospital.
There is no inpatient mental health facility for adults or youth in Teton County where patients can receive 24-hour support and treatment for acute behavioral health challenges. There is also no detox facility to support and supervise someone through the experience of acute substance withdrawal, forcing people to travel outside the community for care.
"The absence of local crisis services puts additional strain on individuals and families who have to navigate to other towns in the middle of some of the hardest moments of their lives. During treatment, people have to leave their community support systems of friends and family, and often leave their jobs as well. When they return, they may face challenges with reintegration, such as difficulty finding housing or employment, setting them up for recurring behavioral health challenges," the report states.
"With the current system, individuals who need longer-term care often do not receive it, and where people end up depends a lot on their economic situation — people with financial means have access to needed services, and those with lower incomes and other barriers to care end up facing serious physical, emotional, and sometimes legal consequences of their health condition."
St. John's emergency room and the local jail currently serve as drug and alcohol detox, but neither are equipped to offer behavioral health treatment. Youth and Family Services is also limited in its ability to provide psychiatric care.
The steering committee identified several avenues for growth in Teton County, including intentional socialization efforts, youth and parent education, workplace support, and establishing a mobile crisis unit.
Members also recommend building a crisis stabilization facility with short-term inpatient treatment, detox space and 24/7 walk-in service, similar to Vail Health Hospital's plans for an Eagle Valley Behavioral Health center.
To help residents navigate the complex process of accessing care, the committee recommends keeping an updated directory, conducting targeted outreach to isolated communities, and integrating behavioral health screenings into primary care visits across all primary healthcare clinics. Additional support from local government, private philanthropy or employers, such as a scholarship for local workers, could also improve access.
Low-cost initiatives such as affinity groups and mentorship programs could also improve community health by fostering a sense of trust and belonging. Several of those efforts already exist, especially at the youth level, but programming was also curbed by the pandemic.
At the employer level, businesses could support mental well-being by offering parental leave, anti-harassment and reporting mechanisms and wellness checks, especially for first responders processing trauma. Additionally, it might behoove employers to compensate counseling and facilitate behavioral health training.
Are these problems temporary?
Because FSG research was done during the pandemic and a housing crisis, responses were likely worse than they would have been in a typical year. That said, Jackson's tourist-driven, cost-prohibitive economy doesn't show signs of softening anytime soon.
The consultants would like to perform a similar behavioral health survey biannually as a way of tracking progress and keeping an updated pulse on community needs. That would be a boon to providers who often say it's difficult to see tangible improvements to community-wide health.
"The notion that we solve our human service dynamic is oftentimes flawed," One22 Executive Director Sharel Lund told the News&Guide in 2019. "You might help Client A reach the finish line, but Client B is right behind them."
They also say that Jackson needs community-level solutions to community-level problems. This summer's research is a start.