An emergency prompted Dan and Cynthia Starks to act.
In 2015, their county government could no longer sustain regular ground ambulance service to their community, which encompasses scattered rural residences, national forest and the town of Dubois. Only one emergency medical technician plus some locally trained first responders covered the area.
"We don't always have a ground crew here because they're pretty shorthanded in Riverton and Lander, and that's always been the problem," said Margaret Wells of the Upper Wind River Valley Ambulance Association. "More calls are down there than up here. But usually calls here are more serious."
With no guarantee of a ground ambulance, the Starks decided to personally pay $12,000 to buy air ambulance insurance for all of their rural neighbors — everyone living between the Teton County line and Diversion Dam Park southeast of Dubois.
"It has been such a success," Wells said. "It has saved so many lives. I'd hate to say what would happen if we did not have that."
From communities and employers buying their own air ambulance insurance to lawmakers crafting first-of-a-kind legislation, Wyomingites are taking a piecemeal but persistent approach to solve a national problem of soaring costs. One federal law, the Airline Deregulation Act, has frequently shielded air ambulance companies from regulation. But now states are attempting to find new routes around it.
In Teton County, employers offering air ambulance memberships to employees include St. John's Medical Center and Jackson Hole Mountain Resort. In Fremont County the Starks are charting new territory by underwriting a community-wide approach.
Dubois-area residents recognized that those injured in snowmobile, hunting and side-by-side accidents that often happen in rural areas or on national forest land need quick access to care.
"The area was all under distress about what we were going to do for emergencies," Dan Starks said. "We're 80 miles from Riverton and Lander, and we're 85 miles from Jackson. It was a bit of a crisis at the time. My goodness, how can people feel comfortable living here if they don't have emergency service?"
With a helicopter base in Riverton, Guardian Flight Wyoming already had a presence in the region.
"We got involved because the ground ambulance, at the time, stopped serving their location, which increased the need for air medical support," said Jim Gregory, a Guardian consultant.
Everything kicked into gear after a 2015 community meeting in Lander at which residents realized the ground ambulance service would be curtailed.
"We thought, 'Oh man, OK, now what are we going to do?'" Wells recalled.
In order to set up a contract with Guardian to make up for the loss of ground service, the community — defined as residents living in the 82512 and 82513 ZIP codes — had to guarantee a minimum number of enrollments.
Starks said it was unclear "how anybody was going to get that enrollment to take place" even though it costs only about $6 per person. So he and his wife stepped in to purchase memberships for roughly 2,000 residents.
"We did that because it was clear to us that there just wasn't a mechanism to make that enrollment happen on a voluntary basis, and we wanted to make sure the contract took effect," Starks said. "We thought it was just critical for this isolated area to have air ambulance service, and if that meant us paying the fee for everybody, then that's what we did."
Gregory declined to provide company flight volume statistics to gauge use since the contract began. But when Wells spoke with the News&Guide this past winter, she estimated there had been a flight or two a week for the last three weeks. Her granddaughter was on one of them.
"It's a wonderful resource because you're not devastated financially," Wells said. "Plus you're getting that quick medical care that you need."
The agreement is now in its third year. Wells said the association was in the middle of negotiations with Air Medical Group Holdings, which acquired Guardian Flight. She was unsure what, if anything, might change.
The Starks family continues to subsidize the community's membership, with $12,000 the second year and $10,000 this year. But the ambulance association is ramping up fundraising to recruit more donors.
It recently trained 17 new first responders and offered EMT classes to build up ground response. Guardian also took over the county's ground ambulance services in March 2016.
"We're in better shape right now in 2019 than we were in 2015," Wells said. While the membership program might not be the perfect situation, she said, "it's the best we can do given our resources."
For now the Starks plan to keep supporting the program.
"We'd get letters from people we didn't even know," Dan Starks said. "We'd be having lunch in town, and we'd have people stop by and thank us for doing it, and say they or someone in their family just had their life saved by the air ambulance service, and they understood we had made it financially possible."
Taking a similar approach, St. John's Medical Center partnered with the Medical Air Services Association to offer a membership for employees, who now have access to a family membership for $90 a year. The hospital chose MASA over a membership with a single air ambulance company because MASA covers multiple carriers that all serve the Jackson Hole area.
While that covers employees for now, the hospital also hopes to help patients in the future by having air ambulance membership and insurance details readily available in a patient's digital medical records. That way, if there is a choice of company but the patient is unconscious and family members don't know specifics, doctors could consider a patient's membership before deciding which carrier to call.
"Unfortunately, with our new electronic medical record system we're still working through how to get that type of information," said Dr. Jeffrey Greenbaum, an emergency room physician.
When treating a patient, doctors and other hospital staff emphasize the need to stay focused on taking care of the individual's health and not letting thoughts of how he or she will pay cloud their judgment.
The Teton County Search and Rescue foundation followed the hospital's lead, partially spurred on by board member David Landes. (See related story.) The Foundation decided to pay for all 36 volunteers to be covered through the Medical Air Services Association at no cost to them, beginning this year.
"It was something on our mind," said Stephanie Thomas, executive director of the foundation. "Our teammates are putting themselves out there and could potentially run into issues or injuries not just volunteering, but recreating themselves."
Like the hospital, Thomas appreciated the fact that MASA wasn't limited to a single carrier.
"You don't get to decide who comes to Jackson," she said.
Jackson Hole Mountain Resort went a different direction and entered into membership agreements with Air Idaho Rescue and Wyoming Life Flight, both owned by Air Methods.
The program began during the middle of 2018 as an option for ski patrollers and is being extended as an option for all employees this coming winter. The resort employs close to 2,000 people.
While resort Vice President of Human Resources Ty Hoath didn't have exact sign-up numbers, he said there was enough interest to keep pursuing it.
"We want to provide something that stands out from just a normal paycheck and normal benefits," Hoath said. "We want to provide something bigger that looks after the big mountain lifestyle of choice that our employees seek."
Other regional entities that have explored the idea of air ambulance memberships but have not committed to anything so far include the Jackson Hole Chamber of Commerce and the city of Idaho Falls.
But not everyone is a fan. Critics say membership packages act as a protection racket, taking advantage of a broken system. But they also acknowledge that such memberships are really all that employers have to work with.
Court backs air ambulances
Lawmakers in Cheyenne are also looking for solutions after the state ended up fighting the air ambulance industry in court.
Four ambulance companies — ultimately owned by two larger parent companies, Air Methods and Air Medical Group Holdings — sued the Wyoming Department of Workforce Services Worker's Compensation Division.
The companies objected to the state paying a maximum of $3,900 per flight when their charges often surpassed $40,000. For comparison, Wyoming employers pay an average of $36,000 per flight.
Between the years 2012 and 2016, Air Methods alone claimed it was owed $2.6 million in underpayments.
The companies asserted that the Airline Deregulation Act preempted the division's own fee schedule, which capped payments at $3,900. After a drawn-out legal battle the case made its way to the Wyoming Supreme Court in 2018, when the court ruled that the division must pay the companies in full.
The Airline Deregulation Act of 1978 inevitably comes up in air ambulance debates.
It was enacted to "promote 'efficiency, innovation, and low prices' in the airline industry through 'maximum reliance on competitive market forces and on actual and potential competition.'" It dictates that states "may not enact or enforce a law, regulation, or other provision having the force and effect of a law related to a price, route, or service of an air carrier."
Whether air ambulances should be included in the same category as commercial airlines like Delta and American depends on who you ask.
In January lawmakers took a stab at finding a way to rein in air ambulance costs without bumping up against the federal law.
Lawmakers introduced a bill calling for the creation of a centralized call center organized around designated base locations to funnel patients to air ambulance services that would agree to contract with Medicaid. Lawmakers came up with a creative twist of extending Medicaid coverage to all Wyomingites for the narrow purpose of covering air ambulance services.
"What you would hope to have is everyone covered by this bill for air ambulance services," said Rep. Eric Barlow, R-Campbell and Converse counties. Barlow spearheaded the legislation as the House majority floor leader.
Barlow said he heard from colleagues, strangers and neighbors during the 2019 session in Cheyenne.
"They told me, 'You'll never believe what happened,'" he said. His response: "'Oh, I bet I can.'"
Legislators say they brought up the bill to showcase a problem and the solution might evolve as the bill progresses toward becoming a law.
"The biggest thing is this is an ongoing conversation," Barlow said. "Lots of other states have tried different nuances. This might be another nuance that we're going to at least have the conversation about and see what we can do."
House Bill 194 was introduced during a time of soaring supply. In 2007 there were three air ambulances (helicopters and planes) in the state. In 2018 that number reached 14.
A recent U.S. Government Accountability Office report found a supply increase nationwide that mirrors what's seen in Wyoming. Air ambulance companies say the growth is due to the trend of rural hospitals closing.
There were fewer than 100 medical helicopters in the U.S. in the early 1980s, but in 2016 there were 1,045.
"More and more we've noticed a great detail of growth in the industry and the service level use," said Wendy Curran, vice president of care delivery and provider affairs at Blue Cross Blue Shield of Wyoming.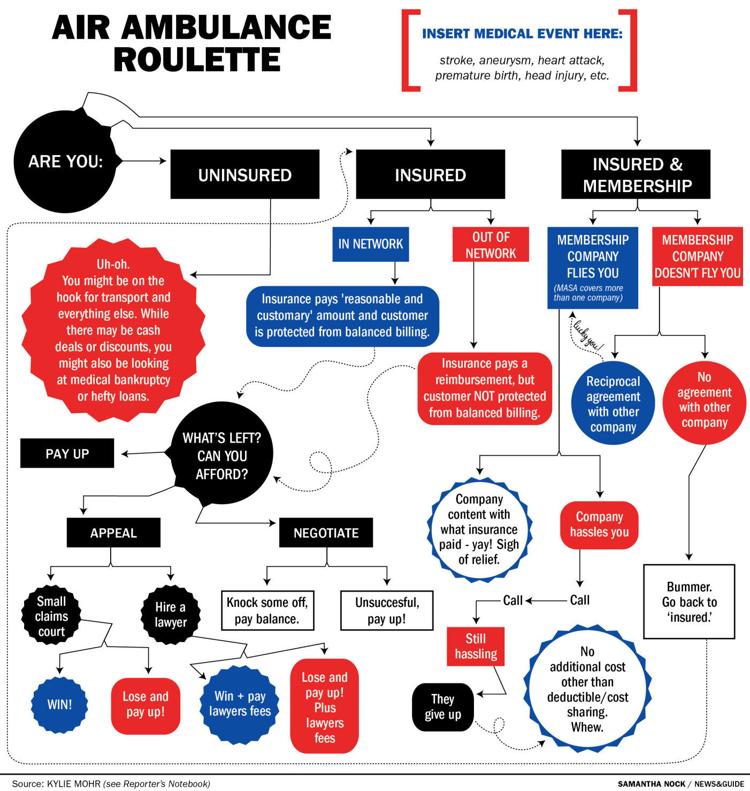 A rough claims count shows that in 2016 the insurance company paid claims for 352 air transports and in 2018 it paid for 493. That doesn't include others that were filed but disputed.
In a free market, increased supply theoretically leads to lower prices. But that hasn't happened, prompting lawmakers to get involved.
"There is no intention on my part to limit or curtail access to appropriate air ambulance service, period," Barlow said. "I'm not trying to block them out of the state or keep them out of the state. But we do want the appropriate level of care and at a cost that our insurers and those that might be private paying and the general citizenry can understand and afford."
It didn't start that way. When legislators first entered the fray their initial stab at improving air ambulance service placed Wyomingites at even greater risk for expensive bills.
Lawmakers introduced House Bill 35, which would have allowed air ambulance fees to be collected from injured employees if air ambulance companies wouldn't take twice the Medicare rate.
Lawyers in Cheyenne warned that HB35 risked taking away patient protections. That's when lawmakers turned their efforts to HB194.
The ambitious legislation would expand Medicaid for the one small class of air ambulance payments and allow patients to retroactively make a claim for payment after a transport.
Essentially, it would force air ambulance companies to accept Medicaid rates for all patients, not just those who qualify for Medicaid currently. As it is now, providers participating in the state's Medicaid programs are required to accept Medicaid payments as payment in full and not go after patients for any gap. That would remain.
"The precedent is already there," Barlow said.
Legislators want to leverage the fact that Medicaid is a joint state and federal program with a national fee schedule that may not be preempted by the 40-year-old federal Airline Deregulation Act. A federal partner is crucial when state-only policies are generally overruled by federal law.
The system wouldn't be free. There would be a sliding co-pay required, based on income. Legislation says that could be up to 50% of whatever the total allowable cost is, but Barlow said he'd be surprised if it went up to 15% in reality.
The state would collect the co-pay through a contracted billing service instead of letting air ambulance companies collect themselves. The money would go into an air ambulance fund along with all other third-party payments from insurers and self-insured plans and be paid out on a fee-for-service basis after each flight.
Plans could also "opt in" to a subscription-like service for their members in which they would pay a monthly premium instead.
Regardless, all revenue would go into the air ambulance account to pay for services. The hope is that the fund could exist without the state's general funds, but the state would assume the risk of making sure costs match revenues.
Legislator has his own story
Rep. Charles Pelkey, an Albany County Democrat and the minority whip, is no stranger to air ambulances.
He remembers being in his office in September 2017 and slowly losing his ability to talk. He stopped breathing shortly thereafter. After he was taken to Ivinson Memorial Hospital in Laramie, medical professionals decided he needed more-advanced ear, nose and throat specialists. He was flown to the Medical Center of the Rockies.
"I woke up the next morning, and I looked out the window and I realized I was in Colorado," Pelkey said.
He was out of the hospital the next day. His wife drove him back to Laramie, where he picked up his car and went back to say hi to the nurses who first helped him. One cried. Later he got a bill for $52,000, but his insurance company, Cigna, negotiated it down a few thousand and he ended up paying just under $200.
"I jumped at the chance to co-sponsor [HB194] because I can't imagine any family being able to take a $52,000 hit," Pelkey said. "The alternative wouldn't have been all that pretty either. I have no tale of woe in my case. I just have a tale of 'Holy s---, that's a lot of money."
If Barlow's bill fails, Pelkey said, the "bare minimum" should be transparent pricing.
"The vast majority of people have no idea what they're getting into," he said. "I stand back in awe at the prices and the fact that we as a state don't necessarily have the power to regulate them. It's kind of crazy."
There's talk at the federal level of reducing eyebrow-raising bills, but no real tangible action to date. President Donald Trump called for bipartisan legislation this year to "end surprise medical billing for American patients."
Kaiser Health News recently reported that "the closest any surprise-billing proposal has come to addressing air ambulances" at the federal level is draft legislation from Sen. Lamar Alexander, R-Tennessee, and Sen. Patty Murray, D-Washington. It would require that charges be broken down to show what's medical care and what's transportation — but would make no dent in the charges themselves.
For their part, air ambulance companies blame government and insurance companies for the problem. They argue that reimbursements from federal Medicare and Medicaid programs do not cover the cost of providing an expensive and vital service. So air ambulance companies say they have to make up the difference by charging private patients more.
"There's no one in our industry that wants a patient to receive a bill they can't pay or they didn't expect," said Rich Sherlock, the president and CEO of the Association of Air Medical Services. "I don't understand what insurance is for if they won't pay for emergency medical services ordered by a medical provider. They need to step up and do the right thing. We're willing to negotiate where we have a level playing field, and we want patients taken out of the process."
As Wyoming pursues state-level fixes through new legislation, the Wyoming Department of Health is focusing on three goals: Eliminate balance billing, reduce costs for all payers and improve price transparency.
The department is gathering data and holding public meetings. The public can submit comments online until Aug. 15.
The state health department is seeking a federal waiver from the Centers for Medicare and Medicaid Services to become more directly involved in the air ambulance business. If the waiver is approved, Wyoming could launch a public process to choose centralized air ambulance base locations determined by response times and other efficiencies. Concentrating volume on bases, policy analysts reason, should drive down the average cost per transport and result in less duplication of infrastructure.
If communities didn't like where bases were sited, they could pay between $1 million to $3 million a year to subsidize an additional base. The state would then competitively bid out bases to air ambulance companies nationally. A fixed-price contract for bases would include things like response time bonuses and incentives to coordinate with ground ambulances to shake up the current payment model that relies on volume.
If the state didn't get attractive bids it could scrap that plan but still pursue creating a centralized call center to dispatch air ambulance requests based on distance and response time.
Though the proposal is still early in the process, Wyoming Department of Health policy analyst Franz Fuchs told a crowd in Casper that federal officials were "somewhat receptive" so far despite it having a low probability of surviving in its current form.
Attendees at a meeting in May ranged from an air ambulance company employee who said insurance companies denying claims or not paying enough is the problem to patients sharing stories of surprise bills.
"What do you do?" one man asked. "Sell everything you own, go live in a van down by the river? Where do we go? You're on the losing end no matter what."
Rep. Mike Yin, D-Teton County, called the statewide conversation a "delicate dance."
"We do know that we need air ambulances in Wyoming," Yin said. "We don't want them to walk away. But we also need them to come to the table and say, 'Hey, these costs are out of control. We need to figure something out.' They have a year."
Blue Cross Blue Shield of Wyoming staff also testified in support of the bill.
"I think it was very helpful to have the discussion at the Legislature around this issue because it's one you read about every now and then, but I don't think it's had the level of public debate we've had in Cheyenne this year," said Blue Cross Blue Shield's Curran.
Courts often side with airline ambulance companies. But consumers are also taking matters into their own hands with class action lawsuits.
In Adams et. al v. Air Methods Corporation et. al, five plaintiffs from South Carolina allege that the air ambulance company charges prices that are higher than the cost of providing medical transport and forces that pricing on patients without their knowledge. They are suing for an alleged breach of duty to charge reasonable rates for service, breach of the covenant of good faith and dealing as well as unjust enrichment. In another class action case, patients from multiple states alleged that they were charged "exorbitant fees" and that no valid price agreement occurs before transport. Air Methods has moved to dismiss both complaints that make up the lawsuit, citing the Airline Deregulation Act.
Air ambulance service is "so amazing and so essential it could literally save your life," but the charge could make the worst day of your life even worse, said attorney Mark Aronowitz, of Lawyers and Advocates for Wyoming.
"It feels like the deck is so stacked against people who need these services," Aronowitz said.
Different legal theories used to fight air ambulance prices in court have failed so far. There's the idea that patients never agreed to a contract (you would have, but you didn't), the concepts of a breach of contract, an unfair contract or no contract. There's also the idea of unjust enrichment or the route of attacking the statute and saying it's not federal jurisdiction when transport happens within state lines.
But with federal law trumping state law, the Airline Deregulation Act is proving a powerful shield.
Frazier and Aronowitz would like to see that law amended to specify that it applies to commercial air travel — not air medical transport.
"Congress really needs to act on this," Frazier said. "The courts can't do anything."
Air ambulance companies counter that that would result in inconsistent regulations across states, forcing air medical providers to transport patients only to in-state facilities that might not be the best option — especially in places like Teton County, where most flights go to Idaho and Utah.
For now Aronowitz is enthused about Wyoming's legislative approach.
"I love the attempt," Aronowitz said. "It's something creative outside the courts."
Mixed results for other states
Wyoming isn't the only state pursuing a novel approach.
California tacked a $4 fee onto individual parking tickets to generate roughly $8 million, which also earns a federal match. The money subsidizes the cost of air ambulance services.
North Dakota tried, and ultimately failed, to solve its tangled air ambulance service web with two state laws that were struck down by the courts. The state is appealing.
"I will continue to fight to protect North Dakotans from the completely unfair practice of air ambulances balance billing individuals with health insurance," Insurance Commissioner Jon Godfread said in a statement at the time. "No one deserves to face financial ruin because of something as out of their control as an air ambulance ride."
In Montana, lawmakers are making progress.
U.S. Sen. Jon Tester, a Montana Democrat, introduced the Isla Rose Life Flight Act during the 2017 session, named after an infant who took an emergency flight from Butte, Montana, to Seattle in 2014. Her family was stuck with a $43,000 bill. The total was $56,000. Insurance paid $13,000, the cap in their policy. Airlift Northwest balance billed the family for the rest.
The bill would have allowed Montana to regulate air carriers specifically providing air ambulance services by keeping them from billing patients and forcing them to negotiate with insurance companies, something courts have struck down in the past. But the bill died in Congress.
State senators tried sending a letter to Congress asking federal lawmakers to clarify that the Airline Deregulation Act does not apply to air ambulance companies.
"The U.S. Congress needs to step up," said former state Sen. Tom Facey, D-Missoula. "Everybody's pointing the finger at everybody else."
Despite setbacks in Washington, D.C., three bills gained traction at the state capital in Helena. Lawmakers carefully tailored the legislation to avoid pitfalls that North Dakota encountered in court.
North Dakota tried to address setting rates, but "we felt that really would cause a problem, so we stayed clear of that," said Montana Sen. Gordon Vance.
One new law holds patients harmless from the practice of balance billing by making insurance companies either pay the bill, negotiate a settlement or fight air ambulance companies in court. Another state law regulates air ambulance membership agreements. A third restricts air ambulance companies' ability to submit patient billing information to credit bureaus.
The U.S. Government Accountability Office has found that consumer complaints have decreased in Montana.
Just the process of studying the air ambulance industry for a year and a half leading up to legislation, Facey said, "just embarrassed the dickens out of these guys" and forced parties to come to the table.
For part one in this series, click here.