Before COVID-19 struck, Adam and Emily Janak used to take their daughter, Cece, to visit her grandfather Jim Janak, at Legacy Lodge. As fast as a grandfather and toddler could, they tore up the halls while Cece learned to walk.
"She would take her walker up and down the halls, which was hysterical," Emily said.
Even the pandemic didn't stop them. The Janaks swung by all summer, enjoying socially distanced visits in the courtyard, and they sledded down the hill behind Legacy Lodge once winter gripped Jackson Hole. They'd talk to Jim through his window when outdoor hangouts weren't possible.
Because of his Parkinson's disease, Jim can't live by himself, though he is relatively independent. Having him just down the road in a place where the family was confident he would be taken care of was exactly what they needed.
"It was just the answer to all of our prayers," Emily said.
The Janaks were among dozens of families to find out last week that their loved ones were being evicted. Citing economic hardship exacerbated by the pandemic, Nye Health Services, Legacy Lodge's parent company, announced it would close the facility March 31, though families have been told to find new placements by Feb. 15.
The troubles stem from too many empty beds, CEO Russ Peterson said. When the closure was announced Jan. 13, just 36 of the 57 apartments were filled.
Nye had hoped it could wait out the pandemic, which has made finding new residents difficult. With normal life still months off because of the slow timeline for widespread vaccination, Nye couldn't keep the doors open.
"We felt we had to make a decision, and so it's been a very recent decision, but we just didn't see a pathway," Peterson said.
Some families, including the Janaks, said they weren't aware of financial problems at Legacy Lodge. They say solutions could have been found, whether it was new enrollments or something more creative, like renting apartments to people to ease Jackson's housing crisis.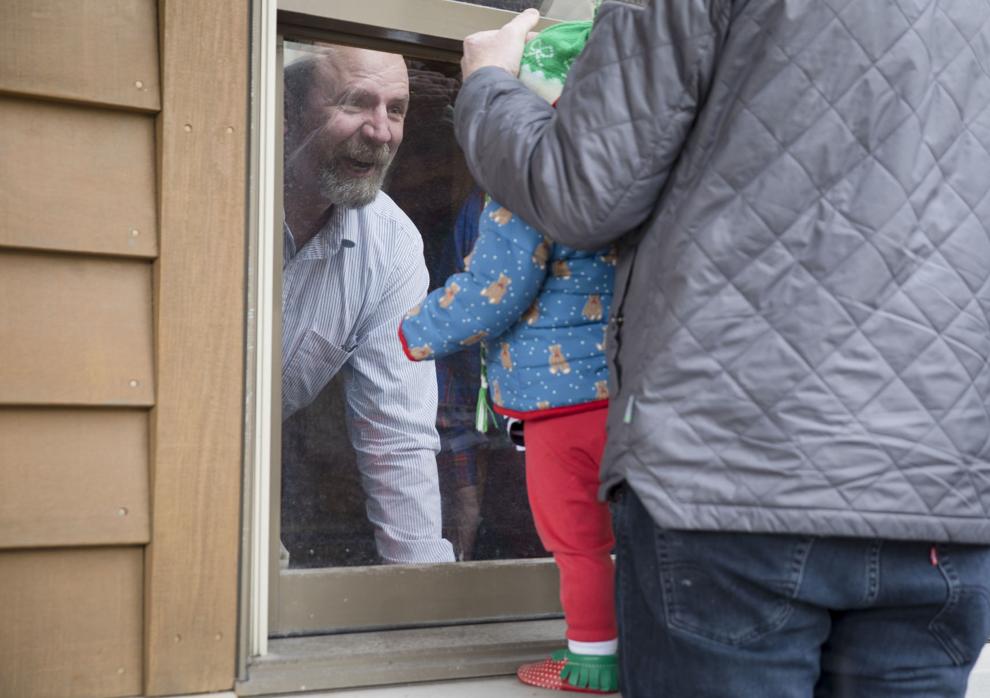 Nye tried to find solutions like offering respite care or working with St. John's Health to create new opportunities, Peterson said. The company also contracted a third-party consultant to survey Jackson's assisted living market, but that showed Legacy Lodge couldn't remain financially viable due to the size of the community and new facilities being built in Pinedale and at St. John's.
Neither of the new facilities is slated to open before August.
The company gave the state-mandated 30 days notice for residents to find new placements, and it will keep Legacy Lodge open until the end of March for those who need more time. Families still say they feel pushed out during an uncertain time, left to contend with moving in winter and finding new facilities during a viral pandemic that has taken a disproportionate toll on people living in congregate elder housing.
"We were all totally caught off guard by this, and I would think that they would at least have the heart to give families, you know, 60, 90 days to get prepped for this," said JuliAnne Thomas, whose mother, A.J. Walker, has lived there for several years.
To add to the frustration, families say Nye hasn't communicated well, if at all. Peterson said they were helping people find new placements, though the responsibility ultimately falls to residents and their loved ones.
Families say Nye has been less than helpful. KJ Morris, whose father moved into Legacy Lodge in August because of his dementia, said employees handed him a packet about moving and the closure, which she called "the dumbest thing I've ever heard."
Hearing he needed to move confused her father, she said, creating undue stress.
"My dad started packing up his stuff," she said, even though he had nowhere to move.
Moving someone with neurodegenerative diseases can cause "transfer trauma," in which patients struggle to adjust to new surroundings, said Ramsey Scott, of the Wyoming Alzheimer's Association. It can last a few days to a few weeks and lead to increased anxiety, isolation, depression and resistance to care.
"This could result in an overwhelming sense of confusion, loss of control, fear, unfamiliarity," Scott said. "Essentially, as they have a harder time processing information and changes, it can bring on so many other ramifications."
Connie Owen, whose mother, Ruth Trout, has dementia, said the company also told her mother about the closures, which caused stress and anxiety. Owen said Nye demanded a plan for a new placement by the end of this week, though Peterson disputes that.
The Janaks said Tuesday that they still hadn't heard from Nye. Instead they learned of the closure from other families they know at Legacy Lodge.
Thomas said she was told Nye would help with finding something new, but that the company hasn't followed up since that phone call last week. Morris echoed that, saying she was still waiting on an email packet with information about the closure.
The pandemic made it so new families weren't seeking out Legacy Lodge, Peterson said, and Nye received no federal relief money. Families were leery of moving their elderly kin into a new facility, he said, because of the perceived risk of transmission, particularly if they could justify keeping their loved ones at home.
Now, the Legacy Lodge families find themselves facing the exact thing that accelerated the closure. Most residents need advanced care only available at a long-term-care facility, so they are forced to find a new one even though coronavirus infections and hospitalizations are at some of the highest levels yet.
That leaves few good options: Families can attempt to snag one of the limited beds at the St. John's Health Living Center, they can move loved ones into their own homes, or they can find facilities outside Jackson. Other than landing a spot at the Living Center, families aren't taken with any of the choices.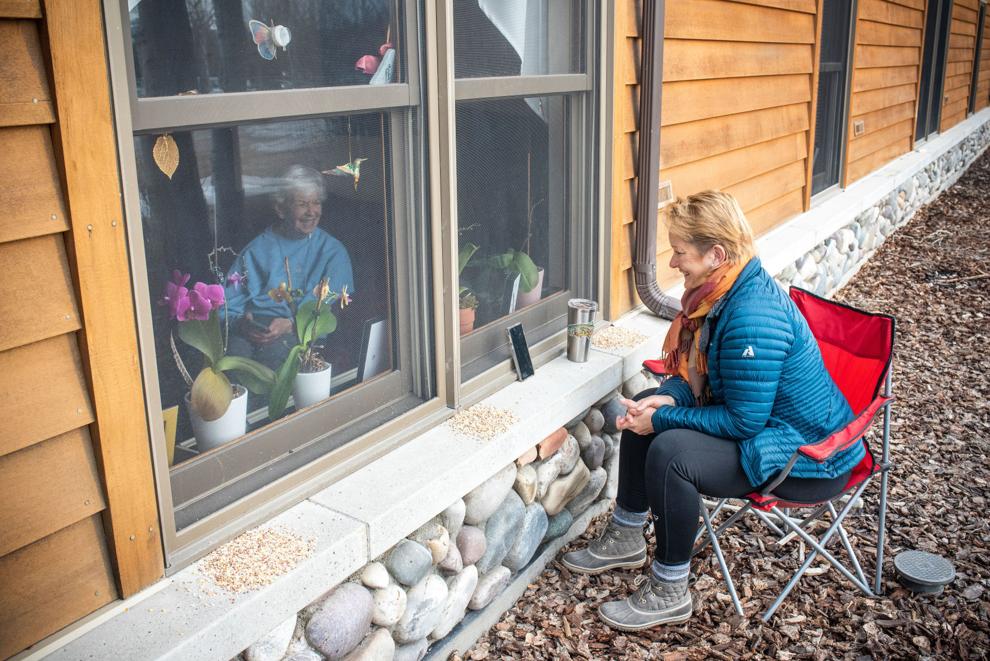 Beds are available in facilities in Dubois, Afton and Idaho Falls, but that eliminates the potential for a quick visit. Nye offered displaced residents beds in its Nebraska facilities, but that would be "like throwing your family out the door and saying, 'We'll see you later,' " said Earl Lutz, whose mother-in-law, Janet Moyer, lives at Legacy Lodge.
Like most families, Lutz called the Living Center to gauge its availability, but he was told it didn't have a Medicaid bed for Moyer. Long-term-care facilities have a mix of Medicaid residents, whose insurance pays less, and others, who pay a higher rate, so they generally limit the number of Medicaid patients.
Families whose elderly members can pay the full price are still waiting to hear from St. John's. That includes Owen and her sister, Karen Stewart, who'd like to keep their mother in town.
If the Living Center doesn't work, they'll need to do the same thing as Lutz and his wife, Bonnie — cast a wider net, which likely means Idaho Falls because it offers memory care. Owen and Stewart hope their mother can be placed in Sage Living when it opens later this year, but Trout needs a placement in the meantime.
"We do want her to get into Sage Living, and I think that will happen for her," Stewart said. "But then we're moving her twice, which is dreadful for her."
At least residents of Legacy Lodge have all had the option to be inoculated with both doses of a COVID-19 vaccine.
A 'heartbreaking' situation
Not everyone feels like a regional facility is the right choice. Thomas is moving her mother back to Iowa, where her siblings will be close. Despite knowing her mother will have family to visit, she won't be able to pop by any time she likes.
"Heartbreaking is the only way to explain it, you know, because I dropped by almost every day to chat through the window or if we could see each other in person," she said. "This has been a really, really special time for me to be able to spend this time with her."
The families who spoke to the News&Guide maintain their loved ones received top-notch care at Legacy Lodge, and they didn't fault the local staff for any of the stress.
"I put this totally on the parent company," Emily Janak said.
Knowing that the people who cared for her father-in-law, Jim, face the choice of finding new work or moving to Nebraska to work at one of Nye's other facilities adds to the frustration Janak feels.
"I'm heartbroken for them because they've kept our family members safe during this horrible pandemic," she said. "Then, we're almost out of it, and they've just lost all their jobs. I feel for them so much."
The Janaks are holding onto hope that a solution exists, but other than a new company swooping in at the last minute, it's hard to imagine what that would be. Jim Janak will come live with them if they can't get him into the Living Center, and they'll look back fondly on the time he spent at Legacy Lodge.
"It just was such a special place," Emily Janak said. "The grounds are beautiful. The rooms were wonderful. The staff was excellent.
"It almost felt too good to be true, and I guess it was."
This article has been edited to show that Connie Owen said Nye Health Services asked for a plan for placement by the end of this week, not information on a new placement. — Ed.