A Teton County commissioner who opposed the majority of the board's decision to instate a mask mandate in Jackson Hole through December is now trying to lift it.
Commissioner Greg Epstein broached the subject at the end of Tuesday's regular Teton County Board of County Commissioners meeting, asking for a meeting to consider doing so.
"I think it's time to have that discussion," Epstein said.
"I think for us to get to the threshold, or the risk level that the county health department is requiring, is nearly impossible," he added, questioning the Teton County Health Department's metrics. "I also think that we're never going to live in a COVID-free society."
The Wyoming Legislature changed state law last winter, taking the power to issue local health orders that last longer than 10 days away from health officials like Teton District Health Officer Dr. Travis Riddell, and giving it, instead, to elected town and county boards.
When COVID-19 cases spiked in late August, health officials recommended that both bodies put a mask mandate in place following a shorter order from Riddell. They recommended it include a condition that would tie it to the Centers for Disease Control and Prevention's county-level COVID-19 risk metrics and lift the order automatically if the county dropped below the orange, or "substantial," risk level. It's currently in the red, or "high," risk level and, for the mandate to be lifted automatically, Teton County would have to drop to "orange" and, then, "yellow."
The town voted for a mandate then unanimously, with Councilor Jim Rooks absent.
And the county split over the vote, with Epstein and Commissioner Mark Barron opposed.
At the time, Epstein also complained about the Health Department's decision to change how it measured COVID-19 risk to align with CDC metrics. The change was made before the mask mandate went into place and reduced the number of factors the department considered to two: new cases per 100,000 people in the last week and the percent of positive tests.
Health Department officials said at the time that they made the switch because factors like health system capacity — something the original model considered — had improved dramatically and case rates had become the main source of community risk.
And, earlier this fall, Director of Health Jodie Pond said that, when the delta variant started spreading, the department evaluated its system and found capacity metrics kept the county from leaving the "green," or low risk level.
"Artificially it was keeping us in a low or moderate level and not telling the story about how much COVID we had," Pond told commissioners in September when they first voted on the mask mandate.
However, in October, St. John's Health maxed out ICU beds for three days, Oct. 5-7, with three COVID patients consistently requiring intensive care. There were three non-COVID patients in the six-bed ICU.
During the time the ICU was full, St. John's went on diversion, notifying area hospitals, clinics and ambulance services that it didn't have available beds for critically ill patients.
In neighboring Idaho, full hospitals have been in "crisis standards of care" — meaning some health care rationing may be required — for more than a month.
COVID-19 levels fell sharply in early October but have recently started climbing again.
After peaking at a seven-day average of 26 cases per day in September to 4.6 in early October, the daily average is now hovering above 10.
On Thursday, the county was reporting new cases per 100,000 people at 326.5.
"That's three times higher than the threshold to go into red," Teton County Director of Health Jodie Pond said Thursday. The threshold is 100.
The rate of cases coming back positive stood in the green or "low" risk level: 4.06%, which is below the 4.99% threshold for bumping to the yellow or "moderate" risk level.
In determining the risk level, the CDC model considers Teton County to be in the "red" level.
With COVID-19 case rates beginning to climb again, Pond said she doesn't think it's time to lift the mask mandate. Elected officials will ultimately make the decision.
"We're running this ultra marathon and we're on mile 98," Pond said. "Are we going to throw in the towel now? But I also recognize we need an exit strategy related to COVID becoming endemic."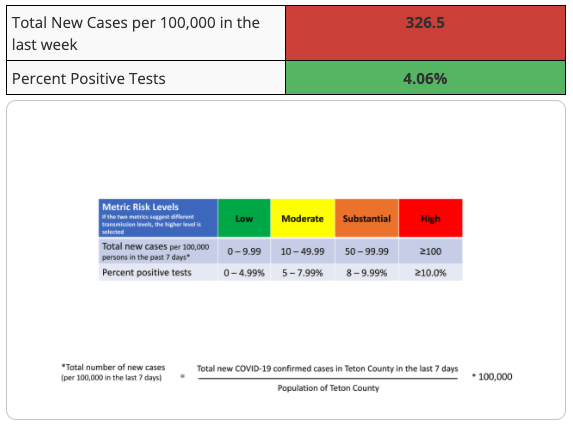 When Epstein brought up rescinding the mask mandate, Commissioner Mark Barron gave a thumbs up to having that discussion.
Other commissioners weren't so about it.
Commissioner Mark Newcomb asked when the board's next Health Department update was scheduled.
"I don't know that I necessarily want to dive into this right now," Newcomb said, adding that he "always" appreciates getting a "fuller picture" directly from health officials.
Commission Chairwoman Natalia D. Macker said that the next update is scheduled for Monday, but that it's not intended to be focused on the pandemic.
"If the request is to schedule a COVID-specific update from the board, we can do so," Macker said, asking who the rest of the commissioners would want to hear from.
Newcomb again said he was "always interested" in hearing from the Health Department, Riddell and St. John's Health "to just try and get a sense of their level of concern."
Commissioner Luther Propst concurred with Newcomb.
But Barron made clear that he wanted more.
"I'd like to see that update and have some discussion about releasing the county from this mask order," Barron said.
Macker said she'd be "happy to schedule the conversation."
But she expressed reservations about lifting the mask mandate.
"I feel like we decided on the metrics we were using when we adopted the health order," Macker said. "We're at the really hard spot where we're close, getting closer, feeling better based off of the last update. So I'd encourage us to stay the course."
A COVID-19 update has been scheduled for 11 a.m. Monday, though it's included as a "discussion item" where public comment will not be taken. The commission doesn't typically take public comment on "discussion items."
Macker said in a text Sunday that no action on the mandate is planned.
People can, however, give public comment on anything — including the mask mandate — at 9 a.m. at the beginning of county commissioners' voucher meeting. The update will also happen during the voucher meeting.
Tune in over Zoom to watch or give public comment. The webinar ID is 820 3769 5016 and, to dial-in over the phone, call 1.669.900.6833 and enter the ID.
This article has been updated to clarify that the commission will not be taking public comment specifically on the COVID-19 update, but that people can give general public comment at the beginning of the meeting. — Eds.