Pumped full of carbon dioxide, the stomach extended above the table, the rest of the body draped and covered.
Nurses prepared the operating room; one wheeled a tower with a monitor into position next to the patient. Dr. Randy Kjorstad stood on one side of the operating table; across from him was his partner, a da Vinci surgical robot.
Everything in place, Kjorstad took off his surgical gown and sat at a machine against the wall, which looked a bit like an arcade game. He leaned his eyes into the viewfinder and placed his fingers into a pair of controls; his foot controlled a pedal that moved a camera inside the patient's abdomen.
With the help of the robot, a new era has begun at St. John's Health.
"It's kind of the future of surgery," Kjorstad said.
When people hear the term "robot surgery," they might envision C-3PO with a scalpel. In reality the robot is an extension of the surgeon's hands, a way of replicating human movements with smaller incisions, not an autonomous android.
With the help of the St. John's Health Foundation, the hospital became the first in western Wyoming to purchase one of the robotic systems. If Kjorstad and his colleagues — his human ones, that is — are right, St. John's has leapt into a new era, one that many larger hospitals have already joined but remains out of reach for other small, rural facilities.
Once the surgery started, the operating room was intensely quiet. The lights dimmed almost to black; the screen showed the tools moving inside the patient's abdomen.
The images looked like a flesh-colored Monet, variations on the same color without definition. Kjorstad, however, knew his way around, his tools deftly pushing tissue out of the way.
One of the tools cut an opening and moved forward.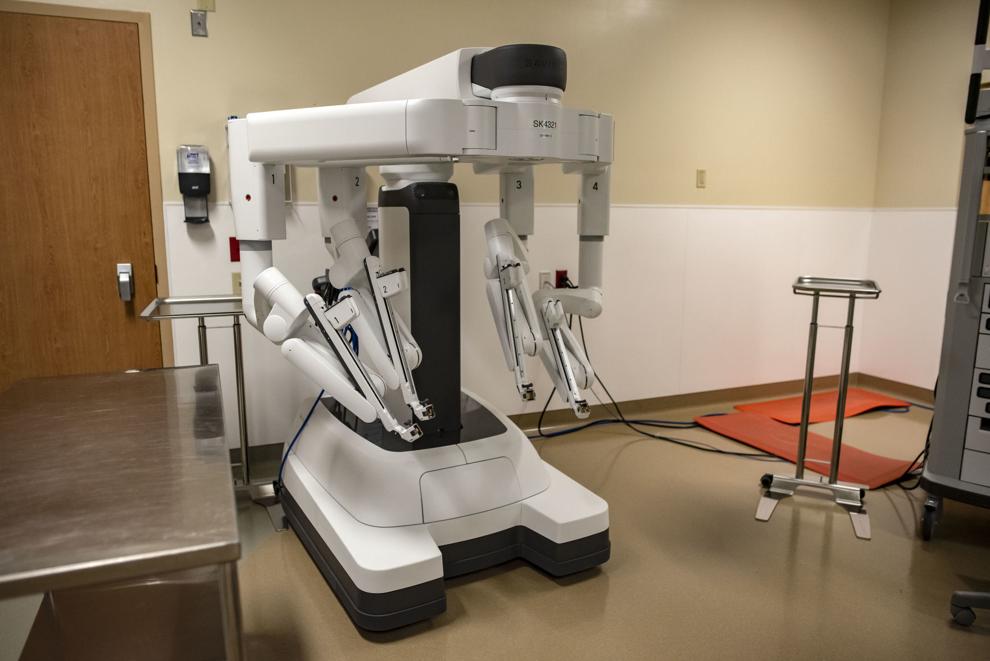 "That's the electrocautery," director of surgical services Becca Wartig said.
Electrocautery involves using an energy tool that cauterizes tissue as it cuts. The technology replaces cutting and suturing blood vessels, which used to be the norm and took far more time during surgery.
The da Vinci robot uses a host of technology like electrocautery to bring the future of surgery to St. John's. Intended for soft-tissue procedures — gynecological, urological and general surgeries like appendectomies and hernia operations — the machine allows the surgeon to use multiple tools and a 3-D camera without the size of incision required by open surgery.
To start, Kjorstad made several small incisions and hooked up ports for the robot's arms. Nurses readied the robot's tools, which include the electrocautery and tiny pincers that hold tools and perform complex motions.
Once everything was in place, he sat at the machine. The carbon dioxide pumped into the abdomen gave him room to work as he moved toward the patient's hernia.
A hernia, for those lucky to have never experienced one, is when an organ or tissue pokes through a hole in the muscle or tissue that holds it in place. There are several kinds, and while some patients have no symptoms, many feel excruciating pain from the pressure on the out-of-place organ.
Many times it involves the bulging of the stomach or intestine through the abdominal wall. Like the operation Kjorstad performed in April, the surgeon cuts through to the hernia, moves the bulging tissue back into place and covers the hole with a plastic sheet of mesh.
That method is the same for robotic surgeries and laparoscopic ones, the technique used when a hospital doesn't have a robot. Both are "minimally invasive surgeries," but robotic-assisted operations are easier than laparoscopy, a benefit that is passed along to patients.
"If you're operating laparoscopically, you're limited to kind of doing this with things that open on the ends, which is safe, and you can do it safely," Kjorstad said. "But the robots can have more degrees of motion at the end. It makes things easier.
"And generally, things that are made easier for the surgeon are safer for patients."
A new way of tying your shoes
According to an article from the American College of Surgeons, Georg Kelling, a German doctor, first experimented with inflating the abdomen to create space for work with a scope.
Kelling presented his method in 1901, predicting that the technique would become the standard for abdominal operations. Though Kelling died in the Allied bombing of Dresden in 1945 before he could see his prediction come true, he was right.
By the 1990s, laparoscopic surgeries had become the norm for such operations. That shift, St. John's general surgeon Dr. Eric Wieman said, was a huge progression.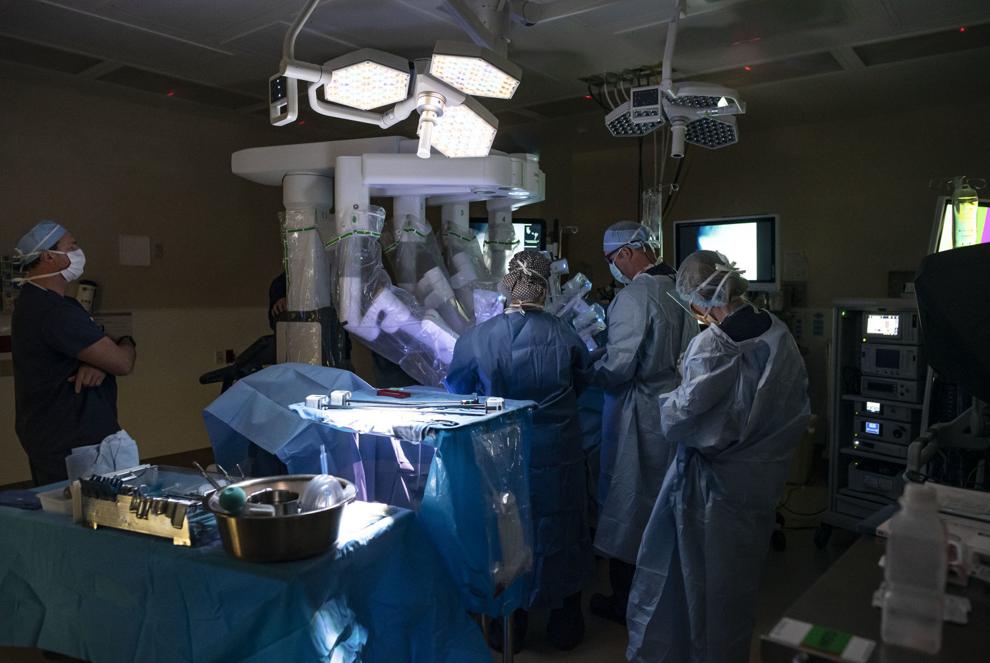 Like robotic-assisted surgery, laparoscopy involves making small incisions to insert cameras and other tools into the abdomen. However, laparoscopic tools are fixed and have less mobility than a surgeon's wrist and fingers would have.
"If you imagine tying your shoes with your arms and your elbows and your wrist locked, you can do it, but it's not easy," urologist Dr. Blake Johnson said. "Then you add your wrist and that's when it's easy." Robotic assisted surgery started about 20 years ago, but the machine at St. John's is several iterations evolved from that.
"What would that mean, if someone was doing your surgical procedure the same way they were doing it like more than 30 years ago?" Wieman said.
Progression usually equates to shorter recovery times and less pain, something anyone who has gone under the knife can appreciate.
"A lot of times it is less painful, because we're able to manipulate the tissue in certain procedures in a way that causes less bleeding, less trauma to the tissue," Wieman said.
So far, most literature about robotic-assisted surgery hasn't explored the question of patient experience in a controlled fashion. Studies have found benefits for the surgeons, with one showing that novice and intermediate surgeons sutured wounds faster and more effectively with the robot.
Another small study of 12 doctors found that in four tasks they performed with the robot's 3-D vision, their error rates dropped by 44% to 66%.
Anecdotally, at least one patient at St. John's said the less pain, faster recovery hypothesis holds true. Ken Jarman, the hospital's director of pharmacy, went in at the beginning of May for a hernia surgery.
He had a "complex, pretty sizable" hernia, a recurring one that he had a traditional surgery on in 2008. That original operation didn't completely fix the problem, so he went back in this spring. After the robotic-assisted surgery, he said he hasn't felt too many ill effects.
"From the incision point, there was really no pain there at all," Jarman said. "And the recovery has not been near as bad."
Three weeks out from the surgery when he talked to the News&Guide, he said he was almost fully recovered and expected to return to regular activities within a week. Recovery from most hernia surgeries is quick, but a return to full, strenuous activity is usually about six weeks.
Beyond the enhanced patient experience, Jarman was happy to stay in town. St. John's has been adding service lines for the past several years, an effort started under former CEO Dr. Paul Beaupre to keep patients from making trips to Idaho Falls or Salt Lake City for higher-level procedures.
"It was huge to know that I could do it right here," Jarman said.
A whiteboard on Wartig's desk in the surgical department shows a list of staff members' names with a number next to them. Most are pretty low, but several are in the upper 80s.
"The staff had a little competition on the robot," Wartig said.
Some staffers look like they should have been surgeons from their scores. The da Vinci robot has a practice mode, in which the user attempts to place small rings on cones in a simulation. It's harder than it sounds because the depth perception in the simulator is a bit wonky, much as it likely is inside a patient's abdomen.
The scores are a bit of friendly competition around the department.
"I'm just gonna let you know, I got an 87," Wieman said.
Surgeons undergo extensive training on the machine, working with the company to learn the basics, then performing trainings and operations under the tutelage of an experienced operator before becoming independent on the machine. Though it sounds futuristic, once they learn the process, they say it doesn't feel much different than the operations they are used to.
"We're already minimally invasive surgeons, so we're already doing these operations laparoscopically," Kjorstad said. "It's like having an extra golf club in the golf bag."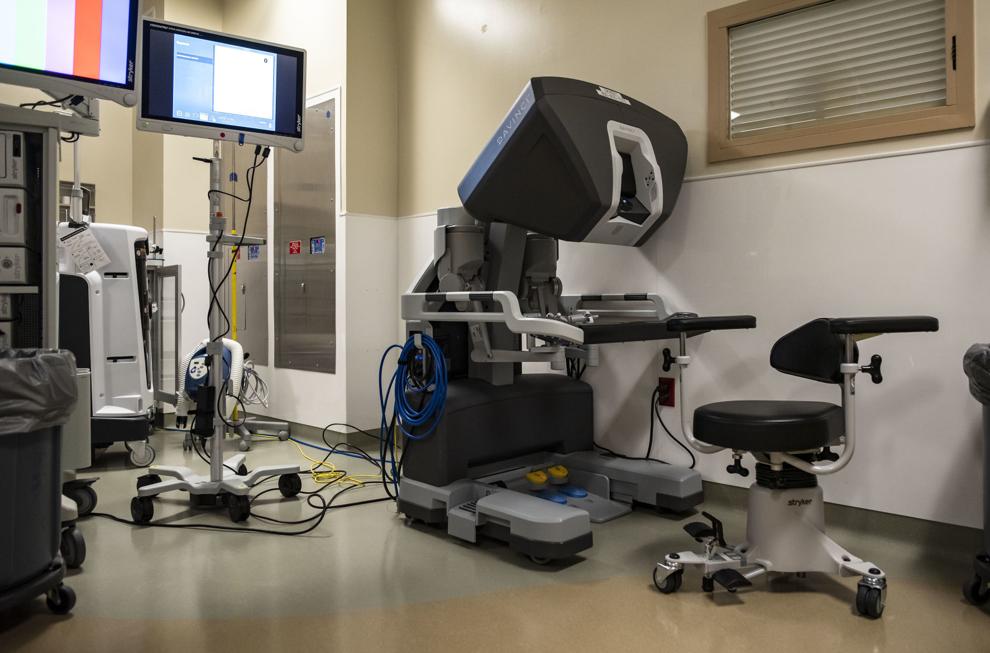 Other than the time commitment to learn the system, the surgeons couldn't think of any limitations the robotic system has compared with other surgical methods. A 2015 study of robotic-assisted gynecological procedures published in the Journal of Minimal Access Surgery did find that procedures lasted longer, which means more anesthesia for a patient, but shorter overall hospital stays and recoveries, along with less blood loss balanced out that drawback.
"I think patients would rather recover faster than have, you know, half-hour to an hour less in the operating room under anesthesia," Kjorstad said.
The biggest barrier to any hospital implementing one is cost, with a 2012 economic analysis finding that the systems cost between $1 million and $2.5 million (about $1.2 million to $2.9 million today).
The analysis cited that small hospitals are less likely to be able to afford the systems, and that robotic surgeries cost several hundred dollars more than traditional laparoscopic ones. However, patient recovery costs weren't factored in, so the benefits of the robotic system likely lower the costs overall.
"These authors concluded that had they included indirect costs, the robotic and laparoscopic surgeries would have emerged more effective from a societal perspective than from a hospital perspective," the report says.
Adding the da Vinci system to the hospital's operating room continues the push Beaupre started to diversify services beyond the orthopedic surgeries that for a long time sustained St. John's. CEO Will Wagnon is excited to have more tools, especially because it means more patients can stay in Jackson for care.
"It means someone doesn't have to drive to access what I would call standard of care," he said.
It might also become a regional draw. A patient in Lander might get the robotic-assisted version in Jackson rather than a traditional laparoscopic procedure closer to home.
From the surgeons' standpoint, they're excited that the future has arrived in Jackson. The medical field doesn't change overnight, so being in the vanguard of this generation of robotic technology is simply cool to be a part of.
"Those types of changes only come along so often, you know, in surgeons' careers," Wieman said. "It may be kind of nerdy, but for us it's very exciting."