Wyoming state senators advanced Tuesday a bill intended to buck President Biden's proposed federal vaccine mandate by generally preventing Wyoming employers from requiring COVID-19 shots for their employees.
But critics of the draft legislation say it unnecessarily pits federal and state law against one another, leaving businesses in a lurch.
"It's almost like having divorced parents," Ty Hoath, Jackson Hole Mountain Resort's chief administrative officer, told the News&Guide on Tuesday afternoon.
"You're getting one directive from one, and one directive from another, and you risk litigation because you're trying to do the right thing," he said. "That makes it very hard to run a business."
One successful Tuesday amendment to House Bill 1001, proposed by Sen. Lynn Hutchings, a Laramie County Republican, would streamline the measure and cut pages worth of exemptions that would have allowed employers to require vaccines if they met certain conditions. The amendment instead bars employers from requiring or mandating an employee to get the jab so long as COVID-19 testing in a "form and frequency" consistent with public health guidelines is offered to employees "when available."
"We will not mandate the vaccination here in Wyoming," Hutchings told her fellow senators as she proposed the change. "That's the gist of this bill."
Hutchings' proposal came after a few hours of debate on the Senate floor, where lawmakers sparred over other amendments. The linchpin of the debate was whether moving forward with a measure barring employers from requiring vaccines would harm businesses, especially before litigation against the proposed federal mandates is resolved.
Senators accepted Hutchings' amendment in a 16-10 vote and moved House Bill 1001 along for a third reading. It is set to be considered again Wednesday, along with House Bill 1002, which generally bars public entities from enforcing a federal vaccine mandate, and offers the governor $10 million to fight the Biden administration's vaccine mandate.
Some senators argued Tuesday that the Wyoming legislation would force firms to choose between state and federal penalties. Others said not moving forward would amount to kowtowing to the feds.
Hoath said the guidance he's received is that federal directives should "supercede" those from the state. But he thought the uncertainty will likely cause businesses to spend unnecessarily on legal counsel.
"There are going to be a lot of successful lawyers because businesses aren't as educated as we should be on what positions we should take," Hoath said.
Jackson Hole Mountain Resort is planning to require vaccinations for anyone in its employee housing and anyone who works with an unvaccinated audience. People who work in the resort's daycares are included in the latter camp.
Sen. Mike Gierau, a Teton County Democrat, echoed fears that HB 1001 would put businesses in the crosshairs.
"Make no mistake," Gierau said, "we're putting a federal mandate on that side of the room. We're on this side of the room. We're drawing our guns. And every business owner in the state is in the middle."
Sen. Dave Kinskey, a Republican who represents parts of Sheridan and Johnson counties, felt similarly.
"I just need to have something that I can tell the hospital when they call me and say the administration is going to cut off Medicare and Medicaid if they follow state law," Kinskey said.
Lance Porter, CEO of the Wyoming Medical Center in Casper, raised that concern during Monday's testimony. He told the committee that 50% of the Wyoming Medical Center's revenues come from Medicare and 10% from Medicaid, postulating that other hospitals and nursing homes in the state are likely in a similar boat. He suggested that not complying with a federal mandate could risk that funding.
"Please don't put us in a position where we have to choose between state and federal law," Porter said. "You can imagine facing a situation where you will lose 60% of your revenue."
But on Tuesday other senators fiercely defended the move to counter the forthcoming vaccine mandate.
"I'm inclined to not prognosticate as to what the federal government may or may not do," said Sen. Larry Hicks, a Republican who represents parts of Albany, Carbon and Sweetwater counties. He argued that the outcome of litigation against the feds was unknown.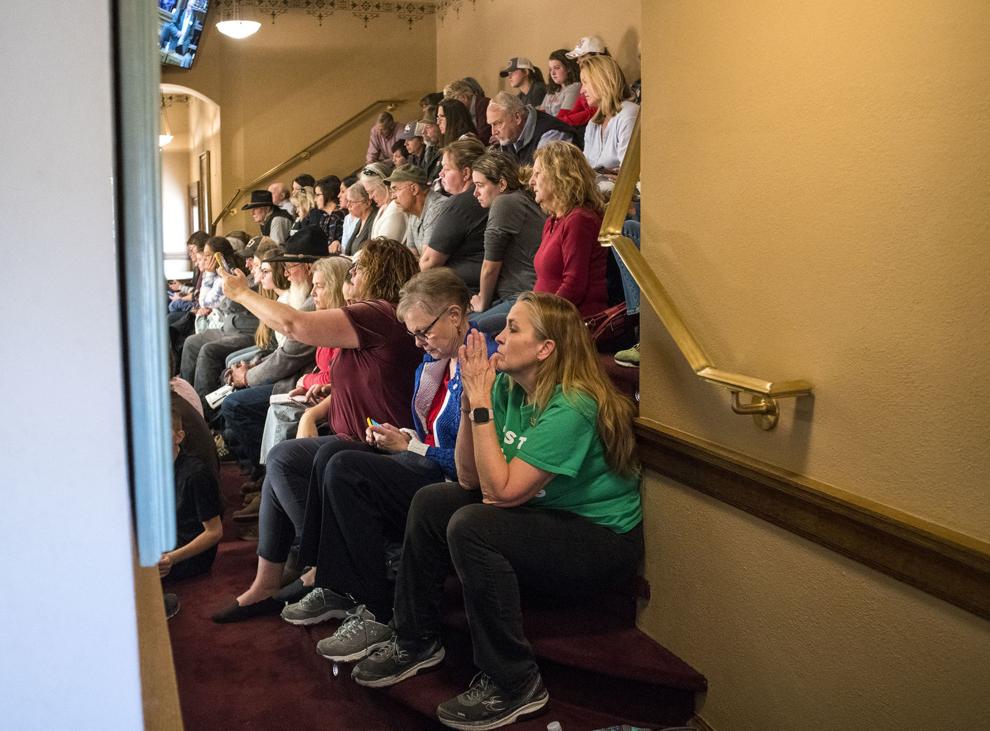 "I cannot control things that I can't foresee," he said. "We need to make a decision if we're going to prostrate ourselves here before federal government."
Hutchings later characterized her amendment as a push for simplicity on the path to doing something.
"I came down here because the citizens were calling me, the citizens were writing me, saying please stop the mandate," the Laramie County senator said, pitching her amendment. "I'm saying we don't have a mandate. Employers can do testing. And we'll wait until our lawsuit comes to its fruition. And then we'll decide what's going on."
Hutchings' amendment would reverse a portion of an amendment proposed by the Senate Appropriations Committee a day earlier, making the Legislature's proposed ban on employee vaccination requirements effective while litigation against the Biden administration's proposed mandate is underway. Eighteen states, including Wyoming, filed three separate lawsuits Friday to stop Biden's COVID-19 vaccine mandate for federal contractors, arguing that the requirement violates federal law.
But Hutchings' proposal would let stand a provision of the committee amendment that would repeal parts of House Bill 1001 if the federal vaccine mandate is upheld or shot down by the courts.
Sen. Gierau voted for Hutchings' amendment.
"It made it easier to understand," Gierau told the News&Guide.
But he added that he was still "against the bill."
"Nothing has happened that changed my mind on this — that this bill's a bad bill," Gierau said.
Hoath, for his part, said the whole thing is a pickle.
"Never before in my career have I had to make a decision where politics, legislation, personal choice and healthcare have all conflicted," he said.
This article was updated to clarify that Sen. Lynn Hutchings represents Laramie County. — Eds.