Jimmy Chin is used to climbing some of the tallest peaks and addressing monumental crowds with confidence. But he was nervous to speak in front of his home town.
On Saturday the renowned climber and cinematographer told Jackson Hole High School graduates he had spent multiple sleepless nights trying to find a pearl of wisdom to impart.
Ultimately, Chin settled on three values: Take risks, embrace failure and lead with empathy.
He framed this moment in the students' lives as a "beautiful, liberating and scary rite of passage."
"Whatever that transition is for you, it is a moment of change, a milestone of you moving forward into the world," Chin said, addressing not only seniors like his nephew Sasha but also their families, who are reconciling their own pride and fear as their proteges become protagonists.
Moments later, all 200 graduates would skip, dance and hobble their way across the podium, embracing Principal Scott Crisp with a bear hug or a high five before snatching their diploma and sauntering into the sunset.
"You may never see each other again, so take some time to watch every one," school board Chairman Keith Gingery said.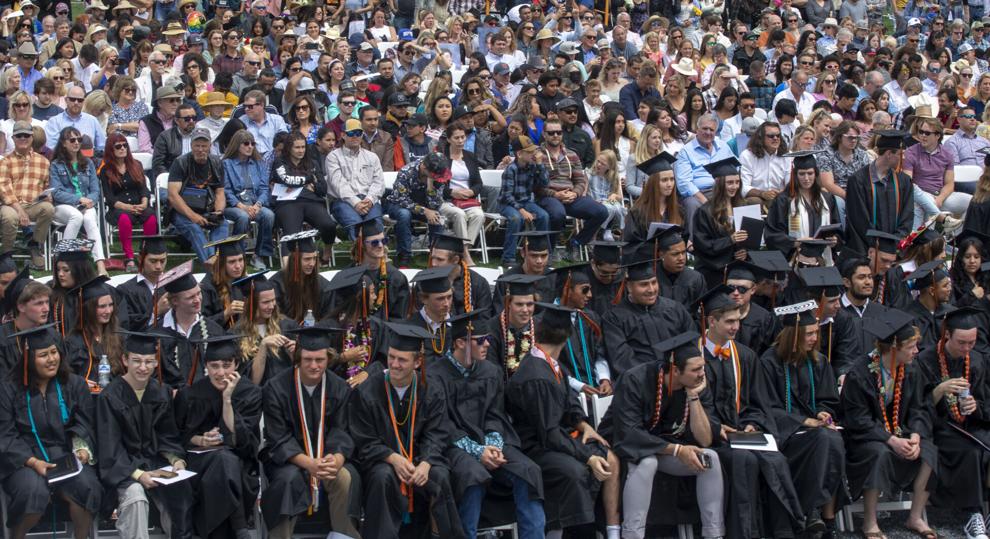 Before everyone inevitably parted ways, seniors Mia Fishman and Eddie Owens did their best to remind everyone of their most embarrassing moments together. There was the time Hayden Jewison almost burned down the middle school microwaving his Lunchables pizza, or that time everyone started sharing a bootlegged version of "The Boss Baby" movie, leading to a districtwide ban on AirDrop.
"To think how quickly the time goes," Owens said. "And how narrowly we avoided up to $250,000 in fines and up to 10 years in federal prison for copyright violations."
The pair are familiar voices from the morning announcements, and they began their joint speech with an homage to that tradition.
"Since today is a Saturday, instead of it being an A, B, C, D, E, F or G day, we've decided that today is a W day. W to the seniors," Owens said. "Sadly, today's menu is not pizza rippers."
"We rarely follow the script for the announcements," Fishman added. "Each morning had a spontaneous touch of who we are. ... And that's what we encourage you all to do. Let yourself be perfectly spontaneous, adapt to your situations, embrace a little improv along the way."
Owens ended with a quote by Master Oogway, the sage tortoise from "Kung Fu Panda": "Yesterday is history. Tomorrow is a mystery. But today is a gift. That's why they call it the present."
Student body presidents Colin Reese and Jesica Tzompa Perez were also given the chance to address their class.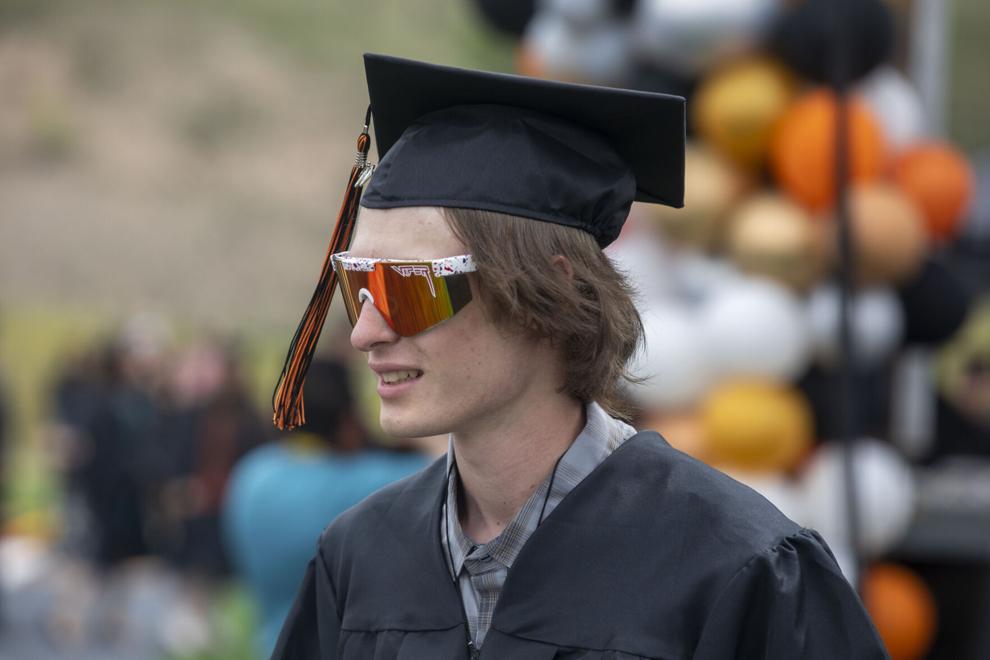 "It feels like just yesterday we were freshmen and our biggest concern was getting booed at the pep rally," Tzompa Perez began.
The duo then spoke of how optimism and hope led them through challenges like COVID-19 that defined their high school experience.
"When I think back on my high school experience,I won't think about COVID or existential despair," Reese said. "I will think about the friends I made, the community I was a part of and the challenges we overcame.
"I have so much faith that you all will find your own meaningful way to make a mark on the world."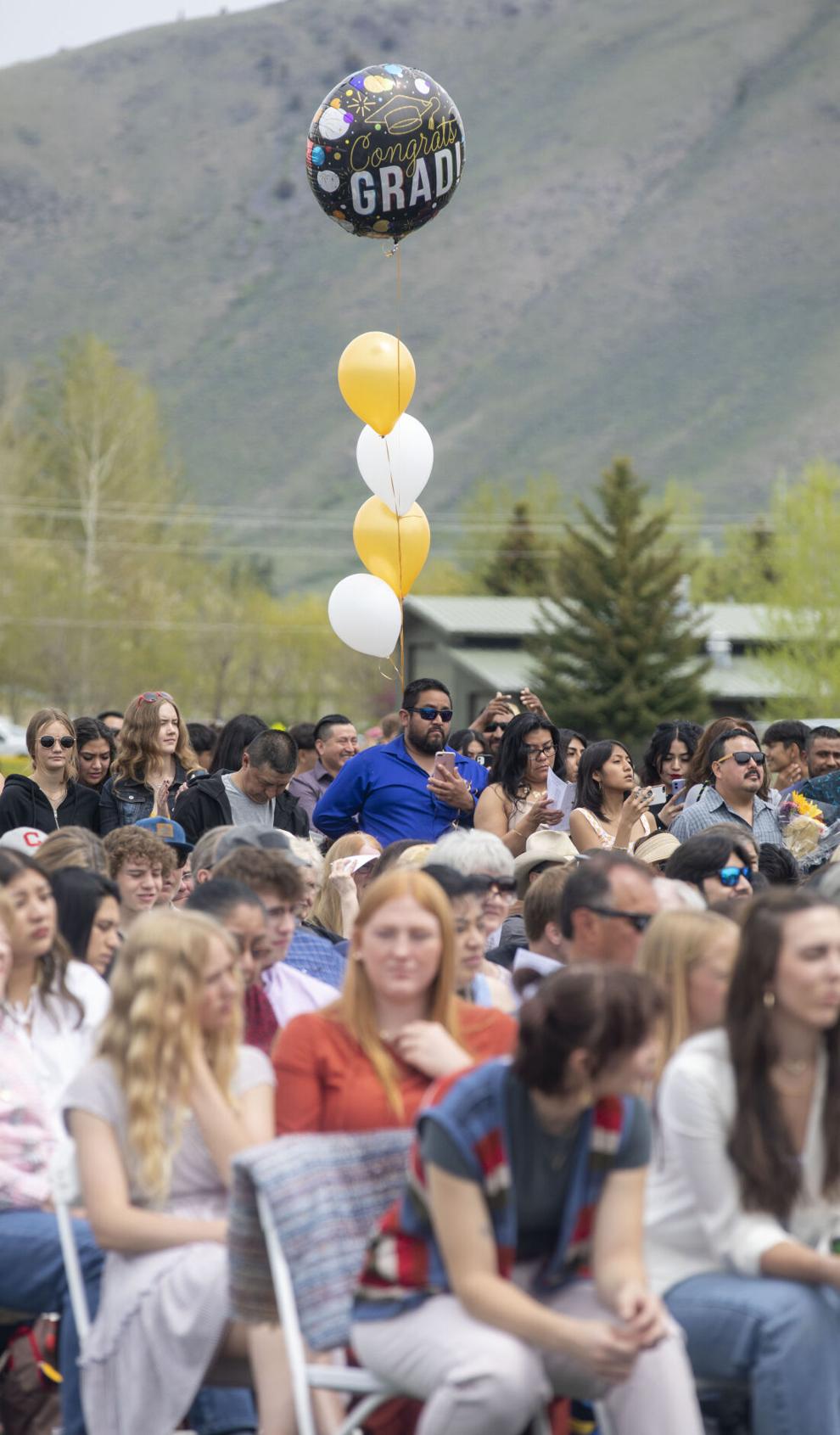 The Saturday ceremony, framed by Broncs-colored balloons and a towering American flag suspended by two outstretched fire trucks, began with senior Eric Woodson's rendition of the national anthem. Then Gingery called on all the Teton County School District No. 1 staff to stand and be recognized for all the support they gave the Class of 2022.
Science teacher Johnson Whippie was later recognized as the 2022 Outstanding Educator, an award nominated and voted on by students. Rocking an Indiana Jones look, Whippie tipped his hat to the graduates as they cheered him on.
Appearing in a genial staff video, the teachers gave one final farewell. Art teachers reminded the students to see their mistakes as opportunities, Whippie told them to "keep it real," and principal Crisp gave the standard "Have a Great Summer."
After a summer of work and adventure, the graduating Broncs are scattering across the country to colleges large and small. Some will remain in Jackson Hole and join the local workforce.
As Chin reminded the crowd, the path forward is not always clear. Often it is "fraught with doubt."
But that discovery — a somewhat blind pursuit to find what you love — is where life gets its meaning, its serendipity and its hope.
"It always feels scary to pursue a dream: to figure out who you are and what you want to do," Chin said. "And that's OK. It's all part of the journey."