A small room in the new Munger Mountain Elementary School serves as ground zero for a pilot program combating hunger when school is out.
Teton County School District No. 1 Food Service Director Wes Clarke paired up with Hole Food Rescue's Ali Milburn to create what's now known as the "Munger Market" or "Mercado de Munger."
"Any time we have the opportunity to partner with an organization like Hole Food Rescue to provide our students access to food, that's an opportunity we'll pursue," said Principal Scott Eastman. "It's an exciting opportunity and one that we're thrilled to be a part of."
The idea is simple. Not all students go home on the weekends to three nutritious meals a day. Twenty-one percent of Munger students qualify for free or reduced lunch during the school week.
"The weekend is just a tough time for kids because we're not offering school meals in that time," Clarke said. "If Mom and Dad are working a ton, we want them to have the ability to have food and continue with good nutritious food throughout."
The district has partnered with Hole Food Rescue and the Holland & Hart Foundation to provide "Friday food bags" to students of all ages who they've identified by counselors as having a need. But that doesn't give children a lot of autonomy in picking their food.
"We started down this pathway three years ago," Eastman said of addressing hunger over the weekends. "This is a great continuation of that work."
Predetermined meals can also result in a lot of food waste, something Hole Food Rescue works to lessen in Teton County.
"The Munger pantry is our attempt at trying to give kids a little bit more ownership and participation in their own food security," Milburn said. "With the Friday food bag program we'll give them food and kind of hope for the best, hope that they like whatever we're giving them. In some cases this definitely perpetuates food waste."
Enter the pantry model, born in part about a year ago during discussions of a food insecurity working group. Every Friday, the market opens to fourth- and fifth-grade students — regardless of need — just before school buses leave. Some grab a quick snack for the bus ride, while others might stock up on food they can make themselves over the weekend like soup or Easy Mac. It's designed that way to reduce the stigma of hunger.
"We want this to be available to anyone," Clarke said.
Pilot program in the works
On the first "soft opening," Clarke said, 80 students came through. The next week, 50. He's watching to see who keeps coming, and said that as with anything new there's a learning curve.
"From what I've seen, there's no negative attitude about it," Milburn said. "So my hope is that it will just continue to be a positive and cool experience for all kids to participate in."
The market is stocked with a variety of foods — fresh bread and produce from the Hole Food Rescue, canned goods from Food Bank of the Rockies and the Jackson Hole Cupboard — with the intent for it to be as kid-friendly while also as healthy as possible. There's everything from canned green beans, rice and crackers to juice.
A student, Clarke said, came up to him last week and told him his family "didn't have any bread at home."
"Boom, our goal is being met right there," Clarke said.
He tries to make sure the food can be made with little to no adult supervision and without a lot of extra appliances or resources. He knows some students' parents work several jobs and aren't around to help prepare food.
"Any kid can make cereal," he said.
Food insecurity impairs learning
A study from the Tufts University Center on Hunger, Poverty and Nutrition Policy found that children not getting enough to eat on a regular basis can have delayed brain development that hurts the child's ability to learn and that low-income students who come to school hungry have lower scores on standardized tests than low-income children who arrive well-fed. And a study in the journal Child Development published in 2017 found that kids who are hungry in the first few years of their childhood lag behind their peers in school.
If the district wants to meet its 2022 goal of every third-grader being a proficient reader and mathematician, every eighth-grader being a proficient writer and every senior graduating "life ready," each student's life outside a school's four walls will need to be considered.
"It's all connected," Eastman said. "This is a piece of that puzzle. If we want achievement for all students, you can't do that by just teaching them harder or throwing stuff at them."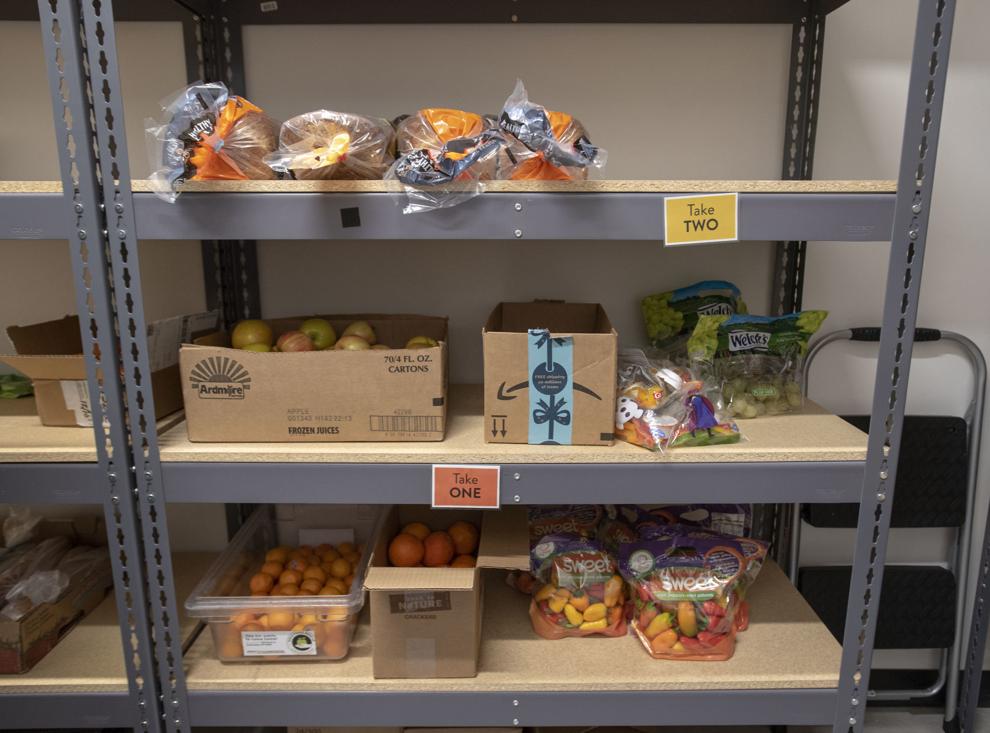 The program in part is being tried at Munger because there might be a greater need at that school. Districtwide, 10 percent of students qualify for free meals and 5.5 qualify for reduced prices. At the new elementary school south of town, 13 percent of the students qualify for free meals and 8.3 percent qualify for reduced.
And the need is likely higher than the figures. Because wages have increased in Teton County, some parents have been bumped just beyond a salary that qualifies them for help. Federal guidelines don't adjust for the cost of living here.
Clarke knows firsthand there are also barriers in getting people into the system. There's some fear in the Latino community, he said, of reporting any information to the school district that might make its way into the hands of immigration officials. He said he doesn't share the information and encourages anyone in need to fill out forms, available in both English and Spanish. And even if parents do fill out the forms, they can still be denied.
If all goes well, there are plans to expand the market to other schools to support more kids. There's also potential to incorporate curriculum on things like nutrition and currency. The market might also open up to parents when they come to pick up their kids Friday afternoon.
Regardless of the delivery method, educators are aware that students might need help with food out of the school day.
"This is not an issue for one school, one area, or one group," said information coordinator Charlotte Reynolds. "This is real in our community."
Just this Thanksgiving, Eastman delivered a turkey meal, donated by a local church, to a family in need.
"It was so cool to be able to do that," he said.
The Hole Food Rescue accepts donations, food or financial, that help with this program. Contact alison@holefoodrescue.org to learn more.