When other children might be getting on a school bus 7-year-old Rory Loudenslager and her 5-year-old sister, Heika, are on a playground alongside their 2-year-old brother, Cyrus.
They're playing with magnetic letters. Soon they'll turn to a math lesson: Rory will work through fractions while Heika works on counting.
They're not skipping school. They're redefining it.
Woven into the fabric of the valley's one public school district and handful of private schools, a few dozen families choose home schooling. They're a small but mighty bunch, striking out in what can feel like isolation and putting in the extra work because they say it pays off.
The 2016 National Household Education Survey found the highest percentage of parents who home-school their kids — 80 percent — named a concern with school environments as an important reason for home schooling. Thirty-four percent billed environment, which included things like school safety, exposure to drugs and peer pressure, as their "most important concern." Dissatisfaction with academic instruction topped the list for 17 percent of parents, and 16 percent reported a desire to provide religious instruction.
Teton families are just as varied in reasons for teaching their children at home, though they do share some commonalities: They enjoy the flexibility and the ability to individualize their children's education, and they see things in the public school system that don't fit their kids.
Every year, though, parents reassess the decision.
"When you make the choice to home-school it's not a one-time choice," mother Primm Loudenslager said. "It's month to month, semester to semester, year to year."
Home schooling comes with sacrifices, the most obvious being that one parent must stay home to educate. In every family interviewed for this story that parent was the mother.
"I'm a teacher's assistant," father Christopher Van Slyke said. "But my wife, she's the master teacher."
"I'm viewing it as a job," Klair Van Slyke said. "It is my job."
Laws, regulations vary by state
While home-schoolers are certainly in the minority, there are more than one might think. The 2016 National Household Education Survey found 1.69 million students were home-schooled, about 3.3 percent of all school-age children in the country. Of those, 60 percent are part of a family with three or more kids, 78 percent are white and 89 percent are from a two-parent family, according to U.S. Census data.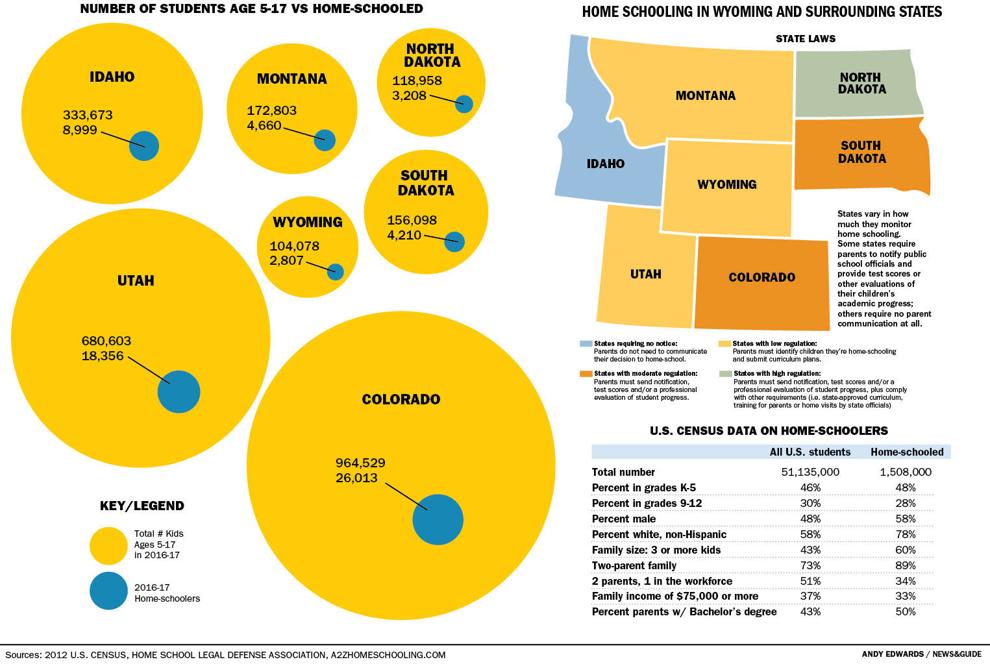 Locally, the precise number of home-schoolers is unclear.
This fall Teton County School District No. 1 reported 22 home-schooled students, a data point that is calculated annually in the spring. With 7 being Wyoming's compulsory school attendance age, families home-schooling kindergarten-age children aren't included in that number.
Functions for home-school families have drawn more students than the official tally, suggesting more families are home-schooling than the district has in its system. Last year's field day, for example, drew upwards of 50 students, and it was noted that there were more who couldn't make the event.
In Wyoming school districts are required to report the number of home-schooled students in the county — but official state data beyond that metric is limited. Districts don't monitor or report educational records or even names. Districts are required to advertise that staff can review home-schooling curriculum, but it's the family's responsibility to make such a request.
Per state law, families submit curriculum showing "sequentially progressive" instruction to the school district's board of trustees annually. The year's syllabus must address required subjects: reading, writing, math, civics, history, literature and science. Guardians can also home-school children under the guidance of a school "under the auspices or control of a local church, denomination or similar religious organization," according to the Home School Legal Defense Association.
Neighboring states take a different approach when it comes to monitoring home schooling. Idaho requires no notice, and parents don't need to initiate any contact, whereas Colorado requires parents to submit notification and test scores and/or a professional evaluation of student progress.
According to Education Week, home schooling was illegal in a majority of states as recently as 1980. It didn't become lawful nationwide until 1993.
A slowly growing community
The home-schooling community used to be a lot bigger and much more robust, but with the opening of two private schools in the early 2000s — Timber Ridge Academy, now closed, and the Jackson Hole Classical Academy — many parents who were home-schooling opted instead to put their kids in classrooms. Numbers dwindled, most likely aided by the economic squeeze of the 2008 recession.
"There used to be an awesome home-school community here," mother Jennifer Lamppa said. "But it just kind of dwindled, and at one point I felt like I was the only one out there."
Families say the number of other parents choosing to home-school is growing again. But a sense of community, both between parents and students, is still being built. Home-schoolers take group trips to the Teton Raptor Center and WILD Fest Science Day, and last November they shared a picture day. They also have a Valentine's Day ice skating outing and an April bike ride to Grand Teton National Park.
Home-schooling communities are more formalized south and west of Jackson. In Star Valley there's a co-op where home-school families meet up once a month to organize opportunities, events like a science fair, Maker Faire and speech day. In Teton Valley, Idaho, home-schooled kids swim, skate, ski and climb together.
"I need more moms," Loudenslager said. "We're pretty isolated here."
Enjoying the opportunity and freedom to educate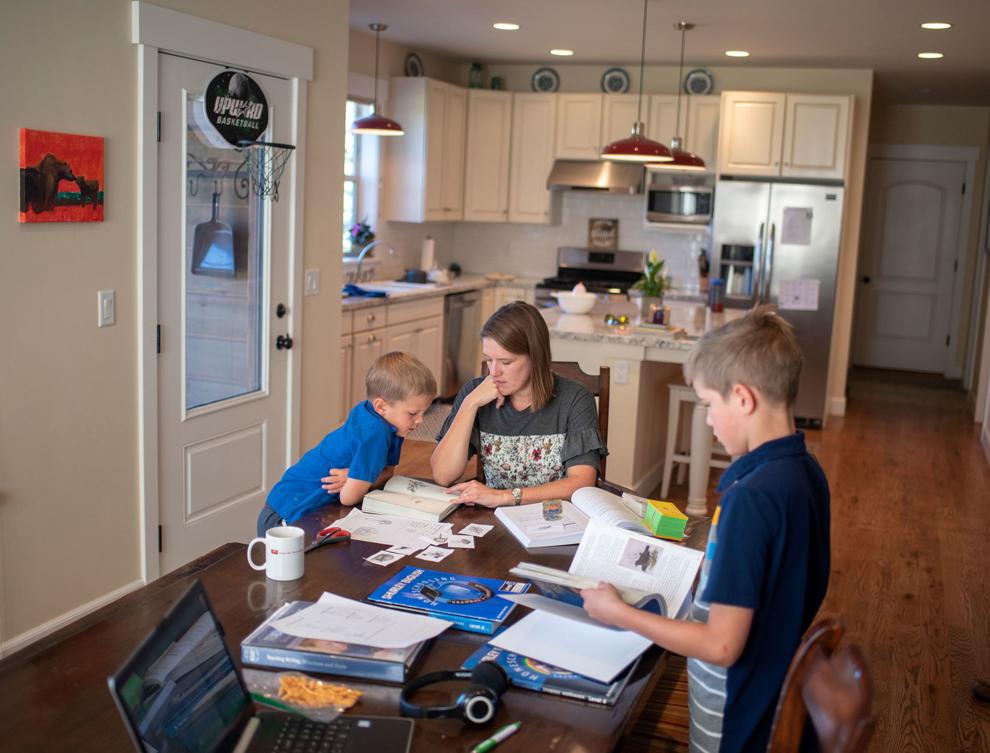 Jennifer Lamppa was home-schooled for a year as an eighth-grader.
Now she and her husband, Todd, are home-schooling their eighth-grader Annika, along with their fourth-grader, Bridger, and kindergartner, Keagan.
"I've always thought it would be cool to home-school my kids," Lamppa said. "You get to determine how they're being taught."
Lamppa has always had "a heart to teach her own kids," her husband said.
"It all hinges on the desire of the parents and the ability to do it," he said. "It's a job, it really is."
Freedom to focus their teaching
Their children tried Timber Ridge Academy, and the family considered the Classical Academy, but home schooling was the best fit for flexibility and educational independence.
"I would prefer to have as much freedom as possible in educating my children," Lamppa said. "If the government stepped in more, you lose some of your freedom in how you educate your child."
The kids or, rather, their diligent student, Annika, have had a say in their education as well. The 13-year-old decided on her own she wanted to home-school again. But the choice to home-school is a year-to-year one.
"We just felt like it was our responsibility to take care of our kids during their grammar stage years," Lamppa said. "All educational systems have their weaknesses and strengths. This system is working best for our family."
What works particularly well are their class sizes — essentially one-on-one instruction — and the flexibility to travel on their own schedule. The setup also allows for them to challenge their children differently than what may be possible in a more crowded classroom. For example, one of their kids is grades ahead in math.
"You can't stifle that," she said.
A long table in the Lamppa's living room is their schooling home base. Curriculum includes online classes in French and Latin, literature, the Bible and logic.
"Our faith is important to us and affects every area of our lives," Lamppa said. "As a result, we feel it is important to incorporate some Christian values and programs into our curriculum."
Online courses offer unlimited resources, she said, making it challenging to decide what to use. In addition to various materials, texts, resources and teaching tools, private tutors are also an option.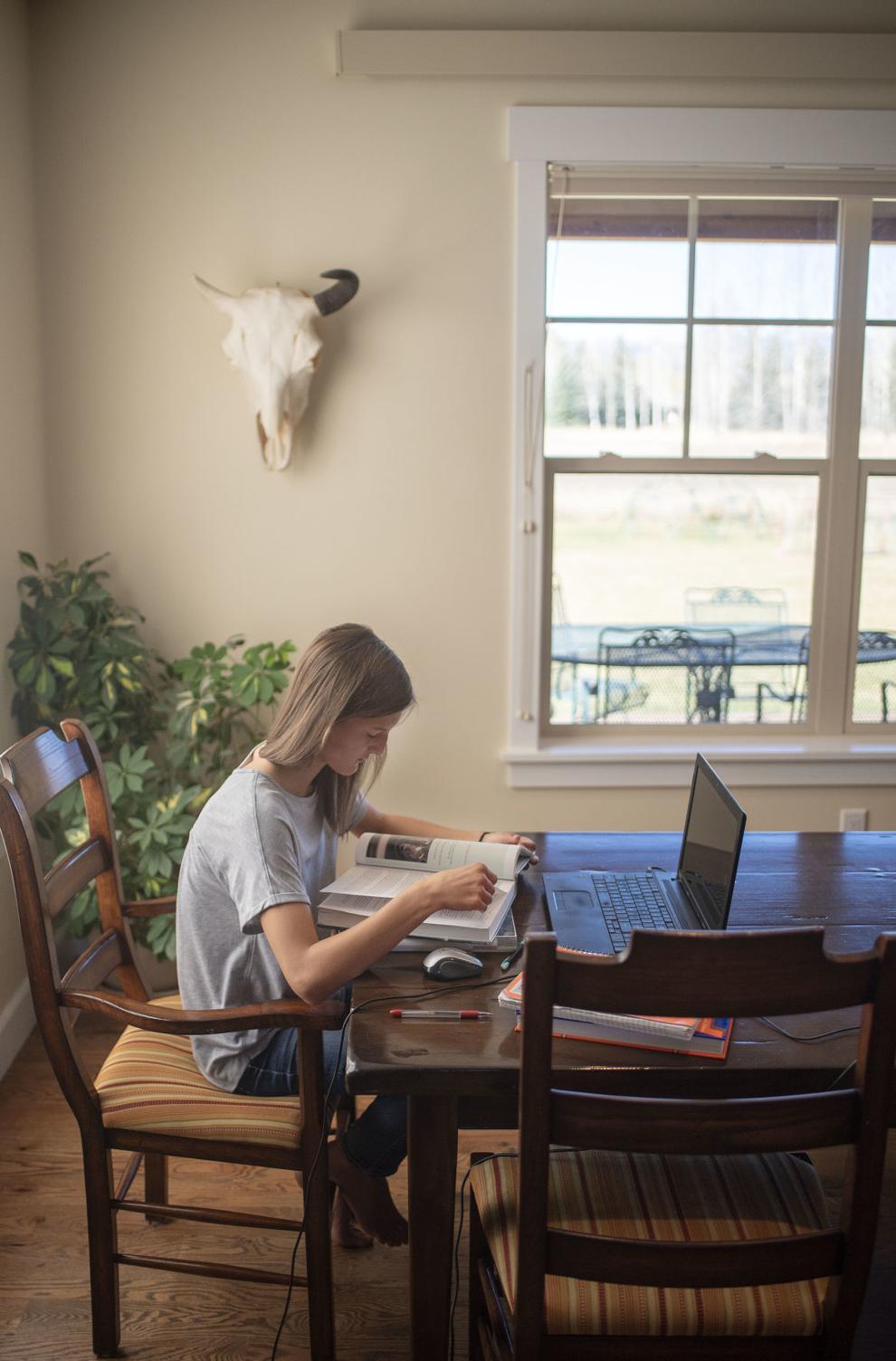 Home schooling can also mean fewer hours of instruction a day, especially for the Lamppas, who have been fine tuning their home-schooling routine for the past nine years. Each child uses an online program for lesson planning with a daily to-do list. The kids learn at their own pace, crossing items off as they go.
Reading tends to start around 8:30 a.m., with school officially starting around 9.
The kids ice skate, sled, play hockey or ski trails in their backyard during recess while mom catches up on dishes, laundry and other household chores. They break for lunch around noon, and with an afternoon break the family tends to wrap up at 1 or 2 p.m., sometimes earlier if there's something else on the day's schedule. When Annika finishes before noon she occasionally bikes down the road to hang out with another home-school family.
Fridays are lighter days, including a history lesson and time to finish homework.
Lamppa issues standardized tests to gauge progress, which plays into an important part of home schooling, she said: setting goals. As the kids grow they also become more independent, making the whole process more streamlined.
"I think following a structure is not for everyone," Lamppa said. "But it's key for me and my family."
Allowing time for activities outside the 'classroom'
Another key to the family's home-schooling success: cultivating lifelong interests. Like a love for books.
"To me, it's so important for the kids to learn to read and enjoy it," Lamppa said. "Because reading enables them to learn anything they want."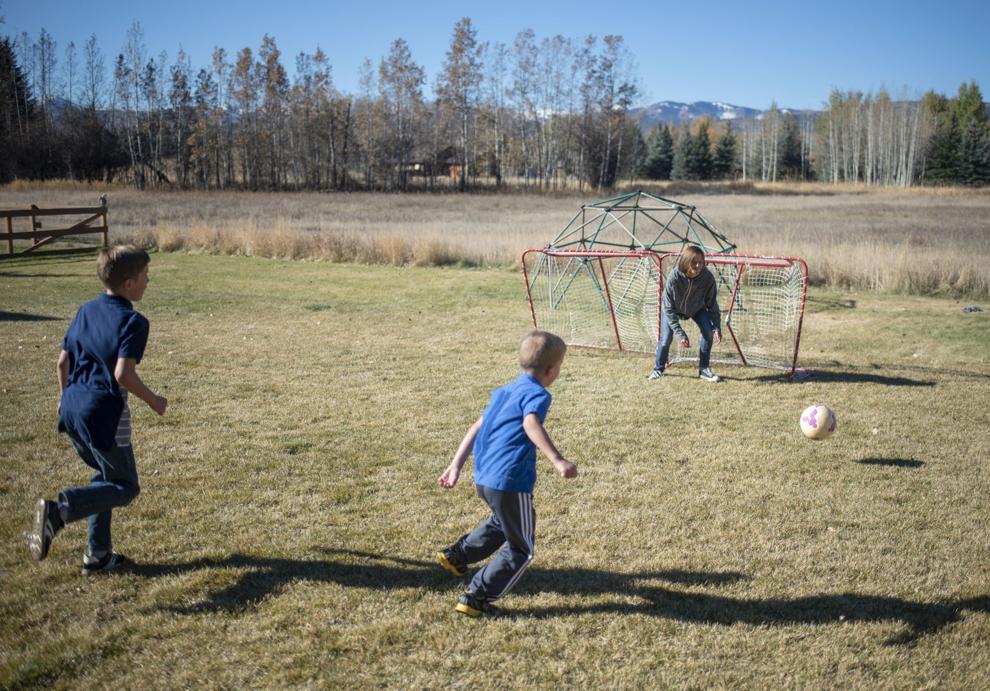 When the Lamppa kids aren't in school they're active in sports, theater and other activities through First Baptist Church.
"We're not trying to home-school to shelter our children," Lamppa said. "We live in this world; we need to teach them how to respond to those situations."
The question "Where do your kids go to school?" is a frequent one. The Lamppa parents see it as an opportunity to educate the asker.
"In those conversations we kind of set the record straight," Todd Lamppa said. "We give them information and say, 'This is how we educate.'"
Desiring more family time, more attention, fewer screens
Primm Loudenslager has her hands full home-schooling her daughters, Rory and Heika, and taking care of Cyrus, their toddler brother.
On a crisp fall day her children started school outside on the playground across the street. The siblings took turns playing and learning together.
As the morning progressed Heika, 5, focused on number recognition and counting while Rory, 7, worked through a workbook of addition, fractions, bar graphs and median averages. Her mom makes many of the worksheets herself.
Every day Loudenslager changes the lesson plan, focusing on story-driven curriculum over "drill and kill." The teaching, she said, is secular, an approach that piques the interest of other families.
"I meet a lot of people with toddlers who are really interested in what we're doing," she said. "When people think home school, they usually think a fundamental Christian. But people home-school for a lot of different reasons."
Her mother home-schooled her oldest brother.
"I grew up hearing her talk about how it was much better," Loudenslager said. "I thought, 'When I have kids that's the solution.' So far it's worked out for our family. I know it can't work for everybody."
Her husband's days off are Wednesday and Thursday. Were their children in a traditional school setting they would rarely have time together as a family. Instead they enjoy offseason trips and hitting the books harder during the traditional spring break. Loudenslager has also worked in unique educational opportunities, like taking her kids with her to run election booths.
Traditional school days, she said, are too long with too many kids in each class.
"The more kids there are, the harder it is for them to matter," she said. "I think Wyoming is going to take an ax to education in the next five years."
She's also frustrated by a lack of evidence-based decisions in the public education system, she said, like too much testing in young grades and not enough time moving and playing. She's also critical of the growing amount of screen time in school.
"I'm not thrilled with how much technology is in the elementary schools," she said. "I feel pretty strongly that it needs to be pen to paper."
While school safety wasn't at the front of her and her husband's minds when they decided to home-school, the presence of active shooter drills reinforced their choice.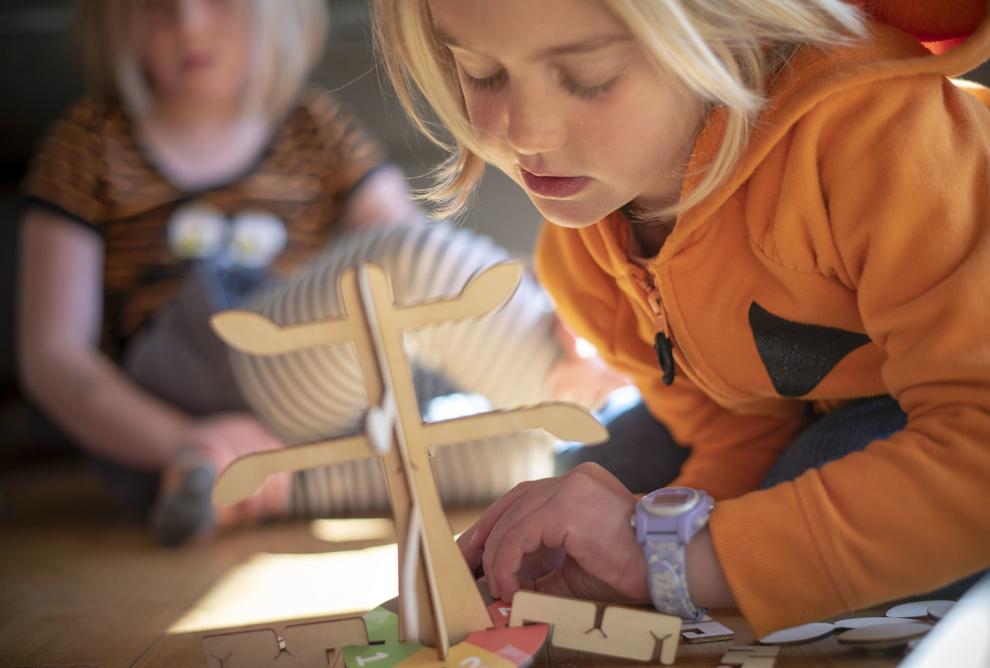 "I think it would affect her deeply," Loudenslager said of elementary-age Rory. "I wish we could spare them all, but I can spare my daughter of that.
"We always said we would let them try public school, but now, I'm not sure."
Loudenslager wants her kids to be open when it comes to secondary education, moving on to college classes or exploring trade school should they progress past high school curriculum faster than the typical four-year track.
"There are so many options, and I didn't hear about any of them when I was a kid," Loudenslager said. "I want to make sure my kids know about them. ... I want all the possibilities to be seen."
Loudenslager keeps her kids engaged in what they're learning. In one morning the students delved into math worksheets and a reading and sound game, played outside and worked as individuals and in groups.
This summer they caught tadpoles and observed their maturation into frogs. A monthly subscription box delivers science and art kits to their door, like the book they read last month about trees. A game called "Shut the Box" helps the girls with their addition and subtraction facts.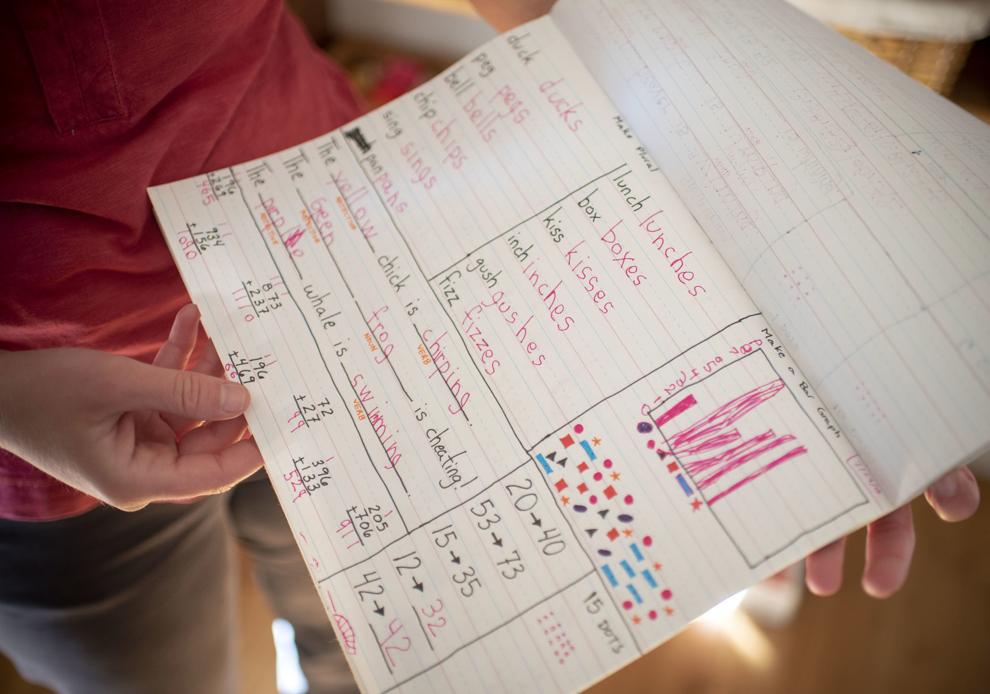 "I think people get intimidated thinking they can't do it, but it's very basic stuff," Loudenslager said.
The hard part, she said, is not comparing her children with their peers in traditional classrooms.
"Overall, I think it's going to be a win," she said. "What we're doing is what we're doing. It all levels out in the end."
It can also be hard to explain to her kids how education works for other families. Her children make friends through after-school activities like skiing, ballet and taekwondo, and though they don't ask why they aren't going down the street to Wilson Elementary School, others do.
She puts her heart and soul into home schooling. It can be really tiring at the end of the day to answer inquiries about her family's choice.
All families choose their priorities, she said.
"Some people picked food and milk almonds," Loudenslager said. "I picked this."
Developing an educational experience for the 21st century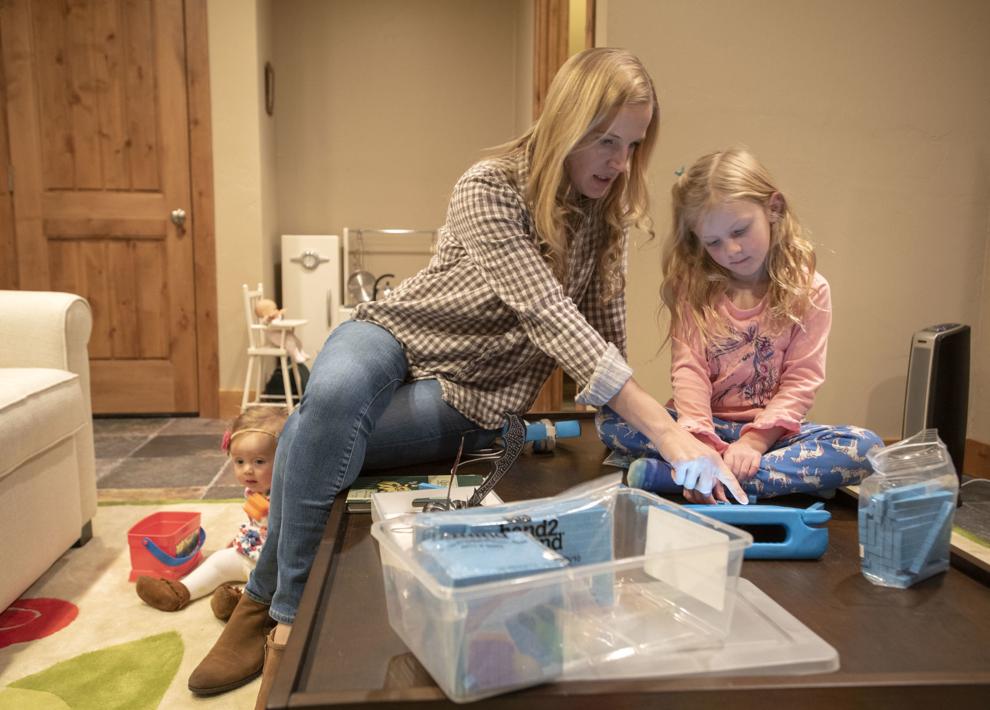 Christopher Van Slyke and his wife, Klair, didn't intend to home-school their 7-year-old daughter, Katherine. But when she learned how to read at 3 they started to rethink what school would look like for their family.
"I've looked at the curriculum for kindergarten, and she's in the second or third grade in her reading and math," Van Slyke said. "What would she do? Literally, what would she do when the other kids are learning to make letters and read?"
Van Slyke also didn't feel comfortable sending his 5-year-old off for "eight hours a day, five days a week, to spend time with people I don't know," he said.
"I still wanted her close to the family," he said. "Your kids get so much from their siblings and parents and extended family and friends when they're little. They're like sponges."
Lots of materials, lots of personalization
Right off the bat, Van Slyke said, they noted a couple of characteristics of home schooling. First, the vast array of options, from materials to programs.
"It's kind of like going from a Soviet grocery store to an American grocery store," he said. "Once you wade into the online educational marketplace, it's vast and wide. There's so many options it's difficult to even sort through."
Two, they saw how individualized home schooling could be.
"One child can go as fast as their interest and their aptitude will take them in one subject, and maybe another subject they're not so hot at, they can go along like a turtle," Van Slyke said. "We custom-make our lives in pursuit of our dream as Americans, and it just seems that could start when you're 5 years old or 3 years old."
In his experience students are either behind or ahead in a one-size-fits-all approach.
"I've been in both groups, and it stinks," he said. "It stinks to be lost, and it stinks to be bored."
Technology with a purpose
Through trial and error their family — which also includes Katherine's siblings, 5-year-old Angelina, 3-year-old Christopher Jr. and 7-month-old Victoria — is having luck finding engaging curriculum in apps and other platforms.
"We don't let them [use] apps to play a lot of games," Klair Van Slyke said. "The apps and videos are really good at using positive reward circuitry. They can have fun and learn while doing it."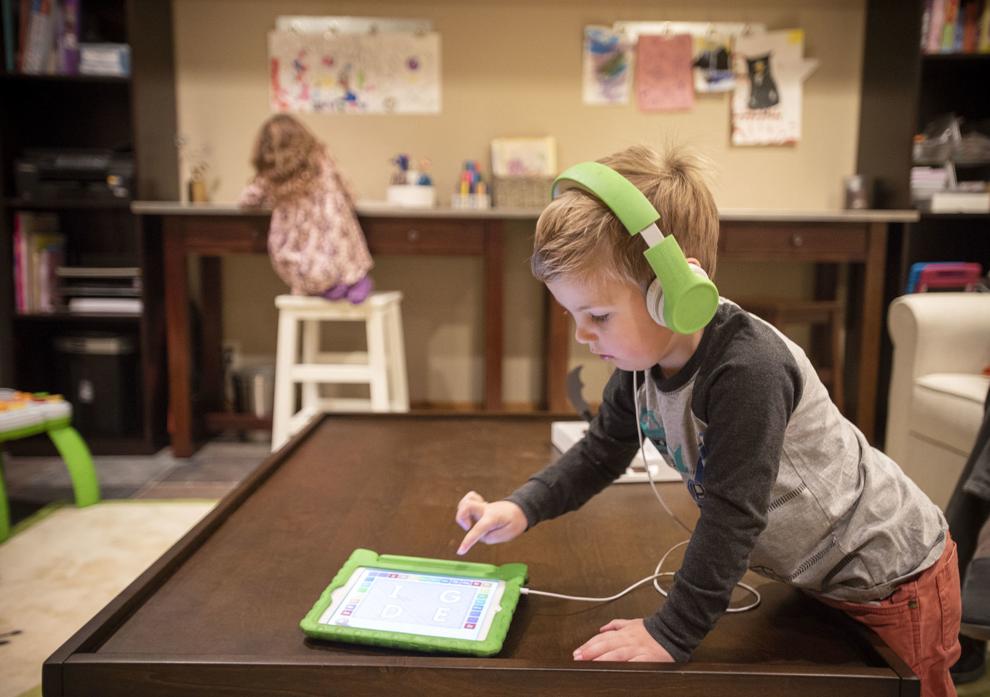 That's one reason the family likes technology with a purpose — it gives their kids immediate feedback so they learn concepts correctly from the start. If Klair Van Slyke doesn't know the right answer or how to teach something she often turns to technology, specifically YouTube, as a resource. The family comes across as tech trailblazers, both professionally and personally, comfortable with new tools and eager to find a benefit and use that works for their children. In moderation.
"It's a brave new world out there," she said.
Their days, she said, are flexible. She'll sometimes ask her children what they want learn and go from there, trying to find the optimal spot where material is hard but not soul-crushing for little humans with short attention spans.
"I really like to find that point where it's a little bit hard," she said. "That's where it's interesting."
When the News&Guide visited the Slyke household Katherine had a lot of enthusiasm for reading, while Christopher Jr. wanted to show off his ABCs. Headphones help keep each child's iPad from distracting the others, and the kids will sometimes separate into different rooms when they need space to learn. They know what's expected and often take breaks with each other.
Compared with the cost of private school tuition for four children, said Van Slyke, a certified financial planner, home schooling is cheap — and fun.
"I'm jealous of my daughter," he said. "History textbooks are way more interactive. She's learning about Egypt right now, and the Sphinx talks."
Money the parents aren't spending on private school, he said, can be put toward enrichment.
"I've thought of going to Europe as we study it, renting my home in Jackson and AirBnB'ing a home overseas," Van Slyke said. "That is the kind of thing you can do as a home-schooler."
This fall the Van Slykes are headed to California for a month in their RV, and school is coming with. Traveling during offseasons and scheduling piano lessons during the middle of the day have their perks. Namely, lower prices and fewer crowds.
"Wanting to be untethered is a lot of why we're doing this," Klair Van Slyke said.
Friendships built in extracurriculars
One of the biggest myths and preconceptions home-school families hear is that their children won't be normal if they aren't socializing with their peers in a school environment. But Christopher Van Slyke isn't worried.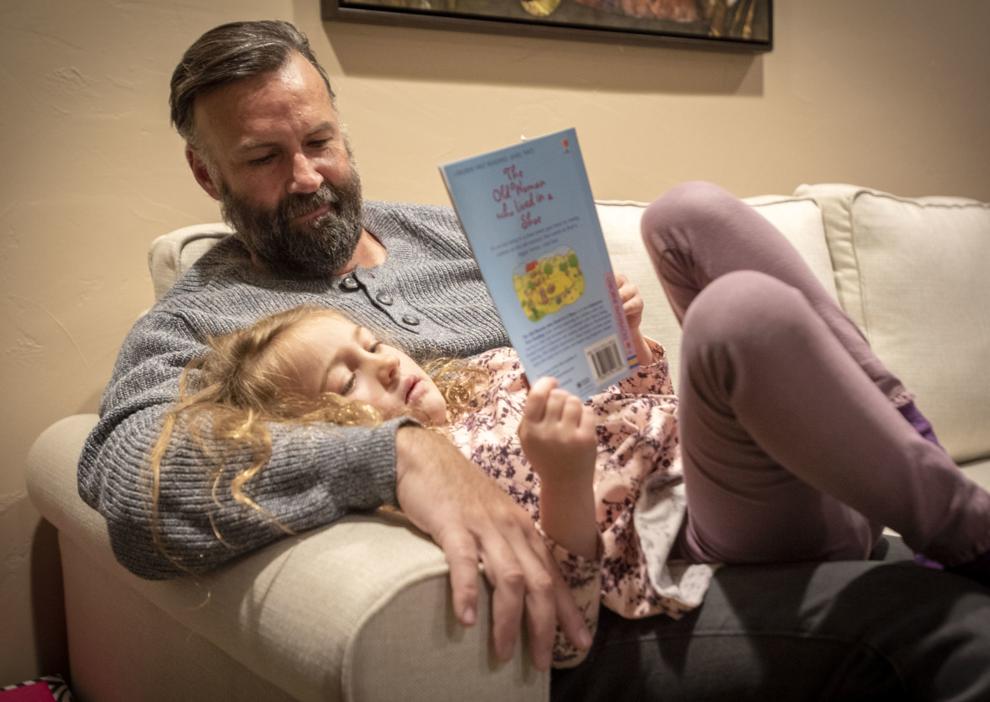 "If you think about what kind of socialization you get in public school, I'm not sure it's good," he said. "One thing they say about home-school kids is that they're very comfortable with talking to adults. My kids are definitely more comfortable in the real world because they don't ever live in the one-age world with very low student-teacher ratios."
When he thinks about his upbringing, he said, all of his friends were from extracurricular activities. His children participate in dance, skiing and hockey, which is also where they've made friends.
"The thing about school is that you can't talk in class anyway," he said.
Maybe most importantly, Van Slyke said, an "industrial model" of schooling won't prepare his children for the 21st century.
"You take everybody that's the same age, you take a one-size-fits-all curriculum, you put them in a room and you kind of march them through the factory and they come out when they're 18, supposedly all ready to go," he said.
"We're moving from a world where rote memorization was important because there was no internet to a world, where getting the answer is what's important. It's the process, problem solving, solution development.
"Public school doesn't look like that."
When the Van Slykes tell people they're home-schooling their children they often hear, "Oh, I could never do that."
"Usually there are a lot of people who want to do it or wished they'd done it," Christopher Van Slyke said. "I just think they didn't think it was possible. There's so much inertia from the culture.
"Some people don't feel good about their kid's current situation in public school, so I think it stirs a lot of emotions in them — especially when they see we're not the stereotypical home-schoolers. We're just a regular-old American family, from big cities with high-powered careers, highly educated.
"I think there aren't a lot role models like us for people to feel that maybe they should try it because they have that doomsday prepper in their head."