Alta elementary students made colorful posters this weekend with the messages "Save sixth grade" and "Keep traditions, don't cut positions" on them. Students and their parents are gearing up for what's likely to be an extended conversation tonight about the future offerings and staffing at the school.
Teton County School District No. 1 Superintendent Gillian Chapman has recommended the school board no longer offer sixth grade and cut a core teacher. The board will vote at its regular monthly meeting, which begins at 6 p.m.
Sixth-graders living in Alta have three choices: Alta Elementary School, Teton Middle School in Driggs, Idaho, or Jackson Hole Middle School. Other elementary schools in the district are kindergarten through fifth grade, not sixth. But Alta families said a key difference between them and other small schools like Moran and Kelly is Teton Pass, which looms between home and Jackson Hole Middle School.
Chapman's recommendation is due to declining enrollment at the school. It has dropped from 65 students in recent years to 48. There are seven sixth-grade students this year and eight fifth-graders, only two or three of whom have formally committed to staying next year.
"It's not based on the budget," Chapman said. "It's looking at numbers, trends, how do we best use our staff. When I look at the numbers at Alta, they are on a downward trend. It's not equitable for me to keep four staff for between 38 and 40 kids and have a 10:1 or a 9:1 student-teacher ratio when I look at other small schools and their ratio is much higher."
The father of a fifth-grader said at a community meeting last week that his daughter's decision changes "every week," making it hard to estimate next year's number. It could be as low as 37 or as high as 41 — low enough, Chapman said, to have three teachers instead of four. The state model for class size dictates 16 students to 1 teacher in kindergarten through second grade and 23 students to 1 teacher in third through 12th grade.
The suggestion to cut sixth grade isn't an entirely new one, but before it hasn't made it this far in the process.
"Right now, we have a lot of really small class sizes," Principal Jenna Beck said. "That's just kind of how it goes some years. Some years we ride it, and some years we talk about making difficult decisions. We've rode it for a long time."
Four trustees and Chapman traveled to Alta last week to hear from about 40 worried parents, some of whom went to the school as children or teach in the Idaho school district down the road.
"We had 60% of our parents at that meeting and I just think it speaks volumes to the value and the drive that this school has on this community," Beck said. "These parents are 100% committed and supportive of our school."
Mother Cate Stillman has since started an online petition that states it is a "plea to the school board to honor this small school's tradition, rather than farming out our sixth-grade education to the state of Idaho."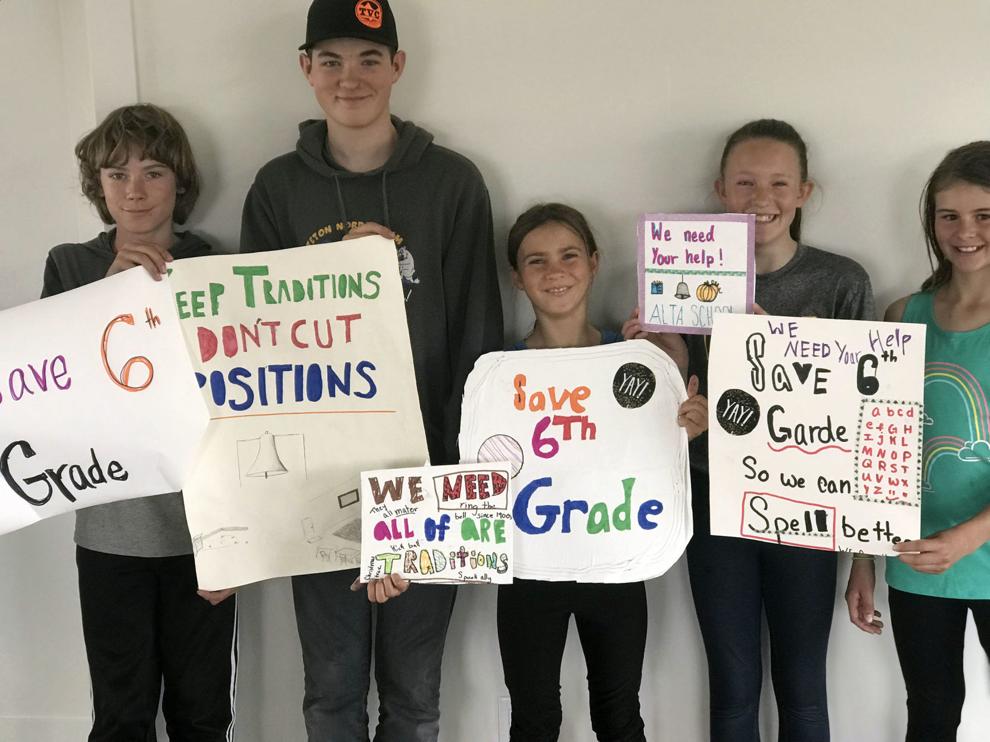 The dialogue was emotional and heated at times, with people visibly frustrated and talking over each other — and one student crying when he began to speak.
"It's a really big deal for us over here," mother Sarah Dunn said. "We know we're a small community compared to Jackson, but we don't feel like we should be treated like we don't count, and it's kind of feeling that way."
Alta families are passionate about the school. They say it's the heart of the community and, for many, a key reason for moving there. To them, the suggested cuts are personal.
Parents urged the board to wait at least a year before making any drastic changes and said they felt "blindsided" by a letter sent April 26 informing them of the superintendent's recommendations. One father of six told the crowd that the suggestion seemed like a "knee-jerk reaction" and he wasn't sure "why we're in such a rush."
Parents said there's not enough time given for current fifth graders to get the treasured leadership roles they would've had in sixth grade at the school or the fourth graders to be ready to be the oldest kids at the school next year. They also say they haven't made up their mind where their fifth grader will go next year. Private school deadlines have already passed, and students haven't toured either middle school.
If students attend Teton Middle School, Jackson's school district pays Teton School District 401 in Idaho roughly $12,500 per child — Idaho's out-of-state tuition rate. The state of Wyoming reimburses for that expense. That option began seven or eight years ago.
There are now 28 Alta students whose Idaho education is reimbursed by Wyoming, four Alta students at Jackson Hole High School and none at Jackson Hole Middle School.
If the students attend middle school in Jackson there's no school bus because there aren't enough students for the route. If they choose to take the START bus their family is reimbursed by the district for doing so.
Families are somewhat split on whether the sixth-grade Idaho option should exist in the first place. Many said it's a contentious choice that consumes fifth grade for students and their parents.
Father of two and bus driver Blake Hare said any time you have more options, a decision becomes more difficult. He compared the sixth grade choice to having children pick from a kid's menu with three items or a larger spread.
"If there's a buffet you don't know what to get and you come back with an empty plate," Hare said.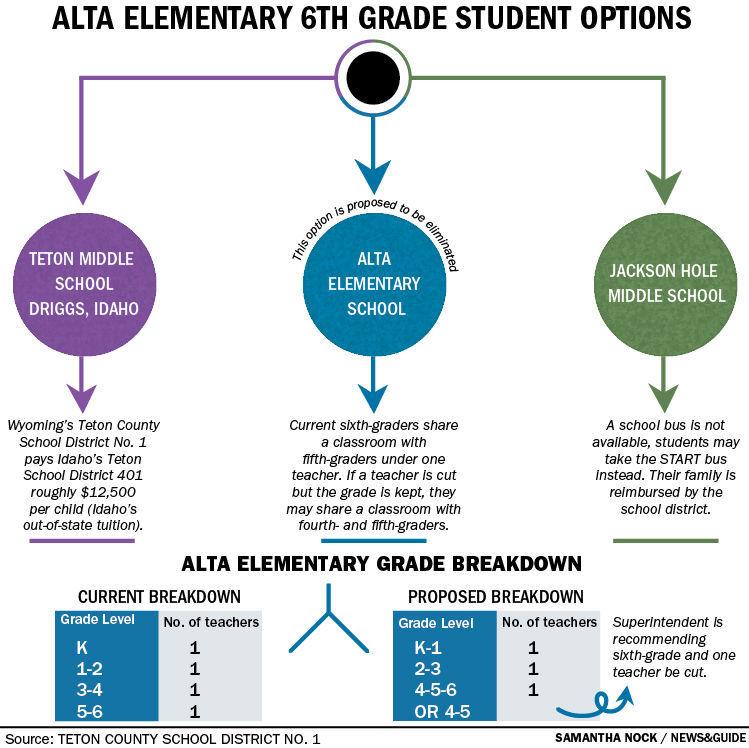 Some promised to rally around the school and convince others to keep their kids there for sixth grade if that's what it takes. They also discussed getting rid of the choice to leave entirely. But others said it's up for the family to decide the best school for their child's educational and social needs, and that their children thrived heading to middle school in Driggs.
No matter what happens with sixth grade there's strong consensus on the desire to keep four teachers at the school and not go down to three. Parents say if the district can afford it, they like the small class sizes and believe combining kindergarten and first grade under one teacher would erode the quality of the education and the school's reputation.
"Even though it's done, it's not the best for children," said Anne Goodell, mother of current and former Alta students. "If I was moving to the community, it would not draw me. It's making the school less attractive to new families."
At Moran Elementary School, grades are combined into kindergarten through second and third through fifth between two core teachers. At Kelly Elementary School, kindergarten and first grade, second and third grade and fourth and fifth grade are combined between three core teachers.
If an Alta position is cut the teacher would be offered a position in another school. If a teacher were to be cut but sixth grade remained, a three-grade combination that a district staff report called "not optimal" would be set in motion.