In some ways it looked a whole lot like a normal first day.
A parade of students and parents came up to the entrance of Jackson Elementary School. Some rode up with kids on bikes; some held the hands of little ones with backpacks nearly as big as them; families were bundled up because of the unseasonably cold morning.
But it wasn't a normal first day. For the first time in six months, kids entered school buildings after a three-month distance learning hiatus and summer vacation. Nearly everything about the moment reflected that.
Teachers, parents, and kids all wore masks, and those with glasses had trouble keeping spectacles from fogging up in the crisp air. Instead of children spilling in the front door, they dispersed, each grade going in a different entrance, where teachers checked them in.
About 10 minutes after school was supposed to start, all the students were inside, starting the year amid a global pandemic.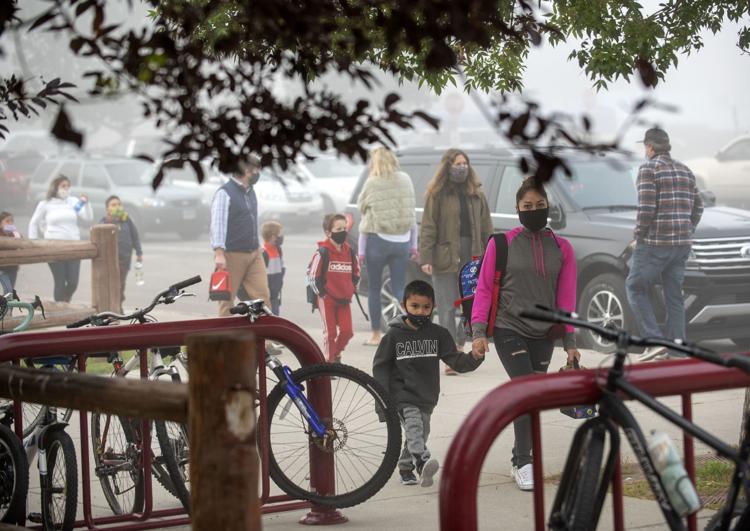 "The entire day completely exceeded my expectations," Principal Tracy Poduska said.
It would be difficult to overstate the changes that have been made to allow school to happen in person this year. In addition to mask wearing and separate entrances, kids' schedules have been upended.
At the elementary schools, students are learning in pods with their grade level. Instead of moving around as much, they are spending more time with their homeroom, and lunches have been staggered.
Kindergartners and first graders, at least at Jackson, are eating in the cafeteria, while the upper grades eat in classrooms or outside, which many teachers took advantage of, Poduska said.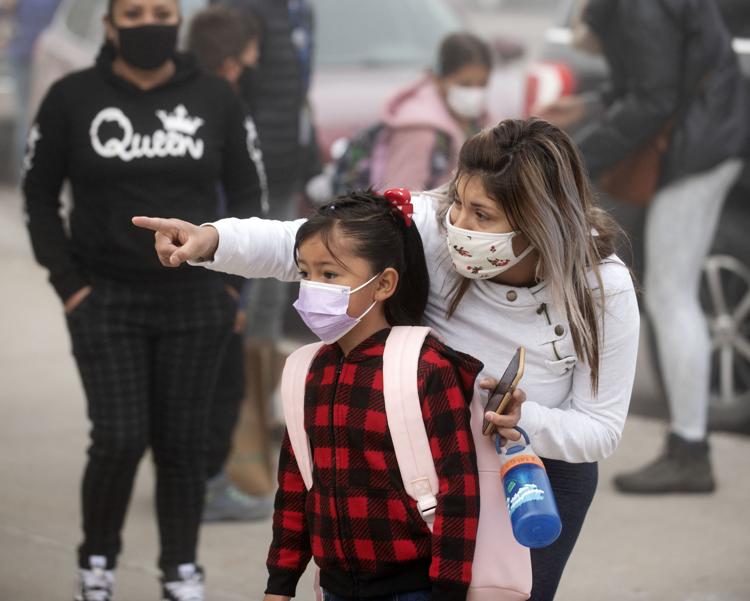 The same is true at Jackson Hole Middle School, where lunches were staggered by grade.
"We have two tents set up out there for inclement weather," Principal Matt Hoelscher said. "Today I think the majority of them were spreading out on the playground itself."
Tuesday's balmy weather, which took over after the clouds burned off, won't last all year, but the staggered lunches and other precautions that the school district has put in place have eased some of parents' fears. According to Superintendent Gillian Chapman, roughly 80% of families opted for in-person learning in a survey over the summer.
That doesn't stop them from worrying a bit.
"I'm excited," said Amber Brinton, who along with Dorian Darwiche, was dropping off their son, Hudson, for his first day of kindergarten.
"But we definitely have mixed emotions," Darwiche said.
Some of their butterflies seemed to just be the standard feeling of seeing a child go off to school for the first time. Brinton and Darwiche stressed that they were happy Hudson would be in school.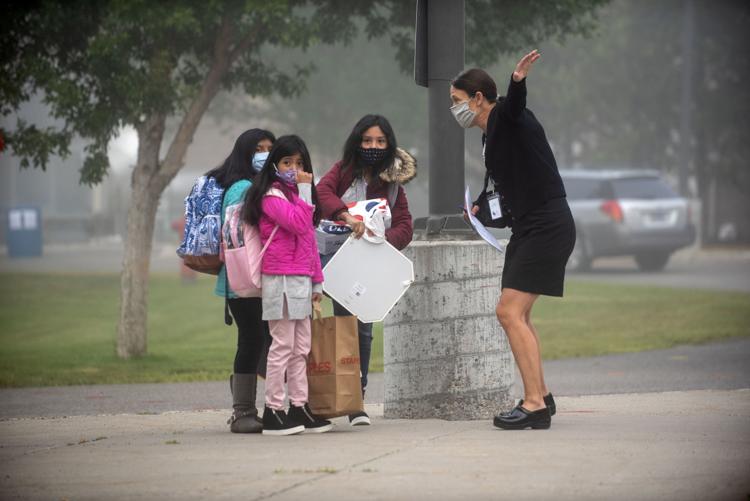 "It's important they have that social interaction and be around other kids, especially at this age," Darwiche said. "Being so young, they are getting all their skill sets. It would be tough to be alone at home."
The social-emotional component of learning Darwiche referred to was also on the minds of administrators and teachers. At Jackson Elementary, teachers wore buttons with their faces on them to allow kids to see what they look like without their masks on. Some teachers plan to let students make their own as well.
"I like that idea," Hoelscher said when he learned about it, though his staff are also finding creative ways to build community. "One thing we've talked about is trying to build positive relationships as fast as possible."
Teachers at all levels have flexibility right now with the good weather to create that rapport. Some of Hoelscher's staff took their kids outside to play icebreaker games and get out of the classroom (with appropriate distancing).
Elementary school teachers will have more opportunities to do so. Their students will attend in person four days a week, with Friday being a virtual day. In middle and high school, things are different.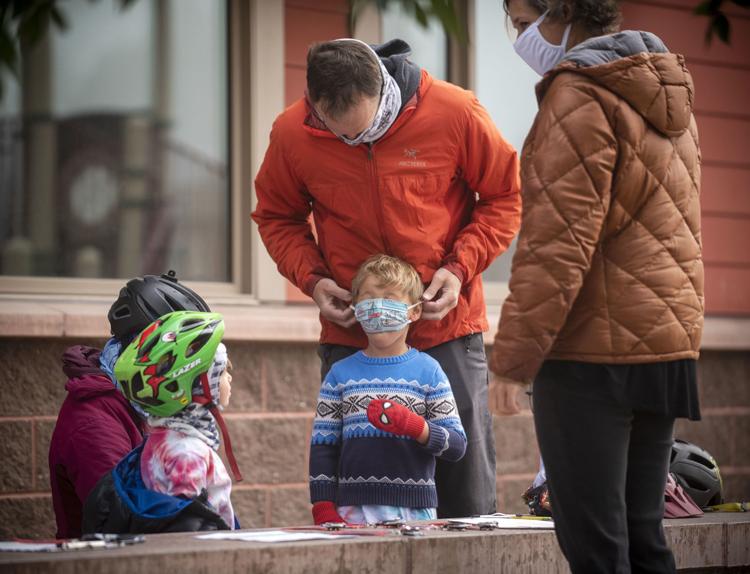 As it stands, students will learn two days a week in the classroom and three at home, though their in-class time could decrease to one day a week if the pandemic worsens. Half the kids will be in school one day and the other half at home. Then they will switch.
That unprecedented setup made the first day feel a bit empty.
"It's definitely hard to describe the feeling because we're just used to seeing it full," Jackson Hole High School Principal Scott Crisp said of his building. "It's a little quieter in the halls."
The other strange effect of the split student body is that the middle and high school will have two first days.
"I kind of told my staff, 'Let's let the spirit of the kids be the air that kind of lifts us,' and I think that continues tomorrow and it continues on into the year," Hoelscher said after the first day.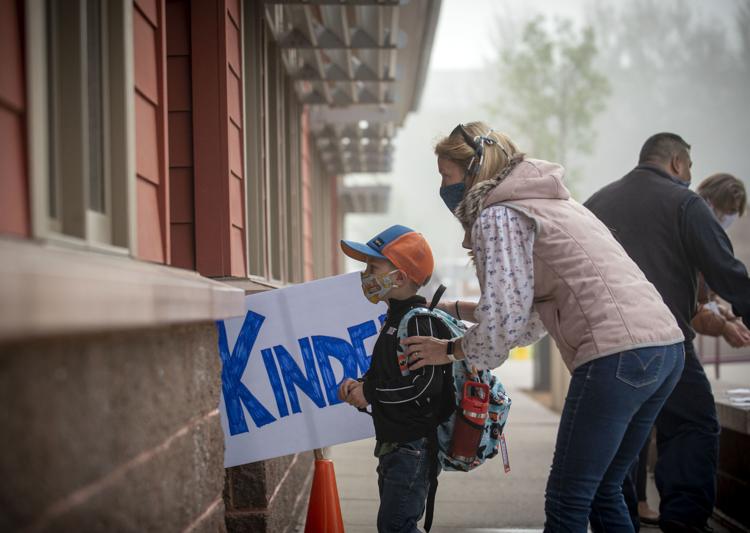 Middle and high school students — in addition to being split — have also had their schedules retooled. To limit the amount of movement between classes, they are on a block schedule in which each semester features just four classes, instead of the usual seven.
Class periods are 90 minutes, allowing for deeper dives but also presenting some new challenges for teachers. Professional development time for teachers, Crisp said, is crucial with the new schedule, because they need time to adapt their lessons to fit into a semester of longer classes, rather than a year of shorter ones.
That can also pose challenges for students, especially at the middle school level. Kids are used to a full year of a subject, and those who struggle with reading or math would have more time to work on things.
With the accelerated time frame, kids could have trouble keeping up, Hoelscher said, but the middle school has built in time during the second semester for students to focus on subjects they need more work in. Still, the whole schedule is a remarkable departure from the norm.
"You basically have flipped your entire model," Crisp said. "You've changed every classroom. You've had to remake your entire master schedule, which takes weeks to do.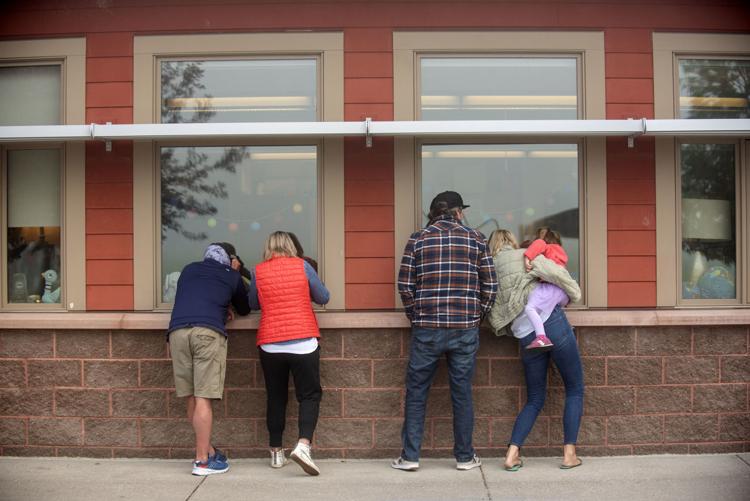 "The things that we've had to re-create are no simple task."
Students have taken everything in stride. They wore their masks as if it were no big deal coming into school Tuesday morning, and Poduska said they even kept their face coverings on at recess when they were playing games that limited social distancing.
Teachers have been "candid" with students about the realities of COVID-19 and the changes it has wrought on the school system, Hoelscher said. In turn, kids have been understanding and content to follow the steps to, hopefully, keep schools open.
Though one day is too small a sample to make any grand conclusions on the success of the district's reopening, the principals all sounded content that the first day went off without a hitch. They're confident in the district's plan to keep kids safe, as are parents on the whole.
"The school had a really good fallback plan: We go four days and virtual on Friday," parent Brian Beck said as he left Jackson Elementary. "I feel good about it, and we need to get our kids back studying again."
As her son, Hudson, ducked into the building next to a sign marked "Kinder," Brinton summed it up even more succinctly: "We are very glad it's happening."