Somos juntos apartes. We are together, apart.
Teachers scrawled that message in Spanish on pieces of cardboard during spring break, then drove themselves through their students' neighborhoods, honking horns and waving to kids assembled on snowbanks, porches and front yards.
"It was so sweet and reassuring," said Libby Crews Wood, who teaches fifth grade at Munger Mountain Elementary School. "Your teachers are still here. They want you to know that school will continue."
It's now more than a month from the last time teachers and students set foot in a classroom. Distance education has morphed from a novel idea to the norm, and even though it feels more routine now, parents and teachers alike look forward to the day when kids return to the classroom.
March 15 was a Sunday. After Idaho public health officials confirmed the first positive COVID-19 case in the region, in a Teton County, Idaho, woman, Teton County School District No. 1 officials closed its buildings.
The hope was that one week of distance education and a two-week spring break might be enough time to let the outbreak subside. But the chips didn't fall that way, and students remain inside their houses and at their computers.
Even though an overnight upheaval of the education system was a huge push, the district's use of digital technology to enhance education eased the transition.
"It was crucial," Munger Mountain third-grade teacher Billie Metzger said. "Otherwise it would have been so hard to reach kids and reach parents to make sure they know where to get materials."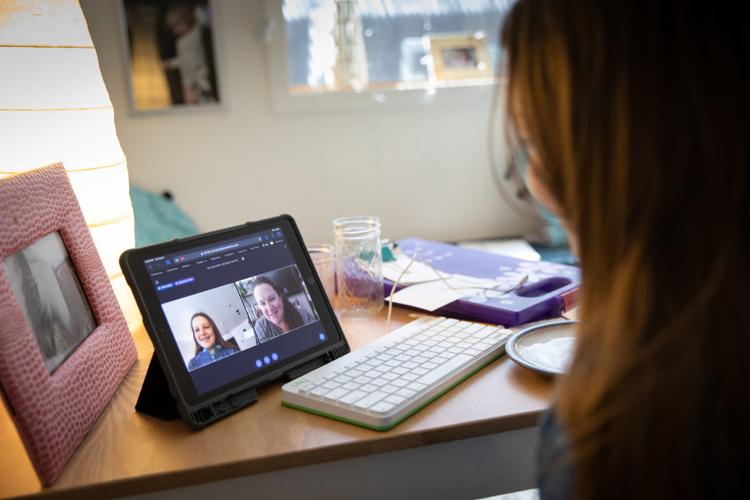 Like the rest of us, students use Zoom to get their work done. The week before and the week after spring break, teachers had a bit less direction as to how to conduct classes. But as of April 13 district teachers are operating under a state-approved adapted learning plan, which creates a structured schedule for video conferencing classes.
Every kid needs access to a laptop or tablet and good internet access. Schools, private and public, have provided families with devices if they need them. A program funded by the Community Foundation of Jackson Hole and the Fund for Public Education has supplied 165 hotspots for families without stable internet access.
Students use a variety of apps and platforms to do their work. Middle and high school students use Canvas, a learning management software that allows teachers to upload assignments and kids to do the same with their completed homework.
Even before the pandemic started, those students were adept at using Canvas, but elementary school educators have had to adapt some. They used apps like Seesaw to let parents know how their kids were doing, but as they've moved online, they've integrated other platforms like Google Classroom and Flipgrid, which facilitates video discussions.
"We've been using all kinds of mediums to communicate," Wood said. "Our technology and curriculum teams and administration and teachers, they have been remarkable."
For primary and secondary education, classrooms are communities, not simply places where kids learn curriculum and take tests. Teachers such as Metzger and Wood are finding ways to maintain kids' relationships, as are the faculty at Mountain Academy.
Head of School Michelle Heaton said for the lower school students, teachers asked all the kids to give a presentation on what their learning space looked like. Whether they are in their rooms, at the dining room table or on the couch, seeing they are all in the same boat lessened the distance created by school closures.
"That's been a real community builder," Heaton said. "Students are getting to see a lot more of their colleagues' and friends' lives than they have before."
Even with the plethora of online teaching tools, helping kids learn can be a lift for parents.
"I don't feel like a teacher, but definitely a teacher's aide," said Alex Hillinger, who works for Curvejumping, a consulting agency, and has a seventh-grade son.
Due to social distancing, parents are left to juggle working from home and keeping their students on track. For some, that causes a new set of anxieties, because it thrusts kids into new learning environments.
Parent Liz Alvarosa has a daughter and a son. Her daughter has a more analytical mind, which lends itself to the self-motivation of distance education, she said, but her son is more creative and artistic. His skills are not inherently attuned to the looseness of learning remotely, which can cause some stress, especially because Alvarosa is still working at her office, so she can't be at home with him.
"I'm lucky, but it's hard to focus on either one," she said. "At home I feel like have to work, and when I'm at work I feel like, 'Are my kids missing something?' "
The stresses of balancing work and kids' education extend to educators, too. Many of the district's teachers are parents themselves, so they have had to find ways to balance their students and their kids.
"This house gets really small when everyone is needing quiet rooms. We are all kind of going online at the same time," Metzger said. "It was tricky the first couple days, but now everyone knows how to do it."
Keeping parents informed of lessons and able to hold kids accountable is an integral part of distance education. The district uses Seesaw and Canvas as digital platforms, while the Jackson Hole Classical Academy has an internal platform it was already using before the pandemic. Director of Advancement Elizabeth Birnie said the school had used it on "a surface level" before, but now teachers are posting video lessons and assignments on it.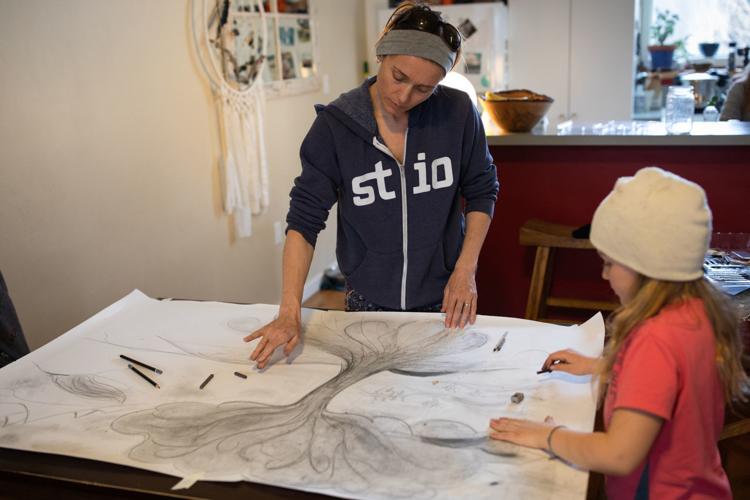 Though its use has increased, parents' familiarity was essential to its success.
"It's nice because parents were already used to it," fourth grade language arts teacher Sarah McWhorter said.
McWhorter and the rest of the Classical Academy teachers are doing their best to support parents as they learn their new roles, including holding parent Zoom meetings.
"I've been trying to support my parents as much as I can," she said. "I try to keep the expectations as low on them as possible, and communicate what they can do to help."
Parents like Hillinger and Alvarosa have written the school district board of trustees encouraging it to consider opening schools when that seems safe. Until now the district has taken its direction from the state, and it isn't clear when buildings might reopen.
Gov. Mark Gordon's order closing public places, including schools, remains in effect until at least April 30. The district can't open at least until then, and officials haven't made any proclamations as to what they will do when the orders are lifted.
The adapted learning plan, which the Wyoming Department of Education approved over spring break, includes provisions on how teachers can keep distance learning up until the end of the year if necessary. It stipulates how to take attendance, maintain accountability and do other things that come more naturally with in-classroom learning.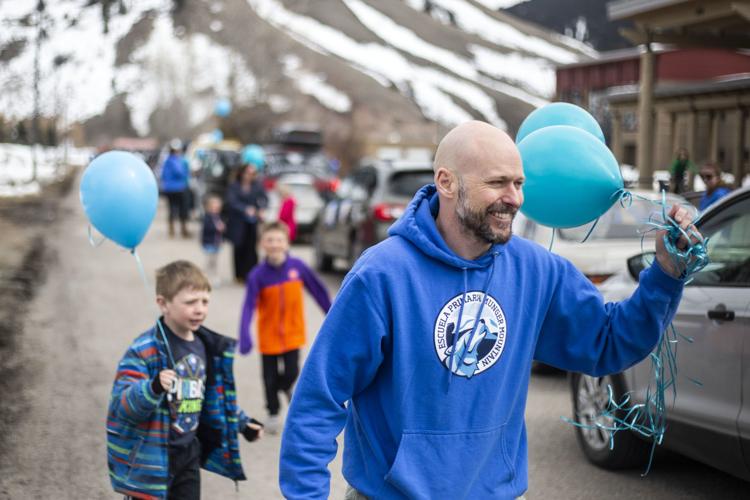 Potentially keeping kids at home doesn't sit well with everyone.
"I would love if the board opens the schools," Alvarosa said.
Whatever happens, the coronavirus pandemic has been a chance for parents and educators to teach adaptability. One of the district's tenets of learning is that students are life-ready by the time they graduate, a concept that includes soft skills that go beyond the information required in curriculum guidelines.
Dramatic upheaval of essentially every system kids have come to rely on seems to be the perfect opportunity to push students to be flexible and to allow them to find joy in uncertainty.
"With resilience comes adaptation. I feel like the wildlife all around us adapt to development, encroachment of humanity, drought, flooding," Wood said. "This species doesn't in general. It tends to take crises for humans to adapt."