Spaced at least 6 feet apart, rows of chairs stretched across the auditorium of the Presbyterian Church of Jackson Hole. People sat in a few, clutching index cards, talking to their neighbors.
The congregants weren't at the church Saturday for a service, however. Instead, they gathered to receive the first dose of their coronavirus vaccines.
"I'm so excited," Jackson Hole High School math teacher Colleen Rossetti said.
Rossetti is the last one in her immediate family to be vaccinated. Her sisters are in health care, and her parents are over 65, so they've had the jab already. Two months into Teton County's vaccination campaign, Rossetti has caught up.
The atmosphere was overwhelmingly one of relief, yet individual immunity hasn't assuaged all concerns. Teachers have been on the frontline of the pandemic response for months, perhaps in a less visible way than health care workers or first responders.
In many other white-collar industries, employees started working from home to minimize their infection and exposure risk. Since Labor Day educators have been in the classroom, working with dozens, if not hundreds, of students each week.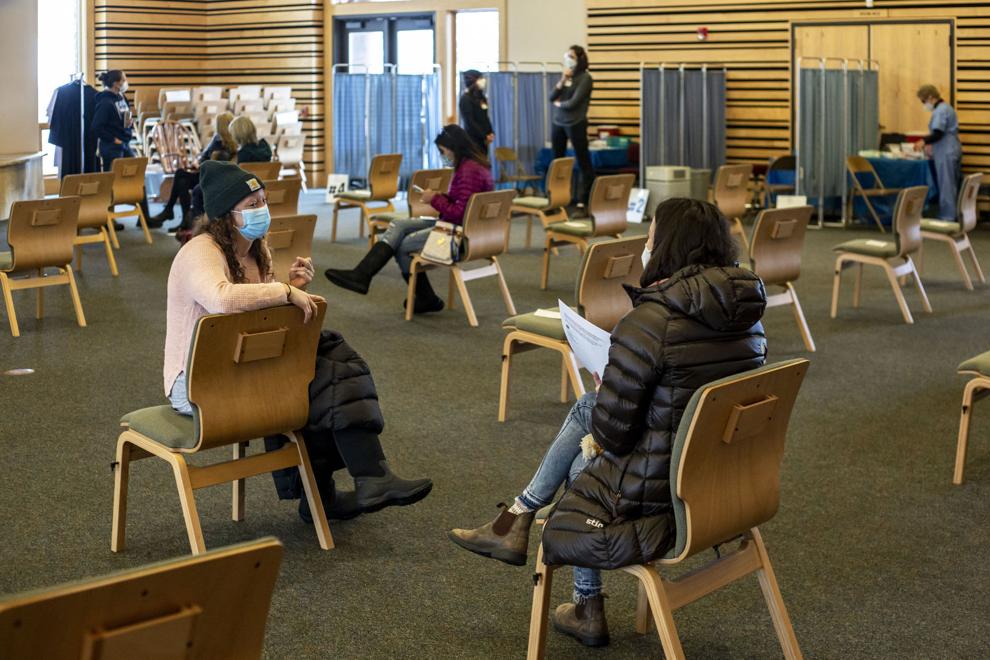 That's given teachers greater exposure than almost any other class of worker, because the students they see in school go home to parents, play sports and meet their friends outside school. All those interactions have had the potential to bring the virus into the classroom.
"It definitely helps relieve a little bit of that stress," high school special education teacher Shea Watkins said. "The proximity to colleagues and students, I think it's a little nerve wracking."
Teacher vaccinations have been a hot topic in Teton County, especially because other communities in Wyoming started inoculating educators earlier. There are many reasons for that, public health officials around the state say, including lower uptake rates, different major industries and lower population.
The biggest impediment has been supply. Vaccines are coveted around the world, and with only two approved for use in the United States they're in demand.
At the beginning of January, school board Trustee Janine Bay Teske wanted to solve the supply problem, at least for teachers. Recognizing that vaccinations were an important part of any push to increase in-class days, she emailed Sen. Dan Dockstader, whose district includes a small slice of Teton County.
She sent the email the night of Jan. 8, a Friday.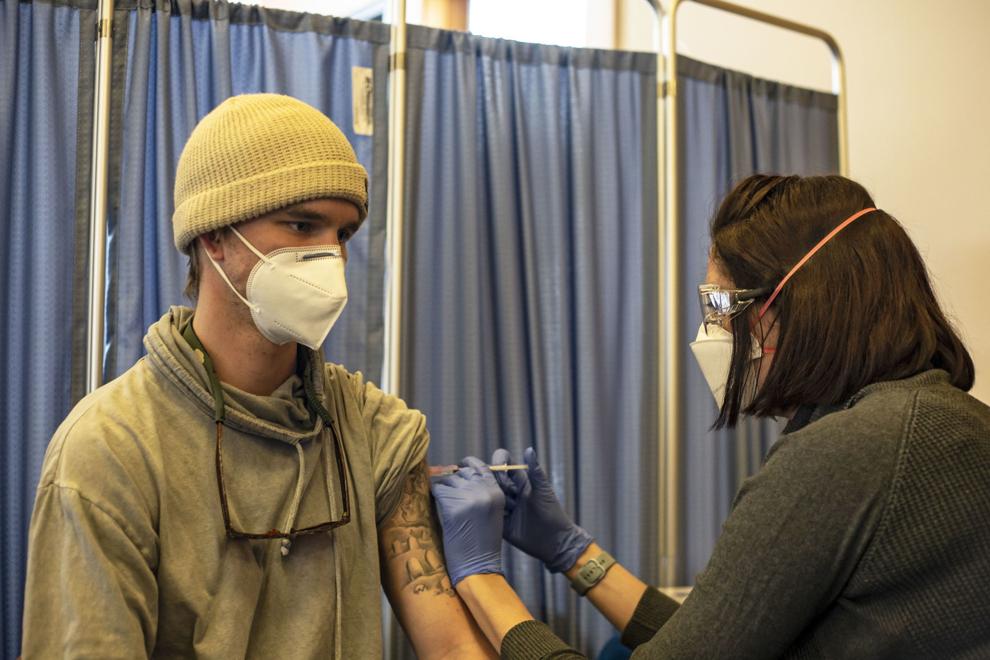 "At three o'clock in the morning he sent me back an email telling me that he was meeting with the governor today and he would talk about that," Teske said.
Two weeks later, Dockstader checked in to see how things were going. Nothing had moved, and the Teton County Health Department was still forecasting that educators would start being vaccinated in early March.
So Dockstader arranged a meeting with the governor's office for Teske and the district to make their case at a time when Teton County was leading the state in active infections.
"There was discussion about the critical nature of what was going on in Teton County because at the time the numbers were going off the charts," Teske said.
From there, Teske said, she didn't hear anything, but the gears of government obviously kept turning, because on Feb. 10, two weeks later, the state allocated extra doses to the county. The roughly 700 extra doses gave the county Health Department the ability to vaccinate all school staff — both public and private — in February.
Saturday's clinic was the first of two for teachers, and it was an example of the efforts that will be needed for widespread vaccinations.
Teton County Director of Health Jodie Pond said her department had developed a mathematical model to gauge how many shots are needed to reach herd immunity by the end of summer. Though Teton County's U.S. Census population stands at 23,464, the number who need to be vaccinated locally is far higher.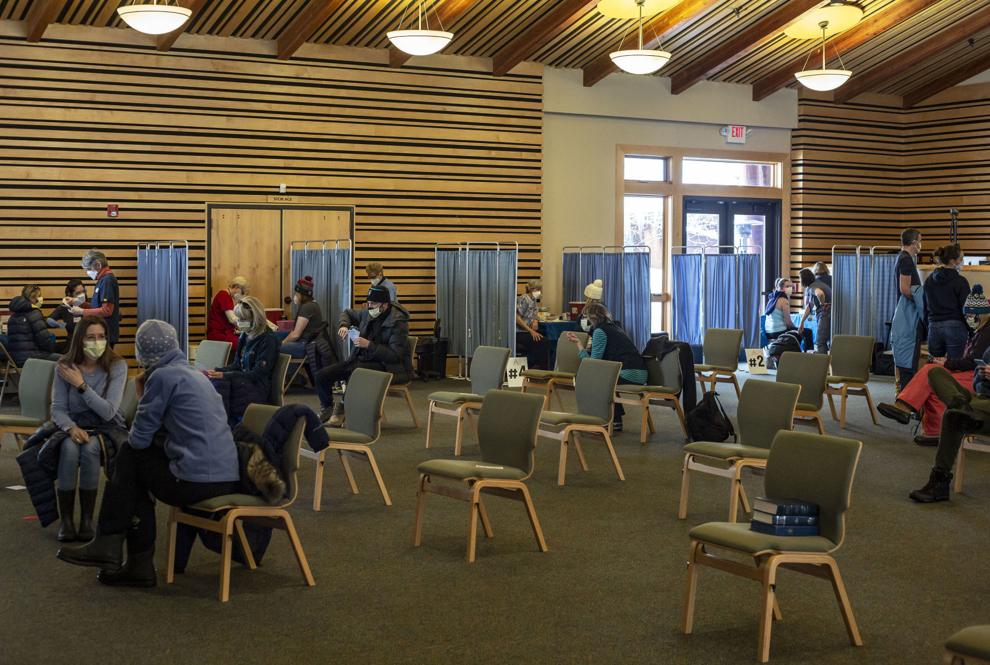 Many of the early vaccine priority groups are based on industry, so people are vaccinated where they work. Commuters in those industries who live in Teton Valley, Idaho, or Star Valley have been vaccinated here, even though they aren't counted in the population. The same goes for second-home owners or transplants who've moved here since the pandemic started, and for many summer seasonal workers.
The Health Department model says that Pond's staff and volunteers need to administer about 3,000 shots a week (first and second doses) from now until August to vaccinate 80% of the community, unless the Johnson and Johnson single-shot vaccine is approved. That's about how many they do a month right now.
Inside the church, blue curtains separated several stalls in which nurses in scrubs administered the shots. Educators registered in the lobby, where a team of volunteers and staff arranged paperwork, entered post-vaccination data and prepped the shots.
After their jab the teachers and support staff waited the required 15 minutes to ensure they had no immediate side effects like an anaphylactic reaction. Then they exited through the lobby after stopping to have their second dose information filled out on index cards.
About 400 shots were administered Saturday, matching the highest number given in a single day so far. To reach 3,000 a week at that rate would require daily clinics and an increase in capacity.
The Presbyterian Church works well for the clinics, but its capacity is limited. Nurse manager Janet Garland said they could potentially do 600 shots or so at the location, but, because of the waiting period after the shot, more vaccinations would increase the number of people sitting in chairs afterward.
"I don't want to fill that area up," Garland said, pointing to the auditorium.
The Health Department is looking for other places that could allow more vaccinations, but the next teacher clinic, which is Saturday, will be at the church and be almost identical to the first one. By the end of the day, every local educator will have had the chance to be vaccinated, at least for their first doses.
Because the educators received the Pfizer vaccine they will head back to a clinic in three weeks for their booster. Studies are showing that even after one dose the Pfizer vaccine's efficacy can be above 90%, though the "durability" of the immune response (how long it lasts) increases dramatically with the booster.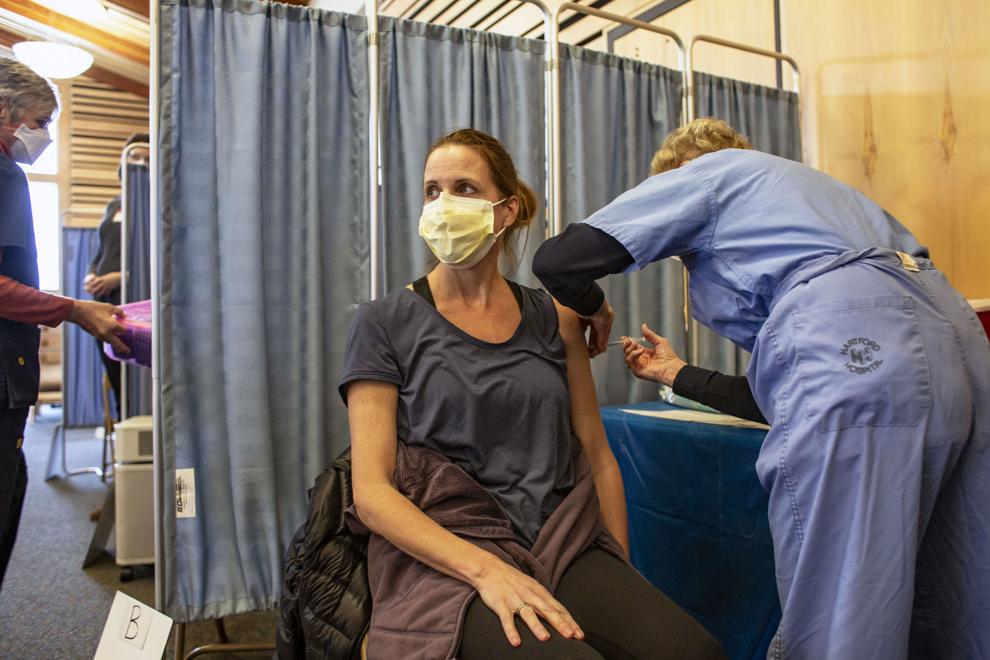 By spring break educators and support staff will have their second shots and will have finished a two-week waiting period after which the immunization is the strongest. That will remove one concern — that of contracting a severe case of COVID-19 — but teachers say they worry about other risks.
"It's helpful to have it," high school teacher Jess Yeomans said. "But I don't really think it's a solution."
The most common worry educators brought up was the potential for transmission in the classroom. Class sizes are set to increase at the middle and high schools April 12 when kids switch to a four-day in-class schedule.
More kids means less social distancing and more potential for spread. Students won't be vaccinated until at least next school year, so teacher immunizations won't have much effect on the probability of COVID-19 transmission in schools.
Part of their worry about the spread stems from the fact that studies have not determined whether vaccinated people can still spread the virus. One study from Israel shows that the Pfizer shot does keep people from transmitting the virus, but that's not enough to say for certain it curbs transmission.
"I'm thankful to be vaccinated, but that doesn't mean that I still can't take it home to my baby or take it to my husband," Rossetti said.
Despite those worries, most educators would probably take being vaccinated over the alternative. Outside the relief that they have strong protection from severe disease, they're happy to take a step toward a return to normalcy, one that more and more people in the community have taken.
Sammie Smith, the high school Fab Lab teacher, said the shot would help her see family again sometime soon. Her 100-year-old grandmother, whose December birthday Smith had to miss, has been vaccinated, as has Smith's mother.
"We're getting one step closer to being able to actually be able to see family without being super, super nervous," she said.
With a few months still left to go in the school year, that's a benefit teachers and support staff have surely earned.