One girl swung her arm back and forth, her fingers hanging toward the floor. A boy tapped away at the screen of his phone. Others sat backwards in their chairs, chatting with friends from a safe distance.
What did they all have in common?
They were all waiting the required 15 minutes Tuesday after receiving a COVID-19 vaccine in the Jackson Hole Middle School gym. The kids were part of the newest cohort of people eligible for vaccination after the federal government approved the Pfizer immunization for use in children as young as 12.
"I'm just a little nervous," seventh-grader Ryan Glick said. "Mostly because I don't know how I'm going to feel."
Ryan didn't appear to feel any ill effects after her shot, though many people do have stronger side effects after the second dose. The middle schoolers seemed excited to get their vaccines, even though they were — for the most part — able to stay seated during the waiting period.
"The energy in here is different today," vaccine program coordinator Stuart Agnew said Tuesday. "The kids yesterday were more subdued."
Monday's clinic, the more subdued one, was at Jackson Hole High School, where 220 teens came for the vaccine. Some high schoolers were already eligible for vaccinations since Pfizer's shot was authorized for anyone 16 and up, so the numbers ended up being slightly lower than Tuesday's clinic.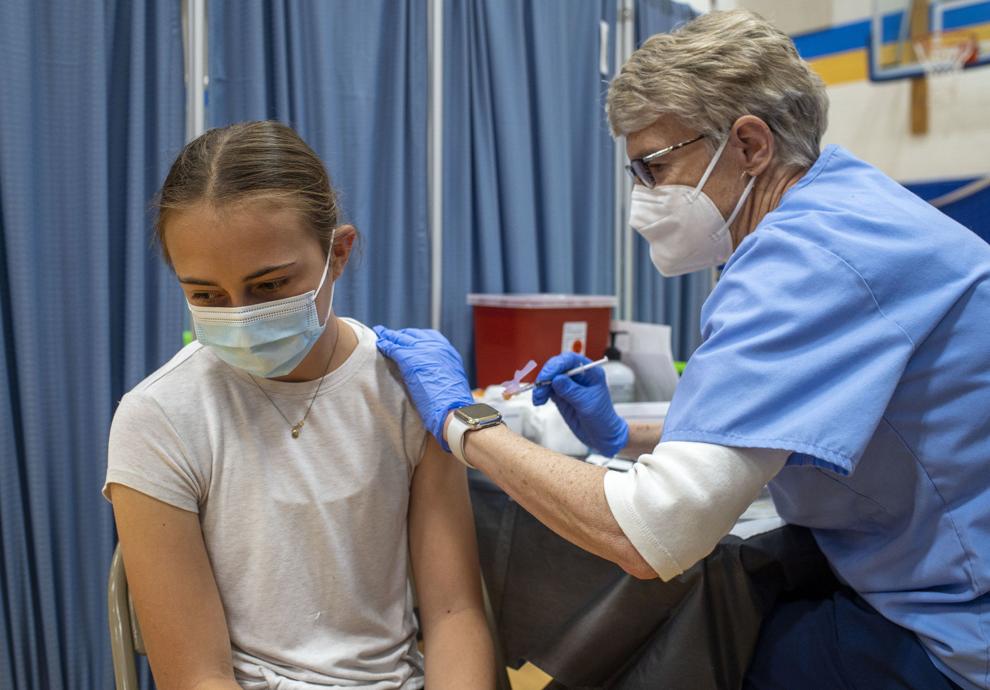 In all, 309 middle schoolers showed up Tuesday, close to half the school's population gaining protection from COVID-19 in just one day. Reaching school-age children is an important step in the wider vaccination campaign, Teton County Director of Health Jodie Pond said.
By her calculations, there are at least a couple of thousand kids in the eligible age groups, representing a sizable chunk of the population. With the overall vaccination rate sitting at 62% and with 75% of all adults vaccinated, kids can help push the county toward higher levels of community protection.
"Vaccinating kids is key to really getting this behind us and protecting children," Pond said.
For parents the knowledge that their children are safer as the community opens up further is a strong incentive.
"We are pretty excited to have Ryan vaccinated because it does add an extra layer of protection for the entire family," said Renee Glick, Ryan's mom.
The Glick family epitomizes the way the rollout has slowly moved through the community. The parents were vaccinated first, then their high school son, and now Ryan, but their elementary-school-age son, Ty, won't be vaccinated for months until the shots are approved for younger kids.
Other families are on the cusp of having all their members vaccinated. Keri Wheeler's daughter, Ellie, also got her first shot Tuesday, becoming the final member of her family to start the immunization process.
"I'm so excited," Keri Wheeler said. "I have been looking forward to the time when my kids could both be vaccinated."
Wheeler and her husband A.J. are doctors, so they've been vaccinated for a while. They've started traveling a bit more, just while wearing masks, but Keri Wheeler is happy to see more activities on the horizon for her family.
"We're looking forward to going out for some dinners, because that's one thing that we definitely have not done any of over the past year or more," she said.
Beyond the individual protection, vaccination for school-age kids might have an added bonus for next year.
"Once we start getting, you know, some good coverage in this age group," Pond said, "I think next fall we can see no masking going on in schools, at least in the middle school and high school groups."