Twenty-eight million dollars worth of transportation projects in the Tetons now have funding.
Teton County, Jackson Hole Mountain Resort and a slew of partners on the east and west sides of Teton Pass were awarded a 2020 BUILD — or Better Utilizing Investments to Leverage Development — Transportation Discretionary Grant, the county and resort announced Wednesday.
The federal government will contribute $20 million to the project, and the local partners will throw in an $8 million match, with the largest contributions coming from Teton County and the Teton Village-based ski hill.
The numbers are a little different than those proposed in the original application, which would have seen the local partners contributing just over $7 million and the federal government about $21 million toward the 13 proposed transportation projects. But in the last few weeks, Teton County officials said the feds asked if the Tetons' transportation advocates could pony up a little more, which they painted as a good sign for the grant's future.
The application, spearheaded by Wyoming Pathways Executive Director Tim Young, came together at the last minute this past spring.
"Despite the added challenge of the COVID-19 shutdown, we were able to put together a quality application in the short timeframe required and JHMR advanced the funding to kickstart the application process," Teton County Board of County Commissioners Vice Chair Greg Epstein said in a press release. "Teton County looks forward to working with the project partners to put these investments to work, improving our quality of life and access to jobs and recreation."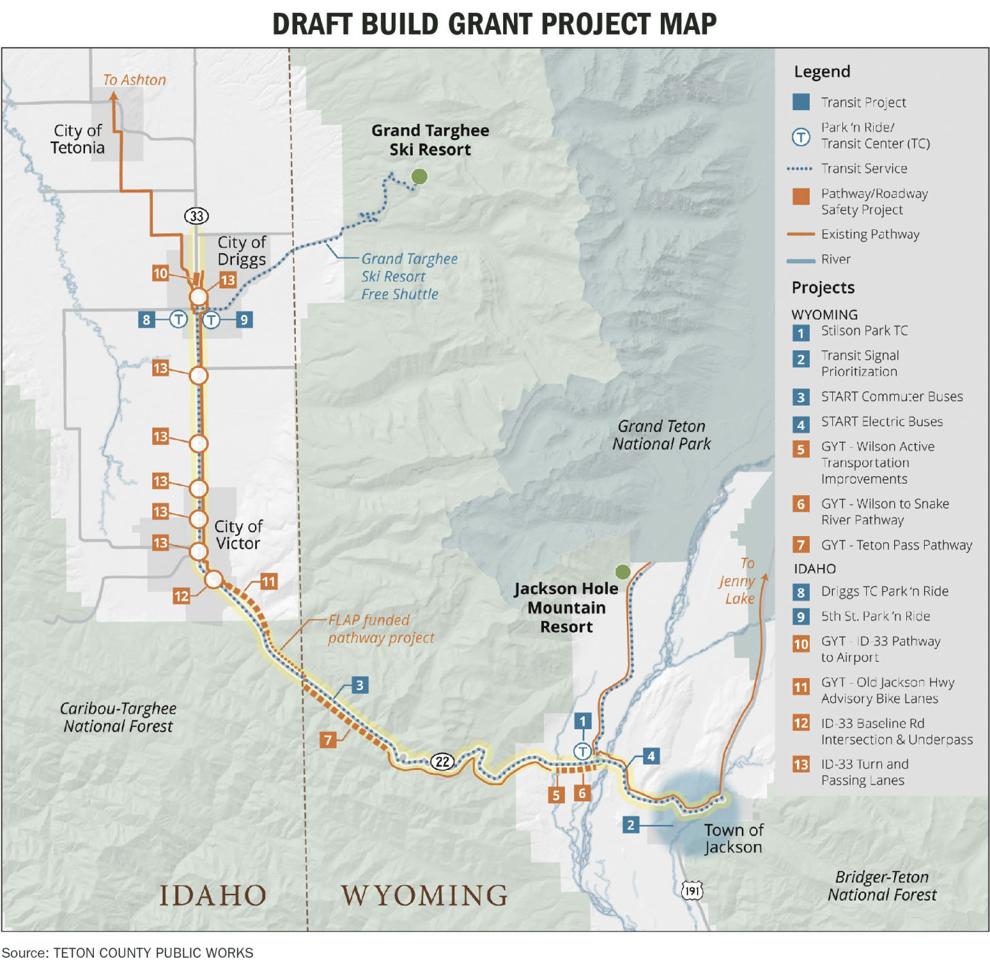 "Our success is a great example of what can be achieved through partnership," Jackson Hole Mountain Resort President Mary Kate Buckley said in the release.
Funding will support a number of projects on both sides of Teton Pass, including a Stilson transit center (estimated to cost $8.7 million in the application), upgrading park-and-ride facilities in Driggs, Idaho, (just under $1 million), and adding four commuter buses (around $2.5 million) and two electric buses ($1.8 million) to the START bus fleet.
Other parts of the plan include construction of a pathway over Teton Pass ($5 million), building a Wilson-to-Stilson pathway ($1.5 million) and extending the pathway in Driggs to the airport ($325,000).
"This is the largest federal transportation grant ever awarded to Teton County and Teton Valley, which will fund multi-modal improvements for enhanced transit service, new Stilson and Driggs Transit centers, a more walkable downtown Wilson, and address missing links in the pathways systems on both sides of Teton Pass," Young said in the release.
The BUILD program draws on a pool of money doled out by the U.S. Department of Transportation. The partners, which include the city of Driggs, Teton County, Idaho, and the Idaho Transportation Department, decided to apply after the Trump administration announced it would dedicate 50% of the funds in the BUILD pool toward rural projects.