Speedsters, equestrians and hobbyists — this one's for you.
Registration for three marquee events and exhibitions at the Teton County Fair is now open.
Those are the Figure 8 Races, one of the fair's fastest nighttime events; the Blue Ribbon Exhibit Hall, where crafty people of all sorts can show off their wares; and the open class horse show, which provides venues for all manner of horse people to strut their — and their mount's — stuff.
"Coming off an adjusted 2020 Fair due to COVID-19, we are very excited to be able to celebrate the Fair's history with a little bit of normalcy," Teton County Fair and Fairgrounds Manager Rachel Grimes said Thursday in a press release. 
The Fair is set to run from July 23 to Aug. 1.
You can also find an outline of entry deadlines attached to the online version of this article and on page nine of the fair book, which is available at TinyURL.com/fairbook2021.
Events that specifically require phone registration are the exception to the online-entry rule of thumb.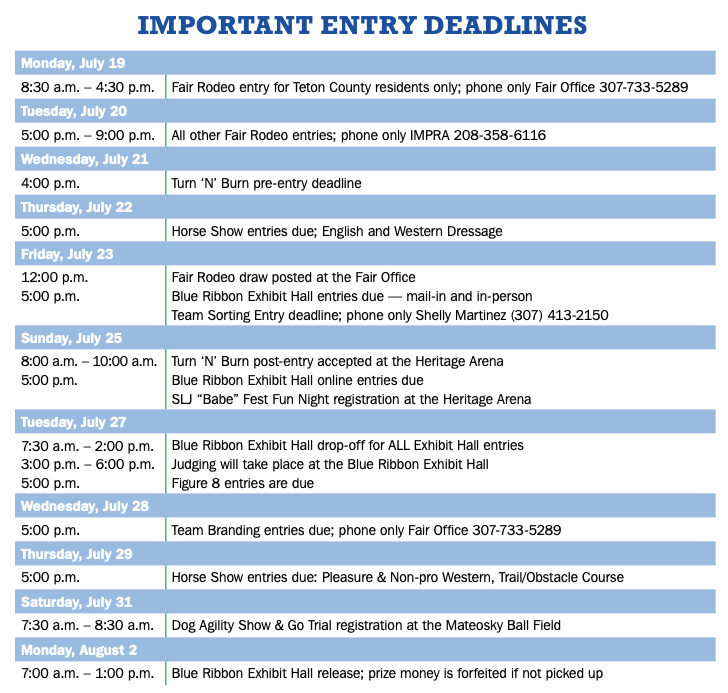 Craftspeople should be aware of two main times and dates to register for the Blue Ribbon Exhibit Hall: 5 p.m. July 23, when in-person and mail-in entries close, and 5 p.m. July 25, when online entries close.
Digital entries are strongly encouraged and will not have entry fees.
In-person and mail-in entries will cost $2 apiece. Day-of entries will cost $4 for adults and $1 for youth.
Entries for all exhibits, including the "Farm to Fork" and "Flower Garden" contests, need to be dropped off at the Exhibit Hall between 7:30 a.m. and 2 p.m. July 27.
Judging will occur that afternoon, and the public will be able to view peoples' creations between 10 a.m. and 7 p.m. July 28 through Aug. 1.
Figure 8 Racing is exactly what it sounds like: a stock car race on a track that intersects itself, increasing the likelihood of wrecks. People in Teton County take it seriously.
"It's kind of exclusive," Grimes told the New&Guide in 2019.
This year, there are only 36 slots available, with a six-entry waitlist.
Figure 8 Race entries will be accepted until 5 p.m. July 27.
Open class horse show
Entry dates for the horse shows are staggered.
Entries for English and Western dressage close at 5 p.m. July 22.
Entries for the team ranch sorting classes close at 5 p.m. July 23, and are phone-only. Call Shelly Martinez at 413-2150 to enter.
Entries for the Bev Halpin Memorial Team Branding closes at 5 p.m. July 28, and are phone-only. Call the fair office at 733-5289 to enter.
And entries for the trail/obstacle course and pleasure and non-pro Western performance classes close at 5 p.m. July 29.