In the earliest days dwelling in his cabin-sized abode near the top of Pine Drive, Jim Woodmencey often cut through the timber adjoining his neighborhood to the east, coming out of the trees at the open face of Snow King Mountain.
That quarter-mile jaunt has changed dramatically in the 33 years since 1987 when Jackson's best-known meteorologist bought his "shack" up on the town hill. Initially the fallow 17-acre lot he cut through was a holdover property owned by the McCollisters, a relic from when the family was planning to site their ski area deep up the Cache Creek drainage.
"This was all a dead end," Woodmencey said from the top of Pine Drive this week. "It was a dirt road."
Today a gate, lightly defaced "no trespassing" sign and boulder barrier greets Woodmencey at the same spot.
Across from the gate is the under-development Pine Glades neighborhood, a mix of upscale and affordable townhomes. The no-trespassing signs, marking that the road is private, have fed malcontent from neighbors who'd grown accustomed to a cohesive neighborhood and being able to pass through the property on walkabouts to access Snow King and its trail network.
Woodmencey today still walks through when he wants to, because he has permission from a Pine Glades resident down the street. But most of his neighbors in this part of Jackson, on streets like Wister Avenue and Spruce Drive, don't have that luxury.
Jackson attorney David DeFazio lives at the very crest of Pine Drive, with a porch perched over the street, and he sees firsthand how the flow of foot traffic has changed. Perhaps 30 or 40 people would pass by on a nice evening.
"Now they'll just come up, turn around, and go back," DeFazio said.
That exclusivity, he contends, betrays past promises and the word of past landowners, even if there's no explicit easement spelling out that the road is passable.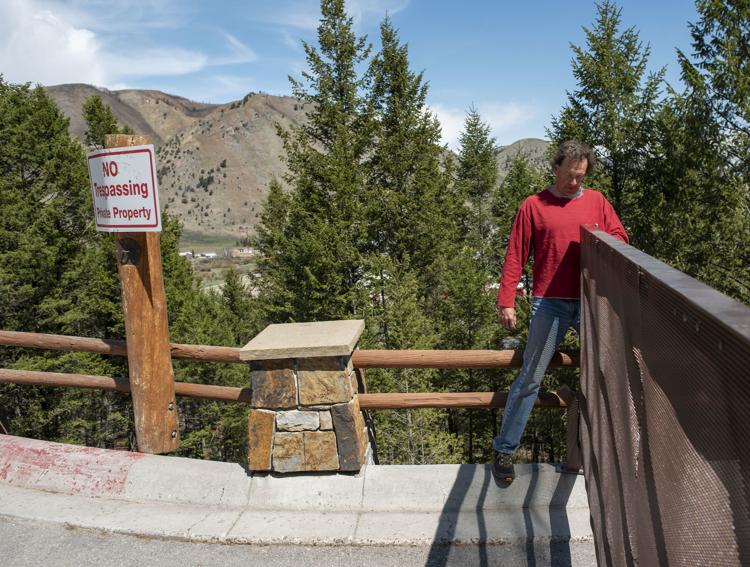 "It's such a no-brainer that this was allowed," DeFazio said in front of a vacant Pine Glades duplex on Monday. "Everything was designed around the road, as far as access. This path came in on the road. There was a trailhead sign on the road. Everything centered on the road.
"I don't understand how anybody, with a straight face, can say that pedestrian access was never supposed to exist here," he said.
Pine Glades' owner and developer, John Tozzi, has posed the argument that the road should be purely private. He's trying to move forward with building out the second phase of the upscale neighborhood — 13 more townhomes proposed for Jessica Lane that still need the town of Jackson's final OK.
There are three other requested amendments to Pine Glades' 12-year-old development plan. Two asks are doing away with the need to heat the streets, and updating landscaping plans to square away a noncompliant townhome that lacks a certificate of occupancy. The third "big ticket" item is a requested amendment to the neighborhood's trails plan, Town of Jackson Planning Director Paul Anthony said.
Pine Glades homeowners "probably paid a premium," Tozzi said at an April town meeting, because they were under the impression they were buying a place along a private road.
"I also reviewed the file myself and there is not one word that mentions anything about public access," Tozzi said. "There is many references to private property, over and over again. There have been numerous townhouses purchased based on that assumption."
Tozzi wrote the News&Guide in an email that pedestrian traffic had been a nuisance.
"Since Pine Glades inception, there have been continual callous disregards to our property and our homeowners by the Pine Drive residents," he wrote. "Gradually as Pine Glades has become populated with full- time residents, their violations have become increasingly obvious and contentious."
It was left-behind dog turds on the Pine Glades street, DeFazio said, that probably touched off the fight over access to the street for the general public.
Tozzi's email confirmed that dogs have been a source of displeasure. He alluded to a Pine Drive person's large dog attacking a Glades resident and that person's pooch.
Town of Jackson planners and the developers have been negotiating a long-term solution to the access dispute. Tozzi has planned "three to five" trails totaling over 4,000 feet, all of which circumvent the tight street in front of Pine Glades Drive's free-market homes. Some of the access points are steep and switchbacked, owing to the Snow King hillside's grade.
Where one of the routes discharges to the east, a proposed sidewalk comes as near as 15 feet from the affordable duplex occupied by Jackson hair stylist Jenny Bragg and her husband, bartender Jonathan Bragg.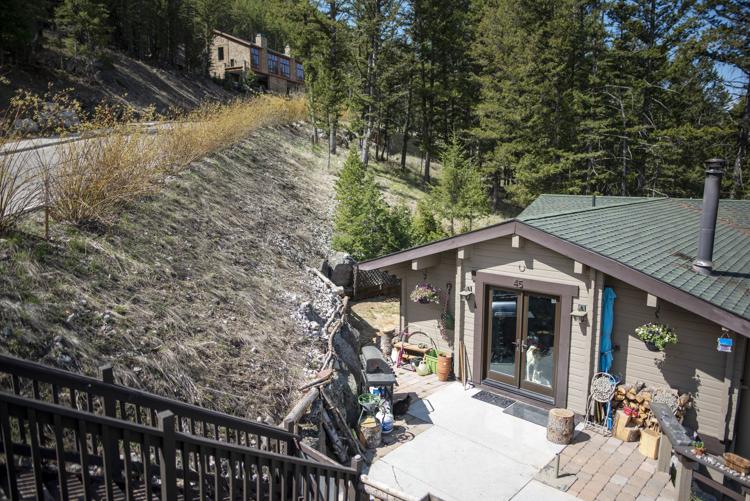 "From the trail they want to put in, you could see directly into our shower," Bragg said Monday.
There's an existing sidewalk, she pointed out, a few steps away immediately across Pine Glades Drive. The only thing in between is the purportedly private road.
"What the town should do," Bragg said, "is make it a public road."
Other parts of the development have struck a nerve with neighbors and town officials.
Pine Glades, which dates to 2007, currently consists of four free-market triplexes, seven affordable townhome units, another affordable home that's split into two units and an unoccupied free-market duplex. At some point in recent history — it's not clear when — the tops of a couple dozen mature lodgepole trees were lopped off, opening up the canopy in front of the unoccupied free-market duplex.
"To me, it is a pretty blatant violation of the intent of that original landscape plan," Town Councilor Arne Jorgensen said at the April 20 meeting.
An associate of Tozzi, former Teton County planning director Bill Collins, said he "was not going to defend the tree topping," but was also not sure, "in a technical sense," what was violated by the overeager prune job.
Tozzi, who's been wrapped up in tree-cutting disputes before, defended the action. It was part of routine upkeep of the forest, meant to minimize the wildfire threat, he said.
"There was nothing done to take advantage of anything," he told town councilors, "other than an attempt to clean that forest up."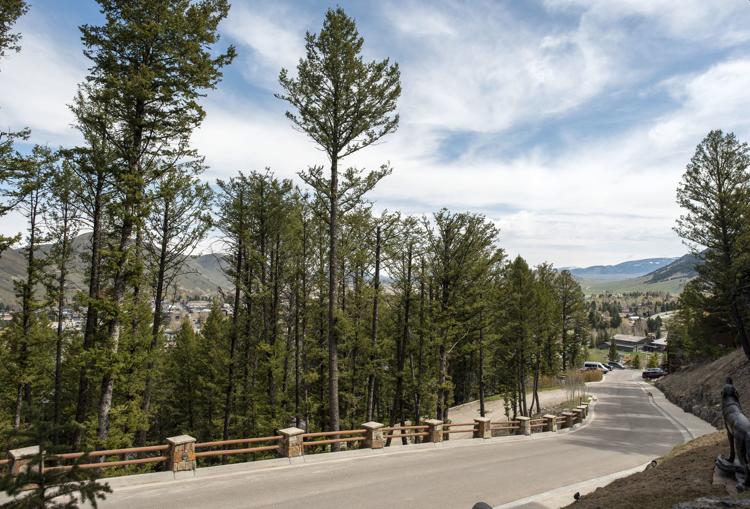 Woodmencey and DeFazio aren't alone in fighting for access to the main drag through the development. A "Pine Drive Neighbors" Facebook group with 78 members has included threads about the development. Both men agree that the road access question is at the heart of the dispute.
"What they want to do is say we'll build trails above and below the property — and not on the property — and say that's good enough," Woodmencey said. "My argument is that we were told we can have access to the road."
In his hand was the transcript from an old Jackson Town Council meeting. The highlighted excerpt was from Dave Taylor, a former Pine Glades project manager, who said: "The interior roads are open to non-vehicular/non-motorized vehicle access of the general public."
An October 2008 advertisement in the News&Guide also seemed to tout Pine Glades as more of a public amenity. The old owners invited the public out for free lunch at the new tunnel — a structure that's now signed as private property.
"Enjoy Snow King just as it was," the ad read. "Now that we're done, you won't even know it's there."
Conditions have changed, Tozzi said in an interview, since people like Woodmencey were able to walk through the unoccupied 17-acre woodlot.
"Up until 13 years ago, this was a forest," he said.
First developer Jeff Hussey and then Tozzi himself bought the land, and in the interim they added a $15 million tunnel, a $100,000-plus gate and spent millions more on the road, which isn't maintained by the town, he said.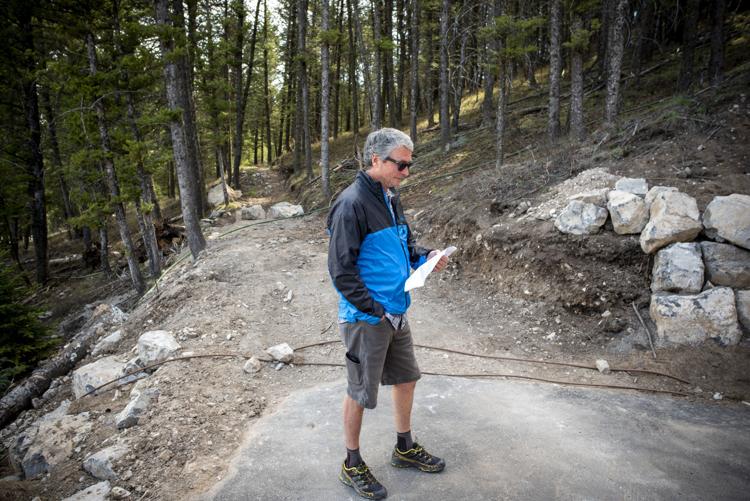 The Jackson Town Council has charged its planning staff with investigating the idea of an easement down Pine Glades Drive, so that pedestrians aren't shut out by the gate. Councilor Jorgensen said the foot traffic ought to be welcomed, even if dog turds can be frustrating.
"That's a benefit, that's not a detraction," Jorgensen said. "All in all, having the public engaged with my home is a benefit, and I look at that as a plus."
It remains to be seen if the homeowner's association and town will be able to hash out an agreement on an easement. The topic still lives on the town council's agenda for Monday, but the deliberations are destined to be shelved because a lack of progress. Anthony, the planning director, said he's having an appraiser look at a 6-foot-wide easement on the north side of the road, where bicycles would be prohibited and pets would have to be leashed.
"Whether or not they're amendable [to an easement] is to be seen," he said.
Reached Tuesday evening, Tozzi was reluctant to speak for homeowners or comment on the easement until a proposal was before him. He also didn't seem too jazzed.
"It makes a dangerous, non-conforming roadway that much more dangerous," Tozzi said. "But we haven't seen the proposal, and I'm one member of the homeowners association."