Want to book an Airbnb in Teton County? There are hundreds of properties to choose from.
An 11-bedroom estate with a backyard fire pit will set you back a meager $10,729 a night. If you'd rather put your tens of thousands elsewhere, opt for an $82-per-night studio in town. Don't count on there being any resemblance to the five-figure-per-night estate's "cowboy chic" style in the studio, but you'll be saving some anyhow.
From the hundreds of options, it's not always easy to decipher which ones are legal and which ones are not.
There are different rules between the city and county, some of which aren't clear-cut. There are also different departments enforcing those rules — the Jackson Police Department in town, and the Teton County Planning Department elsewhere. With plenty of nuances, enforcing the short-term rental ordinances is expensive and time-consuming.
Short-term rental regulations and enforcement caused a stir several years ago, leading to extensive debate within the Jackson Town Council and at least two court cases. For weeks in June 2016, the Town Council went back and forth on allowing short-term rentals in a district that makes up most of downtown Jackson, choosing eventually to allow them.
In one of the court cases, which the Wyoming Supreme Court intended to hear until the parties reached a settlement in 2018, a home outside approved zoning areas received approval for short-term rental zoning.
In Teton County, short-term rental properties are regulated to "support the residential character of neighborhoods and to preserve housing opportunities for long term employees," according to Teton County Planning Director Chris Neubecker.
"No residential unit or portion of a residential unit may be rented such that occupancy is limited to less than 31 days," county Land Development Regulations (LDRs) state.
According to the LDRs, places can be rented for less than 31 days in portions or the entirety of seven residential areas: The Aspens, Teton Shadows, Teton Village, Golf Creek, Jackson Hole Racquet Club Resort Commercial Area, Spring Creek Ranch and Crescent H "Fish Lodges."
Elsewhere in the county — except for the Town of Jackson, which has different rules — short-term rentals aren't permitted outside of the few properties. Even timeshares must extend beyond 31 days per tenant.
Yet, dozens of rental properties listed on Airbnb and VRBO are outside of those seven residential areas. While some of those property ads appear to violate county rules, others may have found a way around them.
For example, Rachel and Rob Alday of Abode Jackson Hole, a vacation rental company, allow guests to stay in their properties outside of the designated rental zones for less than a full month. To ensure what they consider to be compliance with the LDRs, the Aldays require guests to sign an agreement for a full month, but only require guests to pay for the days they're planning to stay at the properties.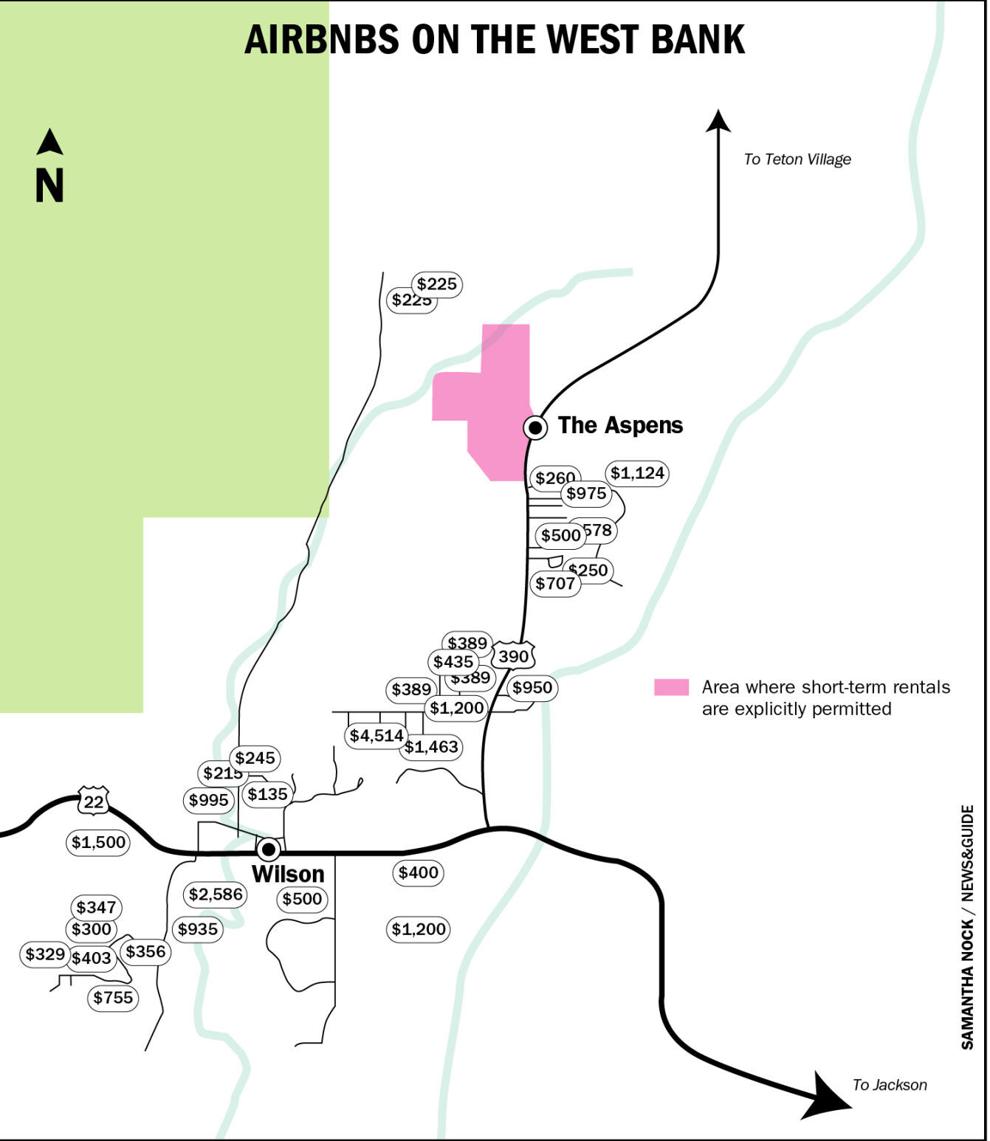 Hence, even if those guests leave before the 31-day period concludes, the property remains blocked off until that period ends. They also note in the listings outside of the designated short-term rental zones that the properties can only be rented once per 31-day period.
Properties like these are toeing the line with compliance, Neubecker said, and they're certainly going against the code's intention.
"That violates the spirit of the code because the intent is not to be a vacation rental," Neubecker said about properties technically leased for 31 or more days but actually used for less time. "That's not really something we can control. We don't have the staffing to knock on doors and verify occupancy."
For Abode's properties, around a dozen of which are in excess of $4,000 per night, even a one-week stay can be lucrative.
But the Aldays say that isn't much of an issue: Higher demand for month-long stays have eliminated much of the need to lease properties outside of the designated short-term rental zone for less than one month.
"It's become a little less of an issue because there are so many longterm rentals coming in," Rachel Alday said.
For violating short-term rental operators, "Wyoming Statutes authorize the County to seek abatement of these violations, authorize a fine of not more than $750 for each offense, and provide that each day's continuation of a violation is a separate offense," according to the county Planning Department.
The town ordinance states short-term rental regulations are intended to "promote a mix of lodging options to support Jackson's tourist base and local economy, while simultaneously upholding the health, safety and welfare of the public and preserving the long-term residential neighborhoods within the Town."
In Jackson, people wishing to operate short-term rentals must apply for a basic use permit, then a short-term rental license. To be eligible for a license, the property must be within the Lodging Overlay or Snow King Resort District, and the operator must not have any convictions for illegally operating a short-term rental in the last five years.
Upon receiving a short-term rental license for a unit in town, rental operators must alert neighbors in "parcels within 300 feet of the short-term rental property" that they've received a permit. Additionally, the operators must provide their names and phone numbers to each of those neighbors.
Beyond that, any advertisement must include the property's rental license number, and any online advertisement must include a link to Jackson's short-term rental law. Short-term rental operators are also "responsible for collecting and remitting all applicable taxes, specifically including the sales and lodging taxes," the town ordinance states.
Miss any one of these details, and the short-term rental is in violation of the town rules. But while these violations should be corrected, Jackson Planning Department Planning Director Paul Anthony said the town prioritizes finding people operating short-term rentals without a license over people with a license who may miss something like including a link to the short-term rental ordinance.
Tricky? It gets more complicated still: Like in the county, not having a permit is not necessarily a problem.
Technically, the distinction between a short- and long-term rental in town is whether the tenant stays for a calendar month or longer. Abundant on Airbnb are ads stating that a property may only be rented once per month-long period, but people who want to rent the property don't need to stay there for the full month.
Some operators will even lease their place for eight days per month-long period but block off the property until that period expires. These properties are legal, Anthony said, as long as the operator does not rent out the property again or sleep in that property themselves after the renters leave, until the period ends.
The Jackson Police Department looks into rental violations, although the convoluted rules complicate enforcement.
"It's a very cumbersome process for investigating," Jackson Police Chief Michelle Weber said.
Between complaints from neighbors and a program police use to detect properties, Weber estimates the police department detects three potentially illegal short-term rentals per week. But usually some of the detected properties are false alarms, and the rest of them, Weber said, aren't simple to address.
"You can't just make the assumption that someone is in violation," she said.
The police department has two officers sharing the duties of the code enforcement officer position, dealing with everything from short-term rental violators to non-permitted concrete trucks that park in the middle of the road.
Between combing through Airbnb listings, Google searches and phone calls with rental property owners, it's challenging for these officers to determine whether a property is violating the short-term rental ordinance, Weber said.
"It's super time consuming," she added.
Weber could only recount one violating rental property operator that ended up in court, and that person received a fine three years ago. Weber said the police department usually prefers resolving these disputes without going to court, partially because new homeowners and many Jackson citizens in general don't fully understand the short-term rental rules.
Weber said the police department observed more violating properties before the pandemic.
A News&Guide search found dozens of property ads that didn't state their rental license numbers. Many of the online short-term rental ads that did list license numbers did not include a link to Jackson's short-term rental ordinance.
While these violations — and the ads that don't make clear whether the operator knows there's a short-term rental ban at all — disregard the fine print, or big print, in the town ordinance, they aren't necessarily violations that have led to internal discourse among the Town Council.
"It's not something that I'm aware of that is being actively discussed," Council Member Jonathan Schechter said.
Schechter said the Town Council has its eyes set on other issues, including parklets for restaurants, parking issues and people illegally camping on the streets. Still, Schechter said, problems can stem from illegally renting out properties.
"If people are not formally registering with the town," Schechter said, "it gives them an unfair advantage over legitimate hotels and it gives them an advantage over people who are playing by the rules."
This version of the article includes an updated map that shows the small piece of Teton Pines where short-term rentals are permitted. — Ed.