New weight limits on the Snake River Bridge have thrown a wrench in the business of Mark Conner, a 26-year veteran of the area's contract trucking and hauling industry.
"I'm only able to haul half of what I normally haul, so therefore twice as many trips across the bridge, twice as much truck time, twice as much money for the consumer," said Conner, the owner of C & C Trucking Inc.
"I'm definitely losing work on account of it," he added.
Jim Verdone, a landscape architect working to rehabilitate Old Pass Road, said the weight restrictions almost put the kibosh on the second phase of the project. The contractor couldn't get its usual laydown machine across the bridge to Teton Pass.
"It almost shot it dead in the water," Verdone said.
The contractor found a workaround with a smaller machine. But the cost of additional trips over the bridge will likely tack about $11,000 onto the bill for the $211,000 or so second phase. That pencils to a 5% increase that Verdone is working to pay for with fundraising.
The Wyoming Department of Transportation announced in late May that the Snake River Bridge was in need of repair. WYDOT State Bridge Engineer Michael Menghini told the News&Guide a routine inspection turned up problems with steel stringers under the bridge that had deteriorated over time as water and deicing salts leaked through the bridge's expansion joints, causing corrosion.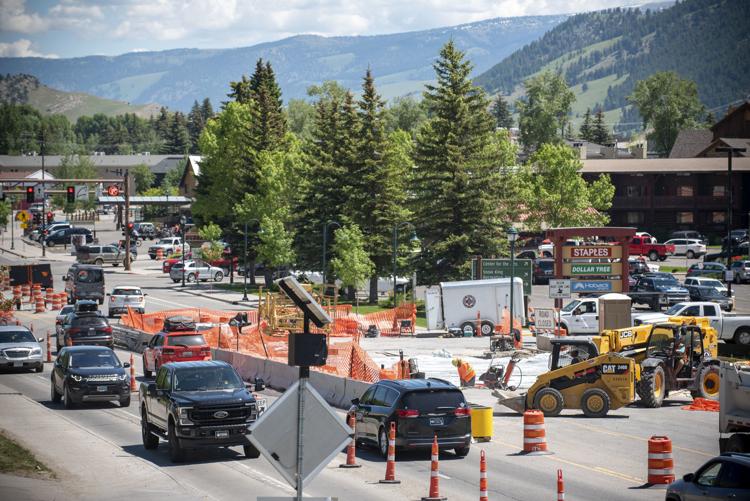 The Flat Creek Bridge, which is being worked on across from Hoback Sports, is the other.
WYDOT Chief Engineer Mark Gillett told the News&Guide that being deemed "structurally deficient" — or, in more modern lingo, in "poor" condition — doesn't spell the end of the road for a bridge.
"A deficient bridge does not mean that it's going to fall down or anything," he said.
That echoes a definition on WYDOT's website: "The fact that a bridge is structurally deficient does not imply that it is likely to collapse or that it is unsafe. Rather, maintenance and rehabilitation of various components are necessary to restore its condition."
The Snake River Bridge and Flat Creek Bridge have since 2018 received ratings of "poor" or lower from the Federal Highway Administration because of the condition of some structural components.
Asked whether the Snake River Bridge issues were known about before it was restricted, Gillett said the problems that caused restrictions were "unique."
"That was just a unique situation with this bridge that we discovered on a routine inspection of the bridge," he said.
The number of bridges in the "structurally deficient" or "poor" category statewide has decreased in recent years, Menghini added.
Just over 11% of the state's bridges were in poor condition in 2015, according to the ARTBA report. By 2019 that number had fallen to just under 7%.
Work is now being done on both bridges, but the Snake River Bridge weight restrictions have put a toll on people like Conner, who has to haul smaller loads and increase trips.
And because transportation costs are usually billed by the hour, increasing trips can mean increasing costs.
The problem is exacerbated by the lack of redundancy, or different routes, available for contractors looking to move heavy machinery from the East Bank to the West Bank and vice versa.
Going through the Snake River Canyon and back up Fall Creek Road is long, Conner said, which is more expensive. And, he added, you can't haul heavy loads through Grand Teton National Park and down the narrow park road between Moose and Teton Village.
Jon Ahlum, the finance and business manager at Ridgeline Excavation, said his employer hasn't been too badly affected. But if a project they'd done on the Snake River levies had been slated for this year rather than last, the new weight restrictions would have caused problems.
"The amount of weight that you would now be able to take has almost been cut in half," Ahlum said. "That would have doubled the amount of trucks we would have needed which would have most likely got rid of all profit margin for that project."
For other contractors the restrictions mean equipment that's on one side of the river will stay for the season. While Conner has been able to haul some material over from Idaho, Josh Frappart, an estimator and project manager at Fish Creek Excavation, said, "you can't really haul an excavator over the pass."
Conner questioned why repair work hadn't been done before.
Gillett said WYDOT has been trying to replace the bridge, which was built in 1960, and has been hoping the bridge would last until it was rebuilt. Menghini said the project has been scheduled in the State Transportation Improvement Program, or STIP, for years.
But rebuilding the bridge has been contentious and slow. Doing so is related to the reconstruction of the nearby intersection of Highway 22 and 390, a project that includes elements outside of routine roadbuilding: public transportation and wildlife crossings.
"We've had a project that we're trying to design for years on that bridge to replace it," Gillett said. "We've gone through the [National Environmental Policy Act] process and various stakeholder groups up there, and it's just hard to get a project going."
An October meeting devolved into an argument between WYDOT officials and intersection neighbors over their different ideas of what the intersection should look like.
There was more discussion of "flushing" than usual at the county commissioners' June 17 meeting.
Those rebuilds aren't scheduled until the 2023 fiscal year, so repairs are now underway.
In the meantime, WYDOT is offering to work with businesses "to accommodate one trip, one time, high-priority or urgent overweight loads," according to a press release. Exceptions aren't intended for regular crossings and could take up to a week to approve.
The repair contract is expected to be let in July, once designs are complete. Then, Gillett said, crews will be able to "go in and fix those structural members in the bridge under the deck, hopefully in the August, September timeframe." Restrictions would lift after that.
Verdone was dubious of that timeline.
"It's just hard to imagine getting underneath that bridge and fixing it in short order," he said.
Likewise, Conner warned a fall reopening would eat up the summer construction season.