County Commission hopefuls aired some longstanding differences on planning issues Thursday night in an election forum that saw candidates address systemic racism, climate change and county government's role in responding to the COVID-19 pandemic.
But the specter of two projects — housing proposals in northern South Park and the rejected Hog Island development near Munger Mountain — loomed large.
Organized by the League of Women Voters, Teton County Library and local media, the forum featured all five candidates for the Teton County Board of County Commissioners. Democratic incumbents Natalia D. Macker and Greg Epstein; Republican first-timers Peter Long, a local business owner, and Christian Beckwith, the founder of the SHIFT Festival; and independent Wes Gardner, the owner of Teton Toys, all weighed in equally throughout the night.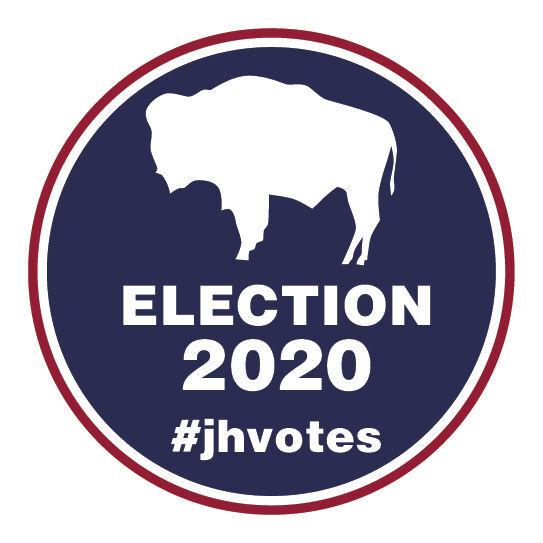 The Jackson Hole News&Guide, KHOL and Buckrail questioned the candidates while Dee Buckstaff, from the League of Women Voters, moderated.
Strong differences emerged as the candidates were asked whether they support joint planning and the 2012 Jackson/Teton County Comprehensive Plan, a town and county planning document that guides decision-making for planners, developers and elected officials.
Macker, the commission's chairwoman, and Beckwith said they supported both.
"I do support joint planning," Macker said. "To achieve our goals we have to work together with our partners at the town."
Beckwith's views were similar: "I don't see how a place like this that is so interconnected could have efficient regulations and efficient guidance from our elected officials without working collaboratively. I support that 100%."
But other candidates differed in their responses.
Elected officials are in the final stages of updating the comp plan, and throughout that process Commissioner Greg Epstein has called for bringing the senior long-range planner position, which is funded by and receives direction from the town and county, fully under the county's purview. That would shake up how the joint planning department, an office set up in 2012 when the new comp plan was adopted, operates.
Suggestions like that, and differences of opinion between the town and county as they've squabbled over who should take the lead on planning northern South Park, have raised questions about whether there is support for the comp plan and joint planning as a whole. Northern South Park is where the Gill and Lockhart families are proposing upzones for housing development.
County Administrator Alyssa Watkins was the first to raise the issue publicly. If frustration over working with the town was driving Epstein's proposal, she said, things could become complicated.
"If ultimately we don't have interest in having a joint Comprehensive Plan, that is an alternative for the county," Watkins said in June.
A county-only plan would allow the county to have its own planning staff.
"As long as we have a joint plan," Watkins said, "we will have staff working jointly on that plan."
During Thursday's forum, Epstein explained his position. He said working with the town has frustrated him.
"I'll just be frank: It's been painful," he said.
But he drew a contrast between joint planning, which the town and county were doing before having a formal joint planning department, and the 8-year-old office. He said he supports the former, along with the comp plan, but doesn't like how the latter is set up, and that's why he's proposed what he has.
"Because ... direction for long-range planning comes from the town," Epstein said, "the county's needs and the county's constituents, who don't get to vote for Town Council or the mayor, have to go along with town planning and town planning ideas."
The difficulty of working together between boards was discussed in other candidates' responses too. Long and Gardner said they support the Comprehensive Plan as a vision document but argued that it shouldn't get in the way of "results" and needed some "flexibility." But on the joint planning issue they differed.
"I think we do benefit by separating the planning responsibilities," Long said. "There's a lot of gray area, a lot of additional bureaucracy in that overlap, and simply put a lot of cooks in the kitchen when we start looking at these decisions."
Gardner said he supports "whatever it takes for town and county to work more collaboratively together," but the town and county's different motivations "get in the way of real progress."
Epstein, Gardner and Long then clashed after Long said the Jackson Town Council "killed" Larry Huhn's Hog Island proposal to build 155 units of single-family deed-restricted workforce housing on 84 acres next to Munger Mountain Elementary School, 7 miles south of Jackson.
The council voted 5-0 against the project, but commissioners also shot it down, with Macker and Commissioner Mark Barron as the only votes in favor.
Gardner and Epstein argued with one another, comparing the Hog Island proposal to the projects proposed by the Gill and Lockhart families in northern South Park.
"Unfortunately, Peter," Gardner said, "The town and county were aligned on that. Greg voted against it. Three of the five commissioners voted against it. I didn't think the town belonged in that room either. But the fact is, the commission voted against it."
Epstein defended his vote.
"The reason why I voted against Larry Huhn's project was the transit didn't make sense to me and the transportation didn't make sense to me," he said. "I had my eyes on the prize — northern South Park is the place."
But Gardner didn't let it go.
"I've heard Greg say, you know, he had his eyes on the prize — there's not one prize," Gardner said. "I've heard him talk about the urgency of housing. I agree, absolutely. And I've heard him talk about we have great partners to work with here. We did with Munger Mountain as well."