Snow has begun to fall in the Tetons, but it's unclear what riding the START bus to Teton Village will look like this winter after three weeks of legislative wrangling.
"I don't know what the next steps are," Town Councilor Arne Jorgensen said Tuesday.
Jorgensen is one of 10 elected officials — five on the Jackson Town Council and five on the Teton County Board of County Commissioners — responsible for figuring out how best to fund and operate the START bus system during a winter when COVID-19 has changed the game.
When the days grow short and the snow starts falling, skiers and snowboarders begin flocking to Jackson Hole Mountain Resort to make turns in the Teton powder, often making riding the bus in the morning or afternoon a standing-room-only affair.
But crowding is risky when there's a virus that spreads well in tight quarters. START ridership over the past few months has been down about 65%.
Projected declines of sales tax revenue for the town and county have also led to budget cuts that affected all of government, including START, which slashed its usual winter service.
START usually makes about 98 round trips daily to Teton Village. But this year START is planning to make only 75 or 76 trips a day.
"If we operate in our current adopted budget that was passed for fiscal year '21 for the winter season, we would in essence be operating at the level of service we did 10 years ago," START Director Darren Brugmann told the County Commission on Monday.
Federal funds from the CARES Act, the $2 trillion relief bill that Congress and President Donald Trump passed in March, could change that.
But how to spend those funds — and how to, in turn, spend local dollars that have already been budgeted for START — are bedeviling the Town Council and County Commission.
On Oct. 5 Brugmann approached both bodies to ask how they'd like to respond to roughly $1.04 million in CARES funds START had received from the federal government. That amount is near the amount the town (about $300,000), county ($436,000), Teton Village Association ($111,000) and Jackson Hole Mountain Resort ($190,000) had budgeted to pay into START for the current fiscal year, which began in July and will end in June.
Brugmann recommended continuing to collect those contributions, putting the excess funds towards START reserves, and suspending fare collection from Nov. 1 to the end of the fiscal year. That would leverage CARES funding to begin a "fare-free" model of service, which has long been a target for town and county officials interested in increasing ridership. Brugmann suggested that trying out that model this year — it would end in June, and require further consideration before continuing — could incentivize people to get back on the bus and limit interaction between drivers and passengers.
Then, in order to increase START's capacity to near normal for the winter season, Brugmann suggested the town and county spend an additional $151,000 to boost winter service levels through via a variation on START's new route plan, which was approved in July but not slated to begin until the next fiscal year because of the pandemic.
That would see, among other things, the southern town shuttle that runs along Snow King Avenue eliminated in favor of an East Jackson "circulator" that would make trips around town and connect with a town shuttle that runs along Broadway and then down and around Cottonwood.
The blue, red, and yellow lines, which have connected East Jackson and the Miller Park and Snow King Avenue areas to Teton Village, would also change.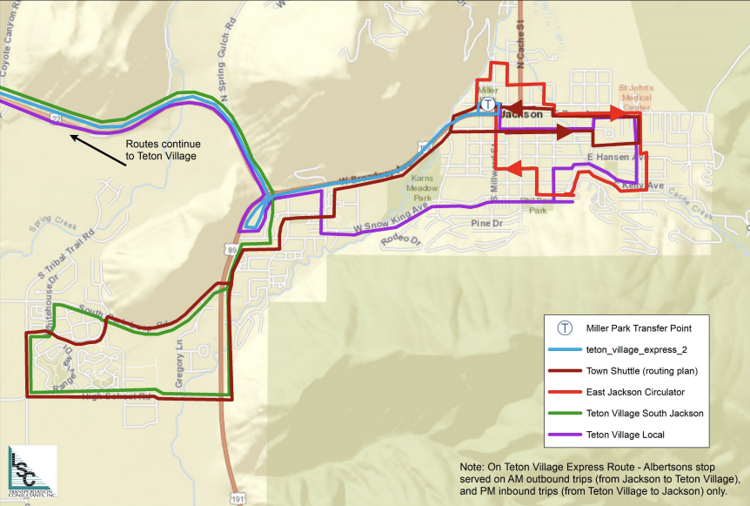 Three new lines would take their place. One would be a new Teton Village "express" line, which would connect to the "circulator" at Miller Park and run more or less directly out to the village. A Teton Village "local" line would be another, serving Snow King Avenue and some of East Jackson. A South Jackson line would be the third, connecting Cottonwood directly to Teton Village. Cottonwood would also be connected to downtown by the remaining shuttle.
Doing all of that, Brugmann said Monday, would allow START to operate "close to the 98 round trips that we normally would do for the winter season."
Melissa Turley, the executive director of the Teton Village Association, and Matt McCreedy, Jackson Hole Mountain Resort's chief financial officer, sent a letter to the Town Council and County Commission that largely supported Brugmann's recommendation to spend $151,000 to boost winter service if CARES Act funds were used to do so.
But they took issue with the recommendation to go fare-free while collecting payments from the Teton Village Association and Jackson Hole Mountain Resort, which purchase bus passes for Teton Village employees and resort passholders. Turley and McCreedy also argued that using CARES Act funding to build reserves was not appropriate.
"CARES Act funds are to prevent, prepare for and respond to COVID-19 with a priority on operational expenses," Turley said during the Oct. 5 meeting. "We would encourage these boards to start looking at spending the CARES Act funds for the appropriate operational measures and not try to use them somehow to fund START reserves for future expenses."
Councilor Jim Stanford and Teton County Planning Director Chris Neubecker both objected to the loss of the southern town shuttle.
"These changes for the express routes to the village may be improvements. I don't quibble with that," Stanford said. "But this is a pretty significant backslide on the town shuttle bus service."
The Town Council and County Commission's responses to Brugmann's suggestions differed on Oct. 5 and the gap has widened.
Both boards supported Brugmann's recommendation to spend $151,000 to boost winter service by implementing parts of START's new route plan, voting on a motion made by Commissioner Greg Epstein giving that route switch up the green light but also asking START to come up with a capacity limit for START buses over the winter. Only Stanford objected, citing his concerns with the town shuttle.
Wyoming's health orders cap gatherings at 50 people, and buses seat 39 people on average. But the passenger count with standing riders can exceed 50.
"People's perception of safety is going to override all the other factors," Epstein said. "If there's no predictability on the number of people that are actually getting on the bus at any given time, they're not going to ride it."
The boards differed on Brugmann's funding recommendation. The council voted for it unanimously, supporting a motion from Stanford to continue collecting fees from the town, county, Teton Village Association and Jackson Hole Mountain Resort while suspending fare collection on START's Teton Village routes and commuter routes from Star Valley and Teton County, Idaho.
The county commissioners voted 4-1 for a similar motion made by Mark Barron that also required unused funds to be set aside for winter service in future years rather than reserves.
That muddied the waters because START is a joint department, and the town and county usually direct joint departments with identical motions. Commissioner Luther Propst was the lone no vote on Oct. 5 on those grounds.
But then, a week later, the County Commission recalled its vote unanimously.
Barron, who initiated the recall, told the News&Guide Tuesday that he wanted to revisit the motion because, like Turley and McCreedy, he also worried about collecting funds for START from the town, county and their Teton Village partners while using CARES funds to pay for START operations.
He also worried about the effect of free service on pass programs like the resort and Teton Village Association.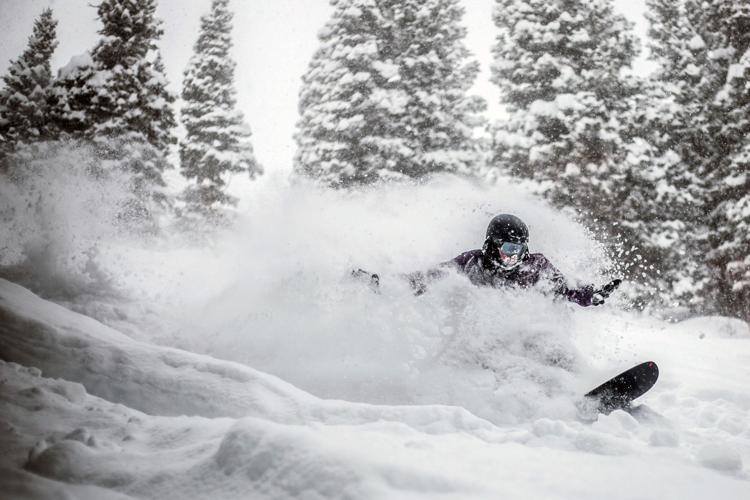 "I didn't realize that the town and the county must agree on a motion," Barron said, "and if they don't, then that portion of a motion, in this case, which was that point, doesn't get enacted."
Other commissioners seemed to share Barron's view. The county made a new motion Monday after hearing from Brugmann, and supported it unanimously.
That motion would suspend the town, county and Teton Village partners' payments into START for the year, require use of CARES Act funding for transit operations, increase START service within the constraints of the COVID-19 pandemic, "suspend far-free service" for the winter season, and invoice the three local partners for any shortfalls for additional winter service.
Propst made a motion "to direct staff to analyze the prospect for running START fare free," looking for analysis of funding commuter service fare-free, and the implications of such a system on employer-funded passes like those required in Teton Village.
What will happen next is in question. Asked whether START would be able to move forward with the increased service, both boards agreed to Oct. 5, Brugmann said he didn't know.
"I do not have a proper response to your questions as we are processing the new motion made by the commission," he wrote in an email. "It would also not be fair for me to respond as I, nor the town manager, have not had any discussion with the Town Councilors on the recent developments from the commission."
The Town Council will now have to revisit the issue, as ski season nears and COVID-19 continues to be an issue in Jackson Hole. (Read about the state of the pandemic on page 29).
Commissioner Barron said he didn't think the newly split vote would cause an issue with nailing down a plan for START ahead of ski season.
"The motion we ended up with is going to be superior, and really delineates how to spend that money," he said. The Town Council "may get hung up on a point or not. But we have time."
Councilor Jorgensen thought the split vote could complicated efforts to reach a resolution before ski season. But he also said this is uncharted territory.
"I am disappointed that this process is playing out on two fronts, and that makes it really difficult to operate efficiently," Jorgensen said. "That being said, this funding equation and the CARES Act funding specifically we're all trying to figure out as we move along.
"None of us are working within a landscape that is easy," he added.
This article has been updated to clarify Councilor Arne Jorgensen's reaction to the town and county's split vote and the date of the joint information meeting about START service. Jorgensen said he did think the vote complicated efforts to reach a resolution before the ski season. The meeting was Oct. 5. — Eds