Commissioners voted 4-1 Tuesday in favor of moving the controversial Tribal Trail Connector forward, a decision that evoked strong reactions among critics.
"I literally felt sick to my stomach after that meeting," said Christine Watkins, the president of the Indian Springs Ranch board of directors. Indian Springs would abut the proposed extension of Tribal Trail Road and its intersection with Highway 22.
She said she had a "terrible, terrible feeling of frustration that [commissioners] are not listening to people and they're not presenting sound rationale for the decisions that are being made."
Support for the Tribal Trail Connector is hard to evaluate.
Ten of the 15 people who spoke at Tuesday's meeting spoke against it. So did nine of the 14 people who submitted written comments beforehand. Four of the remaining written commenters asked to delay the meeting, which was conducted virtually.
Informal polls that county staff conducted of 60 to 70 people at two in-person, public meetings in March 2019 and February 2020 showed that about 25 people who opposed the project maintained their beliefs between meetings.
But the surveys showed another 20 or so moved from being undecided to supporting the project over the course of a year.
Jessica Jaubert, the communications director for Jackson Hole Working, supported the connector at Tuesday's meeting. In a follow-up phone call with the News&Guide, she said the group was pleased with the Teton County Board of County Commissioners' decision.
"This is a neighborhood road that has been on the books for almost 40 years," she said. "It is an important transportation link in our community."
The decision does not guarantee the connector will be built — or be built any time soon.
Commissioners instead gave staff the go-ahead to continue evaluating the project in another stage, which will last a year and include an environmental assessment of the two design alternatives stakeholders begrudgingly said could meet the project's purpose and need.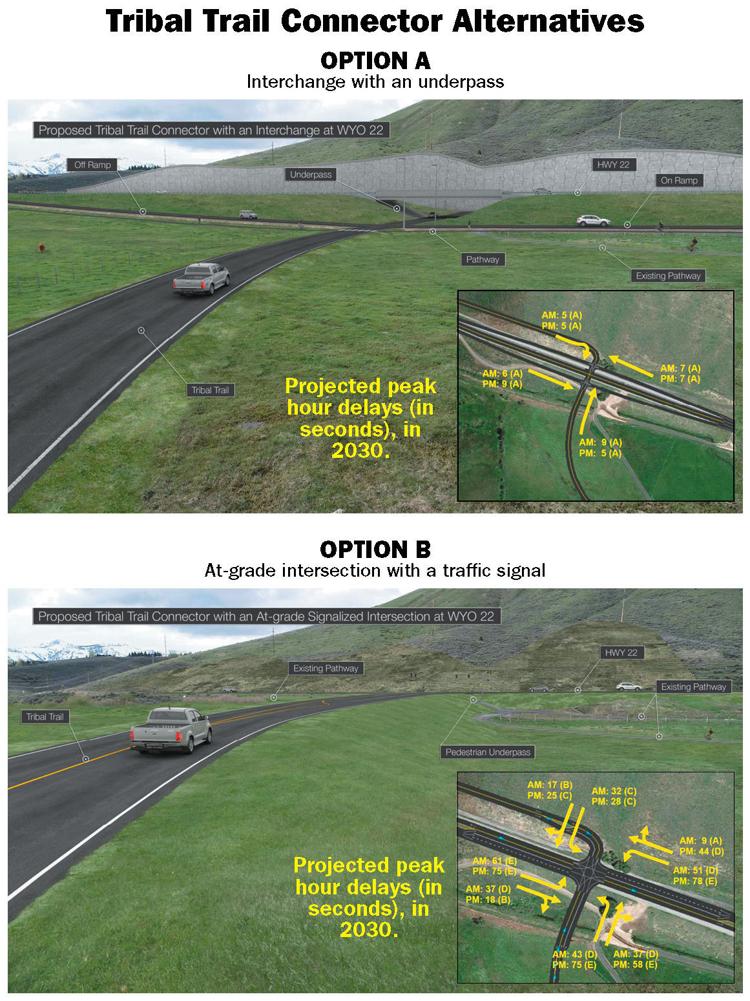 Stakeholder Alex Muromcew dubbed the alternatives advanced Tuesday "the least worst rather than the best" in March. Stakeholders had just been required to settle on designs for commissioners to compare against the ever-present "no-build" option as part of the National Environmental Policy Act process the county has been following.
Chairwoman Natalia D. Macker and Commissioners Mark Newcomb, Mark Barron and Greg Epstein supported continuing to evaluate those two alternatives.
"I think moving forward is our best opportunity," Epstein said during Tuesday's two-hour discussion of the proposal. "I think we need to continue to use the momentum we've had and keep this going and not waste the money we've spent."
Newcomb said he was interested in the next stage's environmental assessment, during which he thought a better cost-benefit analysis of the proposed alternatives could take place.
"The modeling up to this point has been helpful," he said. "I don't know yet that it's as refined as it needs to be to give us a more useful analysis."
Commissioner Luther Propst was the lone dissenting vote.
He was concerned that an alternative seven of 10 stakeholders presented in November was getting short shrift and pushed to have it included in the ongoing evaluation.
"I think there's a real possibility by further evaluating that we may be coming up with something that works across the board instead of drawing a line in the sand and telling them that we're not interested," he said.
The board shot that down.
The stakeholders' proposal would have put the connector on hold while other developments along Highway 22 are completed. Critics, including the Jackson Hole Conservation Alliance, have worried the alternative wasn't fully considered during the stakeholder process.
Director of Public Works Heather Overholser pushed back against that in Tuesday's meeting, asserting that it went through the same screening as every other proposal and failed early on.
"It was not an arbitrary decision to not continue it through the process," she said.
Jaubert said the point of that alternative was well taken — "holistic planning is always going to be the smartest plan" — but the length of time it would take to iron out the rest of Highway 22 would push the Tribal Trail Connector too far into the future.
"We could be talking about Tribal Trail not being planned until 2030," she said. "Can we afford to pay for construction costs 10 years down the road?"
Some wondered why the Teton County Board of County Commissioners would spend close to $1 million on a project they deemed nonessential in early budget talks during a down year. They later rolled the nonessential designation back and, on Tuesday, Overholser revised the cost estimate for the fiscal year starting in July down from $1 million in the next fiscal year to about $800,000.
"I just don't see how you explain to county employees or the voters why you're spending $1 million on a nonessential project when every other area of government including human services is facing a drastic budget cut," Muromcew said.
Jackson Hole Working saw the cost question differently.
"The prudent path forward is to not waste the money the community has already invested over years and years," Jaubert said. "If we move this project down the road another five years, we'll just see it cost us more money."