With a deadline looming, elected officials are caught in a debate over how much control to hand to voters at the polls.
The clock is ticking for town and county officials to finalize the specific purpose excise tax ballot for November 2019. Final ballot language is due July 17.
But town councilors and county commissioners are questioning whether to allow voters to select individual projects or take an all-or-nothing approach with a single ballot item.
"Bundling" SPET proposals into one ballot question is something other counties in Wyoming have done in the past, including Albany, Crook, Laramie and Lincoln counties.
Lincoln County bundled its first SPET ballot during the last general election, but it failed and so did all the projects on the ballot, according to Lincoln County Clerk April Brunski.
Laramie County conducted a SPET election with nine separate bundles in 2017. Seven propositions passed, while two failed, election results show.
In counties that have multiple municipalities with varying populations, "bundling" SPET items into a single question can help ensure bigger towns don't prevent smaller communities from winning projects. Laramie County Commissioner Troy Thompson said his county sought to bundle groups of projects equaling about $10 million each and aimed to include a little something for each of its four municipalities and the county in each bundle.
"We wanted every entity to have buy-in to every ballot initiative," Thompson said.
That ballot included more than 40 line items, and listing each individually would have led to "ballot fatigue," he said.
"By the time you get to item 49, you're like, 'Give me a break,'" he said.
Town and county officials will discuss how to handle the SPET ballot at a joint meeting July 1. SPET allows voters to approve the collection of an additional penny of sales tax to fund specific projects.
All five Jackson town councilors say they support a single ballot question encompassing up to $77 million in projects.
"The voters have made a decision to elect us to make these decisions," Mayor Pete Muldoon said. "I think we're the most qualified to do this."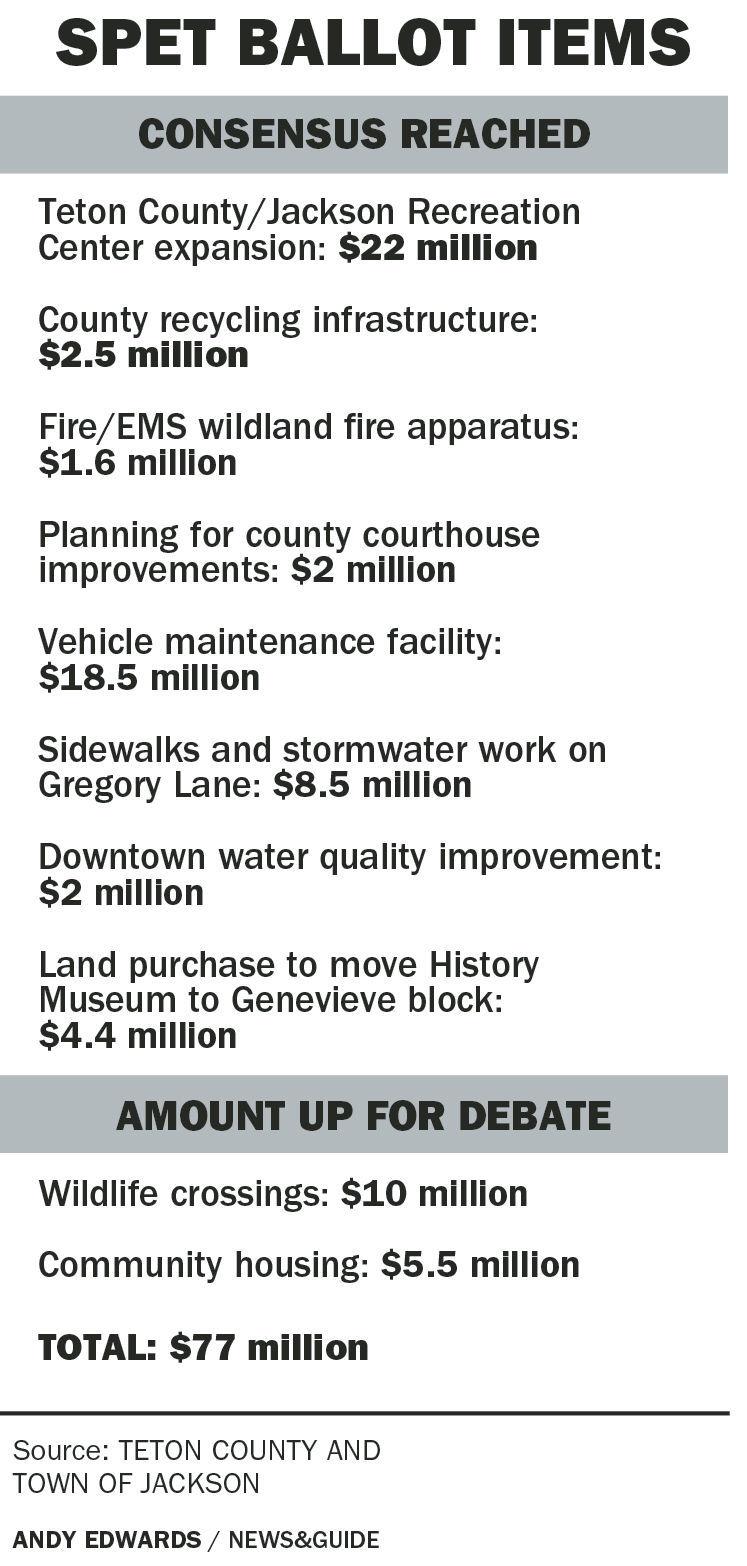 Councilor Jonathan Schechter wrote in a memo: "History clearly shows us that if we don't bundle, some of the less sexy and/or more controversial proposals will fail, especially those that don't lend themselves to active outside support groups and lobbying efforts."
Some Teton County commissioners, on the other hand, worry about the implications of bundling.
"I think we really have to trust the community, and I think the community would be extremely disappointed if they didn't sense that trust from us as elected officials," Commissioner Mark Newcomb said. "It's about the sacredness of the ballot box and the trust in the voter and trust in our democratic process."
As a compromise Commissioner Greg Epstein is suggesting bundling a handful of items into two or three ballot questions with roughly equal price tags.
In Epstein's proposal each bundle would be "anchored" by a popular item with broad support, like the Rec Center expansion or wildlife crossings. For example, the Rec Center expansion would be paired with Gregory Lane infrastructure and downtown water quality improvements. Or wildlife crossings could be bundled with the vehicle maintenance facility and courthouse upgrade planning.
"I just feel like the all-or-nothing approach is a really frightening proposition," Epstein said. "I also think 'a la carte' will get the nice bright, shiny objects voted in, but these core needs may get overlooked again."
On the other hand, Commissioner Luther Propst isn't as concerned with whether the bundles reflect equal values. He would prefer the projects be bundled "thematically." For example, recycling infrastructure, wildland fire trucks, downtown water quality improvements and courthouse improvements could be bundled under a "public health and safety" banner.
Councilor Arne Jorgensen said he's open to several bundles in the spirit of reaching a compromise with the county but would like to see each bundle include a housing component.
"We should be honest and transparent with the voters that when we build public projects, we also have a housing impact," he said.
In an unscientific reader poll on JHNewsAndGuide.com, 86% of respondents — 131 votes to 21 — preferred the "a la carte" approach to SPET rather than an all-or-nothing slate.
A few voters, including Dan Baker, wrote to elected officials asking them to reject bundling.
"The public deserves a referendum on these priorities," Baker wrote. "I predict that bundling will result in the defeat of the entire SPET initiative. This would be a tragic setback for our community as we have many needs that can be addressed via this funding source."
In another letter Lesley Beckworth said voters should have the final say on special tax funds.
"While I would probably vote for all these items individually, I would be more inclined to vote against a bundled ballot," she wrote. "I've never been a fan of watching senators and representatives tack on pork barrel projects to bills, and that's what a bundled SPET ballot feels like. It takes away the power of our vote."